New Holland G200 TIER 3 AWD Grader Operator's Manual 87729458 – PDF DOWNLOAD
IMAGES PREVIEW OF THE MANUAL: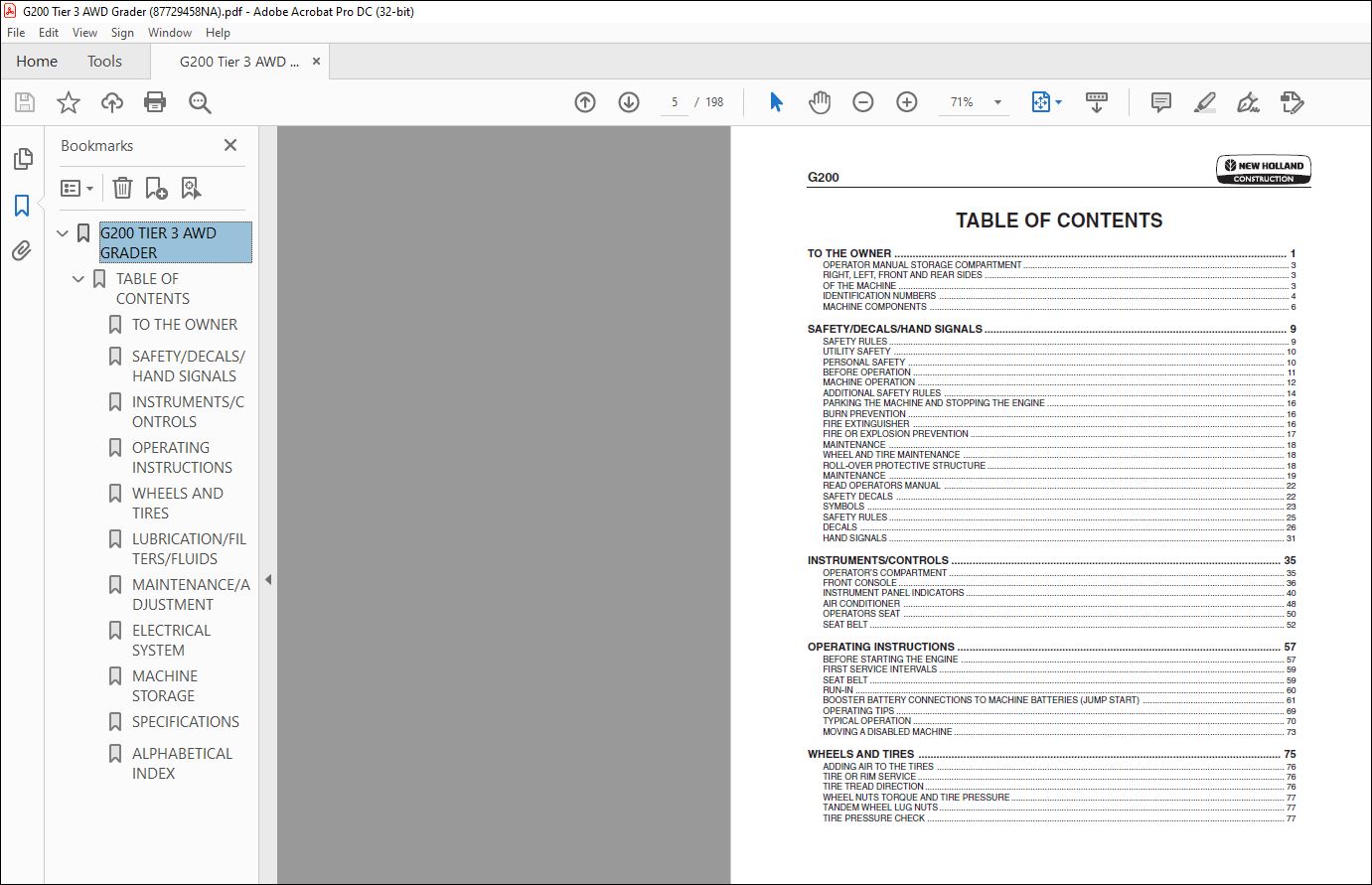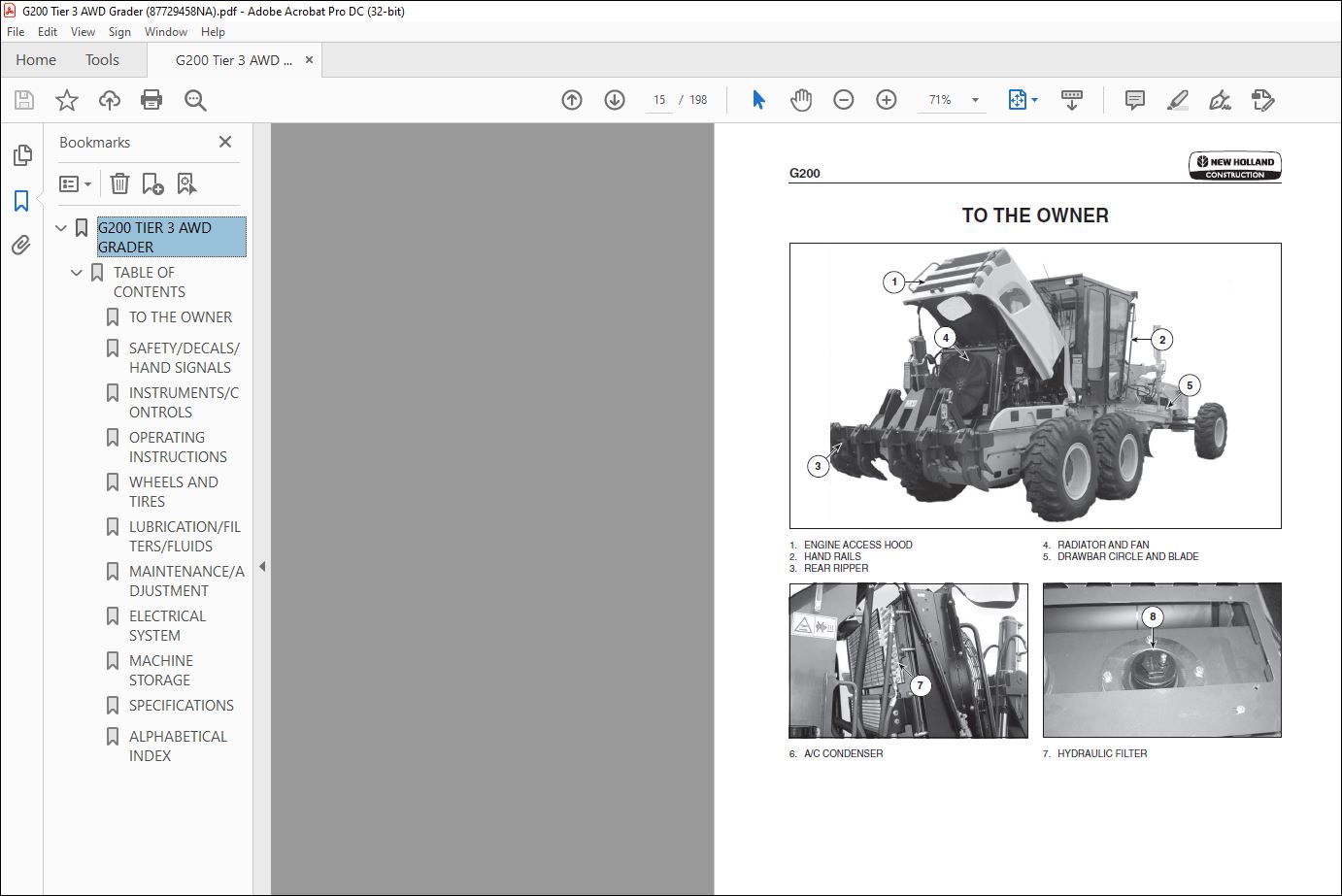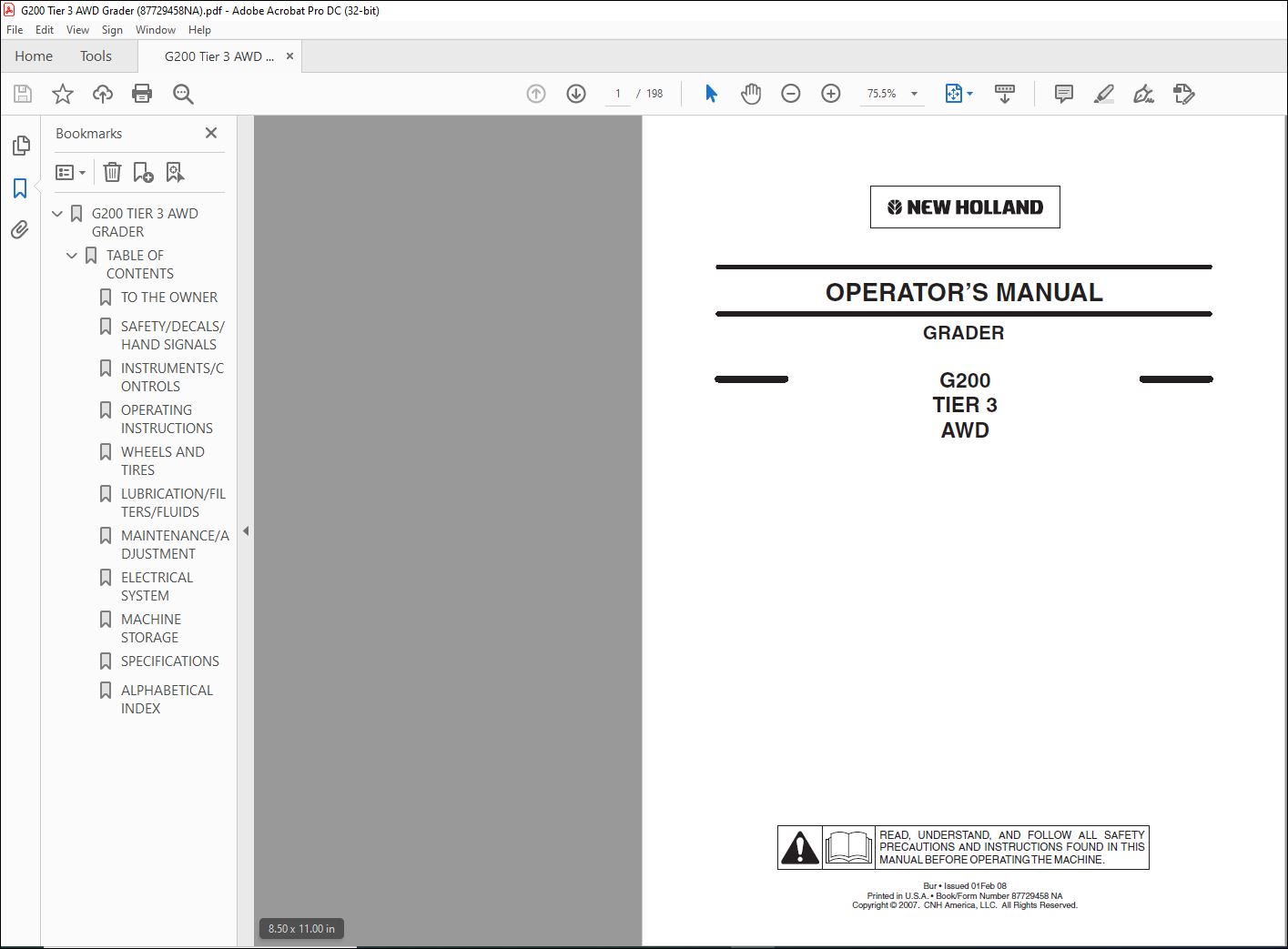 DESCRIPTION:
New Holland G200 TIER 3 AWD Grader Operator's Manual 87729458 – PDF DOWNLOAD
TO THE OWNER:
DO NOT operate or permit anyone to operate or service this machine until you or the other persons have
read and understand the safety, operation and maintenance instructions in this manual. Use only trained
operators who have demonstrated the ability to operate and service this machine correctly and safely.
This motorgrader, with standard equipment and attachments, is intended to be used for above ground level
general earth moving purpose such as land leveling and material rehandling.
DO NOT use this machine for any application or purpose other than those described in this manual.
If the motorgrader is to be used in an application that involves special attachments or equipment, such as
forestry, etc., consult an authorized dealer or the NEW HOLLAND. Consult an authorized dealer or
NEW HOLLAND on changes, additions or modifications that can be required for this machine to comply
with various country regulations and safety requirements.
Unauthorized modifications can cause serious injury or death. Anyone making such unauthorized modifications
is responsible for the consequences.
This Operators Manual is to be stored in the manual compartment equipped on this machine. Make sure this
manual is complete and in good condition. Contact you dealer to obtain additional manuals. Contact your
dealer for any further information or assistance about your machine. Your dealer has NEW HOLLAND
approved service parts. Your dealer has technicians with special training that know best methods of repair
and maintenance for your motorgrader.
Before permitting a new operator on this machine, make sure:
1. That the operator has received the necessary training on how to operate the machine correctly and safely
in one of our training centers or from an approved organization.
2. That the operator has read and understood the instructions given in this manual.
Call your dealer if you need any assistance or information.
TABLE OF CONTENTS:
New Holland G200 TIER 3 AWD Grader Operator's Manual 87729458 – PDF DOWNLOAD
TO THE OWNER 1
OPERATOR MANUAL STORAGE COMPARTMENT 3
RIGHT, LEFT, FRONT AND REAR SIDES 3
OF THE MACHINE 3
IDENTIFICATION NUMBERS 4
MACHINE COMPONENTS 6
SAFETY/DECALS/HAND SIGNALS 9
SAFETY RULES 9
UTILITY SAFETY 10
PERSONAL SAFETY 10
BEFORE OPERATION 11
MACHINE OPERATION 12
ADDITIONAL SAFETY RULES 14
PARKING THE MACHINE AND STOPPING THE ENGINE 16
BURN PREVENTION 16
FIRE EXTINGUISHER 16
FIRE OR EXPLOSION PREVENTION 17
MAINTENANCE 18
WHEEL AND TIRE MAINTENANCE 18
ROLL-OVER PROTECTIVE STRUCTURE 18
MAINTENANCE 19
READ OPERATORS MANUAL 22
SAFETY DECALS 22
SYMBOLS 23
SAFETY RULES 25
DECALS 26
HAND SIGNALS 31
INSTRUMENTS/CONTROLS 35
OPERATOR'S COMPARTMENT 35
FRONT CONSOLE 36
INSTRUMENT PANEL INDICATORS 40
AIR CONDITIONER 48
OPERATORS SEAT 50
SEAT BELT 52
OPERATING INSTRUCTIONS 57
BEFORE STARTING THE ENGINE 57
FIRST SERVICE INTERVALS 59
SEAT BELT 59
RUN-IN 60
BOOSTER BATTERY CONNECTIONS TO MACHINE BATTERIES (JUMP START) 61
OPERATING TIPS 69
TYPICAL OPERATION 70
MOVING A DISABLED MACHINE 73
WHEELS AND TIRES 75
ADDING AIR TO THE TIRES 76
TIRE OR RIM SERVICE 76
TIRE TREAD DIRECTION 76
WHEEL NUTS TORQUE AND TIRE PRESSURE 77
TANDEM WHEEL LUG NUTS 77
TIRE PRESSURE CHECK 77
LUBRICATION/FILTERS/FLUIDS 79
GENERAL SAFETY BEFORE YOU SERVICE 79
ENGINE HOURMETER 79
TRANSPORT/SERVICE PIN 80
ENGINE HOOD 80
MAINTENANCE 81
FLUIDS AND LUBRICANTS 82
LUBRICATION & MAINTENANCE CHART 83
ACCESS DOORS 85
FLUID LEVELS 86
GREASE FITTINGS 88
OIL VISCOSITY AND TEMPERATURE RANGES 93
ENGINE 94
AIR FILTER SYSTEM 96
ENGINE COOLING SYSTEM 98
DIESEL FUEL SYSTEM 101
HYDRAULIC/BRAKE SYSTEM 105
TRANSMISSION 109
FRONT DRIVE AXLE (AWD) 111
REAR AXLE 112
TANDEM 113
SWING/CIRCLE TURN GEAR BOX 114
WINDSHIELD WASHER RESERVOIR (OPTIONAL) 115
MAINTENANCE/ADJUSTMENT 117
PARKING BRAKE CHECK 117
ROLL-OVER PROTECTIVE STRUCTURE 118
SEAT BELT 118
MAINTENANCE AND INSPECTION OF ROPS 118
TORQUE SPECIFICATIONS FOR ROPS CAB AND ROPS 119
DAMAGE TO THE ROPS 119
TORQUE SPECIFICATIONS FOR SEAT AND SEAT BELTS 120
OPERATORS SEAT 120
CAB HEADLINER 121
FIRE EXTINGUISHER MOUNTING (IF EQUIPPED) 121
TYPE OF FIRE EXTINGUISHER 121
INSPECTION AND CARE 121
DOORS HINGES 121
HOSES AND WIRING 121
ALTERNATOR BELT AND AIR CONDITIONING COMPRESSOR BELT 122
SERVICE INTERVAL 122
ALTERNATOR BELT AND TENSIONER 122
DRIVE BELT AND TENSIONER INSPECTION 123
DRIVE BELT TENSIONER 123
REINSTALLING THE DRIVE BELT 123
CIRCLE GUIDES CHECK AND ADJUST 124
WEAR PLATE ADJUSTMENT 124
DRAWBAR 125
HYDRAULIC DIAGNOSTIC PANEL CHECK 126
III
TABLE OF CONTENTS
G200
ELECTRICAL SYSTEM 127
BATTERY SAFETY 127
BATTERY SERVICE 128
BATTERY FLUID LEVEL 128
BATTERY VENTS 128
CLEANING THE BATTERIES 128
STARTING THE ENGINE USING BOOSTER BATTERIES 129
CONNECTING BOOSTER BATTERIES 129
DISCONNECTING BOOSTER BATTERIES 129
TRANSMISSION AUXILIARY SYSTEM 130
COME-HOME 130
CARE TO BE TAKEN PRIOR TO PERFORMING ANY WELDING PROCEDURE ON THE MACHINE 131
FUSE BOX 133
FUSE BOX AND FRONT WHEEL DRIVE DIAGNOSIS CONECTOR 133
FUSE AND RELAY LIST 133
LOGIC CHECKING FOR TIER3 CUMMINS ENGINE OPERATION 134
ENGINE PROTECTION SYSTEM 134
ENGINE STOP 134
STANDBY LIGHT FOR STARTING 134
TROUBLESHOOTING CODES 134
INDICATOR AND WARNING LIGHTS 134
TROUBLESHOOTING SWITCHES 136
CHECKING AND INTERPRETATION OF THE TROUBLESHOOTING CODES 137
RADIO 143
COMPONENTS LIST 144
ELECTRIC DIAGRAMS 148
MACHINE STORAGE 175
STORAGE PREPARATION 175
REMOVAL FROM STORAGE 175
SPECIFICATIONS 177
ENGINE 177
TRANSMISSION 177
STEERING 178
TIRES 178
ELECTRICAL SYSTEM 178
BRAKES 179
TANDEM 179
FRONT AXLE 179
REAR AXLE 179
OPERATING WEIGHTS 180
DRAW BAR 181
FRAME 181
CIRCLE 181
BLADE 182
BLADE REACH (MEASURED OUTSIDE TIRES), NON-ARTICULATED FRAME 182
BLADE REACH (MEASURED OUTSIDE TIRES), ARTICULATED FRAME 182
HYDRAULIC SYSTEM 183
ALL WHEEL DRIVE HYDRAULIC SYSTEM 183
ACCESSORIES 184
OPERATING DATA AND DIMENSIONS 185
ALPHABETICAL INDEX 187
VIDEO PREVIEW OF THE MANUAL:
PLEASE NOTE:
This is the SAME manual used by the dealers to troubleshoot any faults in your vehicle. This can be yours in 2 minutes after the payment is made.
Contact us at [email protected] should you have any queries before your purchase or that you need any other service / repair / parts operators manual.
S.V