Mustang 7503ZT 8003 Compact Excavator Operator's Manual 918082 – PDF DOWNLOAD
FILE DETAILS:
Mustang 7503ZT 8003 Compact Excavator Operator's Manual 918082 – PDF DOWNLOAD
Language : English
Pages : 136
Downloadable : Yes
File Type : PDF
Size: 21.1 MB
DESCRIPTION:
Mustang 7503ZT 8003 Compact Excavator Operator's Manual 918082 – PDF DOWNLOAD
INTRODUCTION :
This Operator's Manual is intended to give the owner/ operator assistance in preparing, adjusting, maintaining and servicing the machine. More importantly, this manual provides an operating plan for safe and proper use of the machine. Major points of safe operation are detailed in Chapter 2 – Safety.
Read and understand the contents of this manual completely and become familiar with the machine before attempting to operate it. Contact your dealer to obtain additional manuals. Throughout this manual, information is introduced by the word NOTE or IMPORTANT. Be sure to read the message carefully and comply with the message.
Following this information will improve operating and maintenance efficiency, help to avoid breakdown and damage and extend the service life of the machine. Do not use the machine for any application or purpose other than described in this manual. Consult your dealer before using special attachments or equipment not approved for use with the machine.
Any person making unauthorized modifications is responsible for the consequences. The use of the machine is subject to certain hazards that cannot be eliminated by mechanical means – only by exercising intelligence, care and common sense.
Such hazards include, but are not limited to: hillside operation, overloading, load stability, poor maintenance and use of the machine for purposes for which it was not intended or designed. It is essential to have competent and careful operators, not physically or mentally impaired, who are thoroughly trained in safe operation and proper load handling. It is recommended that operators be capable of obtaining a valid motor vehicle operator's license.
Manitou Americas, Inc. reserves the right to make changes and improvements in the design and construction of any part without incurring the obligation to install such changes on any unit previously delivered. Some illustrations in this manual may show doors, guards and shields open or removed for illustrative purposes only.
BE SURE all doors, guards and shields are in their proper operating positions BEFORE starting the engine to operate the machine. The Mustang dealer network stands ready to provide any assistance you may require, including genuine service parts. All service parts should be obtained from your dealer. Give complete information about the part and include the model and serial number of your machine. Record the serial number in the space provided on this page, as a handy reference.
TABLE OF CONTENTS:
Mustang 7503ZT 8003 Compact Excavator Operator's Manual 918082 – PDF DOWNLOAD
Chapter 1 – General Information 1-1
Introduction 1-1
Ownership Change 1-2
Excavator Component Identification 1-3
Specifications 1-4
Fluid Capacities/Lubricants 1-4
Engine 1-5
Hydraulic System 1-5
Undercarriage and Swing System 1-6
Dozer Blade 1-6
Electrical System 1-6
Fuse Box in Instrument Panel 1-6
Main Fuse Box with Relays – located underneath the cab – 7503ZT (SN AH00646 and up)
and 8003 (SN AH0611 and up) 1-7
Main Fuse Box with Relays – located underneath the cab – 7503ZT (SN AH00645 and before)
and 8003 (SN AH0610 and before) 1-7
Relays – located underneath the cab – 7503ZT (SN AH00645 and before) and 8003
(SN AH0610 and before) 1-8
Coolant Compound Table 1-8
7503ZT General Specifications 1-9
8003 General Specifications 1-10
Load Diagrams 1-11
Checklists 1-20
Chapter 2 – Safety 2-1
Safety Alerts 2-1
General Safety Rules 2-1
Unauthorized Modifications 2-2
Attachment Precautions 2-2
Mandatory Safety Shutdown Procedure 2-2
Operation Safety 2-2
Before Operation 2-2
During Operation 2-3
Exposure to Crystalline Silica 2-5
Parking the Machine 2-5
Travel Controls May Produce Reversed Travel Operations 2-5
Additional Travel Precautions 2-5
Snow, Ice and Cold Temperature Operation Precautions 2-6
Fire Hazards 2-6
Fire Extinguisher Recommendation 2-6
Additional Safety Equipment 2-6
Maintenance Safety 2-7
Safety Decals 2-9
Hydraulic Cylinder Seal Periodic Replacement 2-9
High Pressure Hydraulic Lines Store Energy 2-9
Operator's Cab and Swing Frame Deck Maintenance 2-9
918082/DP0811 ii Printed in U S A
Battery Electrolyte and Explosive Gas Hazard 2-9
Battery Disconnection Precaution 2-9
Jump-starting or Charging the Battery 2-9
Lifting the Machine with a Crane 2-9
Transporting 2-10
Safety Decals 2-10
New Decal Application 2-10
ISO-Style Safety Decal Locations (Serial Numbers AH00859 and Up) 2-11
ISO-Style Information Decal Locations (Serial Numbers AH00859 and Up) 2-14
ANSI-Style Safety Decal Locations (Serial Numbers AH00858 and Before) 2-16
Chapter 3 – Operation 3-1
Operating Controls 3-1
Machine Orientation 3-1
Ignition Key Switch 3-15
Battery Disconnect Switch 3-15
Travel Controls 3-16
SAE Operating Controls (Standard) 3-19
ISO Operating Controls (Selectable) 3-19
Boom Swivel/Auxiliary Hydraulics Pedal 3-20
Dozer Blade 3-20
Auxiliary Hydraulics Flow Rate Switch (Model 8003 Only) 3-21
Throttle Lever 3-21
Optional Auto-Idle Feature 3-21
Operator's Seat Adjustments 3-22
Arm Rests 3-22
Seat Belt 3-23
Ventilation 3-23
Mounting/Removing Buckets 3-27
Auxiliary Hydraulics Connections 3-28
Machine Operation 3-29
Pre-Operation Checklist 3-29
Engine Start and Stop 3-30
Engine Shut Down 3-31
Travel 3-32
Machine Operation 3-33
Operating on Slopes 3-35
Cold Weather Operation 3-35
Operating in Water 3-36
Swiveling the Boom 3-36
Grading 3-36
Excavating 3-37
Digging 3-38
Loading Vehicles 3-40
Transporting the Machine 3-40
Lifting the Machine 3-41
Optional Controls 3-43
Proportional Auxiliary Hydraulic
Joystick Control (Option) 3-43
Printed in U S A iii 918082/DP0811
Two-Speed Variable Auxiliary Hydraulic Mode Selection 3-44
Auxiliary Hydraulic Hammer Operation 3-45
Chapter 4 – Maintenance 4-1
General Care and Servicing Information 4-1
Care and Servicing 4-1
Maintenance Safety 4-2
Maintenance Label Symbols 4-3
Maintenance Label 4-4
Maintenance Schedule 4-5
Check, Clean and Inspect 4-5
Fluid and Filter Changes 4-6
Cab Air Conditioning 4-7
Cab Functional Checks 4-7
Leakage Checks 4-7
Lubrication 4-8
Recommended Lubricants 4-9
Engine 4-9
Changing Engine Oil and Filter 4-10
Air Cleaner Service 4-11
Fuel System 4-12
Coolant System 4-15
Electrical System 4-15
Battery 4-16
Hydraulic System 4-18
Checking & Adjusting V-belt Tension 4-22
Checking & Adjusting Air Conditioning V-belt Tension 4-22
Track System 4-23
Windshield Washer Fluid 4-25
Long-Term Storage 4-25
Before Storage 4-25
After Storage 4-26
Chapter 5 – Troubleshooting 5-1
Engine 5-1
Indicator Lamps 5-3
Seals and Hoses 5-3
Traveling Gear 5-4
Bucket, Boom and Dozer Blade 5-4
Engine Error Codes 5-5
Error Diagnostic Code Examples 5-5
Engine Diagnostic Codes Table 5-6
IMAGES PREVIEW OF THE MANUAL: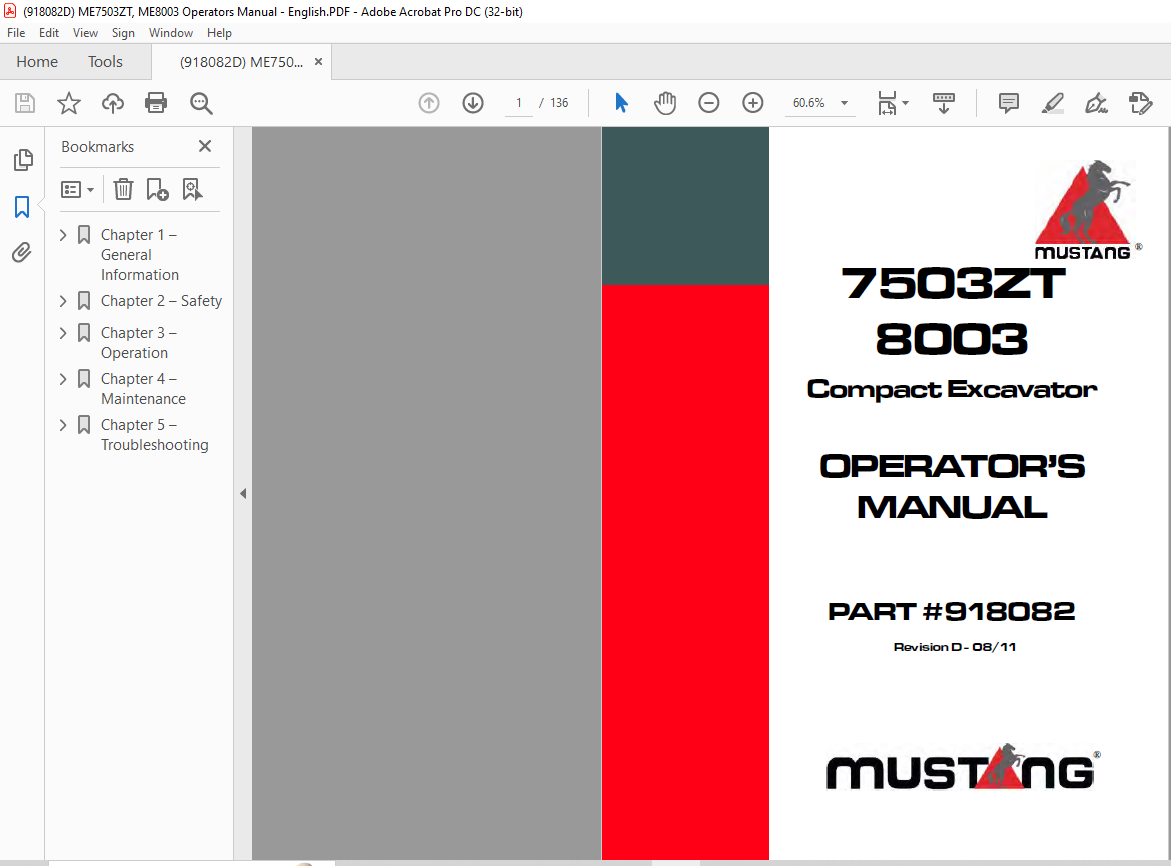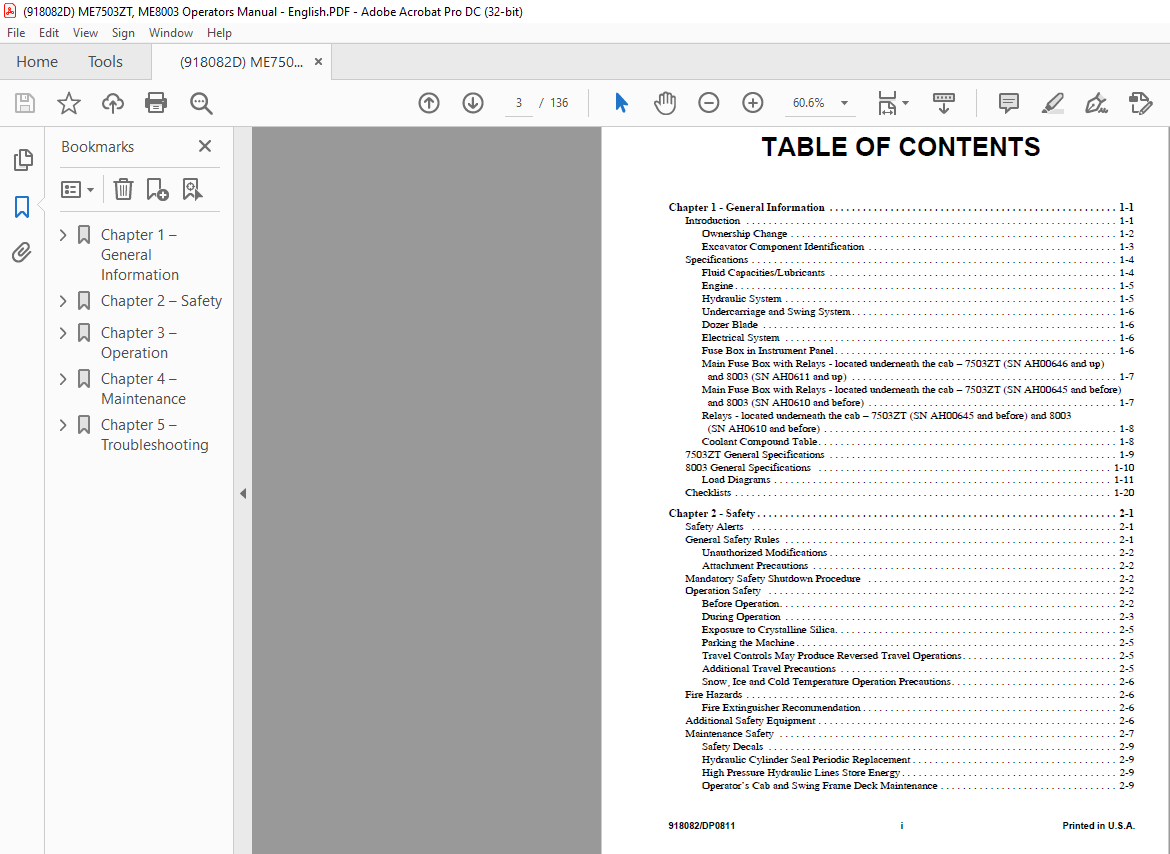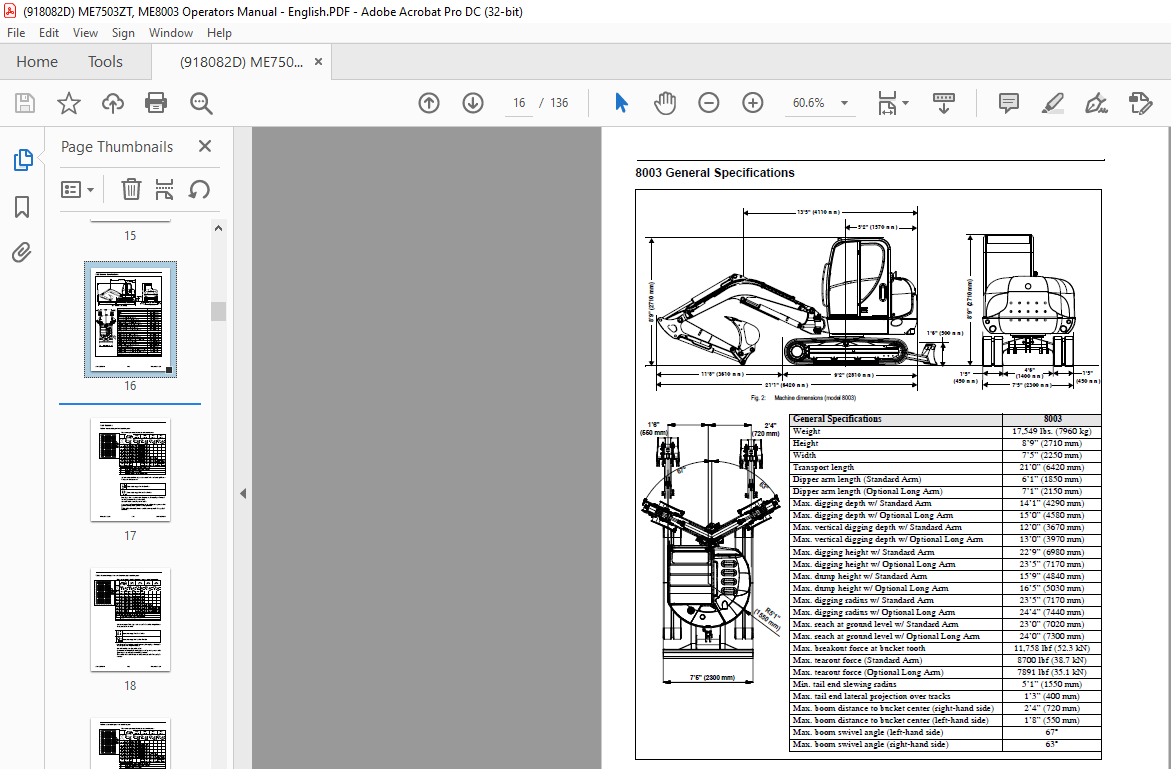 VIDEO PREVIEW OF THE MANUAL:
PLEASE NOTE:
This is the SAME exact manual used by your dealers to fix your vehicle.
The same can be yours in the next 2-3 mins as you will be directed to the download page immediately after paying for the manual.
Any queries / doubts regarding your purchase, please feel free to contact [email protected]
S.V