Mustang 450Z NXT2 Compact Excavator Operator's Manual 50940408 – PDF DOWNLOAD
IMAGES PREVIEW OF THE MANUAL: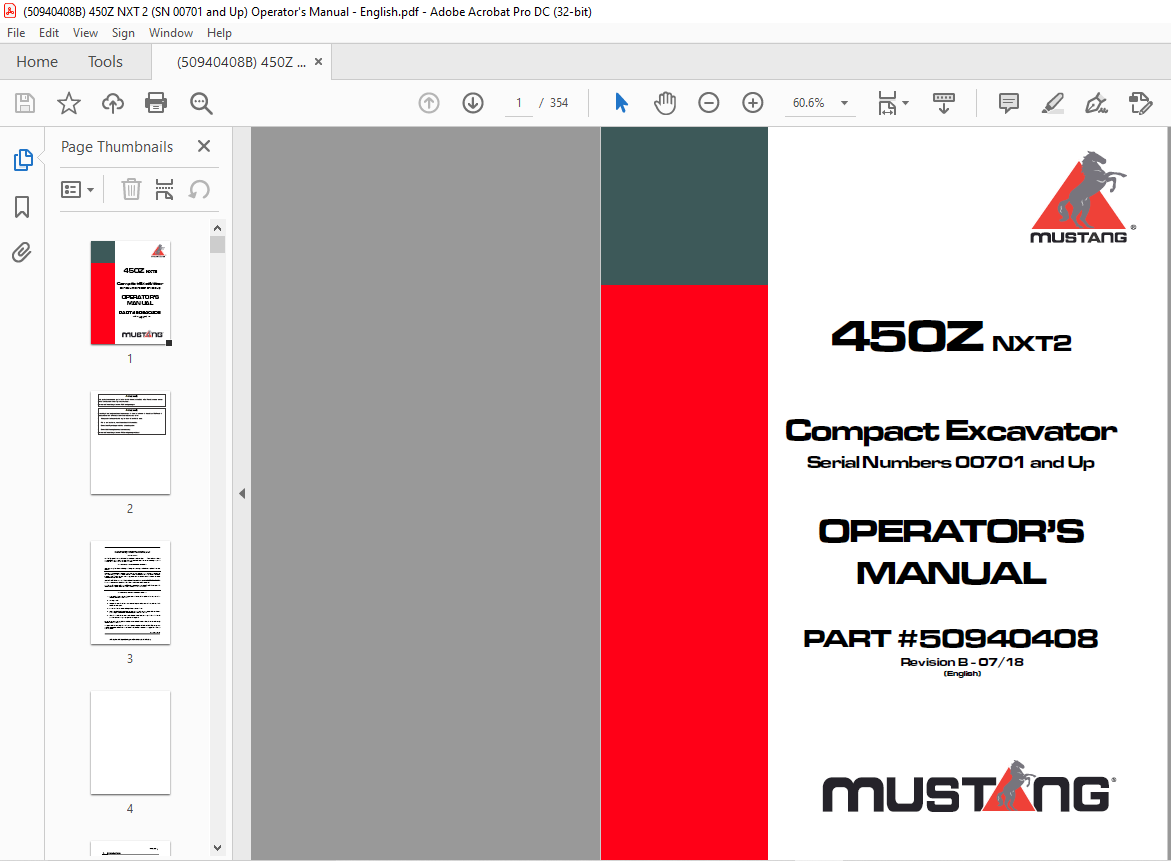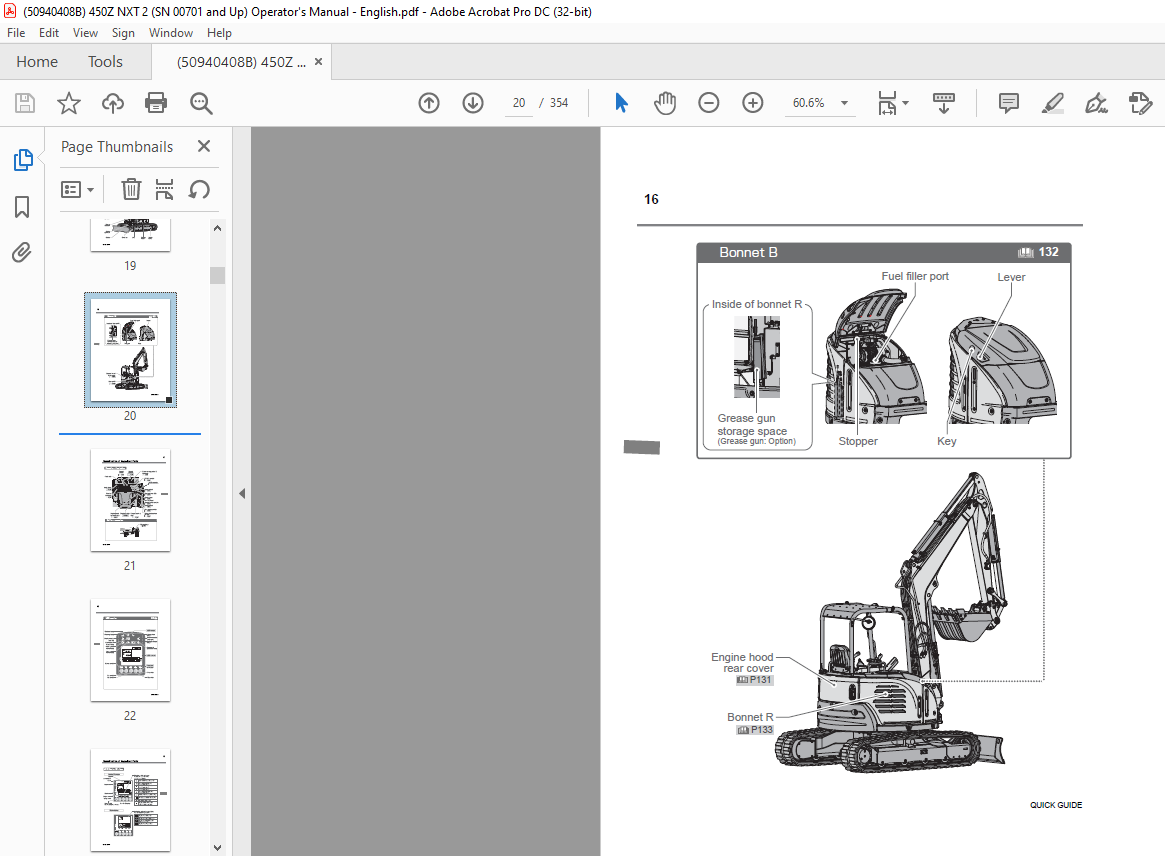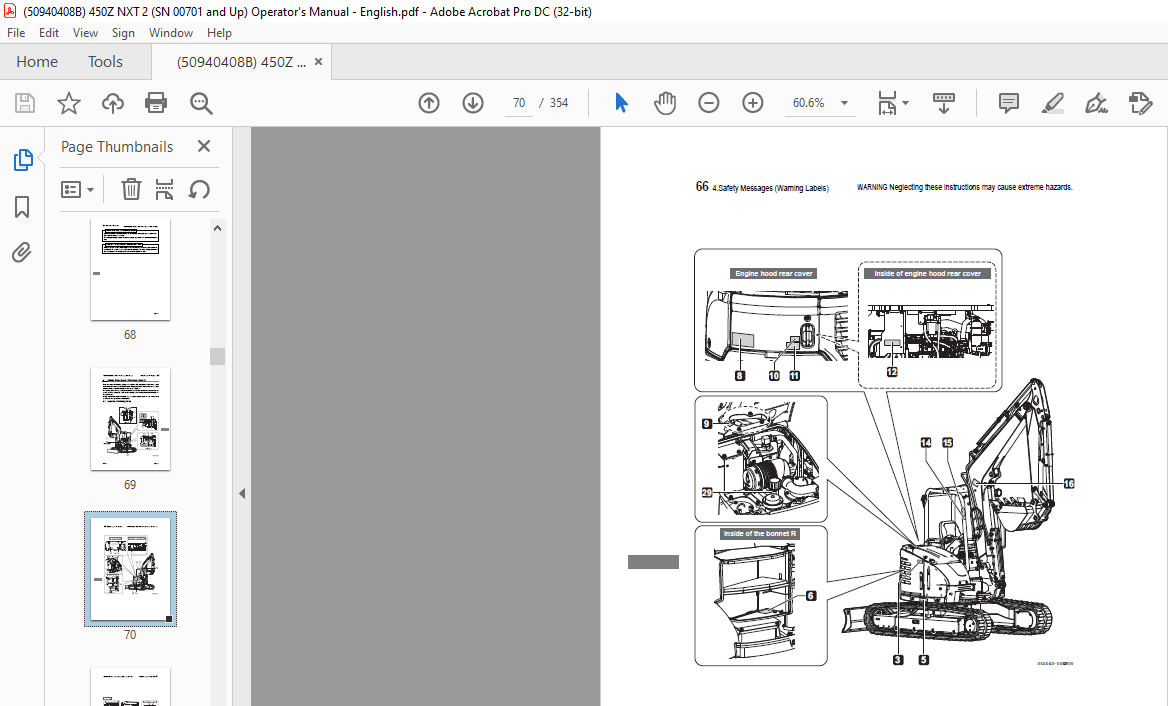 FILE DETAILS:
Mustang 450Z NXT2 Compact Excavator Operator's Manual 50940408 – PDF DOWNLOAD
Language : English
Pages : 354
Downloadable : Yes
File Type : PDF
Size: 70.7 MB
TABLE OF CONTENTS:
Mustang 450Z NXT2 Compact Excavator Operator's Manual 50940408 – PDF DOWNLOAD
1 Introduction 1
2 Safety Information 2
3 Product Overview 3
4 Operation License 9
5 Ordering Replacement Parts and Service Call 10
QUICK GUIDE 14
SAFETY 32
1 Basic Precautions 33
2 Operating Precautions 39
3 Precautions for Servicing 56
4 Safety Messages (Warning Labels) 65
OPERATION 80
1 Identification of Important Parts 82
2 Description of Control Devices 85
3 Operating Instructions 154
4 Transportation 230
5 Care and Service in Cold Weather 236
6 Long-term Storage 240
7 Troubleshooting 243
MAINTENANCE 252
1 Precautions for Servicing 253
2 Basic Servicing Practices 256
3 Consumables 268
4 Fueling, Oiling and Greasing Based on Temperature Range 269
5 Standard Tightening Torque for Bolts and Nuts 270
6 Replacing Essential Parts Periodically 272
7 Maintenance Table 274
8 Procedures for Maintenance 279
SPECIFICATIONS AND DIMENSIONAL DIAGRAMS 329
1 Specifications and Dimensional Diagrams 330
OPTIONAL PARTS AND ATTACHMENTS 335
1 General Precautions 336
APPENDIX TABLE 339
DESCRIPTION:
Mustang 450Z NXT2 Compact Excavator Operator's Manual 50940408 – PDF DOWNLOAD
Serial Numbers 00701 and Up
Introduction:
This Operation and Maintenance Manual for the Manitou Excavator is designed to provide you
with important information and suggestions necessary for using the machine with safety and efficiency.
Please be sure to read through the manual before using the machine, to make yourself
familiar with the procedures and instructions for operating, inspecting and servicing. Keep in mind
that failure to observe the precautions given in the manual or using any procedures not prescribed
in the manual may cause a serious accident.
Product Overview
3.1 Intended uses
The Manitou Excavator is intended to perform the following tasks:
• Digging
• Leveling of ground
• Shoveling
• Ditching and Guttering
• Loading
For the details of how to work with the machine, refer to OPERATION Section "3. Operations
using the bucket on page 193".
3.2 Break in period
The machine should not be subjected to severe stresses and loads during the initial break in
period although it has been prepared well and stringently inspected before shipping. Otherwise
the machine's performance may be affected and its service life shortened. Thus it is essential to
break in the machine for the first approx. 100 service hours (reading of the hour meter).
In breaking in the machine:
• You should warm up the engine by idling for 5 minutes before starting operations.
• You should not operate the machine under heavy loads or at high speed.
• You should not start and accelerate the engine too abruptly, or stop it too abruptly.
• You should not change travel direction too abruptly.
The safety instructions for operation and maintenance that are presented in this Manual are applicable
to each of the intended tasks. Never misuse this machine by violating the applicable safety
instructions or by attempting to perform unintended tasks, because of the danger of serious bodily
injury.
VIDEO PREVIEW OF THE MANUAL:
PLEASE NOTE:
This is not a physical manual but a digital manual – meaning no physical copy will be couriered to you. The manual can be yours in the next 2 mins as once you make the payment, you will be directed to the download page IMMEDIATELY.
This is the same manual used by the dealers inorder to diagnose your vehicle of its faults.
Require some other service manual or have any queries: please WRITE to us at [email protected]
S.V