Mustang 4200V 4200V (EU) 4200V X-Series Skid-Steer Loader Operator's Manual 50950235 – PDF DOWNLOAD
FILE DETAILS:
Mustang 4200V 4200V (EU) 4200V X-Series Skid-Steer Loader Operator's Manual 50950235 – PDF DOWNLOAD
Language : English
Pages : 140
Downloadable : Yes
File Type : PDF
Size: 30.6 MB
DESCRIPTION:
Mustang 4200V 4200V (EU) 4200V X-Series Skid-Steer Loader Operator's Manual 50950235 – PDF DOWNLOAD
INTRODUCTION:
This Operator's Manual provides the owner/operator with information for operating,
maintaining and servicing model 4200V machines. More important, this
manual provides an operating plan for safe and proper use of the machine. Major
points of safe operation are detailed in the Safety chapter of this manual.
Users should read and understand the contents of this manual completely and
become familiar with the machine before operating it. Contact your authorized
dealer if you have any questions concerning information in this manual, require
extra manuals, and for information concerning the availability of manuals in
other languages.
Throughout this manual information is provided set in italic type and introduced
by the word Note or Important. Read carefully and comply with those messages
– it will improve operating and maintenance efficiency, help avoid breakdowns
and damage, and extend the machine's life.
A manual storage box in the operator's compartment behind the seat holds the
Operator's Manual and AEM Safety Manual (also available in Spanish). Please
return the manuals to this box and keep them with the unit at all times. If this
machine is resold, these manuals should be given to the new owner.
The attachments and equipment available for use with this machine have a wide
variety of applications. Read the manual provided with the attachment to learn
how to safely maintain and operate the equipment. Be sure the machine is suitably
equipped for the type of work to be performed.
Do not use this machine for any applications or purposes other than those
described in this manual or those applicable for approved attachments. If the
machine is to be used with special attachments or equipment other than those
approved by Manitou Group, consult your dealer. Any person using nonapproved
attachments or making unauthorized modifications is responsible for
the consequences.
The Manitou dealership network stands ready to provide any assistance that may
be required, including providing genuine Manitou service parts. All service parts
should be obtained from your authorized dealer. Provide complete information
about the part and include the model and serial numbers of the machine. Record
these numbers in the space provided on the Table of Contents page as a handy
reference.
Please be aware that Manitou Group strives to continuously improve its products
and reserves the right to make changes and improvements in the design and construction
of any part without incurring the obligation to install such changes on
any previously delivered unit.
If this machine was purchased "used," or if the owner's address has changed,
please provide your dealer or Manitou Group Service Department with the
owner's name and current address, along with the machine model and serial
number. This will allow the registered owner information to be updated, so that
the owner can be notified directly in case of an important product issue, such as a
safety update program.
TABLE OF CONTENTS:
Mustang 4200V 4200V (EU) 4200V X-Series Skid-Steer Loader Operator's Manual 50950235 – PDF DOWNLOAD
Introduction 1
Safety 5
Specifications 19
Controls and Safety Equipment 25
Operation 51
Service 71
Maintenance 115
Troubleshooting 119
Torque Specifications 127
INDEX 129
IMAGES PREVIEW OF THE MANUAL: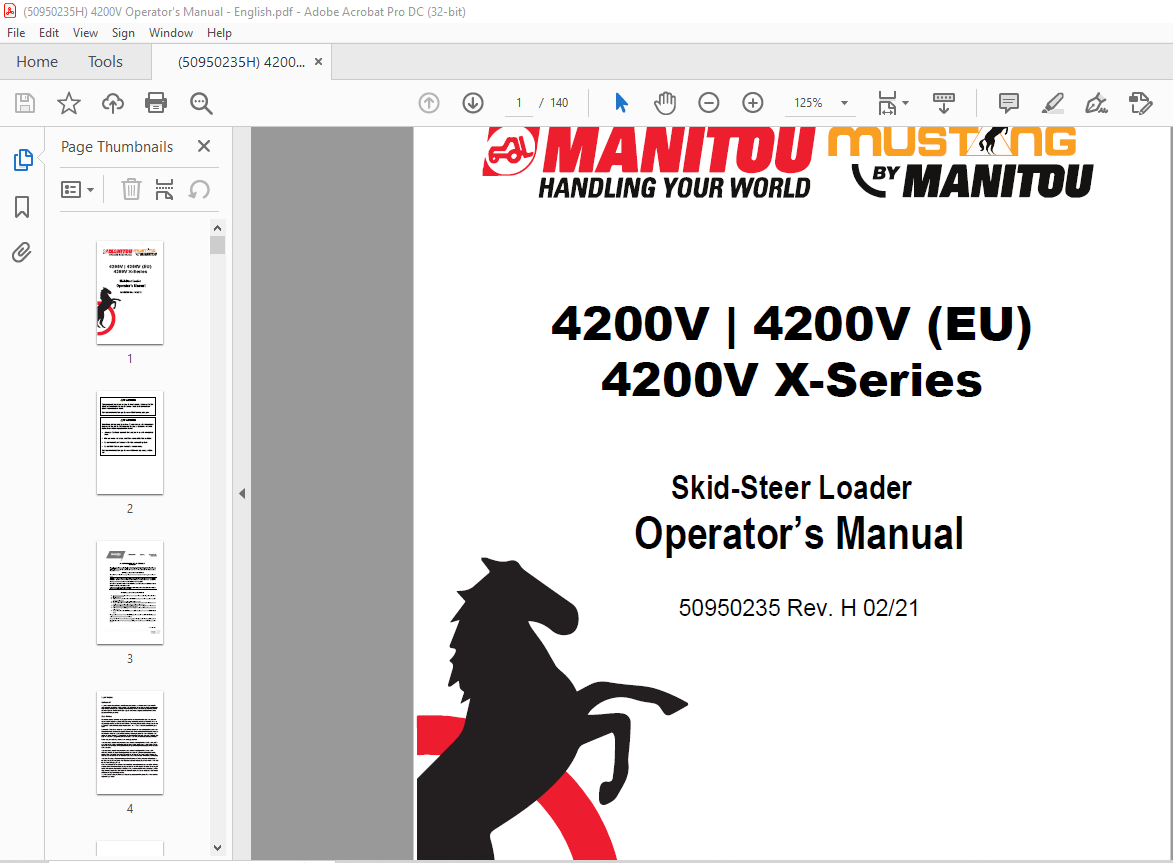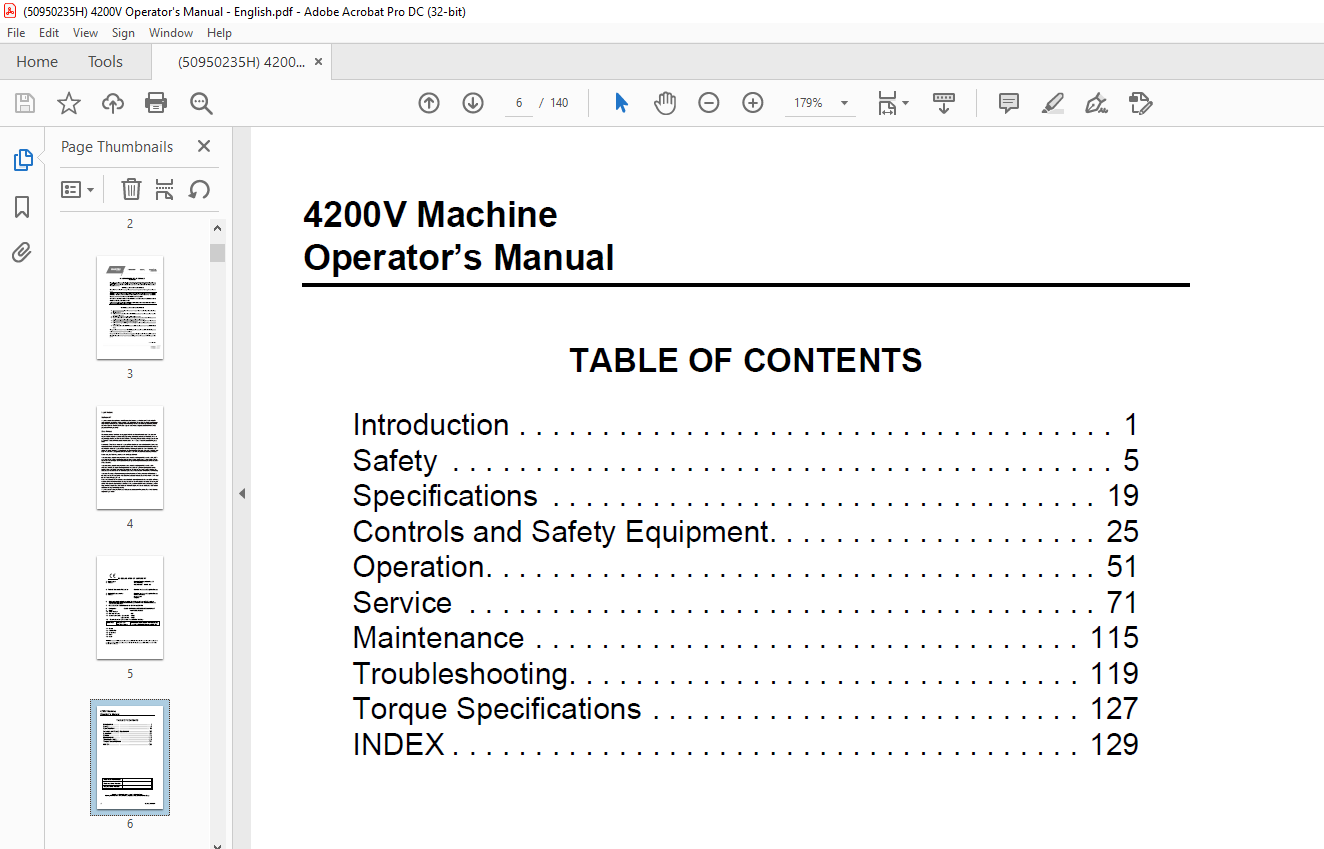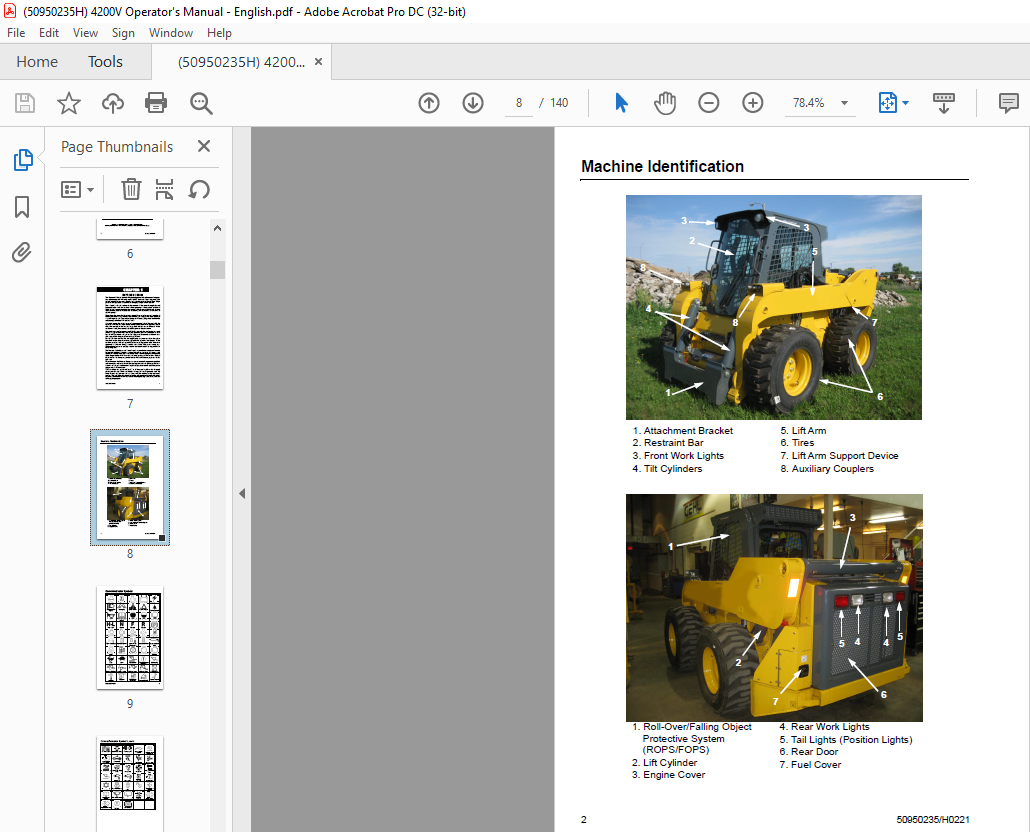 VIDEO PREVIEW OF THE MANUAL:
PLEASE NOTE:
This is the same manual used by the dealers to diagnose and troubleshoot your vehicle
You will be directed to the download page as soon as the purchase is completed. The whole payment and downloading process will take anywhere between 2-5 minutes
Need any other service / repair / parts manual, please feel free to contact [email protected] . We still have 50,000 manuals unlisted
S.V