Mustang 2064 2074 Skid-Steer Loader Operator's Manual 000-27026 – PDF DOWNLOAD
IMAGES PREVIEW OF THE MANUAL: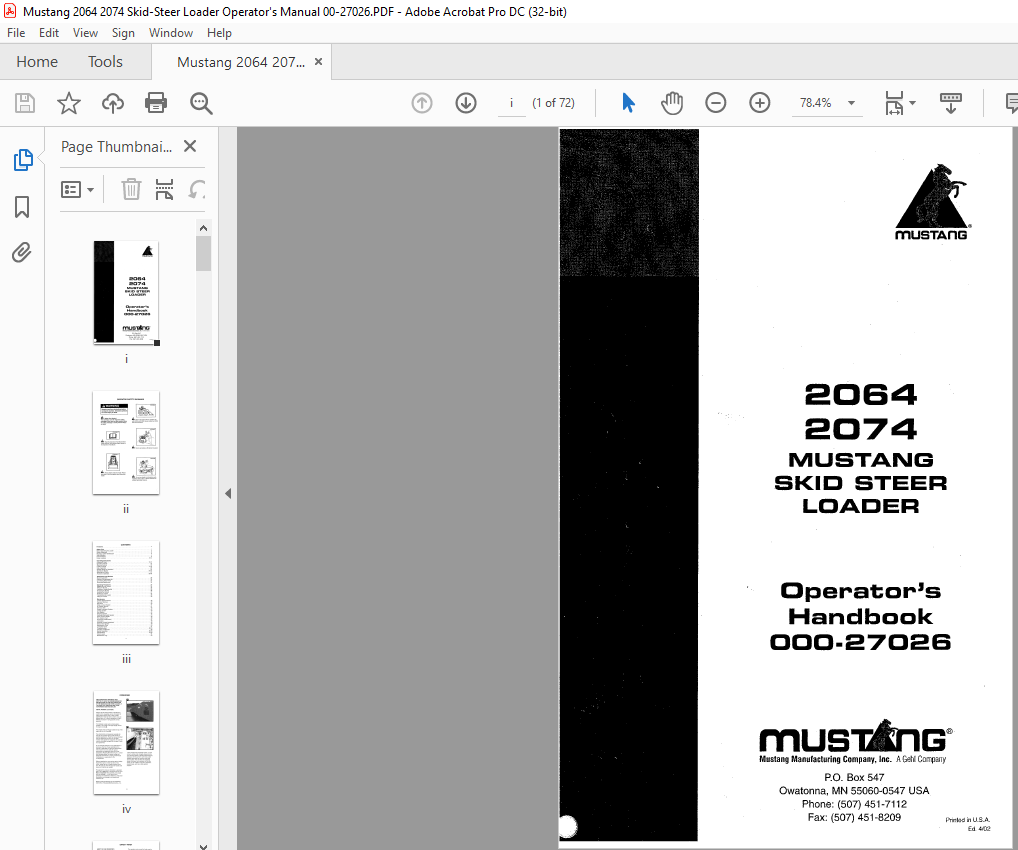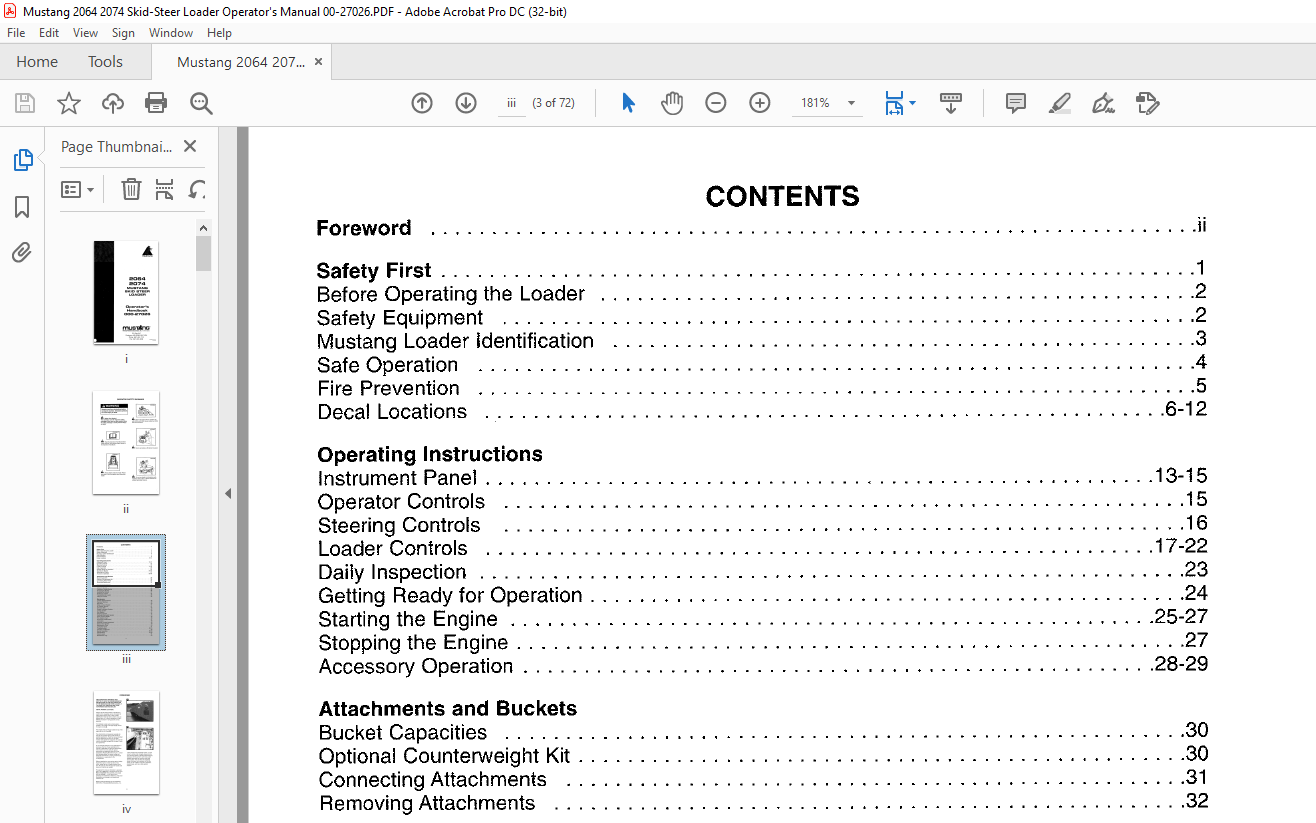 FILE DETAILS:
Mustang 2064 2074 Skid-Steer Loader Operator's Manual 000-27026 – PDF DOWNLOAD
Language : English
Pages : 72
Downloadable : Yes
File Type : PDF
Size: 4.82 MB
TABLE OF CONTENTS:
Mustang 2064 2074 Skid-Steer Loader Operator's Manual 000-27026 – PDF DOWNLOAD
Foreword ii
Safety First 1
Before Operating the Loader 2
Safety Equipment 2
Mustang Loader Identification 3
Safe Operation 4
Fire Prevention 5
Decal Locations 6-12
Operating Instructions
Instrument Panel 13-15
Operator Controls 15
Steering Controls 16
Loader Controls 17-22
Daily Inspection 23
Getting Ready for Operation 24
Starting the Engine 25-27
Stopping the Engine 27
Accessory Operation 28-29
Attachments and Buckets
Bucket Capacities 30
Optional Counterweight Kit 30
Connecting Attachments 31
Removing Attachments 32
Operating Procedures 33
Digging into the Ground 34
Filling the Bucket 35
Carrying a Loaded Bucket 36
Emptying the Bucket 36
Leveling the Ground 37
Parking the Loader 37
Transporting the Loader 38
Lifting the Loader 39
Maintenance
Lift Arm Support Device 40
Operator Structure 40
Rear Door 40
Safety Lockout System 41
Air Cleaner Service 41
Alternator Belt 42
Engine Lubrication System 42
Cooling System 43
Fuel System 44
Electrical System 44
Hydraulic/Hydrostatic System 45
Spark Arrestor Muffler 46
Tire Inflation Chart 46
Final Drive (Chaincases) 47
Lubrication 48
Hydraulic Control Adjustment 48
Neutral Start System 49
Maintenance Chart 50
Lubrication Chart 51
Troubleshooting 52-54
Densities of Materials 55
Bucket Capacities 55-56
Specifications 57-60
Sound Levels 61
Maintenance Log 62
DESCRIPTION:
Mustang 2064 2074 Skid-Steer Loader Operator's Manual 000-27026 – PDF DOWNLOAD
FOREWORD :
THIS OPERATOR'S HANDBOOK WAS WRITTEN TO GIVE THE OWNER/OPERATOR INSTRUCTIONS ON THE SAFE OPERATION OF THE MUSTANG SKID STEER LOADER. IF YOU HAVE ANY QUESTIONS SEE YOUR AUTHORIZED MUSTANG DEALER.
SERIAL NUMBER LOCATIONS:
Always use the serial number of the Mustang Loader when requesting service information or when ordering parts. Early or later models (identification made by serial number) may use different parts, or it may be necessary to use a different procedure in doing specific service operation.
The Mustang Loader serial number plate is located on the inside of the right upright, above the engine cover [A]. The engine serial number is located on top of the engine by the oil fill cap [B]. The attachments and equipment available for use with this machine have a wide variety of potential applications.
Read the manual provided with the attachment to learn how to safely maintain and operate the equipment. Be sure the machine is suitably equipped for the type of work to be performed. Do not use this machine for any applications or purposes other than those described in this manual or applicable for approved attachments.
If the machine is to be used with special attachments or equipment other than those approved by Mustang Manufacturing Co., consult your Mustang dealer. Any person using nonapproved attachments or making unauthorized modifications is responsible for the consequences.
Different applications may require optional safety equipment, such as a back-up alarm, horn, mirror, strobe light or an impact-resistant front door. Be sure you know the job site hazards and equip your machine as needed.
Throughout this manual, information is provided that is set in bold type or introduced by the word Note or Important. Read carefully and comply with the message – it will improve your operating and maintenance efficiency, help avoid breakdowns and damage, and extend your machine's life.
VIDEO PREVIEW OF THE MANUAL:
PLEASE NOTE:
This is not a physical manual but a digital manual – meaning no physical copy will be couriered to you. The manual can be yours in the next 2 mins as once you make the payment, you will be directed to the download page IMMEDIATELY.
This is the same manual used by the dealers inorder to diagnose your vehicle of its faults.
Require some other service manual or have any queries: please WRITE to us at [email protected]
S.V