Mahindra Tractor DRAFT eMax 20 S Operator's Manual – PDF DOWNLOAD
FILE DETAILS:
Mahindra Tractor DRAFT eMax 20 S Operator's Manual – PDF DOWNLOAD
Language : English
Pages : 139
Downloadable : Yes
File Type : PDF
Size: 10.3 MB
TABLE OF CONTENTS:
Mahindra Tractor DRAFT eMax 20 S Operator's Manual – PDF DOWNLOAD
GENERAL INFORMATION
DESCRIPTION OF TRACTOR CONTROLS
OPERATION
WORK PROCEDURE
MAINTENANCE
STORAGE AND DISPOSAL
TROUBLESHOOTING
SAFETY STANDARD FOR FARM WORK
APPENDIX
INDEX
TABLE OF CONTENTS
GENERAL INFORMATION 1
1 EXTERIOR VIEW 1-2
2 SAFETY SIGNS 1-5
DESCRIPTION OF TRACTOR
CONTROLS
2
1 INSTRUMENT AND SWITCHES 2-2
2 OPERATION THE CONTROLS 2-12
3 OPERATING THE 3 POINT LINKAGE (TPL) 2-24
OPERATION 3
1 Engine starting 3-2
2 Engine Stopping 3-3
3 Engine idling 3-3
4 Running-in period 3-4
5 Starting off, shifting and driving 3-4
6 Stopping and parking 3-4
7 Driving on slope 3-5
8 Cautions for driving into / out of
field 3-6
9 Loading to / Unloading from truck 3-6
10 Cautions for driving on road 3-7
11 Operation check during driving 3-7
WORK PROCEDURE 4
1 Precautions for handling implement 4-2
2 General implement 4-2
MAINTENANCE 5
1 Opening covers 5-2
2 Inspection items 5-2
3 Inspecting and changing coolant 5-4
4 Checking and changing oil 5-5
5 Replacing filter and cartridge 5-9
6 Fuel system 5-11
7 Checking and cleaning air cleaner 5-12
8 Greasing 5-13
9 Checking hoses 5-13
10 Checking electric system 5-14
11 Check and adjust each part 5-18
12 Routine maintenance schedule 5-21
STORAGE AND DISPOSAL 6
1 Tractor storage 6-2
2 Usage and disposal 6-3
TABLE OF CONTENTS
TROUBLESHOOTING 7
1 Engine SYSTEM 7-2
2 Brake system 7-6
3 Steering system 7-6
4 Hydraulic system 7-7
5 Electric system 7-8
SAFETY STANDARD FOR FARM WORK 8
1 Instruction before use 8-2
2 Checkup list before operation 8-3
3 Cautions during the work 8-4
4 Cautions when driving on the farm road 8-5
5 Instruction after use 8-6
6 Cautions for inspection and maintenance 8-6
7 Tractor 8-7
APPENDIX 9
1 Major specifications 9-2
2 Major consumables 9-4
INDEX 10
1 Index 10-
DESCRIPTION:
Mahindra Tractor DRAFT eMax 20 S Operator's Manual – PDF DOWNLOAD
FOREWORD:
We are confident it will give you many years of reliable Service.
The introduction in this manual sets out the correct manner of operating, maintaining and checking the tractor
to ensure long-term durability.
Please ensure correct operation of the tractor as incorrect operation can cause substantial mechanical damage
as well as cause accidents with the associated injuries.
Please note that in some cases differences can exist between this manual and your tractor due to the manufacture's
policy of constant product improvement.
In the event that you encounter a problem not covered by this manual please contact your nearest dealer
who will assist you in resolving your problem.
ABOUT THIS MANUAL :
This manual has been prepared to assist you in following/adopting the correct procedure for running-in operation and maintenance of your new Mahindra (Here in after refer to Mahindra) tractor. Your tractor has been designed and built to give maximum performance, with good fuel economy and ease of operation under a wide variety of operating conditions.
Prior to delivery, the tractor was carefully inspected, both at the factory and by your Mahindra Dealer/Distributor, to ensure that it reaches you in optimum condition. To maintain this condition and ensure trouble free performance. it is important that the routine services, as specified in this manual, are carried out at the recommended intervals.
Read this Manual carefully and keep it in a convenient place for future reference. If at any time you require advice concerning your tractor, do not hesitate to contact your Authorized Mahindra dealer/Distributor. He has trained personnel, genuine parts and necessary equipments to undertake all your service requirements.
Manufacturer's policy is one of continuous improvement, and the right to change prices, specifications or equipments at any time without notice is reserved. All data given in this book is subject to production variations. Dimensions & weight are approximate only and the illustrations do not necessarily show tractors in standard condition. For exact information about any particular tractor, please consult your Mahindra dealer/Distributor.
IMAGES PREVIEW OF THE MANUAL: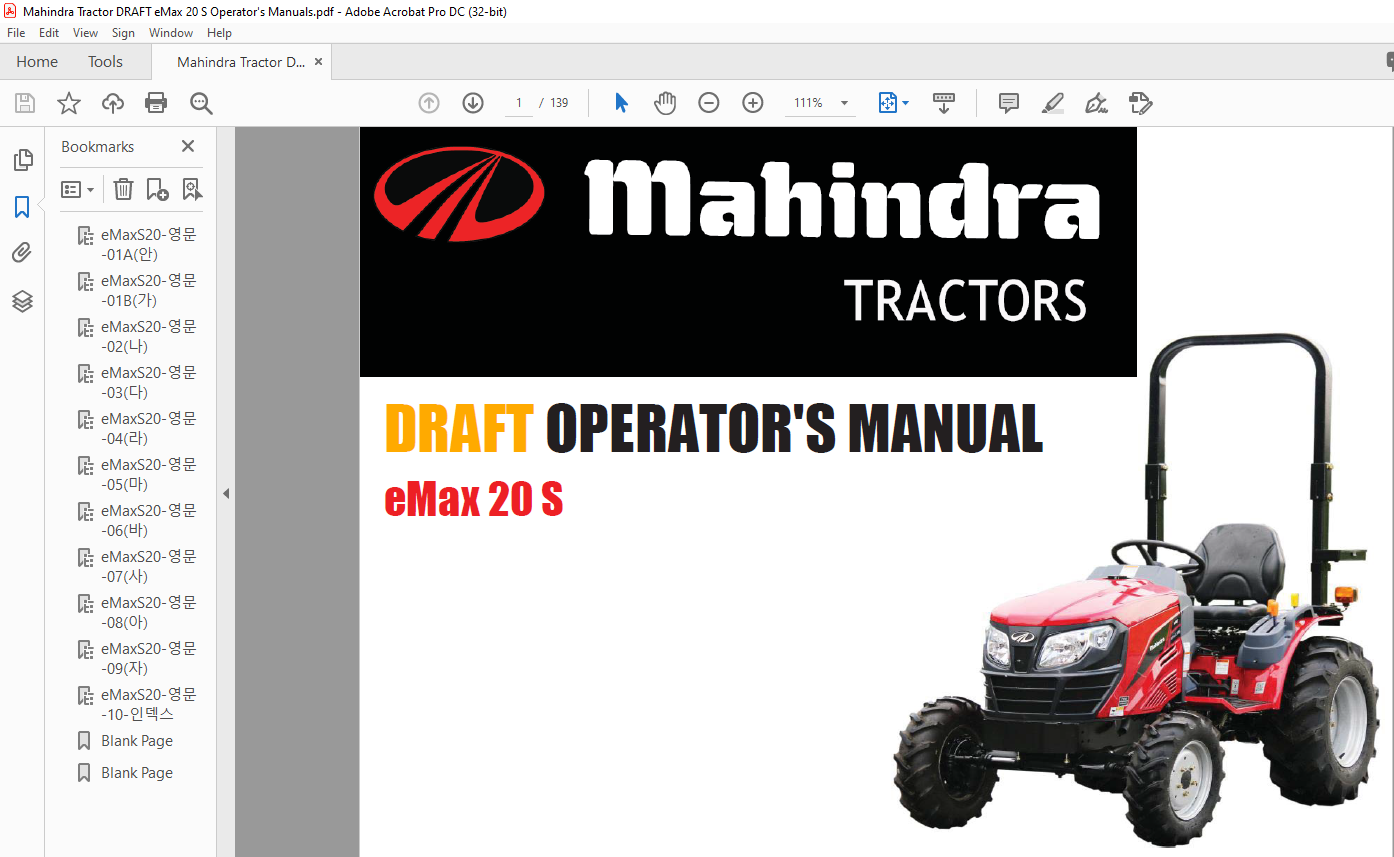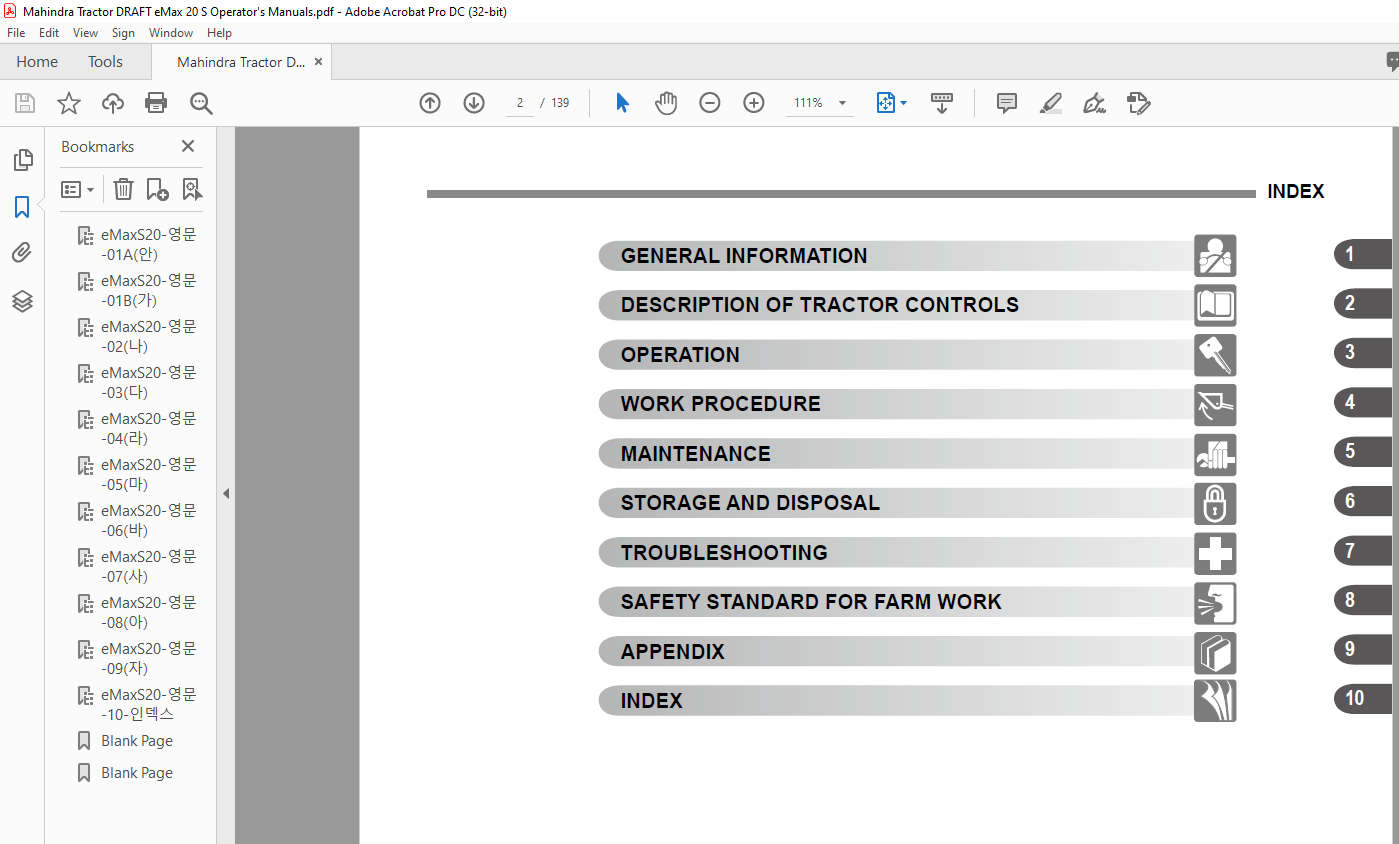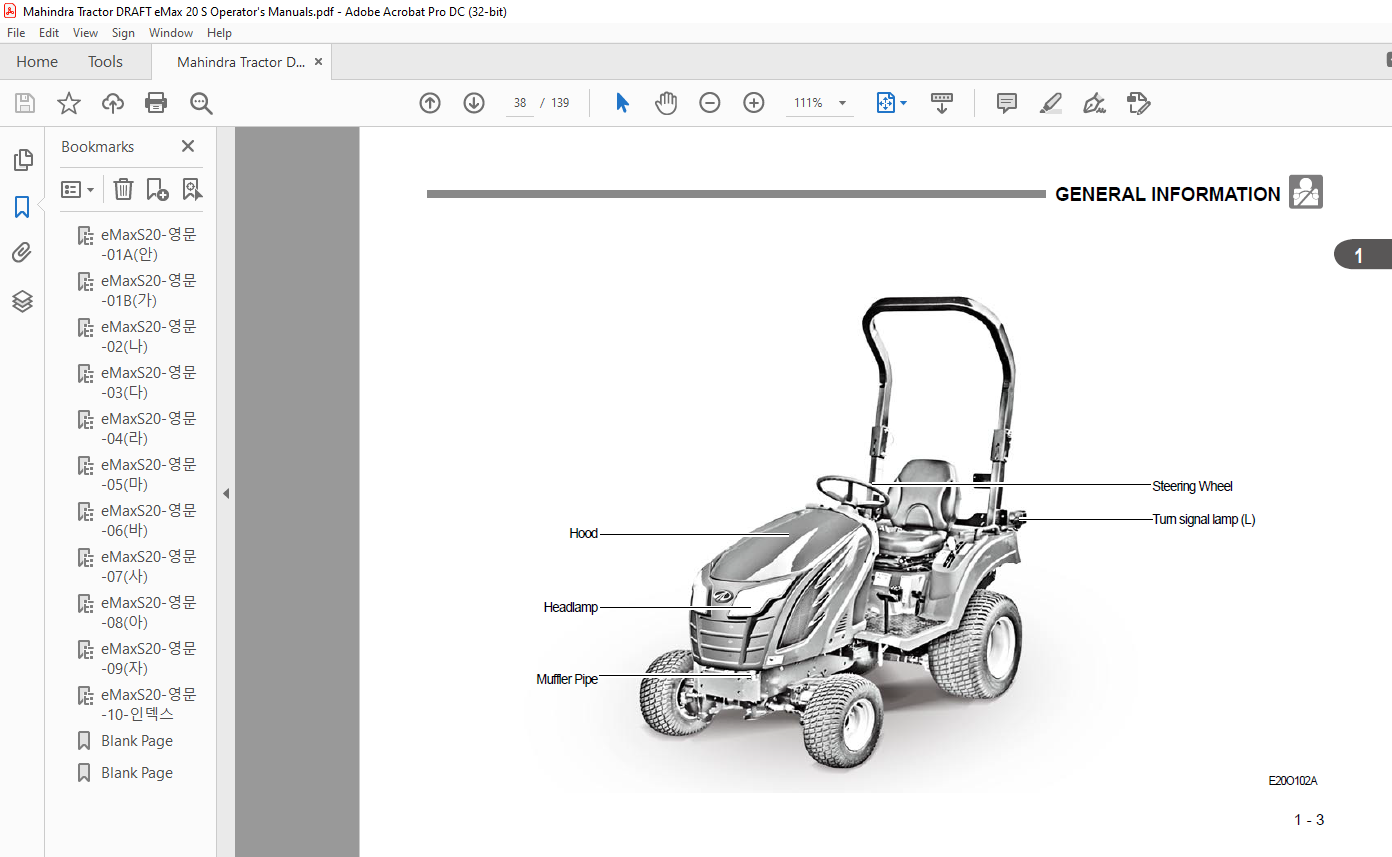 VIDEO PREVIEW OF THE MANUAL:
PLEASE NOTE:
This is not a physical manual but a digital manual – meaning no physical copy will be couriered to you. The manual can be yours in the next 2 mins as once you make the payment, you will be directed to the download page IMMEDIATELY.
This is the same manual used by the dealers inorder to diagnose your vehicle of its faults.
Require some other service manual or have any queries: please WRITE to us at [email protected]
S.V