Mahindra Tractor '60' Series 8560 2WD 4WD Tier – III Compliant Operator's Manual – PDF DOWNLOAD
FILE DETAILS:
Mahindra Tractor '60' Series 8560 2WD 4WD Tier – III Compliant Operator's Manual – PDF DOWNLOAD
Language : English
Pages : 111
Downloadable : Yes
File Type : PDF
Size: 16.8 MB
TABLE OF CONTENTS:
Mahindra Tractor '60' Series 8560 2WD 4WD Tier – III Compliant Operator's Manual – PDF DOWNLOAD
About This Manual 5
Introduction 6
General Description 8
Owner Assistance 9
Owner's Personal Data 10
ROPS 11
Safety Instructions 12
Safety Signs 16
Universal Symbols 20
LH and RH View of Engine 21
Lamps 22
Controls, Instruments and Operations 23
Instrument Cluster 24
RPM Meter 25
Hour Counter 25
Fuel Gauge 25
Low Fuel Warning Indicator 25
Coolant Temperature Gauge 25
High Temperature Warning Indicator 25
High Temperature Defect Indicator 26
Engine Defect Indicator 26
Engine Healthy Indicator 26
Transmission and PTO Neutral Indicator 26
Parking Brake Indicator 26
High Beam Indicator 26
Battery Charging Indicator 26
Low Engine Oil Pressure Indicator 26
Air Filter Clog Indicator 26
Turn Indicators 26
Emission Control System Indicator 26
4WD Indicator 27
PTO 540 RPM Indicator 27
Heater Indicator 27
PTO 1000 RPM Indicator 27
Service Due Indicator 27
Low Oil Pressure Indicator 27
Beeper Output 27
Self Test Function 27
Trailer Indicator 27
Buzzer for Transmission Low oil Pressure 27
Switches 28
Scuttle and Plow Lamp Switch 29
Light Switch 29
Turn Signal Switch 29
Key Switch 29
Hazard Switch 29
Horn 29
Controls 30
Operator Seat 31
Adjusting Seat Position 31
Weight Adjustment 31
Tilt Adjustment 31
Using Seat Belt 31
Fasten Seat Belt 31
Release Seat Belt 31
Hand Throttle Operation 32
Increasing Engine Speed 32
Engine Tachometer Speed 32
Decreasing Engine Speed 32
Constant Speed Setting 32
Foot Throttle Operation 32
Can Holder 32
Glove Box 32
Tilt Steering 33
Tilt Adjustment 33
4WD Engagement Lever 33
Brake 34
Parking brake 34
Differential Lock Pedal 35
Main and IPTO Clutch 35
IPTO Clutch 36
F-R Shuttle Shift Lever 37
Range Shift Lever 37
Speed Shift Lever 38
Auxiliary Valve 38
Loader 38
Opening the Hood 39
Closing the Hood 39
Opening Side Panels 40
Closing the Side Panels 40
Emission Control System 41
Contents
PTO Speed Selection 42
Hydraulic System and Operation 43
Position Control-Operation 44
Quadrant Assembly 44
Position Control 44
Position Control Lever Stop 44
Draft Control – Operation 45
Draft Control 45
Setting the Draft Control 45
Three Point Linkage 46
Toplink 46
Draft Sensing Bracket 46
Telescopic Lower Links 46
Adjustable Lift Rods 47
Lateral Stabilizers 47
Attachments 48
Swinging Drawbar 48
Adjusting Drawbar length 48
Using Swinging Drawbar 48
Attaching PTO Driven Implement 49
Jerrycan Weights 49
Wheel Weights 49
Wheel Tread Adjustment 50
Adjustment of Front Wheel Tread – 2WD 50
Adjustment of Front Wheel Tread – 4WD 51
Pneumatic Tires 52
Adding Liquid Weight 52
Inflation 52
Care of Tires 53
Shipping Tractors Equipped with 53
Pneumatic Tires
Tire Protection During Storage 53
Mounting Tires on the Rim 53
Operating Instructions 54
Before Starting The Tractor 54
Starting The Tractor 54
Cold Starting Aid 54
Glow Plug 54
Indications on Instrument Cluster 55
Driving The Tractor 56
Tractor Storage 56
Using The Tractor After Storage 56
Precautions 57
Operating The Tractor 57
The Tractor 58
Driving The Tractor 58
Servicing The Tractor 58
Operating The PTO (Power Take Off) 59
ROPS 59
Transporting Tractor on a Trailer 59
Towing 59
Diesel Fuel 59
Do's and Dont's 60
Maintenance 61
Cooling System 61
Radiator 61
Radiator Cap 61
Surge Tank 61
Thermostat 61
Water Pump 62
Hose Connections 62
Fan and Fan Belts 62
Draining the System 62
Cleaning Out Dirt and Sludge 62
Adding Coolant to the System 63
Cooling System Protection 63
Transmission Oil Cooler 64
Trash Guard of Transmission Oil Cooler 64
Trash Guard Radiator and Inter Cooler 64
Adjusting The Valve Clearance 65
Air Intake System 66
Air Cleaner 66
Body Air-Cleaner 66
Cyclopack or Built-in Pre-Cleaner 66
Paper Element Filter 66
Safety Cartridge 66
Dust Collector Bowl 66
Hose and Clamps 66
Fuel System 67
Clean Diesel Fuel 67
Contents
Bleeding The Fuel Filter 67
Bleeding The Fuel Injection Pump 67
Fuel Tank and Fuel Pipes 67
Tamper Proofing 67
Fuel Filter 68
Servicing The Fuel Filter 68
Lubrication System 69
Oil Level Check 69
Oil Change 69
Engine Oil Filter 69
Changing Spin On Filter 69
Turbocharger 69
Electrical System 70
Battery Maintenance Cleaning 70
Servicing 70
Effect of Low Temperatures 70
Alternator 71
Charging Circuit 71
Starter Motor Removal 71
Hydraulics and Transmission 72
Adding Hydraulic and Transmission Oil 72
Adding Oil in Rear Axle 72
Hydraulic Suction Filter and 73
Transmission Oil Filter
Hydraulics and Transmission Strainer 74
Transmission Oil Drain 74
Power Steering 75
Filling and Air Bleeding for 75
Power Steering System
Tips for maintaining the 75
Power Steering System
Front Axle – Front Wheel "Toe-in" Check 76
Preloading Bearing – 2WD 76
Clutch Pedal Free play 77
Brake Pedal Free Play 78
Head Lamp Adjustment 79
Lubricants 80
General 80
Lubricant Storage 80
Alternate and Synthetic Lubricants 80
Diesel Engine Lubricating Oil 80
Contents
Mixing of Lubricants 80
Engine Oil 81
Fluid for Power Steering 81
Transmission, Hydraulics and 82
Oil Immersed Brakes
Chassis Lubricant (CL) 82
Front Axle 82
Oil Specifications Chart 82
Special Bolt Torques 83
Specifications 84
Trouble Shooting 88
Engine 88
Turbocharger 92
Hydraulics 93
Brakes 94
Transmission 94
Rear Wheels 94
Electricals 94
Power Steering 95
Tractor History Card 96
Service Record 97
Part Replacement Record 98
Daily Operating Log 99
Tractor Storage Precautions 102
Lubrication and Greasing Chart 103
Routine Service Schedule 104
Electrical Circuit Layout 106
DESCRIPTION:
Mahindra Tractor '60' Series 8560 2WD 4WD Tier – III Compliant Operator's Manual – PDF DOWNLOAD
About This Manual:
This Manual has been prepared to assist you in following the correct procedure for break-in, operation and maintenance of your new Mahindra tractor. Your tractor has been designed and built to give maximum performance, with good fuel economy and ease of operation under a wide variety of operating conditions.
Prior to delivery, the tractor was carefully inspected, both at the factory and by your Mahindra dealer, to ensure that it reaches you in optimum condition. To maintain this condition and ensure trouble free performance, it is important that the routine services, as specified in this manual, are carried out at the recommended intervals.
We have enclosed a page on new tractor inspection sheets. The first sheet is the dealer's copy and should be removed by the dealer after the inspection has been carried out. The second sheet is your copy of the service performed. Ensure that you & the dealer sign both copies.
Read this manual carefully and keep it in a convenient place for future reference. If at any time you require advice concerning your tractor, do not hesitate to contact your authorised Mahindra dealer. He has trained personnel, genuine Mahindra parts and necessary equipments to undertake all your service requirements.
Mahindra USA Inc's. policy is one of continuous improvement, and the right to change prices, specifications or equipments at any time without notice is reserved. All data given in this book is subject to production variations. Dimensions & weight are approximate only and the illustrations do not necessarily show tractors in standard condition. For exact information about any particular tractor, please consult your Mahindra dealer.
INTRODUCTION:
The word, 'Tractor' has been derived from 'traction' which means pulling. A tractor is required to pull or haul an equipment, implement or trolley, which are coupled to the tractor chassis through suitable linkage. A tractor can also be used as a prime mover as it has a power outlet source which is also called Power Take Off or PTO shaft.
In this book the operation and maintenance instructions for 8560 – 2WD/4WD models of Mahindra diesel tractors have been compiled. This material has been prepared in detail to help you in better understanding of maintenance and efficient operation of the machine.
If you need any information not given in this manual, or require the services of a trained mechanic, please get in touch with the Mahindra dealer in your locality. Dealers are kept informed of the latest methods of servicing tractors. They stock genuine repair parts and are backed by the company's full support.
Throughout this manual, the use of the terms LEFT, RIGHT, FRONT and REAR must be understood, to avoid any confusion when following the instructions. The LEFT and RIGHT means left and right sides of the tractor when facing forward in the driver's seat. Reference to the FRONT indicates the radiator end of the tractor, while the REAR, indicates the drawbar end.
VIDEO PREVIEW OF THE MANUAL:
IMAGES PREVIEW OF THE MANUAL: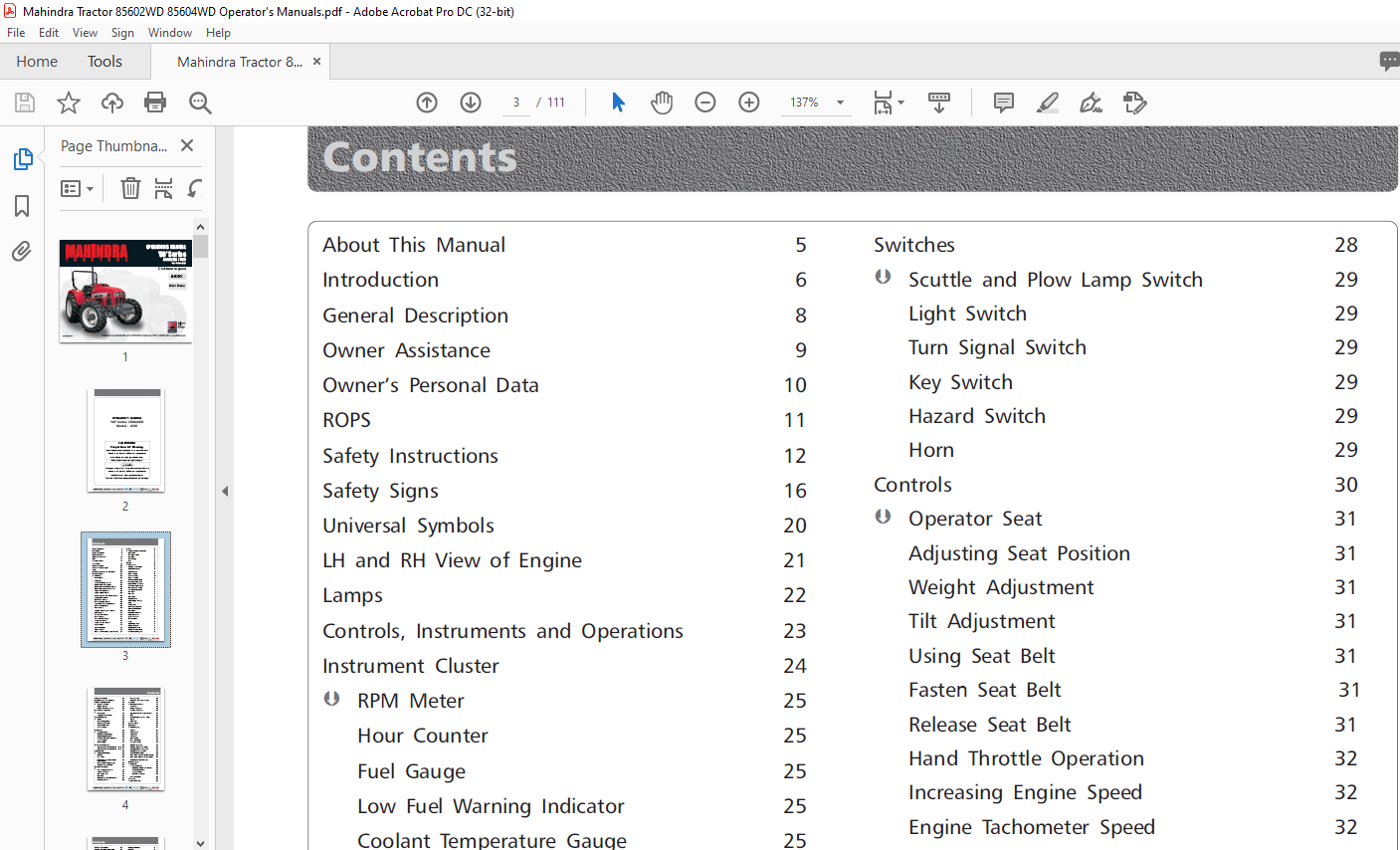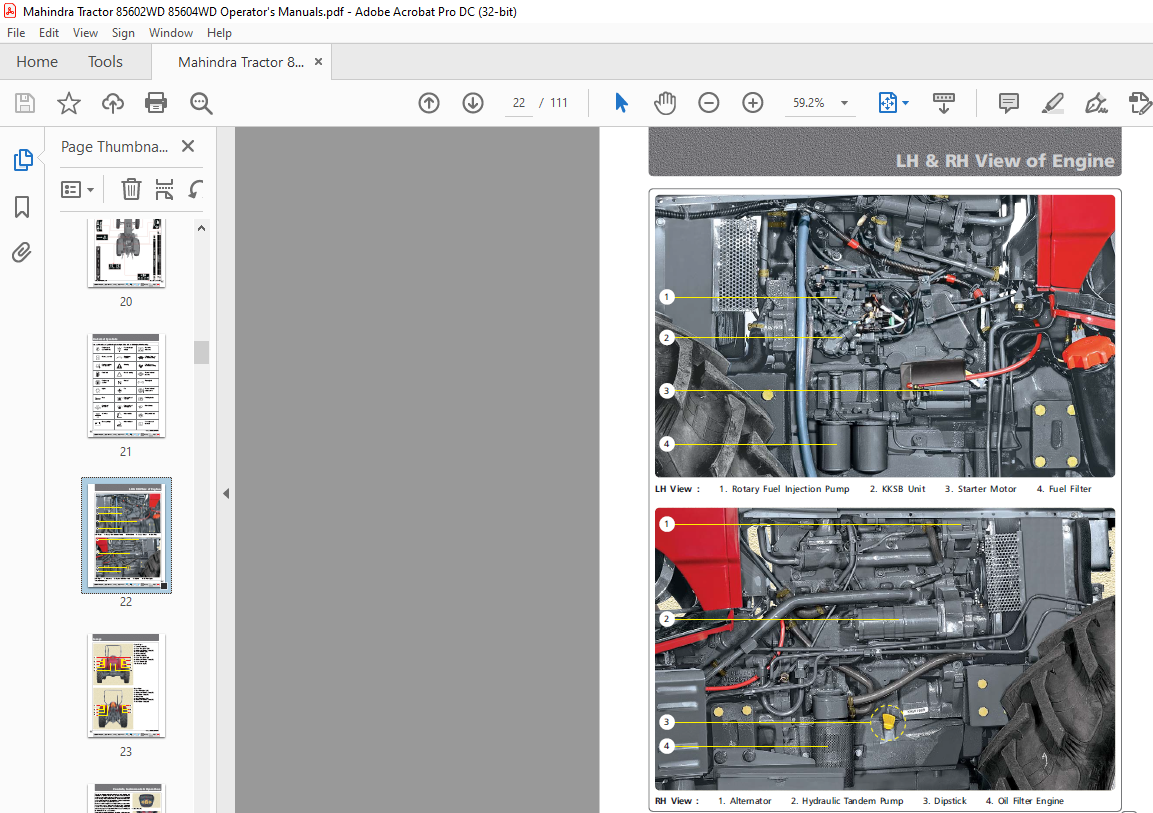 PLEASE NOTE:
This is the same manual used by the DEALERSHIPS to SERVICE your vehicle.
The manual can be all yours – Once payment is complete, you will be taken to the download page from where you can download the manual. All in 2-5 minutes time!!
Need any other service / repair / parts manual, please feel free to contact us at heydownloadss @gmail.com . We may surprise you with a nice offer
S.V