Mahindra Tractor 2021 Operator's Manual Service Manual & Spare Part Catalog Manual – COMPLETE SET – PDF DOWNLOAD
FILE DETAILS:
Mahindra Tractor 2021 Operator's Manual Service Manual & Spare Part Catalog Manual – COMPLETE SET – PDF DOWNLOAD
Size: 1.45 Gb
Languages: English
Format: PDF
Brand: Mahindra
Types of Vehicle: Mahindra Tractor
Types of Manuals: Operator's Manual Service Manual & Spare Part Catalog
Year: 2021

TABLE OF CONTENTS:
Mahindra Tractor 2021 Operator's Manual Service Manual & Spare Part Catalog Manual – COMPLETE SET – PDF DOWNLOAD
Operator's Manual:
1. Tractor Identification
2. About this manual
3. Introduction & Description
4. Owner assistance
5. ROPS (Roll over protection structures)
6. Safety instructions, Do's & Don'ts
7. Safety signs
8. Universal symbols
Section A
9. Controls, Instruments & Operations
Section B
10. Lubrication & maintenance
Section C
11. Specifications
12. Fuel saving Tips
13. Wiring Diagram
14. Power Train
15. Tractor History Card
16. Service record
17. Daily operating Log
18. Part replacement record
Service Manual:
GROUP : A GENERAL
General A1 – A21
Introduction C3 – C18
Manifolds, Cylinder Head & Valves C19 – C30
Connecting Rods, Pistons & Cylinder Sleeves C31 – C40
Lubrication Systems C41 – C46
Timing Gear Train, Front Cover & Camshaft C47 – C54
Crankcase, Crankshaft, Main Bearings & Flywheel C55 – C68
Special Notes & Trouble Shooting C69 – C76
Cooling System C77 – C86
Air Cleaner C87 – C92
Fuel System C93 – C111
GROUP : C ENGINE
GROUP : B SPLITTING THE TRACTOR
Splitting of Tractor B1 – B32
Clutch D1 – D10
GROUP : D CLUTCH
GROUP : E TRANSMISSION
Transmission E3 – E22
Rear Axle E23 – E30
Differential E31 – E44
Differential Lock System E45 – E50
Rear PTO Cover E51 – E54
Wet Clutch PTO E55 – E58
Brakes E59 – E65
Front Axle F1 – F25
GROUP : J CHARTS
Engine
Differential Assembly & Rear Axle
Rear Axle Carrier and Brake Assembly
Front Axle – Differential
Front Axle – Side Section
Speed Section – Transmission
Speed Section – Transmission
Range Section – Transmission
Range Section – Transmission
Lubrication & Greasing Chart – 35 Series
DESCRIPTION:
Mahindra Tractor 2021 Operator's Manual Service Manual & Spare Part Catalog Manual – COMPLETE SET – PDF DOWNLOAD
Operator's Manual:
About This Manual:
This Manual has been prepared to assist you in following the correct procedure for break-in, operation and maintenance of your new Mahindra tractor. Your tractor has been designed and built to give maximum performance, with good fuel economy and ease of operation under a wide variety of operating conditions.
Prior to delivery, the tractor was carefully inspected, both at the factory and by your Mahindra dealer, to ensure that it reaches you in optimum condition. To maintain this condition and ensure trouble free performance, it is important that the routine services, as specified in this manual, are carried out at the recommended intervals.
We have enclosed a page on new tractor inspection sheets. The first sheet is the dealer's copy and should be removed by the dealer after the inspection has been carried out. The second sheet is your copy of the service performed. Ensure that you & the dealer sign both copies.
Read this manual carefully and keep it in a convenient place for future reference. If at any time you require advice concerning your tractor, do not hesitate to contact your authorised Mahindra dealer. He has trained personnel, genuine Mahindra parts and necessary equipments to undertake all your service requirements.
Mahindra USA Inc's. policy is one of continuous improvement, and the right to change prices, specifications or equipments at any time without notice is reserved. All data given in this book is subject to production variations. Dimensions & weight are approximate only and the illustrations do not necessarily show tractors in standard condition. For exact information about any particular tractor, please consult your Mahindra dealer.
INTRODUCTION:
The word, 'Tractor' has been derived from 'traction' which means pulling. A tractor is required to pull or haul an equipment, implement or trolley, which are coupled to the tractor chassis through suitable linkage. A tractor can also be used as a prime mover as it has a power outlet source which is also called Power Take Off or PTO shaft.
In this book the operation and maintenance instructions for 35 Series HST models of Mahindra diesel tractors have been compiled. This material has been prepared in detail to help you in better understanding of maintenance and efficient operation of the machine.
If you need any information not given in this manual, or require the services of a trained mechanic, please get in touch with the Mahindra dealer in your locality. Dealers are kept informed of the latest methods of servicing tractors. They stock genuine repair parts and are backed by the company's full support.
Throughout this manual, the use of the terms LEFT, RIGHT, FRONT and REAR must be understood, to avoid any confusion when following the instructions. The LEFT and RIGHT means left and right sides of the tractor when facing forward in the driver's seat. Reference to the FRONT indicates the radiator end of the tractor, while the REAR, indicates the drawbar end.
Service Manual:
General
Introduction
This Safety Alert Symbol means ATTENTION! BE ALERT! YOUR SAFETY IS INVOLVED Remember that YOU are the key to safety.
Good safety practices not only protect you, but also the people around you. Study the features in this manual and make them a working part of your safety program.
Keep in mind that this safety section is written only for this type of machine. Practice all other usual and customary safe working precautions, and above all – REMEMBER – SAFETY IS YOUR RESPONSIBILITY. YOU CAN PREVENT SERIOUS INJURY OR DEATH.
The safety alert symbol identifies important safety messages on machines, safety signs, in manuals, or elsewhere. When you see this symbol, be alert to the possibility of personal injury or death.
DETAIL CONTENTS:
Mahindra Tractor 2021 Operator's Manual Service Manual & Spare Part Catalog Manual – COMPLETE SET – PDF DOWNLOAD
Operator's Manual:
Mahindra Tractor '15' Series 2015 4WD Operator's Manual Operator's Manuals.pdf
Mahindra Tractor '16' Series Operator's Manual Operator's Manuals.pdf
Mahindra Tractor 10 Cab Series 4510C Operator's Manual Operator's Manuals.pdf
Mahindra Tractor 10 Series 4010 Gear Operator Manual.pdf
Mahindra Tractor 10 Series 4010 HST Operator Manual.pdf
Mahindra Tractor 10 Series Operator's Manual Operator's Manuals.pdf
Mahindra Tractor 1533 SHUTTLE 1533HST 1538 SHUTTLE 1538HST 1538HST CABIN Operator's Manuals.pdf
Mahindra Tractor 16 Series 1816HST Operator Manual.pdf
Mahindra Tractor 16 Series 2216 Gear Operator Manual.pdf
Mahindra Tractor 16 Series 2516 Gear & HST Operator Manual.pdf
Mahindra Tractor 16 Series 2816 Gear Operator Manual.pdf
Mahindra Tractor 16 Series 2816 HST Operator Manual.pdf
Mahindra Tractor 16 Series 3016 3816 Auxiliary-Valve Instruction.pdf
Mahindra Tractor 16 Series 3316 Gear & HST Operator Manual.pdf
Mahindra Tractor 1635 Operator's Manuals.pdf
Mahindra Tractor 1640 Operator's Manuals.pdf
Mahindra Tractor 25254WD Operator's Manuals.pdf
Mahindra Tractor 2538HST HST Cab Operator's Manuals.pdf
Mahindra Tractor 2555 HST Operator's Manuals.pdf
Mahindra Tractor 3016 Operator's Manual Operator's Manuals.pdf
Mahindra Tractor 3535 Operator's Manual Operator's Manuals.pdf
Mahindra Tractor 3540 3550 PST CABIN Operator's Manuals.pdf
Mahindra Tractor 3540 3550HST CABIN Operator's Manuals.pdf
Mahindra Tractor 3540 3550HST Operator's Manuals.pdf
Mahindra Tractor 3540 3550PST Operator's Manuals.pdf
Mahindra Tractor 3640 3650 HST CAB Operator's Manuals.pdf
Mahindra Tractor 3640 3650 PST OS Operator's Manuals.pdf
Mahindra Tractor 3825 4025 4525 Operator's Manuals.pdf
Mahindra Tractor 4010 HST Operator's Manual Operator's Manuals.pdf
Mahindra Tractor 45002WD 55002WD 60002WD 65002WD Operator's Manuals.pdf
Mahindra Tractor 4510 Operator's Manual.pdf
Mahindra Tractor 45304WD Operator's Manuals.pdf
Mahindra Tractor 4540 45502WD Operator's Manuals.pdf
Mahindra Tractor 4540 45504WD Operator's Manuals.pdf
Mahindra Tractor 45652WD Operator's Manuals.pdf
Mahindra Tractor 5010HST CAB Operator's Manuals.pdf
Mahindra Tractor 55B Backhoe for 1640 Operator's Manuals.pdf
Mahindra Tractor 6010HSTCab WO Engine Operator's Manuals.pdf
Mahindra Tractor 6065 6075 OS Operator's Manuals.pdf
Mahindra Tractor 620201840601 OM 1626 Operator's Manuals.pdf
Mahindra Tractor 6212017100113 OM 2545 Shuttle Operator's Manuals.pdf
Mahindra Tractor 7095 Cabin Operator's Manuals.pdf
Mahindra Tractor 710201975718 OM 2638 HST Operator's Manuals.pdf
Mahindra Tractor 713201873505 OM 2645 Gear Operator's Manuals.pdf
Mahindra Tractor 752018112534 DRAFT eMax 20 S Operator's Manuals.pdf
Mahindra Tractor 8090 8100 CABIN Operator's Manuals.pdf
Mahindra Tractor 85 85P Operator's Manuals.pdf
Mahindra Tractor 85602WD 85604WD Operator's Manuals.pdf
Mahindra Tractor 882019113744 2555 Shuttle Rev 1 Operator's Manuals.pdf
Mahindra Tractor 9110 9125 Operator's Manuals.pdf
Mahindra Tractor DRAFT eMax 20 S Operator's Manuals.pdf
Mahindra Tractor JINMA-200 Operator's Manual Operator's Manuals.pdf
Mahindra Tractor M105XL P S Operator's Manuals.pdf
Mahindra Tractor Max 26XLT Operator's Manuals.pdf
Mahindra Tractor MAX24HST Operator's Manuals.pdf
Mahindra Tractor MAX26XL SHUTTLE MAX26XL HST Operator's Manuals.pdf
Mahindra Tractor MAX28XL SHUTTLE MAX28XL HST Operator's Manuals.pdf
Mahindra Tractor ML 120 3535 Operator's Manual Operator's Manuals.pdf
Mahindra Tractor ML106 Series Operator's Manual & Installation Instructions Operator's Manuals.pdf
Mahindra Tractor ML170 series Operator's Manual & Installation Instructions Operator's Manuals.pdf
Mahindra Tractor OM 2665 Shuttle cab Operator's Manuals.pdf
Mahindra Tractor OM eMax 22 25 S HST Operator's Manuals.pdf
Mahindra Tractor OM eMax 22 25L HST 20180709 Operator's Manuals.pdf
Mahindra Tractor OM eMax 22L Gear 180709 Operator's Manuals.pdf
Mahindra Tractor OPM 1526 Operator's Manuals.pdf
Mahindra Tractor OPM 2555 HST And CAB Operator's Manuals.pdf
Mahindra Tractor OPM 2565 SHUTTLE Operator's Manuals.pdf
Mahindra Tractor OPM 26B Backhoe Operator's Manuals.pdf
Mahindra Tractor OPM 3510 4110 Operator's Manuals.pdf
Mahindra Tractor OPM 4510 Operator's Manuals.pdf
Mahindra Tractor OPM eMax 22 25 L S Loader Operator's Manuals.pdf
Mahindra Tractor OPM MAX 24M Mower Operator's Manuals.pdf
Mahindra Tractor OPM Max 26M Mower Operator's Manuals.pdf
Mahindra Tractor OPM ML272 273 274 278 Operator's Manuals.pdf

Spare Part Catalog:
Mahindra Tractor 10 Series 4010 Gear Parts Manual.pdf
Mahindra Tractor 10 Series 4010 HST Parts Manual.pdf
Mahindra Tractor 10 Series 5010 Gear Cab Parts Manual.pdf
Mahindra Tractor 10 Series 5010 Gear Open Station Parts Manual.pdf
Mahindra Tractor 16 Series 1816HST Parts Manual.pdf
Mahindra Tractor 16 Series 2216 Gear & HST Parts Manual.pdf
Mahindra Tractor 16 Series 2816 Gear & HST Parts Manual.pdf
Mahindra Tractor 16 Series 3016 Gear & HST Parts Manual.pdf
Mahindra Tractor 16 Series 3316 Gear & HST Parts Manual.pdf
Mahindra Tractor 16 Series 3616 Gear & HST Parts Manual.pdf
Mahindra Tractor 245DI BHOOMIPUTRA Parts Manual.pdf
Mahindra Tractor 30 Series Parts Manual.pdf
Mahindra Tractor Super Turbo 595 DI Sarpanch Parts Manual.pdf
Mahindra USA Backhoe Parts Manual.pdf

Service Manual:
Mahindra Tractor 2810 Service Manual.pdf
Mahindra Tractor 35 Series Service Manual.pdf
Mahindra Tractor Jivo 245 DI Service Manual.pdf
Mahindra Tractor Jivo 365 DI Service Manual.pdf
Mahindra Tractor YUVRAJ 215 Service Manual.pdf
VIDEO PREVIEW OF THE MANUAL:
IMAGES PREVIEW OF THE MANUAL: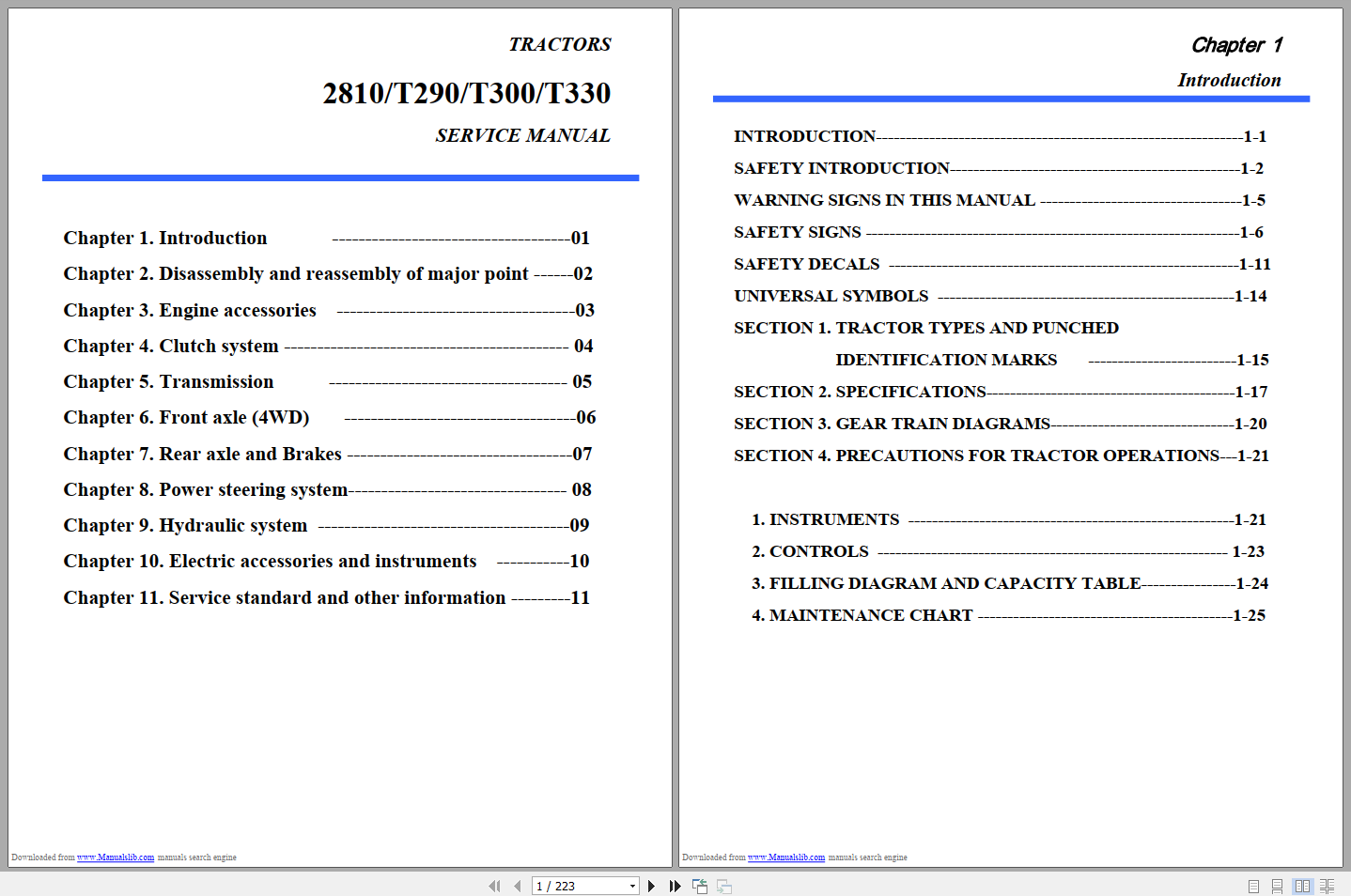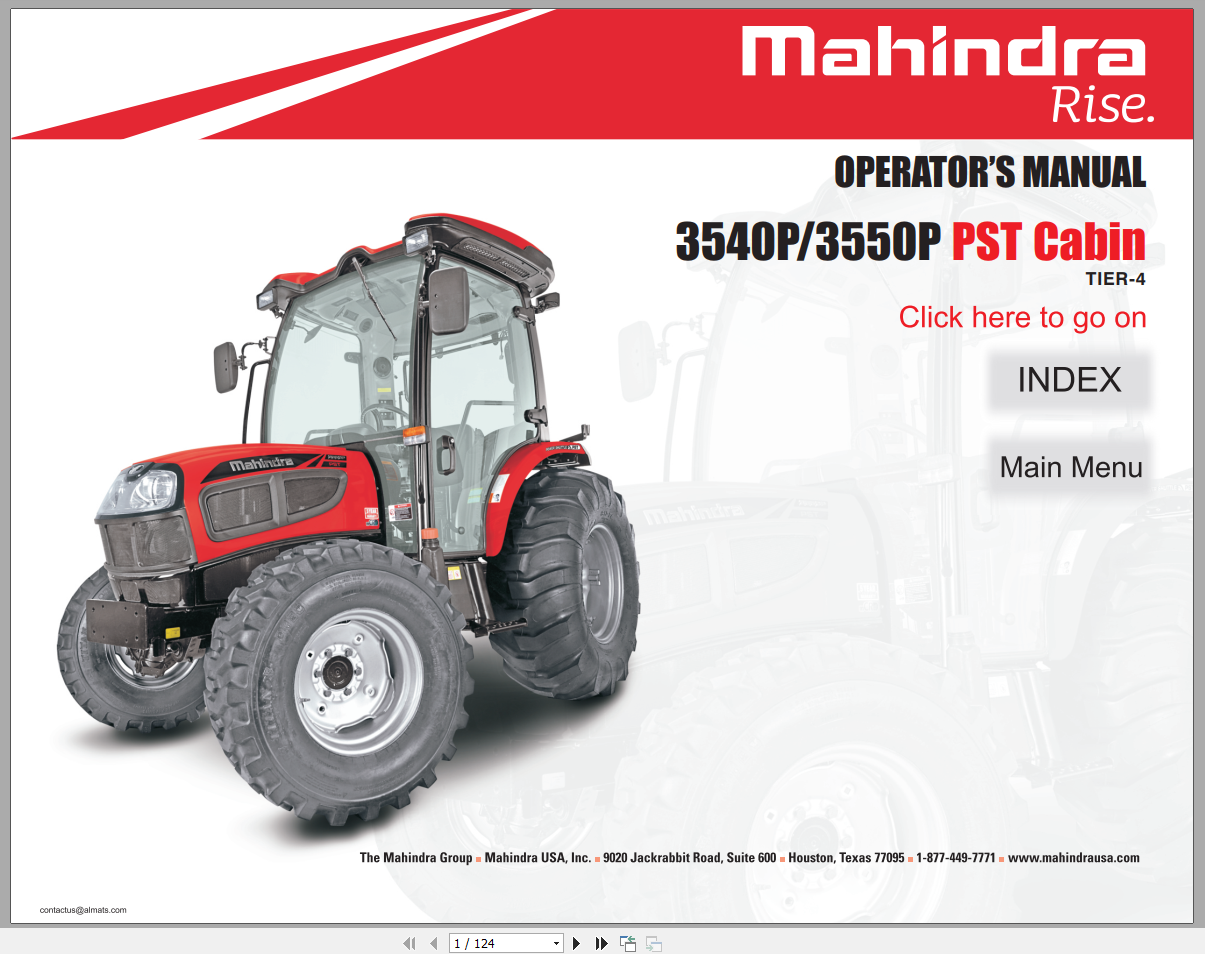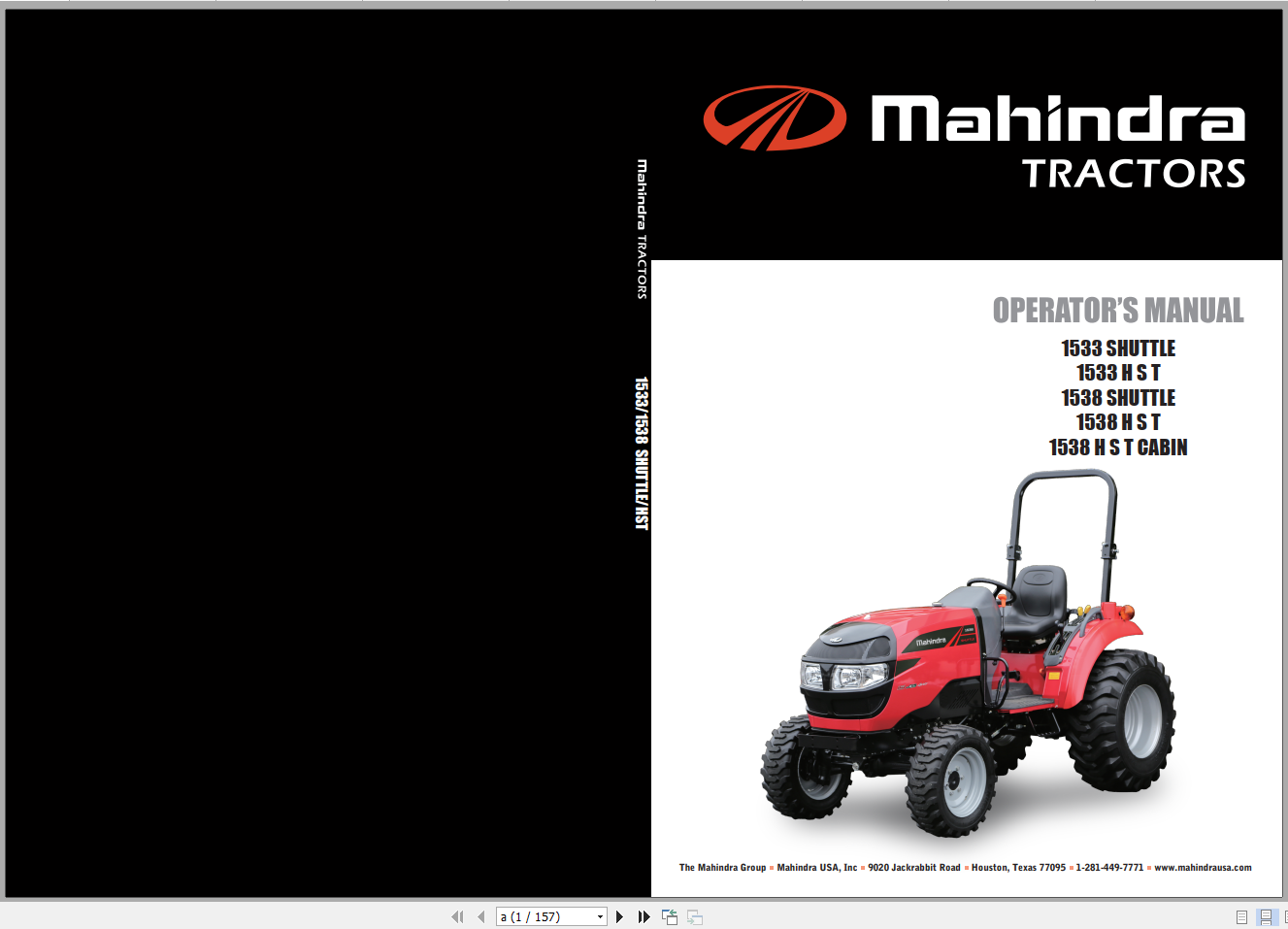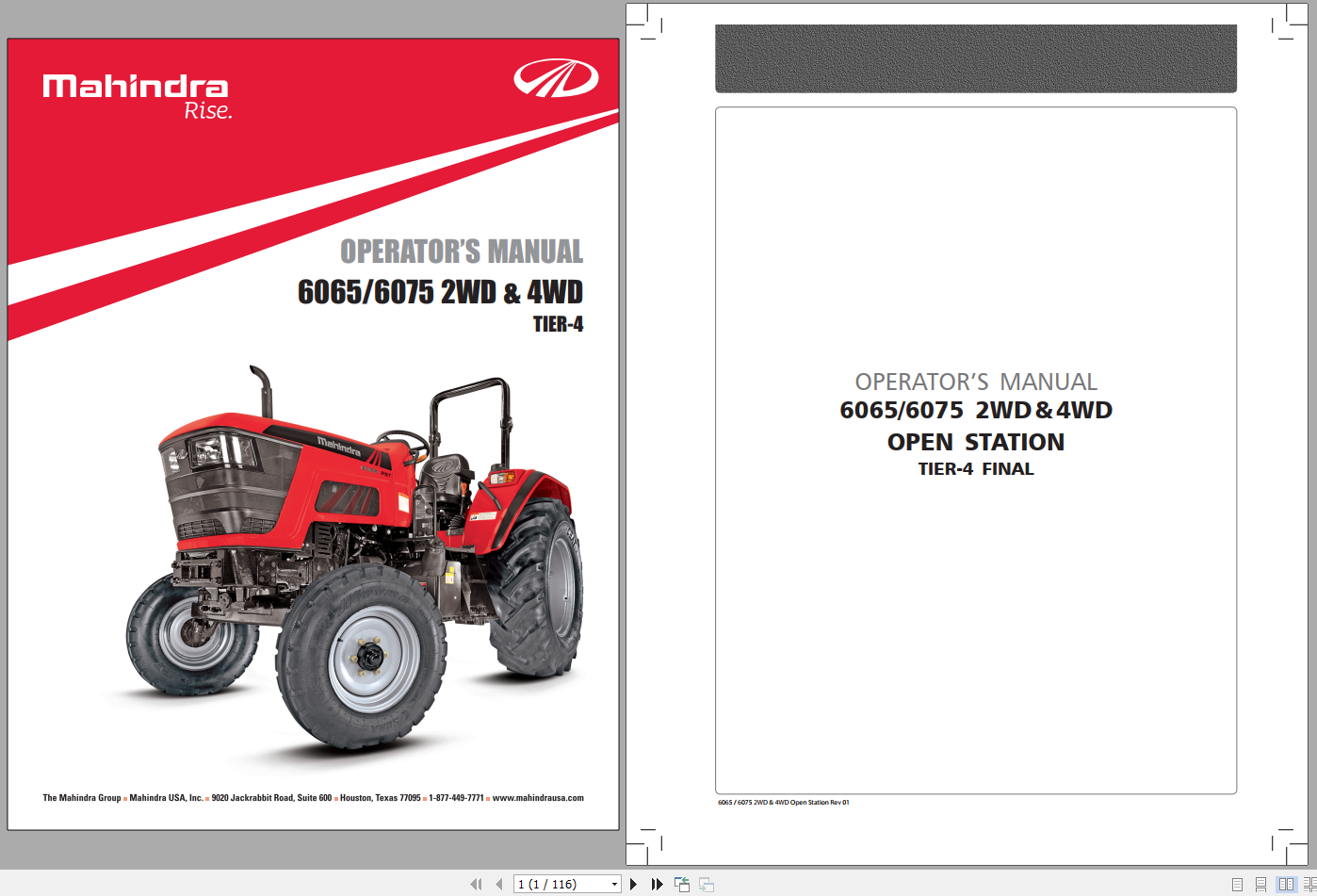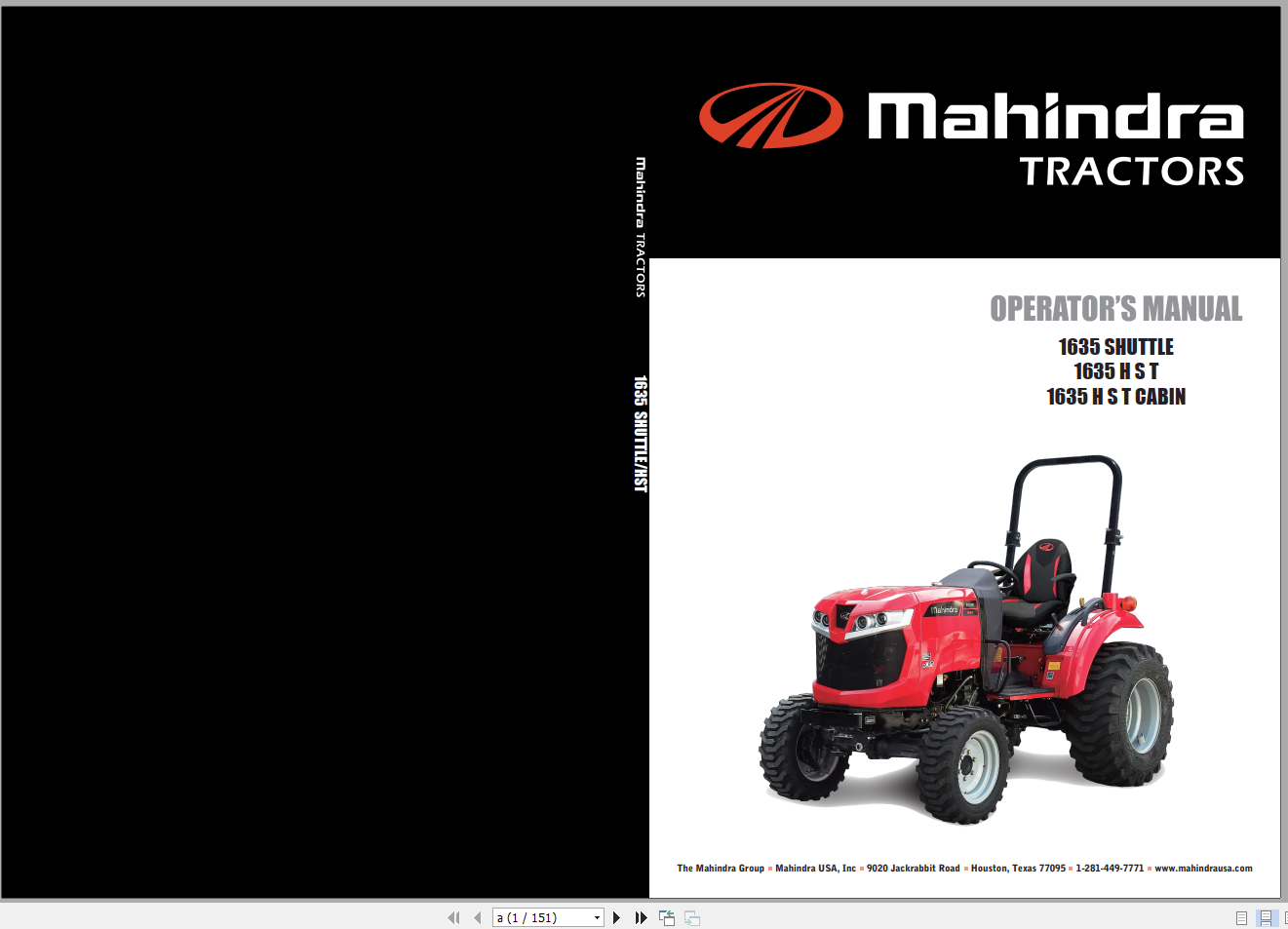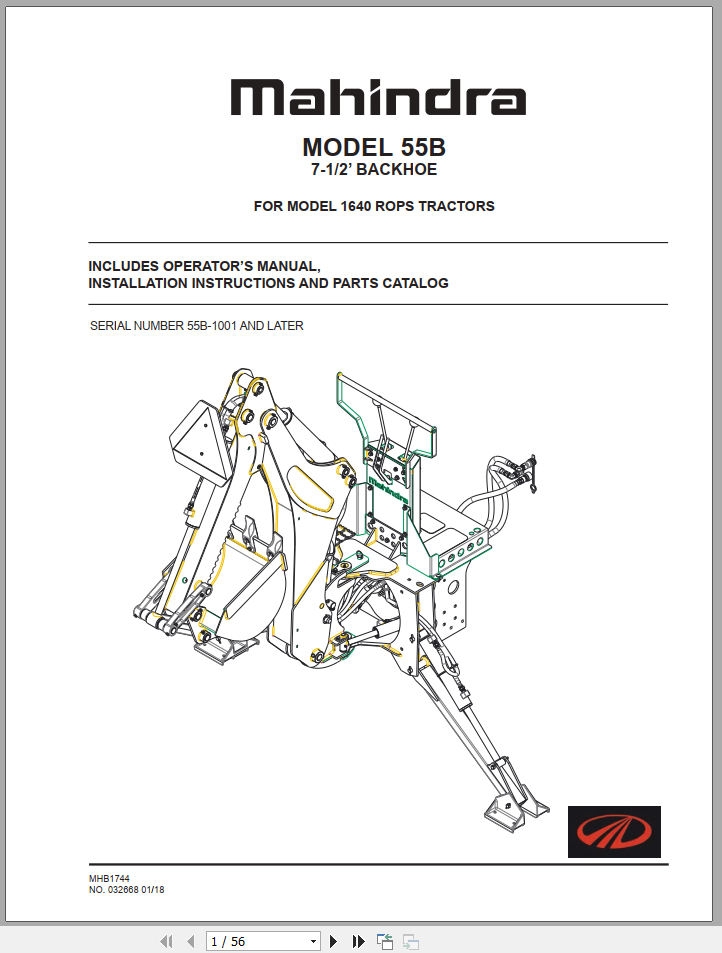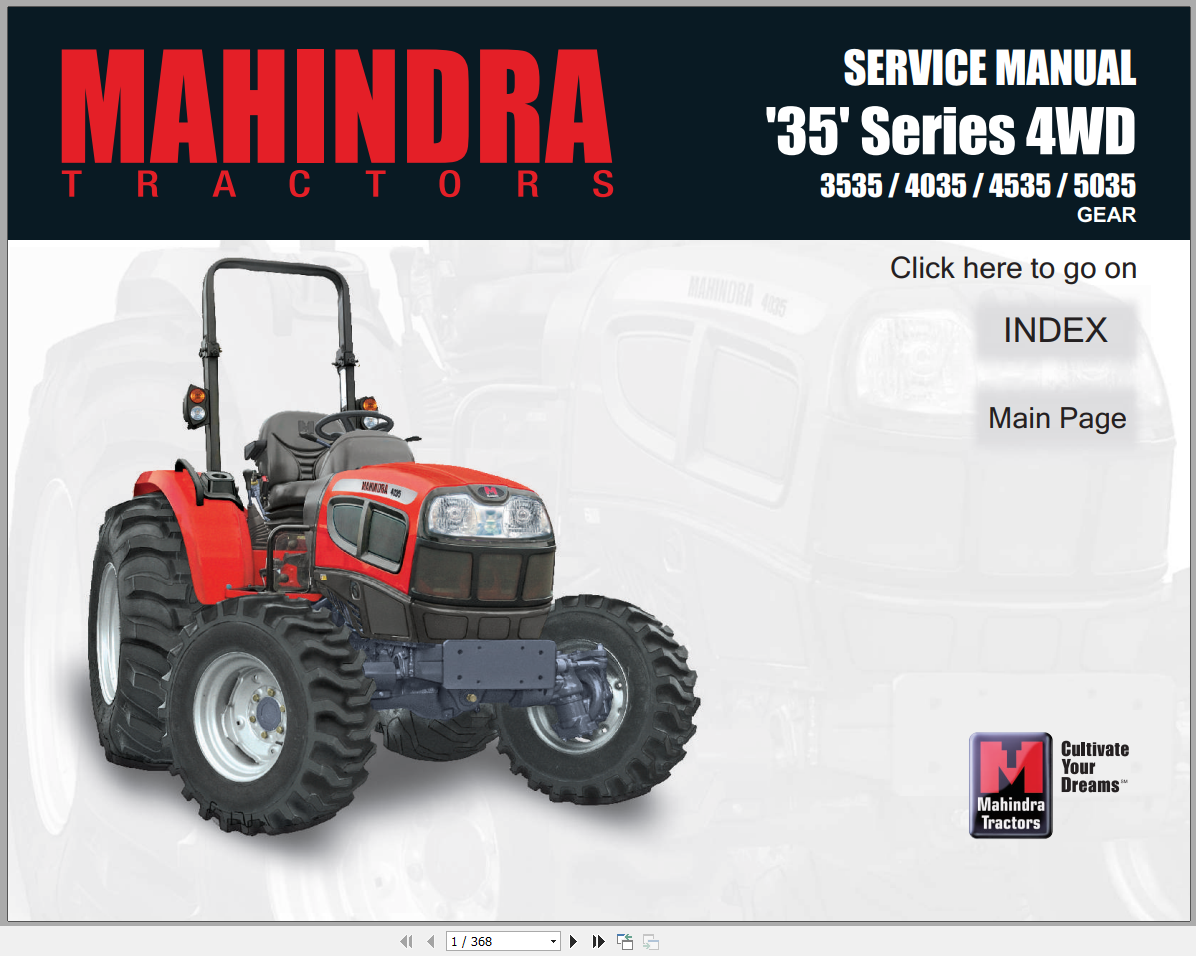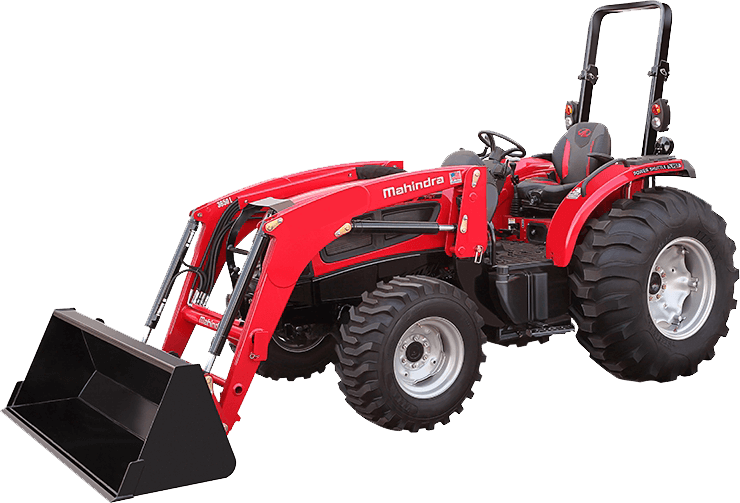 PLEASE NOTE:
This is the same manual used by the dealers to diagnose and troubleshoot your vehicle
You will be directed to the download page as soon as the purchase is completed. The whole payment and downloading process will take anywhere between 2-5 minutes
Need any other service / repair / parts manual, please feel free to contact [email protected] . We still have 50,000 manuals unlisted
S.V