Mahindra Tractor '10' Cab Series 4510C Operator's Manual – PDF DOWNLOAD
FILE DETAILS:
Mahindra Tractor '10' Cab Series 4510C Operator's Manual – PDF DOWNLOAD
Language : English
Pages : 115
Downloadable : Yes
File Type : PDF
Size: 8.33 MB
DESCRIPTION:
Mahindra Tractor '10' Cab Series 4510C Operator's Manual – PDF DOWNLOAD
FOREWARD
Thank you very much for purchasing our tractor, which, we feel sure, will give you many years of troubling the service. The introduction in this manual set out the correct manner of operating, maintaining and checking the tractor to ensure long-term durability.
Please ensure correct operation of the tractor as incorrect operation can cause substantial mechanical damage as well as cause accidents with the associated injuries.
Please note that in some cases differences can exist between this manual and your tractor due to the manufacture's policy of constant product improvement. In the event that you strike a problem not covered by this manual please contact your nearest dealer who will assist you in resolving your problem.
ABOUT THIS MANUAL
This manual has been prepared to assist you in following/adopting the correct procedure for running-in operation and maintenance of your new Mahindra Tractor.
Your Tractor has been designed and built to give maximum performance, with good fuel economy and ease of operation under a wide variety of operating conditions. Prior to delivery, The tractor was carefully inspected, both at the factory and by your Mahindra Dealer/Distributor, to ensure that it reaches you in optimum conditions .
To maintain this condition and ensure trouble free performance. it is important that the routine services, as specified in this manual, are carried out at the recommended intervals. Read this Manual carefully and keep it in a convenient place for future reference.
If at any time you require advice concerning your Tractor, do not hesitate to contact your Authorized Mahindra dealer/Distributor. He has trained personnel, genuine parts and necessary equipments to undertake all your service requirements. Manufacturer's policy is one of continuous improvement, and the right to change prices, specifications or equipments at any time without notice is reserved.
All data given in this book is subject to production variations. Dimensions & weight are approximate only and the illustrations do not necessarily show Tractors in standard condition. For exact information about any particular Tractor, please consult your Mahindra dealer/Distributor.
Introduction & Description
TRACTOR AN INTRODUCTION
The word, 'Tractor' has been derived from 'Traction' which means pulling. A Tractor is required to pull or haul an equipment, implement or trolley which are coupled to the Tractor body through suitable linkage. A Tractor can also be used as a prime mover as it has a power outlet source which is also called Power Take or PTO shaft.
In this book the operating, maintenance and storage instructions for all models of Mahindra Diesel Tractors has been complied. This material has been prepared in detail to help you in the better understanding of maintenance and efficient operation of the machine.
If you need any information not given in this manual, or require the services of a trained mechanic, please get in touch with the Mahindra Dealer/Distributor in your locality. Dealer/Distributors are kept informed of the latest methods of servicing Tractors. They stock genuine spare parts and are backed by the Company's full support. Through this manual. The use of the terms LEFT, RIGHT, FRONT and REAR must be understood, to avoid any confusion when following the introductions.
The LEFT and RIGHT means left and right sides of the Tractor when facing forward in the driver's seat, Reference to the FRONT indicates the radiator end of the Tractor, while the REAR, indicates the drawbar end (illustration E) When spare parts are required, always specify the Tractor and engine serial number when ordering these parts.
(See illustration A).This will facilitate faster delivery and help ensure that the correct parts for your particular Tractor is received. The tractor serial number is punched on a plate attached to the left hand side of the engine body (illust.A),For easy reference, we suggest you to write the number in the space provided in the owner's personal data.
IMAGES PREVIEW OF THE MANUAL: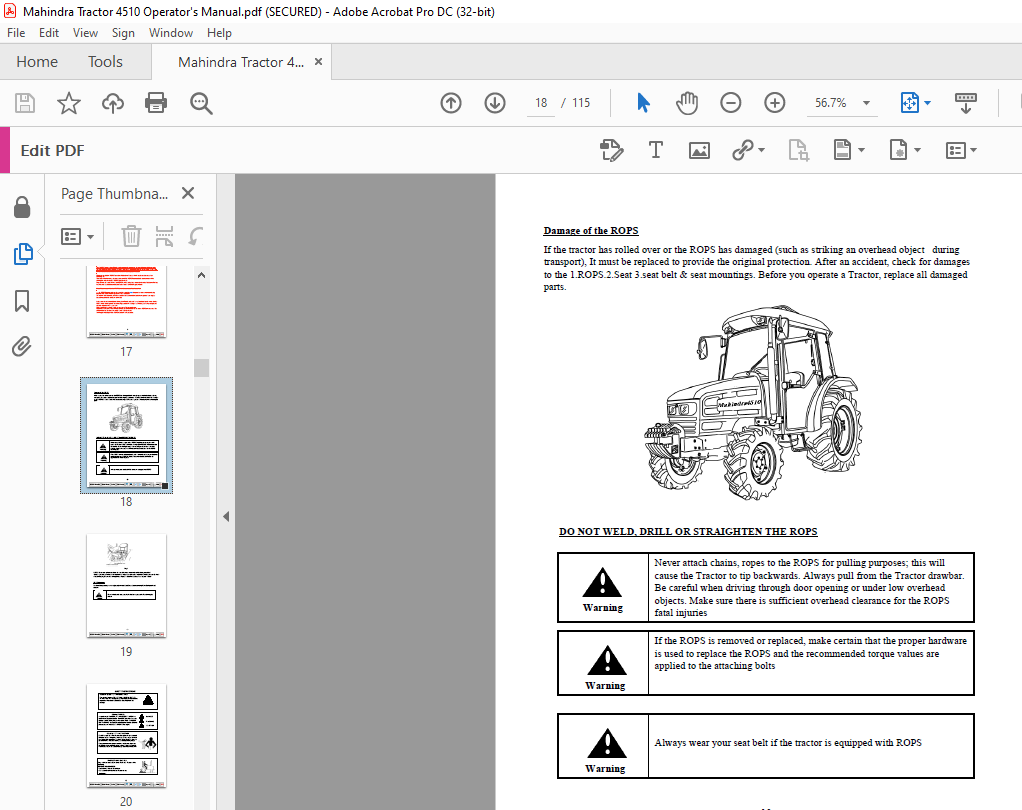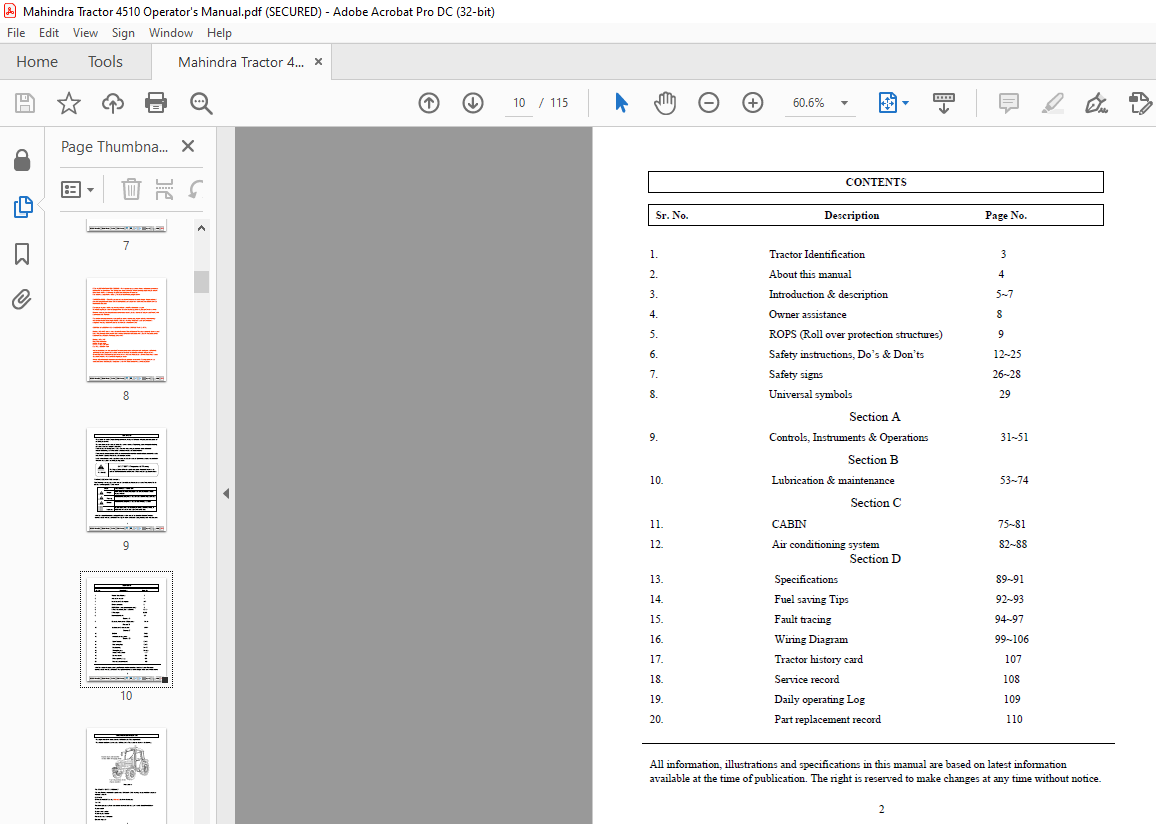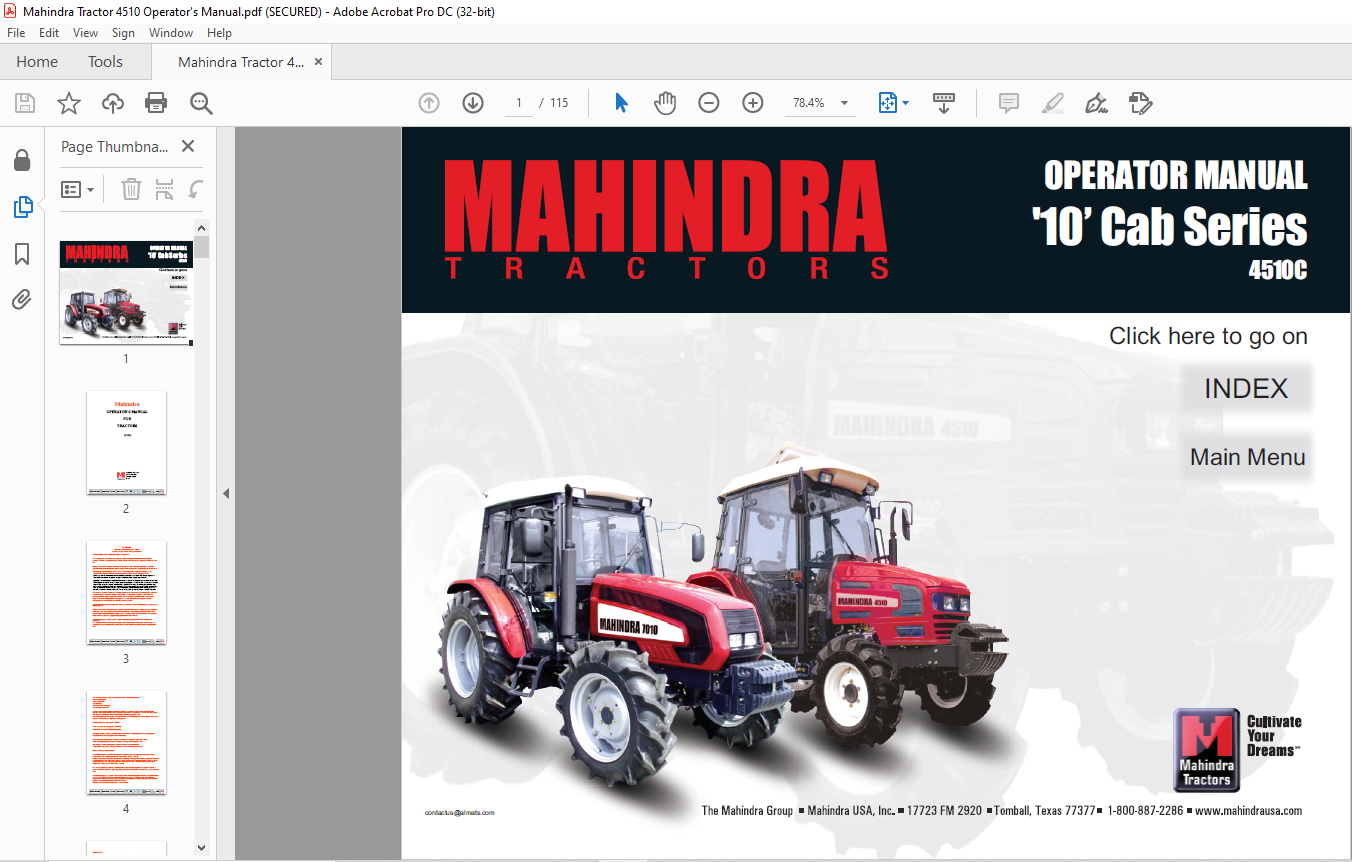 TABLE OF CONTENTS:
Mahindra Tractor '10' Cab Series 4510C Operator's Manual – PDF DOWNLOAD
1. Tractor Identification 3
2. About this manual 4
3. Introduction & description 5~7
4. Owner assistance 8
5. ROPS (Roll over protection structures) 9
6. Safety instructions, Do's & Don'ts 12~25
7. Safety signs 26~28
8. Universal symbols 29
Section A
9. Controls, Instruments & Operations 31~51
Section B
10. Lubrication & maintenance 53~74
Section C
11. CABIN 75~81
12. Air conditioning system 82~88
Section D
13. Specifications 89~91
14. Fuel saving Tips 92~93
15. Fault tracing 94~97
16. Wiring Diagram 99~106
17. Tractor history card 107
18. Service record 108
19. Daily operating Log 109
20. Part replacement record 110
VIDEO PREVIEW OF THE MANUAL:
PLEASE NOTE:
This is the SAME exact manual used by your dealers to fix your vehicle.
The same can be yours in the next 2-3 mins as you will be directed to the download page immediately after paying for the manual.
Any queries / doubts regarding your purchase, please feel free to contact [email protected]
S.M