Mack Truck MP7 MP8 & MP10 Engines Operator's Handbook Manual 21394653 – PDF DOWNLOAD
FILE DETAILS:
Mack Truck MP7 MP8 & MP10 Engines Operator's Handbook Manual 21394653 – PDF DOWNLOAD
Language : English
Pages : 167
Downloadable : Yes
File Type : PDF
Size: 1.95 MB
TABLE OF CONTENTS:
Mack Truck MP7 MP8 & MP10 Engines Operator's Handbook Manual 21394653 – PDF DOWNLOAD
Operator's Manual Vehicle Maintenance CXU, CHU, GU, TD, MRU and LEU 1
Foreword 1
Warning Label Information 1
General Information 3
Information For the Owner 3
Federal Emission Requirements 5
Label Information 12
Safety Information 19
Proper Maintenance Procedure 19
Injury Prevention 22
Engine Damage Prevention 30
Electric System Damage Prevention 32
Reporting Safety Defects 34
General Engine Information 35
Engine Overview, MP7 and MP8 Left Side View 35
Engine Overview, MP7 and MP8 Right Side View 36
Engine Overview, MP10 Left Side View 37
Engine Overview, MP10 Right Side View 38
Electrical System 39
Batteries 39
Battery Warmer 41
Battery Condition 41
Charging 42
Load Test 44
Electrical Connection Protection 44
Precautions When Installing Electrical Equipment 47
Engine Storage 50
Engine Storage 50
Maintenance and Service 51
Maintenance Hazards 51
Engine Components, Service Schedules 51
Cooling System 54
Fuel System 63
Engine Oil 75
Engine Air Filter 82
Exhaust After-Treatment System 85
Drive Belt Replacement Intervals 94
Automatic Belt Tensioner Maintenance 102
Turbocharger and Charge Air Cooler 106
Preventive Maintenance Air Suspensions 109
Steering and Brakes Maintenance 110
Tires, Wheels and Hub Maintenance 114
Chassis Maintenance 128
Cab Maintenance 130
Lubrication 136
Oil Capacity Tables and Viscosity Charts 142
Service Check List 146
Preventive Maintenance 146
Service Charts 150
Scheduled Services 150
Tire Record 154
Fuel and Oil Record 155
Engine Data 156
Literature 157
Service Assistance and Manuals 157
CUSTOMER SERVICE 158
DESCRIPTION:
Mack Truck MP7 MP8 & MP10 Engines Operator's Handbook Manual 21394653 – PDF DOWNLOAD
Foreword :
DO NOT Remove this manual from the vehicle. It contains important operational and safety information that is needed by all drivers and owners of this vehicle.
This manual contains information concerning the safe operation of your vehicle. It is extremely important that this information is read and understood before the vehicle is operated. This manual also contains a considerable amount of information concerning the vehicle, such as vehicle identification, Preventive Maintenance recommendations and a log for your service records. Please keep this in the vehicle at all times. Information from other component manufacturers is supplied in separate manuals in the Owners Package.
Note: It is important that this manual stay with the vehicle when it is sold. Important safety information must be passed on to the new customer. The service information contained in this manual gives the owner important information about maintaining the vehicle but is not intended as a substitute for the Preventive Maintenance Service Manual and must not be regarded as such.
The National Highway Traffic Safety Administration (NHTSA) and MACK Inc. should be informed immediately if you believe that the vehicle has a defect that could cause a crash, injury or death.
General Information:
Information For the Owner:
If there are questions on the maintenance and performance of your vehicle, please
discuss them with your MACK Truck dealer. Your authorized dealer is required to
have trained mechanics, special tools and spare parts to fully service your vehicle.
If necessary, your dealer will contact MACK Inc. or other manufacturers for any
assistance.
In addition to this Maintenance Manual, there may be additional instruction/operators
manuals supplied by component manufacturers. These manuals are placed in the
Owners Package and placed in the cab. Be sure to read all the manuals thoroughly
before operating the vehicle.
Also, various safety labels may be placed on components by the component
manufacturer. Be sure to read and follow these labels to prevent damage to the
vehicle, personal injury or even death.
Information in this manual refers to MACK components and MACK drivetrain.
Establish a Preventive Maintenance Program with the help of your local MACK
Truck dealer. A Preventive Maintenance Program makes it possible to maximize
the amount of time your vehicle is up and running, resulting in longer component
life. This makes for a safer vehicle by reducing any mechanical failures due to poor
maintenance practices.
IMAGES PREVIEW OF THE MANUAL: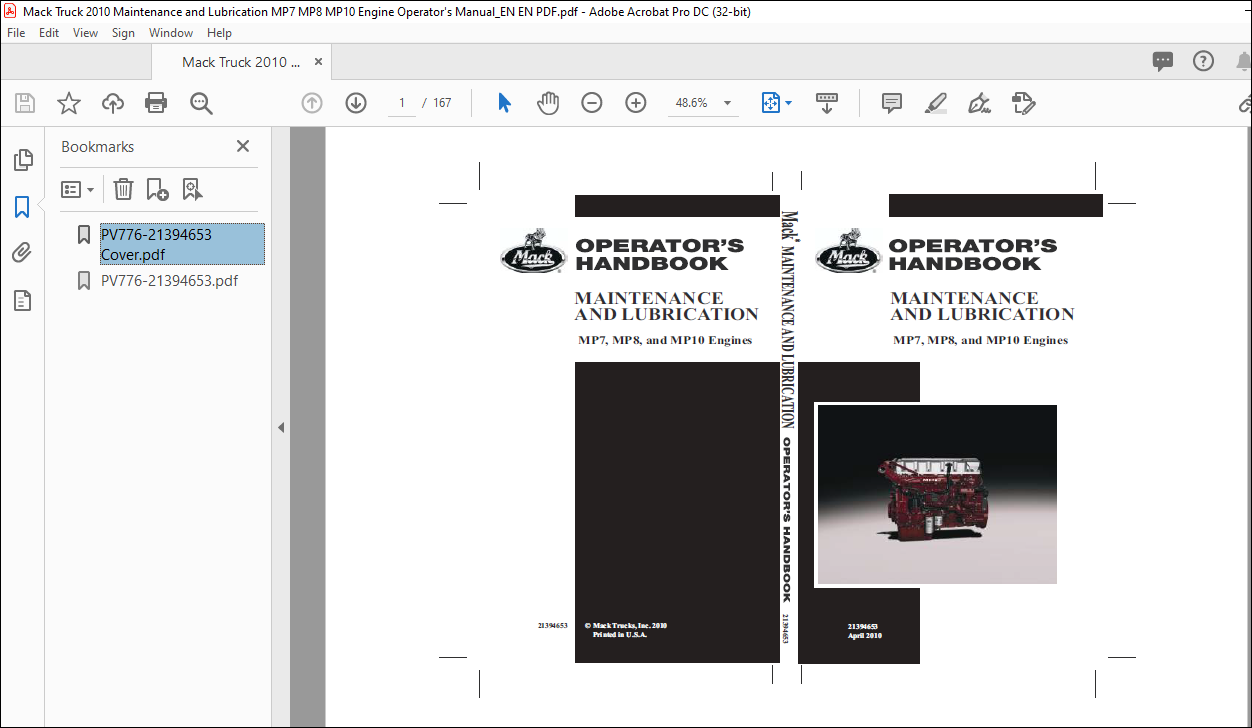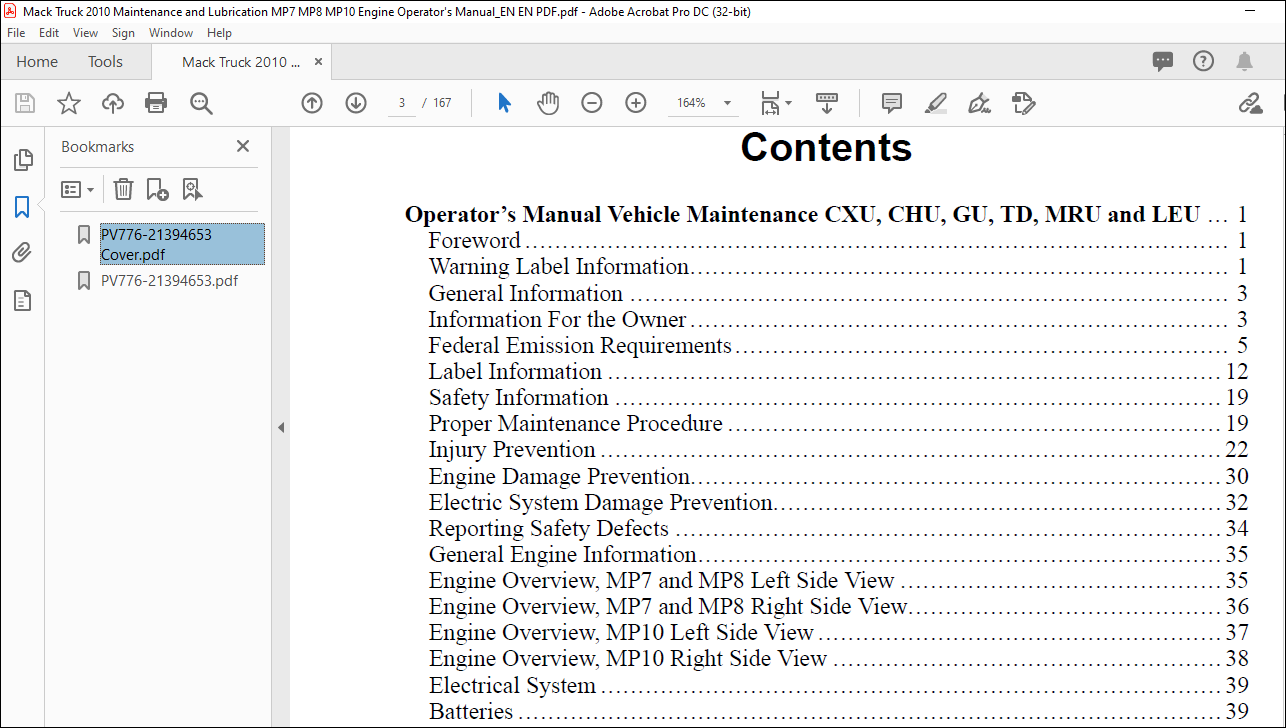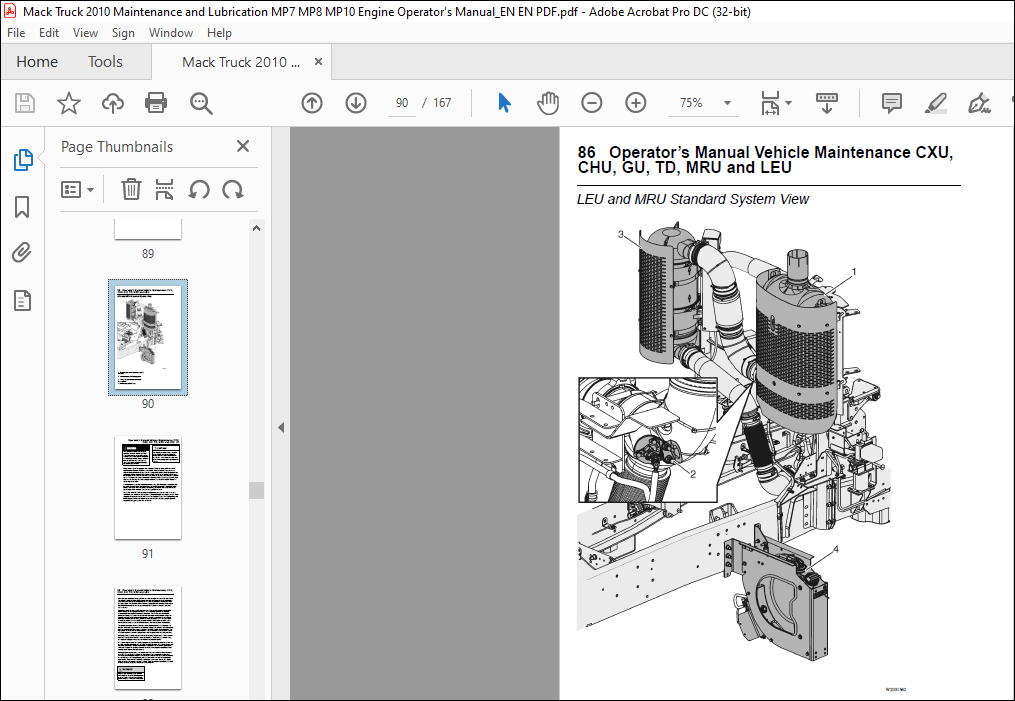 VIDEO PREVIEW OF THE MANUAL:
PLEASE NOTE:
This is the SAME exact manual used by your dealers to fix your vehicle.
The same can be yours in the next 2-3 mins as you will be directed to the download page immediately after paying for the manual.
Any queries / doubts regarding your purchase, please feel free to contact [email protected]
S.V