Mack Truck ASET™ AI AMI Engine Service Manual(5-110) – PDF DOWNLOAD
FILE DETAILS:
Mack Truck ASET™ AI AMI Engine Service Manual(5-110) – PDF DOWNLOAD
Language : English 
Pages : 494
Downloadable : Yes
File Type : PDF
Size: 43.2 MB
DESCRIPTION:
Mack Truck ASET™ AI AMI Engine Service Manual(5-110) – PDF DOWNLOAD
INTRODUCTION
Mack Trucks, Inc. cannot anticipate every possible occurrence that may involve a potential hazard. Accidents can be avoided by recognizing potentially hazardous situations and taking necessary precautions. Performing service procedures correctly is critical to technician safety and safe, reliable vehicle operation.
The following list of general shop safety practices can help technicians avoid potentially hazardous situations and reduce the risk of personal injury. DO NOT perform any services, maintenance procedures or lubrications until this manual has been read and understood.
Perform all service work on a flat, level surface. Block wheels to prevent vehicle from rolling.
DO NOT wear loose-fitting or torn clothing. Remove any jewelry before servicing vehicle.
ALWAYS wear safety glasses and protective shoes. Avoid injury by being aware of sharp corners and jagged edges.
Use hoists or jacks to lift or move heavy objects.
NEVER run engine indoors unless exhaust fumes are adequately vented to the outside.
Be aware of hot surfaces. Allow engine to cool sufficiently before performing any service or tests in the vicinity of the engine.
Keep work area clean and orderly. Clean up any spilled oil, grease, fuel, hydraulic fluid, etc.
Only use tools that are in good condition, and always use accurately calibrated torque wrenches to tighten all fasteners to specified torques. In instances where procedures require the use of special tools which are designed for a specific purpose, use only in the manner described in the instructions.
Do not store natural gas powered vehicles indoors for an extended period of time (overnight) without first removing the fuel.
Never smoke around a natural gas powered vehicle.
IMAGES PREVIEW OF THE MANUAL: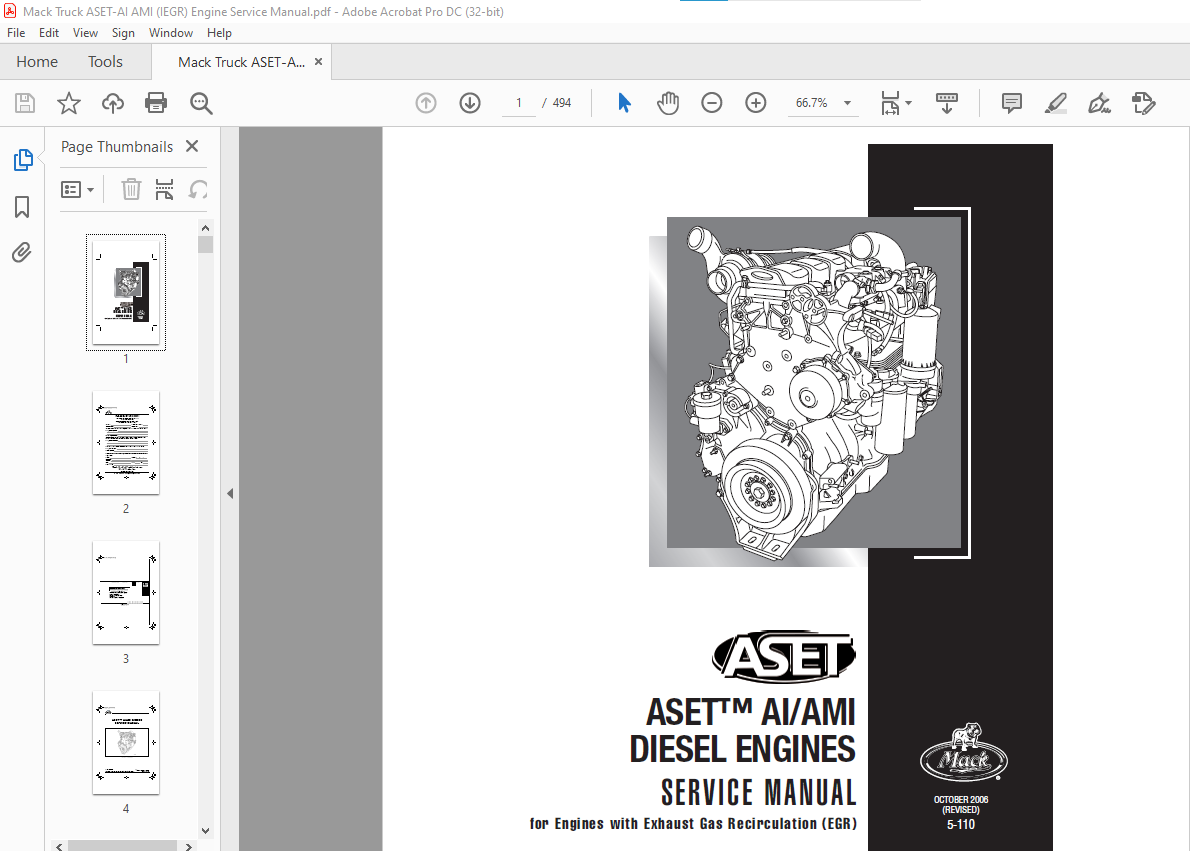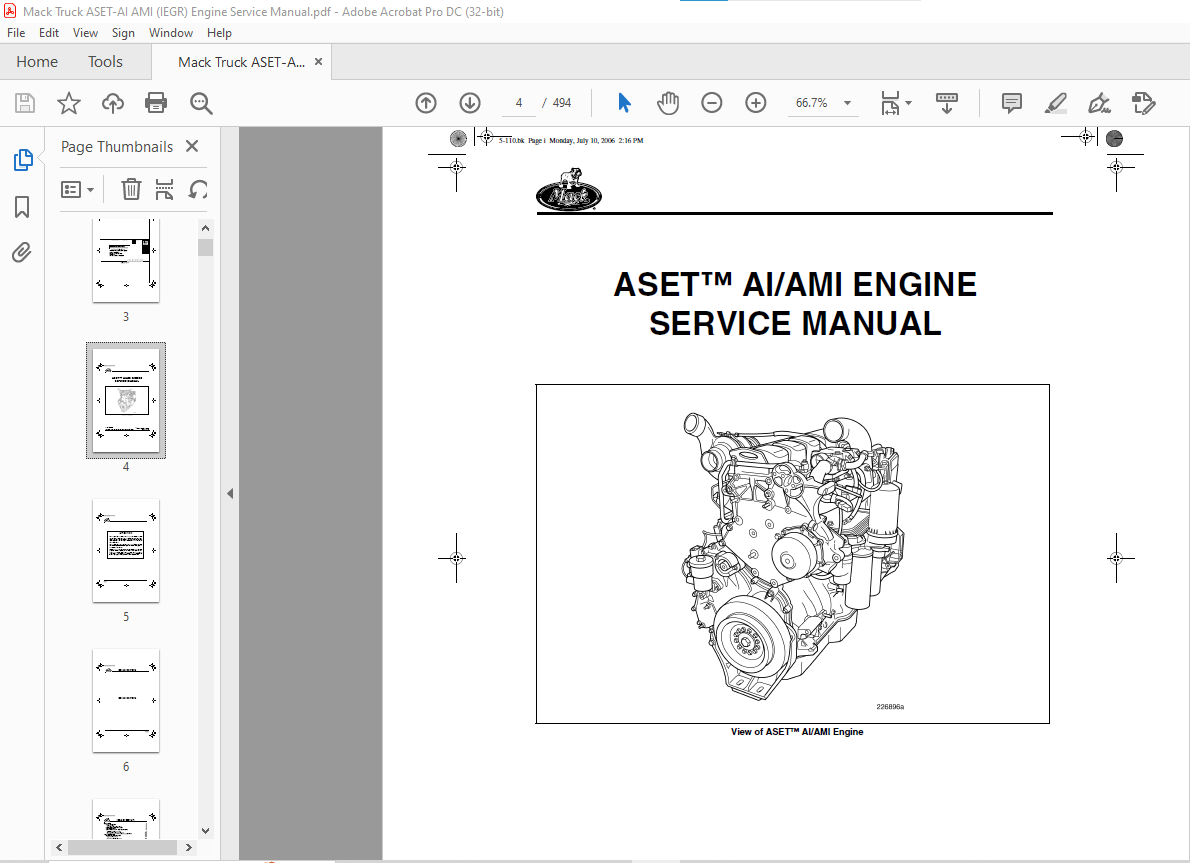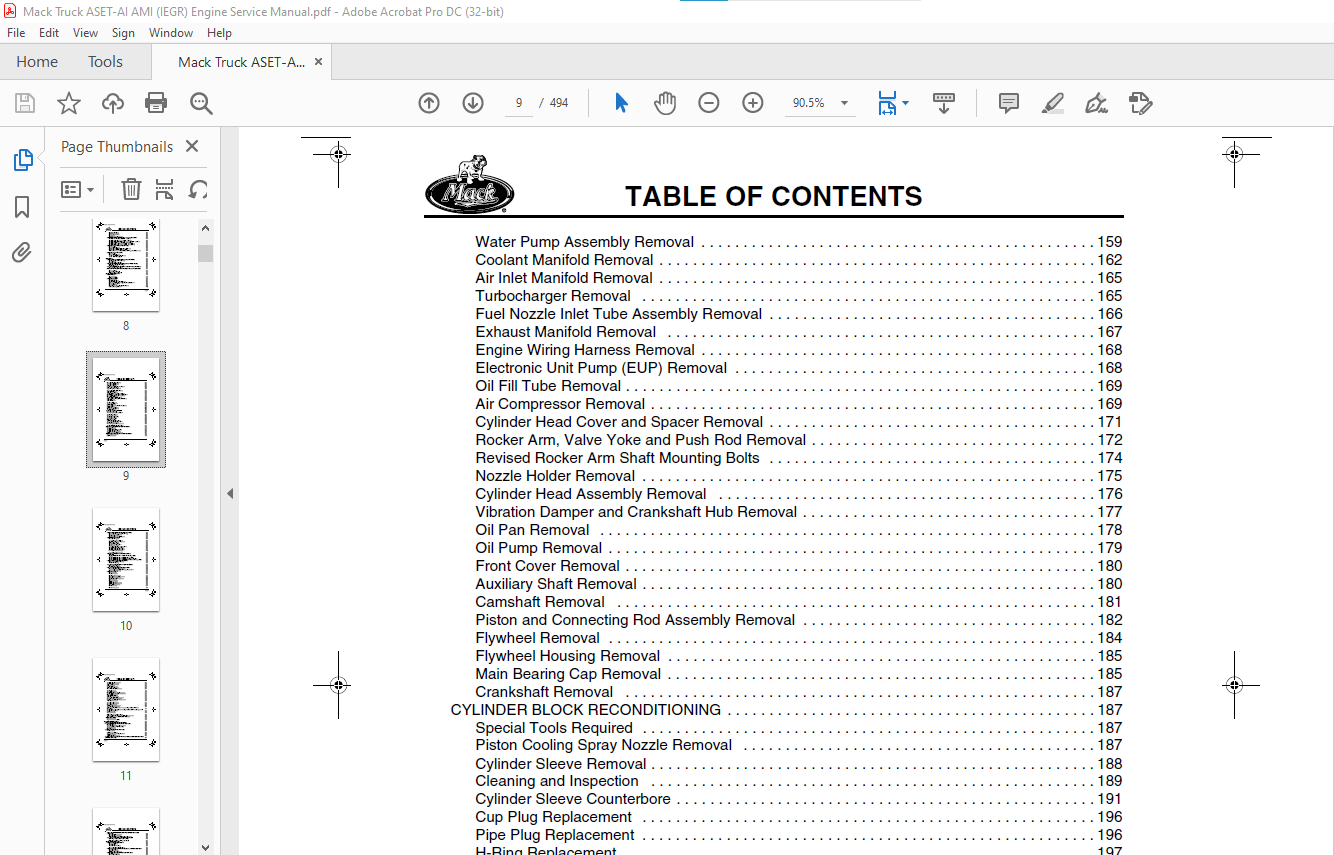 TABLE OF CONTENTS:
Mack Truck ASET™ AI AMI Engine Service Manual(5-110) – PDF DOWNLOAD
INTRODUCTION 1
SAFETY INFORMATION 2
Advisory Labels 2
Service Procedures and Tool Usage 3
EXPLANATION OF NUMERICAL CODE 5
CONVERSION CHART 6
ABOUT THE MACK ASET™ AI/AMI DIESEL ENGINE 9
AI/AMI Engine Changes for 2004 9
Heater Core Hose Connection Revision 10
Engine Configuration and Chassis Application for 2004/2005 11
VISUAL IDENTIFICATION 13
ENGINE MODEL IDENTIFICATION 14
Engine Information Plate 14
Engine Serial Number Identification 16
DESCRIPTION AND OPERATION 17
ENGINE DESIGN FEATURES 18
ASET™ AI/AMI (IEGR) Technology 19
ASET™ AI/AMI (IEGR) Engine Features and Components 23
MACK Fuel Filtration System 40
Electronic Unit Pumps (EUP) 41
Engine Brake 42
Camshaft 52
Valve Train 52
Low-Pressure Fuel System 60
High-Pressure Fuel System 64
High-Pressure Fuel Injection Lines 65
Fuel Injector Assemblies 65
Cylinder Block 66
Crankshaft 68
Block Heater 68
Cylinder Head 69
Cylinder Head Gasket 71
Gear Train 72
Air Compressor 73
Power Steering Pump 73
Vibration Damper Hub 73
Front Cover 73
Lubrication System 75
GLOSSARY OF TERMS 83
COMPONENT LOCATOR 85
COMPONENT LOCATION VIEW 86
TROUBLESHOOTING 89
ENGINE SYMPTOM DIAGNOSIS FOR MACK ASET™ ENGINES 90
V-MAC III Diagnostics 90
CAMSHAFT TIMING AND LOBE LIFT CHECKS 100
Camshaft Timing Check 100
Camshaft Lobe Lift Check 100
CHASSIS-MOUNTED CHARGE AIR COOLING TESTS 101
General Information 101
Special Tool Required 101
5-110bk Page iv Monday, July 10, 2006 2:16 PM
TABLE OF CONTENTS
Page v
CMCAC Troubleshooting 101
CMCAC Pressure Test 102
Restriction Pressure Test 103
Core Inspection 104
CMCAC Preventive Maintenance 104
CYLINDER HEAD AND CYLINDER BLOCK LEAK TEST PROCEDURE 105
Cylinder Head and Head Gasket Check — In Chassis 105
Cylinder Head Fuel Passages Leak Check — In Chassis 106
Cylinder Block/Cylinder Head Coolant Passages Leak Check — In Chassis 106
Cylinder Head Oil Passage Leak Check — Out of Chassis 108
Cylinder Head Coolant Passage Leak Check — Out of Chassis 109
Cylinder Block Coolant Passage Leak Check — Out of Chassis 110
ENGINE BRAKE TESTS (MACK POWERLEASH™) 112
Operational Tests 112
Electrical Troubleshooting 113
MACK PowerLeash™ Checks (Hydraulic/Mechanical) 114
MACK PowerLeash™ Troubleshooting Guide 115
Removal and Inspection of MACK PowerLeash™ Engine Brake Components 117
ENGINE BRAKE TESTS (J-TECH™) 120
Operational Tests 120
Electrical Troubleshooting 121
J-Tech™ Checks (Hydraulic/Mechanical) 122
J-Tech™ Troubleshooting Guide 125
MAINTENANCE 129
LUBRICATION SYSTEM MAINTENANCE FOR ASET™ ENGINES 130
Crankcase Breather Element Cleaning 130
Oil Level Check 131
Oil and Filter Change Procedure 132
FUEL FILTER ELEMENT REPLACEMENT FOR ASET™ AI/AMI ENGINES 136
Primary/Secondary Fuel Filter Change 136
Fuel/Water Separator 138
COOLANT CONDITIONER ELEMENT REPLACEMENT FOR ASET™ ENGINES 139
Coolant Conditioner Replacement 139
DRIVE BELT REPLACEMENT AND TENSIONING FOR ASET™ AI/AMI ENGINES 139
General Information 139
Manually Tensioned System 141
Automatically Tensioned System 141
REPAIR INSTRUCTIONS, PART 1 143
ENGINE REMOVAL 144
General Instructions 144
Removal from Vehicle 144
ENGINE DISASSEMBLY 147
General Instructions 147
Filter Element Removal 147
Dipstick Tube Removal (Front-Redesign) 148
Oil Cooler and Oil Filter Mounting Bracket Assembly Removal 148
Mounting Engine in Stand 149
Alternator Removal 151
Engine Electronic Control Unit (EECU) Removal 151
Thermostat Housing Removal 156
5-110bk Page v Monday, July 10, 2006 2:16 PM
Page vi
TABLE OF CONTENTS
Water Pump Assembly Removal 159
Coolant Manifold Removal 162
Air Inlet Manifold Removal 165
Turbocharger Removal 165
Fuel Nozzle Inlet Tube Assembly Removal 166
Exhaust Manifold Removal 167
Engine Wiring Harness Removal 168
Electronic Unit Pump (EUP) Removal 168
Oil Fill Tube Removal 169
Air Compressor Removal 169
Cylinder Head Cover and Spacer Removal 171
Rocker Arm, Valve Yoke and Push Rod Removal 172
Revised Rocker Arm Shaft Mounting Bolts 174
Nozzle Holder Removal 175
Cylinder Head Assembly Removal 176
Vibration Damper and Crankshaft Hub Removal 177
Oil Pan Removal 178
Oil Pump Removal 179
Front Cover Removal 180
Auxiliary Shaft Removal 180
Camshaft Removal 181
Piston and Connecting Rod Assembly Removal 182
Flywheel Removal 184
Flywheel Housing Removal 185
Main Bearing Cap Removal 185
Crankshaft Removal 187
CYLINDER BLOCK RECONDITIONING 187
Special Tools Required 187
Piston Cooling Spray Nozzle Removal 187
Cylinder Sleeve Removal 188
Cleaning and Inspection 189
Cylinder Sleeve Counterbore 191
Cup Plug Replacement 196
Pipe Plug Replacement 196
H-Ring Replacement 197
Camshaft Bushing Replacement 199
Auxiliary Shaft Bushing Replacement 203
Cylinder Sleeve Installation 207
Piston Cooling Spray Nozzle Installation 210
Cylinder Block Dowel Pin Replacement 212
CRANKSHAFT AND FLYWHEEL BENCH PROCEDURES 214
General Information 214
Crankshaft Inspection 214
Crankshaft Dowel Pin Replacement 215
Crankshaft Gear Replacement 216
Crankshaft Wear Ring Installation 217
Flywheel Inspection and Resurfacing 219
AUXILIARY SHAFT AND CAMSHAFT BENCH PROCEDURES 220
Auxiliary Shaft Inspection 220
Camshaft Inspection 220
5-110bk Page vi Monday, July 10, 2006 2:16 PM
TABLE OF CONTENTS
Page vii
CONNECTING ROD AND PISTON BENCH PROCEDURES 224
Connecting Rod Inspection and Reconditioning 224
Piston Inspection and Cleaning 227
Piston Ring Replacement 227
Assembling Connecting Rod to Piston 230
CYLINDER HEAD OVERHAUL 231
Special Tools Required 231
Inlet and Exhaust Valve Removal 231
Cylinder Head Cleaning and Inspection 235
Fire Ring Groove Cutting 236
Valve Guide Replacement 239
Valve Seat Insert Replacement 242
Valve Spring Inspection 247
Injection Nozzle Holder Insert Replacement 248
Valve Yoke Guide Pin Replacement 250
Cylinder Head Cup Plug Replacement 251
Cylinder Head Pipe Plug Replacement 252
Inlet and Exhaust Valve Inspection 253
Inlet and Exhaust Valve Installation 254
VALVE ROCKER ARM SHAFT BENCH PROCEDURES 259
Rocker Arms 259
Valve Rocker Arm Shaft Disassembly (with/without Engine Brake) 262
Inspection 262
Valve Rocker Arm Shaft Reassembly (without Engine Brake) 263
Valve Rocker Arm Shaft Reassembly (with J-Tech™ Engine Brake) 266
Valve Rocker Arm Shaft Reassembly (with MACK PowerLeash™ Engine Brake) 268
LUBRICATION SYSTEM BENCH PROCEDURES 273
Oil Cooler Assembly Reconditioning 273
Oil Pump Reconditioning 273
COOLING SYSTEM COMPONENTS BENCH PROCEDURES 279
Oil Cooler Reconditioning 279
Water Pump Reconditioning 279
FUEL SYSTEM COMPONENT BENCH PROCEDURES 279
Electronic Unit Pump (EUP) Inspection 279
Installation of Electronic Unit Pump Plunger Spring and Seat 280
Fuel Injector Nozzle Cleaning 282
ENGINE REASSEMBLY 283
General Instructions 283
Crankshaft Installation 283
Main Bearing Cap Installation 285
Piston and Connecting Rod Installation 290
Flywheel Housing Installation 294
Crankshaft Rear Oil Seal Installation 298
Flywheel Installation 301
Valve Lifter Installation 303
Camshaft Installation 304
Camshaft Core Plug Installation 305
Camshaft Idler Gear Installation 306
Auxiliary Shaft Installation 307
Oil Pump Installation 308
Front Cover Installation 309
5-110bk Page vii Monday, July 10, 2006 2:16 PM
Page viii
TABLE OF CONTENTS
Crankshaft Front Seal Installation 310
Crankshaft Hub Installation 311
Vibration Damper Installation 311
Oil Pan Installation 312
Cylinder Head Installation 314
Exhaust Manifold Installation 317
Nozzle Holder Assembly Installation 318
Push Rod Installation 321
Valve Yoke Installation 321
Rocker Arm and Engine Brake Installation 325
Cylinder Head Cover and Spacer Installation 331
Dipstick Tube Installation 333
Oil Fill Tube/Turbo Drain 333
Air Compressor Installation 333
Electronic Unit Pump (EUP) Installation 335
Engine Wiring Harness Installation 336
Fuel Nozzle Inlet Tube Assembly Installation 336
Turbocharger Installation 337
Coolant Manifold Installation 339
Air Inlet Manifold Installation 341
Water Pump Installation 341
Thermostat Housing Installation 348
Coolant Conditioner Installation 353
Oil Cooler-to-Water Pump Inlet Line Installation (Engine with Standard-Type
Water Pump) 354
Fuel Filter Adapter Assembly Installation (Engine with Standard Front Configuration and
Fuel Filter Arrangement) 355
EECU Installation 356
Alternator Installation 358
Removing Engine from Engine Stand 358
Oil Cooler and Oil Filter Mounting Bracket Assembly Installation 359
Dipstick Tube Installation (AI/AMI with Front-Redesign) 360
ENGINE INSTALLATION 361
General Instructions 361
Engine Installation into Vehicle 361
REPAIR INSTRUCTIONS, PART 2 365
IN-CHASSIS PART/COMPONENT PROCEDURES 366
ELECTRONIC UNIT PUMP REPLACEMENT (IN-CHASSIS) 366
Unit Pump Removal 366
Tappet Guide Pin and Tappet Bore Inspection 367
Salvaging a Damaged EUP Tappet Bore 367
Tappet Installation 368
Unit Pump Installation 368
CAMSHAFT REPLACEMENT (IN-CHASSIS) 370
Preliminary Steps 370
Camshaft/Lifter Removal 370
Cleaning and Inspection of Cylinder Block 372
Camshaft Installation 373
Camshaft Idler Gear Installation 375
EXHAUST VALVE YOKE PIN AND VALVE ROTATOR INSPECTION AND REPLACEMENT
CRITERIA (IN-CHASSIS) 377
5-110bk Page viii Monday, July 10, 2006 2:16 PM
TABLE OF CONTENTS
Page ix
VALVE LIFTER H-RING DISLODGEMENT AND ALIGNMENT INSPECTIONS
(IN-CHASSIS) 379
H-Ring Dislodgement Inspection 379
H-Ring Alignment Inspection 380
H-Ring Dislodgement Check and Alignment Verification 381
COOLING SYSTEM SERVICE PROCEDURES (IN-CHASSIS) 381
AI/AMI Engines with Standard-Type Water Pump 381
AI/AMI Engines with Front-Redesign Water Pump 388
REPAIR INSTRUCTIONS, PART 3 399
ENGINE SETUP AND ADJUSTMENTS 400
Fuel Injection Timing 400
Valve Adjustment 400
Valve Adjustment Procedure 401
Electronic Unit Pump (EUP) Calibration 418
ENGINE SPEED AND POSITION SENSORS INSTALLATION AND ADJUSTMENT 418
Engine Speed Sensor 418
Engine Position Sensor 419
Other Engine-Mounted Sensors 419
ENGINE FINAL PREPARATION AND OPERATIONAL CHECK 420
Filter Element Installation 420
Engine Lubrication System 421
Turbocharger 421
Cooling System 422
Fuel System 422
Engine Operational Check 423
REBUILT ENGINE RUN-IN PROCEDURES 423
General Instructions 423
Run-In Check 423
SPECIFICATIONS 425
ASET™ AI/AMI ENGINE MECHANICAL SPECIFICATIONS 426
Performance Specifications 426
Material and Dimensional Data 427
Engine Component Torque Specifications 436
SPECIFICATION FOOTNOTES 445
ASET™ ENGINE ASSEMBLY LUBRICANTS AND SEALANTS 448
ASET™ AI/AMI ENGINE DRIVE BELT SPECIFICATIONS (ENGINES WITH FRONT-REDESIGN
CONFIGURATION) 449
SCHEMATIC & ROUTING DIAGRAMS 451
ASET™ AI/AMI ENGINE SYSTEMS SCHEMATICS 452
Cooling System Flow Diagram 452
Lubrication System Flow Diagram 455
Fuel System Flow Diagrams 456
Accessory Drive Belt Routings 459
SPECIAL TOOLS & EQUIPMENT 461
ASET™ ENGINE SPECIAL TOOLS 462
Special Tools for Engine Overhaul 462
V-MAC III Special Tools 465
5-110bk Page ix Monday, July 10, 2006 2:16 PM
Page x
TABLE OF CONTENTS
APPENDIX 467
FASTENER IDENTIFICATION 468
Fastener Selection and Installation 468
Fastener Sizes and Types 469
TORQUE WRENCH USE 470
Using an Adapter in Combination with a Torque Wrench 470
TURBOCHARGER FAILURE AND ACTIONS REQUIRED TO AVOID REPEAT FAILURE 471
Cleaning Oil from the Charge Air Cooler 472
Cleaning the Intake Air System 472
Cleaning the Turbocharger Oil Supply Line, Changing the Engine Oil and Pre-Lubricating the
Turbocharger Following a Failure 473
Pre-Lubricating a Turbocharger After Sitting Idle for an Extended Period of Time 474
INDEX 475
VIDEO PREVIEW OF THE MANUAL:
PLEASE NOTE:
This is the SAME MANUAL used by the dealerships to diagnose your vehicle
No waiting for couriers / posts as this is a PDF manual and you can download it within 2 minutes time once you make the payment.
Your payment is all safe and the delivery of the manual is INSTANT – You will be taken to the DOWNLOAD PAGE.
So have no hesitations whatsoever and write to us about any queries you may have : heydownloadss @gmail.com
S.M