Komatsu WA200-8 Wheel Loader Shop Manual SEN06627-05 – PDF DOWNLOAD
FILE DETAILS:
Komatsu WA200-8 Wheel Loader Shop Manual SEN06627-05 – PDF DOWNLOAD
Language : English
Pages : 3030
Downloadable : Yes
File Type : PDF
Size: 72.6 MB
DESCRIPTION:
Komatsu WA200-8 Wheel Loader Shop Manual SEN06627-05 – PDF DOWNLOAD
SERIAL NUMBERS 85001 and up
FOREWORD, SAFETY, BASIC INFORMATION
HOW TO READ THE SHOP MANUAL
• Some of the attachments and options described in this shop manual may not be available in some areas. If
they are required, consult your Komatsu distributor.
• The materials and specifications are subject to change without notice.
• Shop Manuals are available for "machine part" and "engine part". For the engine unit, see the shop manual
for the machine which has the same engine model.
• Actual machine may differ from the images which are contained in this manual. A typical model is shown in
the illustrations of this shop manual.
Composition of the shop manual
This shop manual contains technical information necessary to perform services in workshops. It is divided into
the following chapters for the ease of use.
00 INDEX AND FOREWORD
This section describes the index, foreword, safety, and basic information.
01 SPECIFICATIONS
This section describes the specifications of the machine.
10 STRUCTURE AND FUNCTION
This section describes the structure and operation of each component with respect to each system. "STRUCTURE
AND FUNCTION" is helpful in not only understanding the structure of each component but performing
troubleshooting.
20 STANDARD VALUE TABLE
This section describes the standard values for new machine and failure criteria for testing and adjusting, and
troubleshooting. Use the standard values table to check the standard values for testing and adjusting, and judge
troubles in troubleshooting.
30 TESTING AND ADJUSTING
This section describes the measuring tools and measuring methods for testing and adjusting as well as the adjusting
method of each part. The standard values and repair limit for TESTING AND ADJUSTING are described
in "STANDARD VALUE TABLE".
40 TROUBLESHOOTING
This section describes troubleshooting of failure part and its remedy method on the occurrence of the failure.
Descriptions of troubleshooting are sorted by failure mode.
50 DISASSEMBLY AND ASSEMBLY
This section describes the special tools, work procedures, and safety precautions necessary for removal, installation,
disassembly, and assembly of the components and parts. In addition, tightening torques, quantity, and
weight of the coating materials, lubricants, and coolant necessary to these works are shown.
60 MAINTENANCE STANDARD
This section describes the maintenance standard value of each component. The maintenance standard shows
the criteria and remedies for disassembly and assembly.
80 THE OTHER INFORMATION
This section describes the structure and function, testing and adjusting, and troubleshooting for all of the other
components or equipment which cannot be separately classified in the appendix.
90 Circuit diagrams
This section describes hydraulic circuit diagrams and electrical circuit diagrams.
TABLE OF CONTENTS:
Komatsu WA200-8 Wheel Loader Shop Manual SEN06627-05 – PDF DOWNLOAD
INDEX
00 INDEX AND FOREWORD 00-1
ABBREVIATION LIST 00-19
FOREWORD, SAFETY, BASIC INFORMATION 00-25
HOW TO READ THE SHOP MANUAL 00-25
SAFETY NOTICE FOR OPERATION 00-27
PRECAUTIONS TO PREVENT FIRE 00-35
ACTIONS IF FIRE OCCURS 00-37
PRECAUTIONS FOR DISPOSING OF WASTE MATERIALS 00-38
ACTIONS TAKEN TO MEET EXHAUST GAS REGULATIONS 00-39
PRECAUTIONS FOR DEF 00-40
STORE AdBlue/DEF 00-41
PRECAUTIONS FOR HANDLING HYDRAULIC EQUIPMENT 00-42
PRECAUTIONS FOR DISCONNECTION AND CONNECTION OF PIPINGS 00-45
PRECAUTIONS FOR HANDLING ELECTRICAL EQUIPMENT 00-52
PRECAUTIONS FOR HANDLING FUEL SYSTEM EQUIPMENT 00-54
PRECAUTIONS FOR HANDLING INTAKE SYSTEM EQUIPMENT 00-55
PRACTICAL USE OF KOMTRAX 00-56
DISCONNECT AND CONNECT PUSH-PULL TYPE COUPLER 00-57
PRECAUTIONS FOR DISCONNECTION AND CONNECTION OF CONNECTORS 00-61
METHOD FOR DISCONNECTING AND CONNECTING DEUTSCH CONNECTOR 00-65
METHOD FOR DISCONNECTING AND CONNECTING SLIDE LOCK TYPE CONNECTOR 00-66
METHOD FOR DISCONNECTING AND CONNECTING CONNECTOR WITH LOCK TO PULL 00-68
METHOD FOR DISCONNECTING AND CONNECTING CONNECTOR WITH LOCK TO PUSH 00-69
METHOD FOR DISCONNECTING AND CONNECTING CONNECTOR WITH HOUSING TO ROTATE
00-71
HOW TO READ ELECTRICAL WIRE CODE 00-72
EXPLANATION OF TERMS FOR MAINTENANCE STANDARD 00-76
STANDARD TIGHTENING TORQUE TABLE 00-79
CONVERSION TABLE 00-86
01 SPECIFICATIONS 01-1
CONTENTS 01-2
ABBREVIATION LIST 01-3
SPECIFICATIONS 01-9
SPECIFICATION DRAWING 01-9
SPECIFICATIONS 01-11
WEIGHT TABLE 01-17
FUEL, COOLANT, LUBRICANTS (FOR NORTH AMERICA) 01-19
FUEL, COOLANT, LUBRICANTS (FOR EUROPEAN UNION) 01-21
10 STRUCTURE AND FUNCTION 10-1
CONTENTS 10-2
ABBREVIATION LIST 10-6
UREA SCR SYSTEM 10-12
LAYOUT DRAWING OF UREA SCR SYSTEM 10-12
UREA SCR SYSTEM DIAGRAM 10-14
FUNCTION OF UREA SCR SYSTEM 10-15
COMPONENT PARTS OF UREA SCR SYSTEM 10-32
BOOT-UP SYSTEM 10-41
LAYOUT DRAWING OF BOOT-UP SYSTEM 10-41
SYSTEM OPERATING LAMP SYSTEM 10-43
BATTERY DISCONNECT SWITCH 10-44
PREHEATING SYSTEM 10-45
ENGINE SYSTEM 10-47
LAYOUT DRAWING OF ENGINE SYSTEM 10-47
ENGINE CONTROL SYSTEM 10-49
AUTOMATIC IDLE STOP SYSTEM 10-56
COMPONENT PARTS OF ENGINE SYSTEM 10-57
INDEX 00 INDEX AND FOREWORD
00-2 WA200-8
COOLING SYSTEM 10-74
LAYOUT DRAWING OF COOLING SYSTEM 10-74
COOLING FAN CONTROL SYSTEM 10-76
COMPONENT PARTS OF COOLING SYSTEM 10-81
CONTROL SYSTEM 10-92
LAYOUT DRAWING OF CONTROL SYSTEM 10-92
MACHINE MONITOR SYSTEM 10-94
REARVIEW MONITOR SYSTEM 10-96
KOMTRAX SYSTEM 10-97
COMPONENT PARTS OF CONTROL SYSTEM 10-98
HYDRAULIC SYSTEM 10-140
LAYOUT DRAWING OF HYDRAULIC SYSTEM 10-140
COMPONENT PARTS OF HYDRAULIC SYSTEM 10-141
POWER TRAIN SYSTEM 10-167
LAYOUT DRAWING OF POWER TRAIN SYSTEM 10-167
OPERATION OF POWER TRAIN SYSTEM 10-169
DIRECTIONAL SELECTOR SWITCH CONTROL FUNCTION 10-170
HST CONTROL SYSTEM 10-172
HST CHARGE SYSTEM 10-174
HST PUMP CONTROL SYSTEM 10-175
HST CONTROLLER GEAR SHIFT CONTROL FUNCTION 10-177
TRANSFER CLUTCH CONTROL FUNCTION 10-180
HST SYSTEM PROTECTION FUNCTION 10-181
KOMATSU TRACTION CONTROL SYSTEM (KTCS) 10-183
COMPONENT PARTS OF POWER TRAIN SYSTEM 10-187
WORK EQUIPMENT SYSTEM 10-232
LAYOUT DRAWING OF WORK EQUIPMENT SYSTEM 10-232
WORK EQUIPMENT CONTROL SYSTEM 10-234
WORK EQUIPMENT LOCK SYSTEM 10-235
BUCKET POSITIONER SYSTEM 10-237
BOOM KICK-OUT SYSTEM 10-240
ECSS 10-243
COMPONENT PARTS OF WORK EQUIPMENT SYSTEM 10-245
STEERING SYSTEM 10-257
LAYOUT DRAWING OF STEERING SYSTEM 10-257
STEERING COLUMN 10-258
COMPONENT PARTS OF STEERING SYSTEM 10-259
BRAKE SYSTEM 10-275
LAYOUT DRAWING OF BRAKE SYSTEM 10-275
PARKING BRAKE CONTROL SYSTEM 10-277
COMPONENT PARTS OF BRAKE SYSTEM 10-280
UNDERCARRIAGE AND FRAME 10-299
FRAME, AXLE MOUNT AND CENTER HINGE PIN 10-299
TIRE 10-302
WORK EQUIPMENT 10-304
STRUCTURE OF WORK EQUIPMENT 10-304
STRUCTURE OF BUCKET 10-305
CAB AND ITS ATTACHMENTS 10-306
ROPS CAB 10-306
CAB MOUNT 10-307
20 STANDARD VALUE TABLE 20-1
CONTENTS 20-2
ABBREVIATION LIST 20-3
STANDARD VALUE TABLE FOR ENGINE 20-9
STANDARD VALUE TABLE FOR ENGINE: WA200-8 20-9
STANDARD VALUE TABLE FOR MACHINE 20-14
STANDARD VALUE TABLE FOR MACHINE: WA200-8 20-14
MACHINE POSTURE AND PROCEDURE FOR MEASURING PERFORMANCE 20-26
00 INDEX AND FOREWORD INDEX
WA200-8 00-3
30 TESTING AND ADJUSTING 30-1
CONTENTS 30-2
ABBREVIATION LIST 30-5
RELATED INFORMATION ON TESTING AND ADJUSTING 30-11
TOOLS FOR TESTING AND ADJUSTING 30-11
ENGINE AND COOLING SYSTEM 30-19
TEST ENGINE SPEED 30-19
TEST BOOST PRESSURE 30-22
TEST EXHAUST GAS COLOR 30-25
TEST AND ADJUST VALVE CLEARANCE 30-28
TEST COMPRESSION PRESSURE 30-31
TEST BLOWBY PRESSURE 30-36
TEST ENGINE OIL PRESSURE 30-39
TEST FUEL PRESSURE 30-41
TEST FUEL DISCHARGE, RETURN AND LEAKAGE 30-46
BLEED AIR FROM FUEL SYSTEM 30-52
TEST FUEL CIRCUIT FOR LEAKAGE 30-54
HANDLE CYLINDER CUT-OUT MODE OPERATION 30-56
HANDLE NO-INJECTION CRANKING OPERATION 30-57
TEST KDOC, SCR AND MUFFLER STACK FOR LOOSENESS AND DAMAGE 30-58
TEST INSTALLED CONDITION OF CYLINDER HEADS AND MANIFOLDS 30-59
TEST ENGINE PIPING FOR DAMAGE AND LOOSENESS 30-60
TEST AND ADJUST AIR CONDITIONER COMPRESSOR BELT TENSION 30-61
TEST ALTERNATOR BELT 30-63
TEST AUTOMATIC TENSIONER 30-65
TEST SCR RELATED FUNCTIONS 30-68
CLEAN AdBlue/DEF TANK 30-100
POWER TRAIN 30-105
TEST AND ADJUST HST OIL PRESSURE 30-105
TEST THE CONTROL PRESSURE OF TRANSFER CLUTCH 30-110
TEST DRIVE SHAFT FOR LOOSENESS, BACKLASH, AND DAMAGE 30-112
STEERING SYSTEM 30-113
TEST STEERING WHEEL 30-113
TEST AND ADJUST STEERING CIRCUIT OIL PRESSURE 30-115
BLEED AIR FROM STEERING CYLINDER CIRCUIT 30-118
BRAKE SYSTEM 30-119
RELEASE REMAINING PRESSURE IN BRAKE ACCUMULATOR CIRCUIT 30-119
TEST WHEEL BRAKE OIL PRESSURE 30-120
TEST AND ADJUST BRAKE ACCUMULATOR CHARGE PRESSURE 30-122
BLEED AIR FROM BRAKE CIRCUIT 30-124
TEST BRAKING PERFORMANCE 30-125
TEST BRAKE PEDAL 30-126
TEST AND ADJUST BRAKE PEDAL AND LINKAGE 30-127
TEST LOWERING OF WHEEL BRAKE PRESSURE 30-128
TEST WEAR OF WHEEL BRAKE DISC 30-131
TEST PARKING BRAKE OIL PRESSURE 30-133
TEST PARKING BRAKE PERFORMANCE 30-135
RELEASE PARKING BRAKE MANUALLY 30-136
HYDRAULIC SYSTEM 30-137
RELEASE REMAINING PRESSURE FROM WORK EQUIPMENT CIRCUIT 30-137
TEST AND ADJUST WORK EQUIPMENT OIL PRESSURE 30-139
TEST WORK EQUIPMENT PPC OIL PRESSURE 30-142
BLEED AIR FROM WORK EQUIPMENT PPC CIRCUIT 30-144
TEST COOLING FAN SPEED 30-145
TEST COOLING FAN CIRCUIT OIL PRESSURE 30-146
BLEED AIR FROM COOLING FAN CIRCUIT 30-148
TEST ECSS ACCUMULATOR NITROGEN GAS PRESSURE AND CHARGE ACCUMULATOR WITH
NITROGEN GAS 30-150
INDEX 00 INDEX AND FOREWORD
00-4 WA200-8
WORK EQUIPMENT 30-155
TEST AND ADJUST BUCKET POSITIONER 30-155
CAB AND ITS ATTACHMENTS 30-157
TEST DIRECTIONAL LEVER 30-157
TEST MULTIFUNCTION MONO-LEVER 30-158
TEST ACCELERATOR PEDAL 30-160
ADJUST RATTLING OPERATOR'S SEAT 30-162
ELECTRICAL SYSTEM 30-163
SET AND ADJUST EACH EQUIPMENT 30-163
SET AND OPERATE MACHINE MONITOR 30-165
METHOD FOR STARTING UP KOMTRAX TERMINAL 30-259
ADJUST REARVIEW CAMERA ANGLE 30-264
HANDLE VOLTAGE CIRCUIT OF ENGINE CONTROLLER 30-266
HANDLE BATTERY DISCONNECT SWITCH 30-267
TEST DIODES 30-268
Pm CLINIC 30-269
Pm CLINIC SERVICE 30-269
40 TROUBLESHOOTING 40-1
CONTENTS 40-2
ABBREVIATION LIST 40-12
RELATED INFORMATION ON TROUBLESHOOTING 40-18
GENERAL TROUBLESHOOTING POINTS 40-18
TROUBLESHOOTING POINTS FOR UREA SCR SYSTEM 40-19
SEQUENCE OF EVENTS IN TROUBLESHOOTING 40-31
CHECKS BEFORE TROUBLESHOOTING 40-33
INSPECTION PROCEDURE BEFORE TROUBLESHOOTING 40-35
TESTING IN ACCORDANCE WITH TESTING PROCEDURE 40-37
ELECTRICAL SYSTEM TROUBLESHOOTING – PREPARATION 40-62
PROCEDURE FOR TESTING AND TROUBLESHOOTING 40-70
SYMPTOM AND TROUBLESHOOTING NUMBERS 40-72
INFORMATION DESCRIBED IN TROUBLESHOOTING TABLE 40-76
TROUBLESHOOTING METHOD FOR OPEN CIRCUIT IN WIRING HARNESS OF PRESSURE SENSOR
SYSTEM 40-78
CONNECTORS LIST AND LAYOUT 40-81
CONNECTOR CONTACT IDENTIFICATION 40-98
T-BRANCH BOX AND T-BRANCH ADAPTER TABLE 40-137
FUSE LOCATION TABLE 40-143
PRECAUTIONS FOR REPLACING KDOC 40-147
PREPARATION FOR TROUBLESHOOTING OF MACHINE MONITOR 40-148
PROCEDURES FOR CREATING HARNESS CHECKER ON MACHINE MONITOR LCD UNIT 40-150
FAILURE CODES TABLE 40-156
TROUBLESHOOTING BY FAILURE CODE (DISPLAY OF CODE) 40-174
FAILURE CODE [2F00MA] 40-174
FAILURE CODE [2F00MB] 40-177
FAILURE CODE [2G42ZG] 40-179
FAILURE CODE [2G43ZG] 40-181
FAILURE CODE [6091NX] 40-183
FAILURE CODE [7RHYKA] 40-185
FAILURE CODE [7RHYKB] 40-187
FAILURE CODE [7RHYKY] 40-189
FAILURE CODE [879AKA] 40-191
FAILURE CODE [879AKB] 40-193
FAILURE CODE [879BKA] 40-195
FAILURE CODE [879BKB] 40-197
FAILURE CODE [879CKA] 40-199
FAILURE CODE [879CKB] 40-201
FAILURE CODE [879DKZ] 40-203
FAILURE CODE [879EMC] 40-205
00 INDEX AND FOREWORD INDEX
WA200-8 00-5
FAILURE CODE [879FMC] 40-206
FAILURE CODE [989FN1] 40-207
FAILURE CODE [989L00] 40-208
FAILURE CODE [989M00] 40-209
FAILURE CODE [989N00] 40-210
FAILURE CODE [A1U0N3] 40-211
FAILURE CODE [A1U0N4] 40-213
FAILURE CODE [AB00KE] 40-215
FAILURE CODE [AB00KY] 40-217
FAILURE CODE [AQ10MB] 40-219
FAILURE CODE [AQ10N3] 40-221
FAILURE CODE [AS00R2] 40-223
FAILURE CODE [AS00R3] 40-224
FAILURE CODE [AS00R4] 40-225
FAILURE CODE [AS00R5] 40-226
FAILURE CODE [AS00R6] 40-227
FAILURE CODE [AS00ZK] 40-228
FAILURE CODE [AS10KM] 40-229
FAILURE CODE [AS10NR] 40-230
FAILURE CODE [AS10NT] 40-231
FAILURE CODE [[email protected]] 40-232
FAILURE CODE [[email protected]] 40-233
FAILURE CODE [[email protected]] 40-234
FAILURE CODE [[email protected]] 40-236
FAILURE CODE [[email protected]] 40-238
FAILURE CODE [CA115] 40-239
FAILURE CODE [CA122] 40-240
FAILURE CODE [CA123] 40-242
FAILURE CODE [CA131] 40-244
FAILURE CODE [CA132] 40-246
FAILURE CODE [CA144] 40-249
FAILURE CODE [CA145] 40-251
FAILURE CODE [CA153] 40-253
FAILURE CODE [CA154] 40-255
FAILURE CODE [CA187] 40-257
FAILURE CODE [CA221] 40-259
FAILURE CODE [CA222] 40-261
FAILURE CODE [CA227] 40-263
FAILURE CODE [CA234] 40-265
FAILURE CODE [CA238] 40-266
FAILURE CODE [CA239] 40-267
FAILURE CODE [CA249] 40-268
FAILURE CODE [CA256] 40-270
FAILURE CODE [CA271] 40-272
FAILURE CODE [CA272] 40-274
FAILURE CODE [CA295] 40-276
FAILURE CODE [CA322] 40-277
FAILURE CODE [CA324] 40-279
FAILURE CODE [CA331] 40-281
FAILURE CODE [CA332] 40-283
FAILURE CODE [CA343] 40-285
FAILURE CODE [CA351] 40-286
FAILURE CODE [CA352] 40-287
FAILURE CODE [CA356] 40-289
FAILURE CODE [CA357] 40-291
FAILURE CODE [CA386] 40-293
FAILURE CODE [CA428] 40-294
FAILURE CODE [CA429] 40-296
INDEX 00 INDEX AND FOREWORD
00-6 WA200-8
FAILURE CODE [CA431] 40-298
FAILURE CODE [CA432] 40-301
FAILURE CODE [CA435] 40-305
FAILURE CODE [CA441] 40-307
FAILURE CODE [CA442] 40-309
FAILURE CODE [CA451] 40-310
FAILURE CODE [CA452] 40-312
FAILURE CODE [CA488] 40-314
FAILURE CODE [CA515] 40-315
FAILURE CODE [CA516] 40-317
FAILURE CODE [CA553] 40-319
FAILURE CODE [CA555] 40-320
FAILURE CODE [CA556] 40-321
FAILURE CODE [CA559] 40-322
FAILURE CODE [CA595] 40-325
FAILURE CODE [CA687] 40-327
FAILURE CODE [CA689] 40-329
FAILURE CODE [CA691] 40-332
FAILURE CODE [CA692] 40-334
FAILURE CODE [CA697] 40-336
FAILURE CODE [CA698] 40-337
FAILURE CODE [CA731] 40-338
FAILURE CODE [CA778] 40-340
FAILURE CODE [CA1117] 40-344
FAILURE CODE [CA1664] 40-346
FAILURE CODE [CA1669] 40-348
FAILURE CODE [CA1673] 40-349
FAILURE CODE [CA1677] 40-350
FAILURE CODE [CA1678] 40-351
FAILURE CODE [CA1682] 40-352
FAILURE CODE [CA1683] 40-356
FAILURE CODE [CA1684] 40-358
FAILURE CODE [CA1686] 40-360
FAILURE CODE [CA1691] 40-361
FAILURE CODE [CA1694] 40-363
FAILURE CODE [CA1695] 40-365
FAILURE CODE [CA1696] 40-366
FAILURE CODE [CA1712] 40-369
FAILURE CODE [CA1713] 40-372
FAILURE CODE [CA1714] 40-374
FAILURE CODE [CA1715] 40-375
FAILURE CODE [CA1776] 40-376
FAILURE CODE [CA1777] 40-379
FAILURE CODE [CA1843] 40-382
FAILURE CODE [CA1844] 40-384
FAILURE CODE [CA1885] 40-387
FAILURE CODE [CA1887] 40-389
FAILURE CODE [CA1896] 40-391
FAILURE CODE [CA1898] 40-392
FAILURE CODE [CA1938] 40-394
FAILURE CODE [CA1942] 40-396
FAILURE CODE [CA1961] 40-397
FAILURE CODE [CA1962] 40-398
FAILURE CODE [CA2185] 40-399
FAILURE CODE [CA2186] 40-401
FAILURE CODE [CA2198] 40-403
FAILURE CODE [CA2272] 40-404
FAILURE CODE [CA2288] 40-406
00 INDEX AND FOREWORD INDEX
WA200-8 00-7
FAILURE CODE [CA2311] 40-407
FAILURE CODE [CA2349] 40-408
FAILURE CODE [CA2353] 40-410
FAILURE CODE [CA2357] 40-412
FAILURE CODE [CA2373] 40-413
FAILURE CODE [CA2374] 40-415
FAILURE CODE [CA2375] 40-417
FAILURE CODE [CA2376] 40-419
FAILURE CODE [CA2387] 40-422
FAILURE CODE [CA2554] 40-423
FAILURE CODE [CA2555] 40-424
FAILURE CODE [CA2556] 40-426
FAILURE CODE [CA2634] 40-428
FAILURE CODE [CA2635] 40-430
FAILURE CODE [CA2636] 40-431
FAILURE CODE [CA2637] 40-433
FAILURE CODE [CA2771] 40-435
FAILURE CODE [CA2961] 40-439
FAILURE CODE [CA2973] 40-440
FAILURE CODE [CA2976] 40-441
FAILURE CODE [CA3142] 40-443
FAILURE CODE [CA3143] 40-444
FAILURE CODE [CA3144] 40-445
FAILURE CODE [CA3146] 40-448
FAILURE CODE [CA3147] 40-449
FAILURE CODE [CA3148] 40-450
FAILURE CODE [CA3151] 40-453
FAILURE CODE [CA3165] 40-461
FAILURE CODE [CA3228] 40-463
FAILURE CODE [CA3229] 40-465
FAILURE CODE [CA3231] 40-467
FAILURE CODE [CA3232] 40-469
FAILURE CODE [CA3235] 40-473
FAILURE CODE [CA3239] 40-475
FAILURE CODE [CA3241] 40-478
FAILURE CODE [CA3242] 40-481
FAILURE CODE [CA3251] 40-484
FAILURE CODE [CA3313] 40-486
FAILURE CODE [CA3314] 40-487
FAILURE CODE [CA3315] 40-488
FAILURE CODE [CA3419] 40-490
FAILURE CODE [CA3421] 40-492
FAILURE CODE [CA3497] 40-494
FAILURE CODE [CA3498] 40-495
FAILURE CODE [CA3545] 40-496
FAILURE CODE [CA3547] 40-498
FAILURE CODE [CA3558] 40-499
FAILURE CODE [CA3559] 40-501
FAILURE CODE [CA3562] 40-503
FAILURE CODE [CA3563] 40-505
FAILURE CODE [CA3567] 40-508
FAILURE CODE [CA3568] 40-512
FAILURE CODE [CA3571] 40-518
FAILURE CODE [CA3572] 40-520
FAILURE CODE [CA3574] 40-522
FAILURE CODE [CA3575] 40-525
FAILURE CODE [CA3577] 40-527
FAILURE CODE [CA3578] 40-529
INDEX 00 INDEX AND FOREWORD
00-8 WA200-8
FAILURE CODE [CA3582] 40-531
FAILURE CODE [CA3583] 40-538
FAILURE CODE [CA3596] 40-540
FAILURE CODE [CA3649] 40-543
FAILURE CODE [CA3681] 40-545
FAILURE CODE [CA3682] 40-550
FAILURE CODE [CA3713] 40-555
FAILURE CODE [CA3717] 40-558
FAILURE CODE [CA3718] 40-559
FAILURE CODE [CA3724] 40-560
FAILURE CODE [CA3725] 40-561
FAILURE CODE [CA3741] 40-564
FAILURE CODE [CA3748] 40-565
FAILURE CODE [CA3755] 40-567
FAILURE CODE [CA3866] 40-569
FAILURE CODE [CA3868] 40-572
FAILURE CODE [CA4152] 40-576
FAILURE CODE [CA4155] 40-580
FAILURE CODE [CA4156] 40-583
FAILURE CODE [CA4157] 40-586
FAILURE CODE [CA4159] 40-588
FAILURE CODE [CA4164] 40-589
FAILURE CODE [CA4165] 40-591
FAILURE CODE [CA4166] 40-593
FAILURE CODE [CA4168] 40-594
FAILURE CODE [CA4169] 40-597
FAILURE CODE [CA4171] 40-599
FAILURE CODE [CA4249] 40-601
FAILURE CODE [CA4251] 40-603
FAILURE CODE [CA4261] 40-605
FAILURE CODE [CA4277] 40-608
FAILURE CODE [CA4459] 40-612
FAILURE CODE [CA4461] 40-614
FAILURE CODE [CA4533] 40-617
FAILURE CODE [CA4534] 40-618
FAILURE CODE [CA4731] 40-619
FAILURE CODE [CA4732] 40-620
FAILURE CODE [CA4739] 40-621
FAILURE CODE [CA4768] 40-622
FAILURE CODE [CA4769] 40-624
FAILURE CODE [CA4842] 40-627
FAILURE CODE [CA4952] 40-630
FAILURE CODE [CA5115] 40-632
FAILURE CODE [CA5179] 40-635
FAILURE CODE [CA5181] 40-637
FAILURE CODE [CA5387] 40-639
FAILURE CODE [CA5388] 40-641
FAILURE CODE [CA5389] 40-644
FAILURE CODE [CA5391] 40-646
FAILURE CODE [CA5392] 40-650
FAILURE CODE [CA5393] 40-652
FAILURE CODE [CA5394] 40-655
FAILURE CODE [CA5395] 40-658
FAILURE CODE [CA5396] 40-661
FAILURE CODE [CA5631] 40-662
FAILURE CODE [CA5632] 40-664
FAILURE CODE [CA5938] 40-665
FAILURE CODE [D110L4] 40-667
00 INDEX AND FOREWORD INDEX
WA200-8 00-9
FAILURE CODE [D160KA] 40-669
FAILURE CODE [D160KY] 40-671
FAILURE CODE [D191KA] 40-672
FAILURE CODE [D191KB] 40-674
FAILURE CODE [D191KY] 40-676
FAILURE CODE [D192KA] 40-677
FAILURE CODE [D192KB] 40-678
FAILURE CODE [D192KY] 40-679
FAILURE CODE [D19JKZ] 40-680
FAILURE CODE [D1B0KA] 40-682
FAILURE CODE [D1B0KB] 40-684
FAILURE CODE [D1B0KY] 40-686
FAILURE CODE [D1B0MC] 40-688
FAILURE CODE [D1E6KA] 40-690
FAILURE CODE [D1E6KB] 40-692
FAILURE CODE [D1E6KY] 40-694
FAILURE CODE [D5ZHKA] 40-696
FAILURE CODE [D5ZHKB] 40-698
FAILURE CODE [D5ZHL6] 40-700
FAILURE CODE [D811MC] 40-702
FAILURE CODE [D862KA] 40-703
FAILURE CODE [D8ALKA] 40-704
FAILURE CODE [D8ALKB] 40-706
FAILURE CODE [D8AQK4] 40-708
FAILURE CODE [D8AQKR] 40-712
FAILURE CODE [DAF0KT] 40-716
FAILURE CODE [DAF0MB] 40-717
FAILURE CODE [DAF0MC] 40-718
FAILURE CODE [DAF3KK] 40-719
FAILURE CODE [DAF8KB] 40-721
FAILURE CODE [DAFDKB] 40-723
FAILURE CODE [DAFGMC] 40-725
FAILURE CODE [DAFLKA] 40-726
FAILURE CODE [DAFLKB] 40-728
FAILURE CODE [DAFQKR] 40-730
FAILURE CODE [DAJ0KK] 40-735
FAILURE CODE [DAJ0KT] 40-738
FAILURE CODE [DAJ0MC] 40-739
FAILURE CODE [DAJ1KA] 40-740
FAILURE CODE [DAJ2KK] 40-742
FAILURE CODE [DAJ4KB] 40-745
FAILURE CODE [DAJ4KZ] 40-747
FAILURE CODE [DAJ5KX] 40-749
FAILURE CODE [DAJ6KX] 40-751
FAILURE CODE [DAJ9KQ] 40-753
FAILURE CODE [DAJLKA] 40-754
FAILURE CODE [DAJLKB] 40-756
FAILURE CODE [DAJQKR] 40-758
FAILURE CODE [DAJRKR] 40-763
FAILURE CODE [DAJRMA] 40-768
FAILURE CODE [DAZ9KQ] 40-769
FAILURE CODE [DAZQKR] 40-770
FAILURE CODE [DB2QKR] 40-774
FAILURE CODE [DB2RKR] 40-780
FAILURE CODE [DDAAL6] 40-785
FAILURE CODE [DDB6L4] 40-787
FAILURE CODE [DDD7KA] 40-789
FAILURE CODE [DDD7KY] 40-791
INDEX 00 INDEX AND FOREWORD
00-10 WA200-8
FAILURE CODE [DDE5MA] 40-793
FAILURE CODE [DDE7KA] 40-795
FAILURE CODE [DDE7KB] 40-797
FAILURE CODE [DDK3KA] 40-799
FAILURE CODE [DDK3KB] 40-802
FAILURE CODE [DDK6KA] 40-805
FAILURE CODE [DDK6KB] 40-808
FAILURE CODE [DDNRLD] 40-811
FAILURE CODE [DDS5L6] 40-813
FAILURE CODE [DF10KA] 40-815
FAILURE CODE [DF10KB] 40-818
FAILURE CODE [DGH1KX] 40-821
FAILURE CODE [DGR2KB] 40-823
FAILURE CODE [DGR2KZ] 40-825
FAILURE CODE [DHH1KX] 40-827
FAILURE CODE [DHH1KY] 40-829
FAILURE CODE [DHTCL6] 40-831
FAILURE CODE [DJF1KA] 40-833
FAILURE CODE [DK55KA] 40-834
FAILURE CODE [DK55KY] 40-837
FAILURE CODE [DK55L5] 40-840
FAILURE CODE [DK5DKA] 40-841
FAILURE CODE [DK5DKY] 40-844
FAILURE CODE [DK5DL8] 40-847
FAILURE CODE [DK5EKA] 40-851
FAILURE CODE [DK5EKY] 40-854
FAILURE CODE [DLM3KA] 40-857
FAILURE CODE [DLM3LC] 40-858
FAILURE CODE [DLT3KX] 40-860
FAILURE CODE [DLT4KX] 40-862
FAILURE CODE [DLT4L0] 40-864
FAILURE CODE [DLT4LC] 40-865
FAILURE CODE [DPQ1KR] 40-867
FAILURE CODE [DPQ2KR] 40-870
FAILURE CODE [DPQ3KR] 40-873
FAILURE CODE [DSJ0KR] 40-877
FAILURE CODE [DT22KB] 40-882
FAILURE CODE [DV00KB] 40-884
FAILURE CODE [DW26KA] 40-885
FAILURE CODE [DW26KB] 40-887
FAILURE CODE [DW26KY] 40-889
FAILURE CODE [DW44KA] 40-891
FAILURE CODE [DW44KB] 40-893
FAILURE CODE [DW44KY] 40-895
FAILURE CODE [DWM1KA] 40-896
FAILURE CODE [DWM1KB] 40-897
FAILURE CODE [DWM1KY] 40-899
FAILURE CODE [DWN6KA] 40-900
FAILURE CODE [DWN6KB] 40-902
FAILURE CODE [DWN6KY] 40-903
FAILURE CODE [DWN7KA] 40-904
FAILURE CODE [DWN7KB] 40-906
FAILURE CODE [DWN7KY] 40-907
FAILURE CODE [DWN8KA] 40-908
FAILURE CODE [DWN8KB] 40-910
FAILURE CODE [DWN8KY] 40-911
FAILURE CODE [DWPBKA] 40-912
FAILURE CODE [DWPBKB] 40-914
00 INDEX AND FOREWORD INDEX
WA200-8 00-11
FAILURE CODE [DWPBKY] 40-916
FAILURE CODE [DX19KA] 40-918
FAILURE CODE [DX19KB] 40-921
FAILURE CODE [DX19KY] 40-923
FAILURE CODE [DX20KA] 40-925
FAILURE CODE [DX20KB] 40-927
FAILURE CODE [DX20KY] 40-929
FAILURE CODE [DXH7KA] 40-931
FAILURE CODE [DXH7KB] 40-933
FAILURE CODE [DXH7KY] 40-935
FAILURE CODE [DXH8KA] 40-937
FAILURE CODE [DXH8KB] 40-939
FAILURE CODE [DXH8KY] 40-941
FAILURE CODE [DXHJKA] 40-943
FAILURE CODE [DXHJKB] 40-945
FAILURE CODE [DXHJKY] 40-947
FAILURE CODE [DXHKKA] 40-949
FAILURE CODE [DXHKKB] 40-951
FAILURE CODE [DXHKKY] 40-953
FAILURE CODE [H2K0KA] 40-955
FAILURE CODE [H2K0KY] 40-957
FAILURE CODE [J141N1] 40-959
FAILURE CODE [LA00L3] 40-960
FAILURE CODE [M100N1] 40-961
FAILURE CODE [M400N1] 40-962
TROUBLESHOOTING OF ELECTRICAL SYSTEM (E-MODE) 40-963
E-1 ENGINE DOES NOT START (ENGINE DOES NOT CRANK) 40-963
E-2 MANUAL PREHEATING SYSTEM DOES NOT WORK 40-969
E-3 AUTOMATIC PREHEATING SYSTEM DOES NOT WORK 40-972
E-4 WHILE PREHEATING IS WORKING, PREHEATING MONITOR DOES NOT LIGHT UP 40-975
E-5 ALL OF LCD UNIT, LED UNIT, AND METER UNIT ON MACHINE MONITOR DISPLAY NOTHING
40-977
E-6 LCD UNIT ON MACHINE MONITOR DISPLAYS NOTHING 40-980
E-7 BACKLIGHT OF LCD UNIT ON MACHINE MONITOR IS ABNORMAL, (BACKLIGHT GOES OUT
OR FLICKERS) 40-982
E-8 LCD ON MACHINE MONITOR DOES NOT DISPLAY PROPERLY 40-984
E-9 METER UNIT DISPLAY ON MACHINE MONITOR IS ABNORMAL 40-986
E-10 NIGHT LIGHTING LAMP OF METER UNIT ON MACHINE MONITOR IS ABNORMAL 40-989
E-11 LED UNIT LAMP ON MACHINE MONITOR IS ABNORMAL 40-993
E-12 NIGHT LIGHTING LAMP OF SWITCH PANEL ON MACHINE MONITOR IS ABNORMAL OR
SWITCH DOES NOT OPERATE PROPERLY 40-995
E-13 2 SWITCHES OPERATION OF SWITCH PANEL ON MACHINE MONITOR DOES NOT FUNCTION
40-998
E-14 SWITCH PANEL BUZZER OF MACHINE MONITOR IS ABNORMAL 40-1001
E-15 SOME ITEMS OF GAUGES AND CAUTION LAMPS ON MACHINE MONITOR ARE NOT DISPLAYED
PROPERLY 40-1004
E-16 AdBlue/DEF LEVEL IS NOT DISPLAYED PROPERLY 40-1005
E-17 REARVIEW MONITOR DOES NOT LIGHT UP OR BACKLIGHT FLICKERS 40-1008
E-18 REARVIEW MONITOR IMAGES ARE NOT DISPLAYED CLEARLY 40-1011
E-19 REARVIEW MONITOR BRIGHTNESS CANNOT BE ADJUSTED 40-1016
E-20 NIGHT LIGHTING LAMP OF REARVIEW MONITOR IS ABNORMAL 40-1020
E-21 RADIATOR COOLANT LEVEL CAUTION LAMP DOES NOT LIGHT UP 40-1022
E-22 PARKING BRAKE INDICATOR LAMP DOES NOT LIGHT WHEN THE PARKING BRAKE IS SET
TO ON (PARKING) POSITION 40-1023
E-23 WHEN FRONT BRAKE ACCUMULATOR OIL PRESSURE DROPS, THE BRAKE OIL PRESSURE
CAUTION LAMP DOES NOT LIGHT UP 40-1027
E-24 WHEN REAR BRAKE ACCUMULATOR OIL PRESSURE DROPS, THE BRAKE OIL PRESSURE
CAUTION LAMP DOES NOT LIGHT UP 40-1028
INDEX 00 INDEX AND FOREWORD
00-12 WA200-8
E-25 INDICATION OF HST OIL TEMPERATURE GAUGE DOES NOT INCREASE, OR HST OIL TEMPERATURE
CAUTION LAMP DOES NOT LIGHT UP 40-1029
E-26 FUEL LEVEL GAUGE DOES NOT INDICATE CORRECT LEVEL 40-1030
E-27 SEAT BELT CAUTION LAMP INDICATION IS ABNORMAL 40-1032
E-28 ALARM BUZZER DOES NOT SOUND 40-1033
E-29 ALARM BUZZER DOES NOT STOP SOUNDING 40-1034
E-30 WHEN THE SECONDARY HST TRAVEL SWITCH IS OPERATED, IT DOES NOT WORK OR
WHEN THE SECONDARY HST TRAVEL SWITCH IS NOT OPERATED, IT WORKS 40-1035
E-31 SETTING DOES NOT CHANGE WHILE OPERATING THE TRACTION CONTROL SWITCH
40-1038
E-32 THE BUCKET POSITIONER DOES NOT WORK OR CANNOT BE RELEASED 40-1040
E-33 THE BOOM KICK-OUT DOES NOT WORK OR CANNOT BE RELEASED 40-1043
E-34 BRAKE DOES NOT WORK WHEN PARKING BRAKE IS APPLIED OR BRAKE DRAGS WHILE
TRAVELING WHEN PARKING BRAKE IS RELEASED 40-1045
E-35 DIRECTIONAL SELECTOR (FNR) SWITCH MODE IS NOT SELECTED OR NOT RELEASED
40-1048
E-36 TRACKTION LEVEL DOES NOT DISPLAY MAX WHEN MAX TRACTION SWITCH IS TURNED
ON 40-1050
E-37 ECSS FUNCTION CANNOT BE SELECTED OR CANNOT BE RELEASED 40-1052
E-38 HORN DOES NOT SOUND 40-1054
E-39 HORN DOES NOT STOP SOUNDING 40-1057
E-40 NONE OF HEADLAMP, CLEARANCE LAMP, AND TAIL LAMP LIGHTS 40-1059
E-41 CLEARANCE LAMP AND TAIL LAMP DO NOT LIGHT UP OR GO OUT 40-1061
E-42 BOTH HIGH AND LOW BEAMS OF HEADLAMP DO NOT LIGHT UP OR GO OUT 40-1065
E-43 LOW BEAM OF HEADLAMP DOES NOT LIGHT UP OR GO OUT 40-1069
E-44 HIGH BEAM OF HEADLAMP DOES NOT LIGHT UP OR GO OUT 40-1071
E-45 FRONT WORKING LAMP DOES NOT LIGHT UP OR GO OUT 40-1073
E-46 REAR WORKING LAMP DOES NOT LIGHT UP OR GO OUT 40-1078
E-47 ALL OF TURN SIGNAL LAMPS AND HAZARD LAMPS DO NOT LIGHT UP OR GO OUT40-1082
E-48 TURN SIGNAL LAMPS DO NOT LIGHT UP OR GO OUT 40-1085
E-49 HAZARD LAMP DOES NOT LIGHT UP OR GO OUT 40-1088
E-50 BRAKE LAMP DOES NOT LIGHT OR STAYS LIGHTED 40-1092
E-51 BACKUP LAMP DOES NOT LIGHT UP OR DOES NOT GO OUT 40-1096
E-52 BACKUP BUZZER DOES NOT SOUND OR CONTINUES TO SOUND 40-1100
E-53 FRONT WIPER DOES NOT OPERATE 40-1102
E-54 REAR WIPER DOES NOT OPERATE 40-1106
E-55 WINDOW WASHER DOES NOT OPERATE 40-1109
E-56 KOMTRAX SYSTEM DOES NOT OPERATE NORMALLY 40-1112
TROUBLESHOOTING FOR HYDRAULIC AND MECHANICAL SYSTEMS (H MODE) 40-1113
INFORMATION MENTIONED IN TROUBLESHOOTING TABLE (H MODE) 40-1113
FAILURE MODE AND CAUSE TABLE 40-1114
H-1 MACHINE CAN TRAVEL NEITHER FORWARD NOR REVERSE 40-1128
H-2 MACHINE CAN NOT TRAVEL FORWARD (MACHINE TRAVELS REVERSE NORMALLY) 40-1130
H-3 MACHINE CAN NOT TRAVEL REVERSE (MACHINE TRAVELS FORWARD NORMALLY) 40-1131
H-4 TRAVEL SPEED OF FORWARD TRAVEL AND REVERSE TRAVEL IS SLOW, OR POWER IS
LOW 40-1132
H-5 FORWARD TRAVEL SPEED IS SLOW OR POWER IS LOW (MACHINE TRAVELS REVERSE
NORMALLY) 40-1135
H-6 REVERSE TRAVEL SPEED IS SLOW OR POWER IS LOW (MACHINE TRAVELS FORWARD
NORMALLY) 40-1137
H-7 ENGINE SPEED DROPS LARGELY OR ENGINE STOPS 40-1138
H-8 MACHINE DOES NOT TURN 40-1140
H-9 STEERING WHEEL IS HEAVY TO OPERATE 40-1141
H-10 MACHINE SWAYS OR LARGE SHOCKS ARE MADE WHILE MACHINE TURNS 40-1142
H-11 MACHINE UNINTENTIONALLY TURNS TO ONE SIDE WHEN MACHINE TRAVELS 40-1143
H-12 WHEEL BRAKES DO NOT WORK OR ARE WEAK 40-1144
H-13 WHEEL BRAKES ARE NOT RELEASED OR DRAG 40-1146
H-14 PARKING BRAKE DOES NOT WORK OR IT IS WEAK 40-1147
00 INDEX AND FOREWORD INDEX
WA200-8 00-13
H-15 PARKING BRAKE IS NOT RELEASED OR DRAGS 40-1148
H-16 BOOM DOES NOT RISE 40-1150
H-17 BOOM MOVES SLOW OR BOOM LACKS LIFTING FORCE 40-1152
H-18 RISING BOOM SLOWS DOWN AT CERTAIN HEIGHT 40-1154
H-19 LIFT CYLINDERS DO NOT SERVE TO HOLD BUCKET ON GROUND 40-1155
H-20 HYDRAULIC DRIFT OF BOOM IS LARGE 40-1157
H-21 BOOM MOVES UP AND DOWN DURING OPERATION 40-1158
H-22 BUCKET DOES NOT TILT BACK 40-1159
H-23 BUCKET MOVES SLOW OR LACKS TILT-BACK FORCE 40-1161
H-24 BUCKET DECELERATES DURING TILT-BACK OPERATION 40-1163
H-25 BUCKET CYLINDER DOES NOT HOLD BUCKET ON GROUND 40-1164
H-26 HYDRAULIC DRIFT OF BUCKET IS LARGE 40-1166
H-27 BUCKET TILTS BACK AND FORTH DURING CARRYING LOAD (WORK EQUIPMENT VALVE
IN HOLD) 40-1167
H-28 BOOM AND BUCKET CONTROL LEVERS DO NOT MOVE SMOOTHLY AND ARE HEAVY TO
MOVE 40-1168
H-29 WHEN OPERATING WORK EQUIPMENT ENGINE SPEED DROPS LARGELY OR ENGINE
STOPS 40-1169
H-30 LARGE SHOCKS ARE MADE WHEN WORK EQUIPMENT STARTS TO MOVE AND STOPS
40-1170
H-31 WHEN CERTAIN WORK EQUIPMENT STALLS HYDRAULICALLY, OTHER WORK EQUIPMENT
MOVES 40-1172
H-32 E C S S (TRAVEL DAMPER) DOES NOT WORK AND MACHINE PITCHES AND BOUNCES
40-1173
H-33 FAN SPEED IS ABNORMAL (TOO HIGH OR LOW, OR STATIONARY) 40-1174
H-34 UNUSUAL NOISE IS HEARD FROM AROUND FAN 40-1176
TROUBLESHOOTING OF ENGINE (S-MODE) 40-1177
INFORMATION MENTIONED IN TROUBLESHOOTING TABLE (S MODE) 40-1177
S-1 ENGINE DOES NOT CRANK WHEN STARTING SWITCH IS TURNED TO START POSITION
40-1178
S-2 ENGINE CRANKS BUT NO EXHAUST GAS COMES OUT 40-1179
S-3 FUEL IS BEING INJECTED BUT ENGINE DOES NOT START (MISFIRING: ENGINE CRANKS
BUT DOES NOT START) 40-1180
S-4 ENGINE STARTABILITY IS POOR 40-1182
S-5 ENGINE DOES NOT PICK UP SMOOTHLY 40-1184
S-6 ENGINE STOPS DURING OPERATION 40-1186
S-7 ENGINE RUNS ROUGH OR IS UNSTABLE 40-1188
S-8 ENGINE LACKS POWER 40-1189
S-9 EXHAUST SMOKE IS BLACK 40-1191
S-10 ENGINE OIL CONSUMPTION IS EXCESSIVE 40-1193
S-11 OIL BECOMES CONTAMINATED QUICKLY 40-1194
S-12 FUEL CONSUMPTION IS EXCESSIVE 40-1195
S-13 OIL IS IN COOLANT (OR COOLANT SPURTS BACK OR COOLANT LEVEL GOES DOWN)
40-1196
S-14 OIL PRESSURE DROPS 40-1197
S-15 FUEL MIXES INTO ENGINE OIL 40-1199
S-16 WATER MIXES INTO ENGINE OIL (MILKY) 40-1200
S-17 COOLANT TEMPERATURE RISES TOO HIGH (OVERHEATING) 40-1201
S-18 UNUSUAL NOISE IS HEARD 40-1202
S-19 VIBRATION IS EXCESSIVE 40-1203
S-20 AIR CANNOT BE BLED FROM FUEL CIRCUIT 40-1204
S-21 ACTIVE REGENERATION IS EXECUTED FREQUENTLY 40-1205
S-22 ACTIVE REGENERATION TAKES TIME 40-1206
S-23 WHITE SMOKE IS EXHAUSTED DURING ACTIVE REGENERATION 40-1207
S-24 AdBlue/DEF CONSUMPTION IS EXCESSIVE 40-1208
S-25 THERE IS UNUSUAL SMELL (IRRITATING ODOR) 40-1210
S-26 FOREIGN MATERIALS ENTER AdBlue/DEF (AdBlue/DEF INCREASES) 40-1211
50 DISASSEMBLY AND ASSEMBLY 50-1
INDEX 00 INDEX AND FOREWORD
00-14 WA200-8
CONTENTS 50-2
ABBREVIATION LIST 50-6
RELATED INFORMATION ON DISASSEMBLY AND ASSEMBLY 50-12
HOW TO READ THIS MANUAL 50-12
COATING MATERIALS LIST 50-14
SPECIAL TOOLS LIST 50-18
SKETCHES OF SPECIAL TOOLS 50-39
ENGINE AND COOLING SYSTEM 50-49
REMOVE AND INSTALL SUPPLY PUMP ASSEMBLY 50-49
REMOVE AND INSTALL INJECTOR ASSEMBLY 50-62
REMOVE AND INSTALL CYLINDER HEAD ASSEMBLY 50-85
REMOVE AND INSTALL EGR VALVE ASSEMBLY 50-132
REMOVE AND INSTALL EGR COOLER ASSEMBLY 50-139
REMOVE AND INSTALL STARTING MOTOR ASSEMBLY 50-154
REMOVE AND INSTALL AIR CONDITIONER COMPRESSOR BELT 50-158
REMOVE AND INSTALL ALTERNATOR BELT 50-162
REMOVE AND INSTALL ALTERNATOR ASSEMBLY 50-171
REMOVE AND INSTALL AUTOMATIC TENSIONER 50-175
REMOVE AND INSTALL RADIATOR ASSEMBLY 50-185
REMOVE AND INSTALL COOLING FAN AND FAN MOTOR ASSEMBLY 50-198
REMOVE AND INSTALL HYDRAULIC OIL COOLER ASSEMBLY 50-207
REMOVE AND INSTALL AFTERCOOLER ASSEMBLY 50-211
REMOVE AND INSTALL ENGINE ASSEMBLY 50-216
REMOVE AND INSTALL ENGINE FRONT OIL SEAL 50-255
REMOVE AND INSTALL ENGINE REAR OIL SEAL 50-267
REMOVE AND INSTALL ENGINE HOOD ASSEMBLY 50-274
REMOVE AND INSTALL KDOC ASSEMBLY 50-298
REMOVE AND INSTALL KDOC AND SCR ASSEMBLY 50-315
REMOVE AND INSTALL BELLOWS PIPE ASSEMBLY 50-340
REMOVE AND INSTALL FUEL TANK ASSEMBLY 50-350
REMOVE AND INSTALL AdBlue/DEF TANK ASSEMBLY 50-359
REMOVE AND INSTALL AdBlue/DEF TANK SENSOR FLANGE ASSEMBLY 50-375
REMOVE AND INSTALL AdBlue/DEF TANK SENSOR 50-380
REMOVE AND INSTALL AdBlue/DEF TANK STRAINER 50-388
REMOVE AND INSTALL SCR ASSEMBLY 50-390
REMOVE AND INSTALL KCCV ASSEMBLY 50-411
REMOVE AND INSTALL VGT ASSEMBLY 50-415
REMOVE AND INSTALL AdBlue/DEF MIXING TUBE 50-446
REMOVE AND INSTALL AdBlue/DEF INJECTOR 50-459
REMOVE AND INSTALL AdBlue/DEF PUMP 50-465
REMOVE AND INSTALL AdBlue/DEF HOSE 50-474
REMOVE AND INSTALL AIR CLEANER ASSEMBLY 50-495
REMOVE AND INSTALL AIR CONDITIONER COMPRESSOR ASSEMBLY 50-503
REMOVE AND INSTALL AIR CONDITIONER CONDENSER ASSEMBLY 50-510
POWER TRAIN 50-514
REMOVE AND INSTALL HST PUMP ASSEMBLY, STEERING, WORK EQUIPMENT, BRAKE AND
COOLING FAN, AND TRANSFER LUBRICATION PUMP ASSEMBLY 50-514
REMOVE AND INSTALL HST MOTOR1 ASSEMBLY 50-523
REMOVE AND INSTALL HST MOTOR2 ASSEMBLY 50-528
REMOVE AND INSTALL TRANSFER ASSEMBLY 50-532
DISASSEMBLE AND ASSEMBLE TRANSFER ASSEMBLY 50-547
REMOVE AND INSTALL PARKING BRAKE ASSEMBLY 50-581
REMOVE AND INSTALL PARKING BRAKE CYLINDER ASSEMBLY 50-585
DISSEMBLE AND ASSEMBLE PARKING BRAKE ASSEMBLY 50-587
REMOVE AND INSTALL FRONT AXLE ASSEMBLY 50-595
REMOVE AND INSTALL REAR AXLE ASSEMBLY 50-599
DISASSEMBLE AND ASSEMBLE AXLE HOUSING ASSEMBLY 50-604
DISASSEMBLE AND ASSEMBLE DIFFERENTIAL ASSEMBLY 50-617
00 INDEX AND FOREWORD INDEX
WA200-8 00-15
UNDERCARRIAGE AND FRAME 50-654
REMOVE AND INSTALL CENTER HINGE PIN 50-654
REMOVE AND INSTALL COUNTERWEIGHT ASSEMBLY 50-675
HYDRAULIC SYSTEM 50-700
REMOVE AND INSTALL HYDRAULIC TANK ASSEMBLY 50-700
REMOVE AND INSTALL CONTROL VALVE ASSEMBLY 50-713
DISASSEMBLE AND ASSEMBLE HYDRAULIC CYLINDER ASSEMBLY 50-723
WORK EQUIPMENT 50-734
REMOVE AND INSTALL WORK EQUIPMENT ASSEMBLY 50-734
CAB AND ITS ATTACHMENTS 50-750
REMOVE AND INSTALL OPERATOR'S CAB ASSEMBLY 50-750
REMOVE AND INSTALL OPERATOR'S CAB GLASS (ADHERED GLASS) 50-776
REMOVE AND INSTALL AIR CONDITIONER UNIT ASSEMBLY 50-786
REMOVE AND INSTALL OPERATOR'S SEAT ASSEMBLY 50-799
REMOVE AND INSTALL SEAT BELT 50-801
ELECTRICAL SYSTEM 50-803
REMOVE AND INSTALL ENGINE CONTROLLER ASSEMBLY 50-803
REMOVE AND INSTALL HST CONTROLLER ASSEMBLY 50-812
REMOVE AND INSTALL AIR CONDITIONER CONTROLLER ASSEMBLY 50-816
REMOVE AND INSTALL MONITOR CONTROLLER ASSEMBLY 50-819
REMOVE AND INSTALL MACHINE MONITOR ASSEMBLY 50-824
REMOVE AND INSTALL MASS AIR FLOW AND TEMPERATURE SENSOR 50-830
REMOVE AND INSTALL KCCV CRANKCASE PRESSURE SENSOR 50-833
REMOVE AND INSTALL SCR TEMPERATURE SENSOR 50-836
REMOVE AND INSTALL SCR OUTLET NOx SENSOR 50-843
REMOVE AND INSTALL KOMTRAX TERMINAL ASSEMBLY 50-850
60 MAINTENANCE STANDARD 60-1
CONTENTS 60-2
ABBREVIATION LIST 60-3
ENGINE AND COOLING SYSTEM 60-9
MAINTENANCE STANDARD OF ENGINE MOUNT 60-9
MAINTENANCE STANDARD OF DAMPER 60-10
MAINTENANCE STANDARD OF COOLING FAN MOTOR 60-11
POWER TRAIN 60-15
MAINTENANCE STANDARD OF DRIVE SHAFT 60-15
MAINTENANCE STANDARD OF TRANSFER 60-16
MAINTENANCE STANDARD OF TRANSFER MOUNT 60-25
MAINTENANCE STANDARD OF FRONT AXLE 60-26
MAINTENANCE STANDARD OF REAR AXLE 60-27
MAINTENANCE STANDARD OF FRONT TORQUE PROPORTIONING DIFFERENTIAL 60-28
MAINTENANCE STANDARD OF REAR TORQUE PROPORTIONING DIFFERENTIAL 60-30
MAINTENANCE STANDARD OF LIMITED SLIP DIFFERENTIAL 60-32
MAINTENANCE STANDARD OF FRONT FINAL DRIVE 60-34
MAINTENANCE STANDARD OF REAR FINAL DRIVE 60-36
STEERING SYSTEM 60-38
MAINTENANCE STANDARD OF STEERING COLUMN 60-38
MAINTENANCE STANDARD OF PRIORITY VALVE 60-39
MAINTENANCE STANDARD OF STEERING CYLINDER 60-40
MAINTENANCE STANDARD OF SECONDARY STEERING VALVE 60-42
BRAKE SYSTEM 60-43
MAINTENANCE STANDARD OF BRAKE CIRCUIT ACCUMULATOR CHARGE VALVE 60-43
MAINTENANCE STANDARD OF SLACK ADJUSTER 60-44
MAINTENANCE STANDARD OF FRONT BRAKE 60-45
MAINTENANCE STANDARD OF REAR BRAKE 60-46
MAINTENANCE STANDARD OF PARKING BRAKE 60-47
UNDERCARRIAGE AND FRAME 60-48
MAINTENANCE STANDARD OF FRAME, AXLE MOUNT AND CENTER HINGE PIN 60-48
HYDRAULIC SYSTEM 60-53
INDEX 00 INDEX AND FOREWORD
00-16 WA200-8
MAINTENANCE STANDARD OF HYDRAULIC TANK 60-53
MAINTENANCE STANDARD OF STEERING, WORK EQUIPMENT, BRAKE AND COOLING FAN,
AND TRANSFER LUBRICATION PUMP 60-54
MAINTENANCE STANDARD OF CONTROL VALVE 60-56
MAINTENANCE STANDARD OF MULTIFUNCTION MONO-LEVER PPC VALVE 60-59
MAINTENANCE STANDARD OF ATTACHMENT EPC SOLENOID VALVE 60-61
WORK EQUIPMENT 60-62
MAINTENANCE STANDARD OF WORK EQUIPMENT LINKAGE 60-62
MAINTENANCE STANDARD OF BUCKET 60-65
MAINTENANCE STANDARD OF LIFT CYLINDER 60-66
MAINTENANCE STANDARD OF BUCKET CYLINDER 60-67
MAINTENANCE STANDARD OF COUPLER PLUNGER 60-68
CAB AND ITS ATTACHMENTS 60-69
MAINTENANCE STANDARD OF CAB MOUNT 60-69
80 APPENDIX 80-1
CONTENTS 80-2
ABBREVIATION LIST 80-4
AIR CONDITIONER SYSTEM 80-10
PRECAUTIONS FOR REFRIGERANT 80-10
AIR CONDITIONER COMPONENT 80-11
SPECIFICATIONS OF AIR CONDITIONER 80-13
CONFIGURATION AND FUNCTION OF REFRIGERATION CYCLE 80-14
OUTLINE OF REFRIGERATION CYCLE 80-15
COMPONENT PARTS OF AIR CONDITIONER SYSTEM 80-17
AIR CONDITIONER UNIT 80-17
COMPONENT PARTS OF AIR CONDITIONER UNIT 80-19
AIR CONDITIONER CONTROLLER 80-22
COMPRESSOR 80-23
CONDENSER 80-24
RECEIVER DRIER 80-25
SENSORS FOR AIR CONDITIONER SYSTEM 80-26
EXPLANATION OF PROCEDURE FOR TESTING AND TROUBLESHOOTING OF AIR CONDITIONER
80-27
CIRCUIT DIAGRAM AND ARRANGEMENT OF CONNECTOR PINS FOR AIR CONDITIONER 80-29
AIR CONDITIONER SYSTEM DIAGRAM 80-32
INPUT AND OUTPUT SIGNALS OF AIR CONDITIONER CONTROLLER 80-33
INSTALLATION LOCATIONS OF AIR CONDITIONER PARTS AND ARRANGEMENT OF CONNECTORS
80-35
TESTING AIR CONDITIONER USING SELF-DIAGNOSIS FUNCTION 80-41
HOW TO OPEN THE ELECTRICAL SYSTEM ABNORMALITY RECORD SCREEN IN SERVICE MODE
OF THE MACHINE MONITOR 80-42
CHECK TEMPERATURE CONTROL FUNCTION 80-43
METHOD FOR CHECKING TEMPERATURE CONTROL FUNCTION 80-43
TEST VENT (MODE) CHANGEOVER 80-45
METHOD FOR TESTING VENT (MODE) CHANGEOVER 80-45
TESTING FRESH/RECIRC AIR CHANGEOVER 80-47
METHOD FOR TESTING FRESH/RECIRC AIR CHANGEOVER 80-47
TEST EVAPORATOR TEMPERATURE SENSOR 80-49
TEST RELAYS 80-51
METHOD FOR TESTING RELAYS 80-51
AIR CONDITIONER TROUBLESHOOTING CHART 1 80-53
AIR CONDITIONER TROUBLESHOOTING CHART 2 80-54
FAILURE CODE [879AKA] 80-57
FAILURE CODE [879AKB] 80-59
FAILURE CODE [879BKA] 80-61
FAILURE CODE [879BKB] 80-63
FAILURE CODE [879CKA] 80-65
FAILURE CODE [879CKB] 80-67
00 INDEX AND FOREWORD INDEX
WA200-8 00-17
FAILURE CODE [879DKZ] 80-69
FAILURE CODE [879EMC] 80-71
FAILURE CODE [879FMC] 80-72
A-1 TROUBLESHOOTING FOR POWER SUPPLY SYSTEM (AIR CONDITIONER DOES NOT OPERATE)
80-73
A-2 TROUBLESHOOTING FOR COMPRESSOR AND REFRIGERANT SYSTEM (AIR IS NOT COOLED)
80-76
A-3 TROUBLESHOOTING FOR BLOWER MOTOR SYSTEM (NO AIR COMES OUT OR AIR FLOW IS
ABNORMAL) 80-79
A-4 TROUBLESHOOTING FOR FRESH/RECIRC AIR CHANGEOVER 80-83
TROUBLESHOOTING USING GAUGE PRESSURE 80-85
CONNECTION OF SERVICE TOOL 80-88
METHOD FOR CONNECTING SERVICE TOOL 80-89
PRECAUTIONS FOR DISCONNECTING AND CONNECTING HOSES AND TUBES IN AIR CONDITIONER
PIPINGS 80-90
HANDLE COMPRESSOR OIL 80-92
90 CIRCUIT DIAGRAMS 90-1
CONTENTS 90-2
ABBREVIATION LIST 90-3
HYDRAULIC CIRCUIT DIAGRAM 90-9
SYMBOLS USED IN HYDRAULIC CIRCUIT DIAGRAM 90-9
HYDRAULIC CIRCUIT DIAGRAM 90-13
ELECTRICAL CIRCUIT DIAGRAM 90-15
SYMBOLS USED IN ELECTRICAL CIRCUIT DIAGRAM 90-15
ELECTRICAL CIRCUIT DIAGRAM OF MACHINE (1/10) 90-19
ELECTRICAL CIRCUIT DIAGRAM OF MACHINE (2/10) 90-21
ELECTRICAL CIRCUIT DIAGRAM OF MACHINE (3/10) 90-23
ELECTRICAL CIRCUIT DIAGRAM OF MACHINE (4/10) 90-25
ELECTRICAL CIRCUIT DIAGRAM OF MACHINE (5/10) 90-27
ELECTRICAL CIRCUIT DIAGRAM OF MACHINE (6/10) 90-29
ELECTRICAL CIRCUIT DIAGRAM OF MACHINE (7/10) 90-31
ELECTRICAL CIRCUIT DIAGRAM OF MACHINE (8/10) 90-33
ELECTRICAL CIRCUIT DIAGRAM OF MACHINE (9/10) 90-35
ELECTRICAL CIRCUIT DIAGRAM OF MACHINE (10/10) 90-37
ELECTRICAL CIRCUIT DIAGRAM OF FLOOR (1/9) 90-39
ELECTRICAL CIRCUIT DIAGRAM OF FLOOR (2/9) 90-41
ELECTRICAL CIRCUIT DIAGRAM OF FLOOR (3/9) 90-43
ELECTRICAL CIRCUIT DIAGRAM OF FLOOR (4/9) 90-45
ELECTRICAL CIRCUIT DIAGRAM OF FLOOR (5/9) 90-47
ELECTRICAL CIRCUIT DIAGRAM OF FLOOR (6/9) 90-49
ELECTRICAL CIRCUIT DIAGRAM OF FLOOR (7/9) 90-51
ELECTRICAL CIRCUIT DIAGRAM OF FLOOR (8/9) 90-53
ELECTRICAL CIRCUIT DIAGRAM OF FLOOR (9/9) 90-55
INDEX 1
VIDEO PREVIEW OF THE MANUAL:
IMAGES PREVIEW OF THE MANUAL: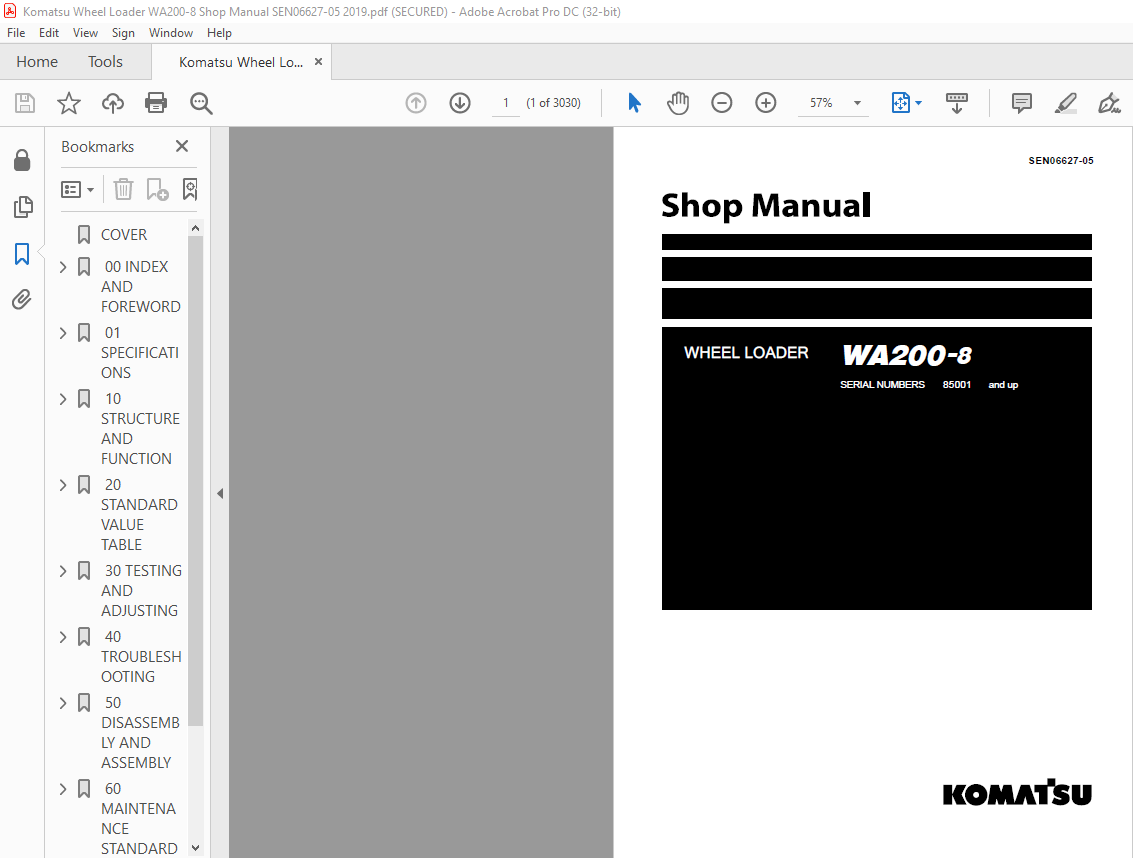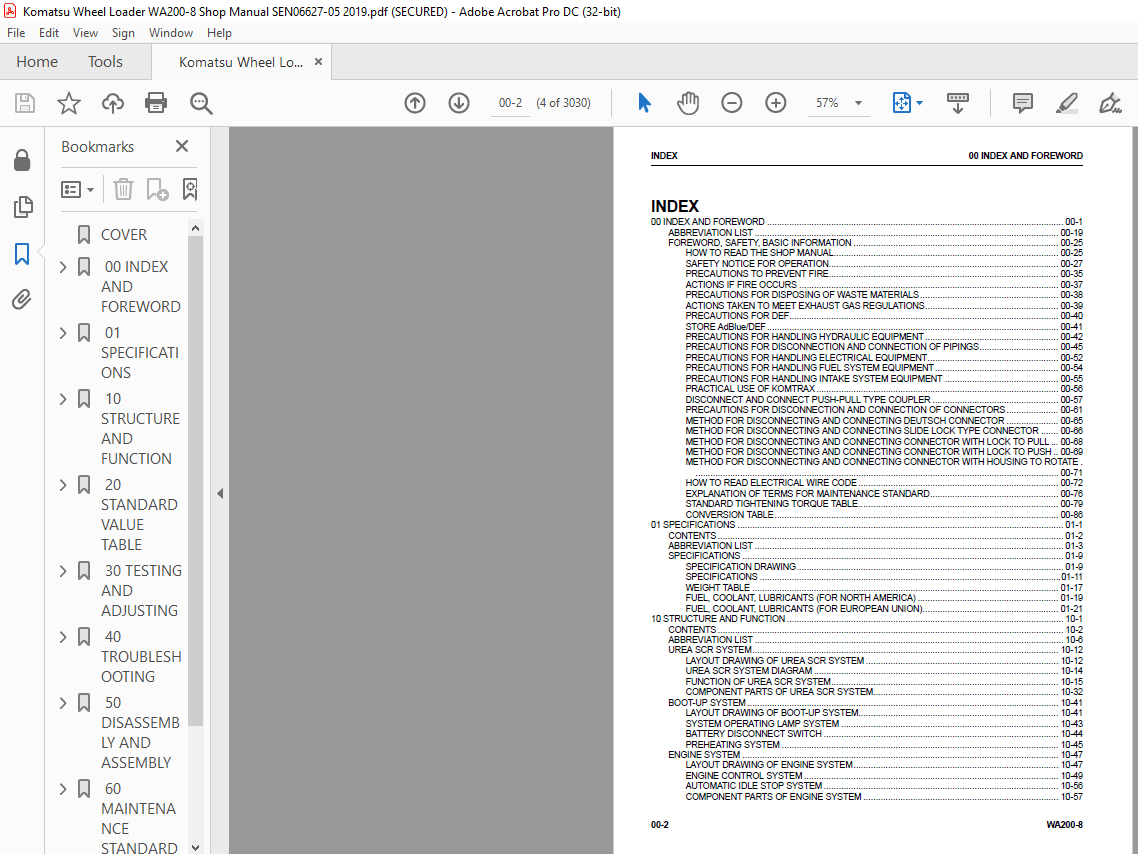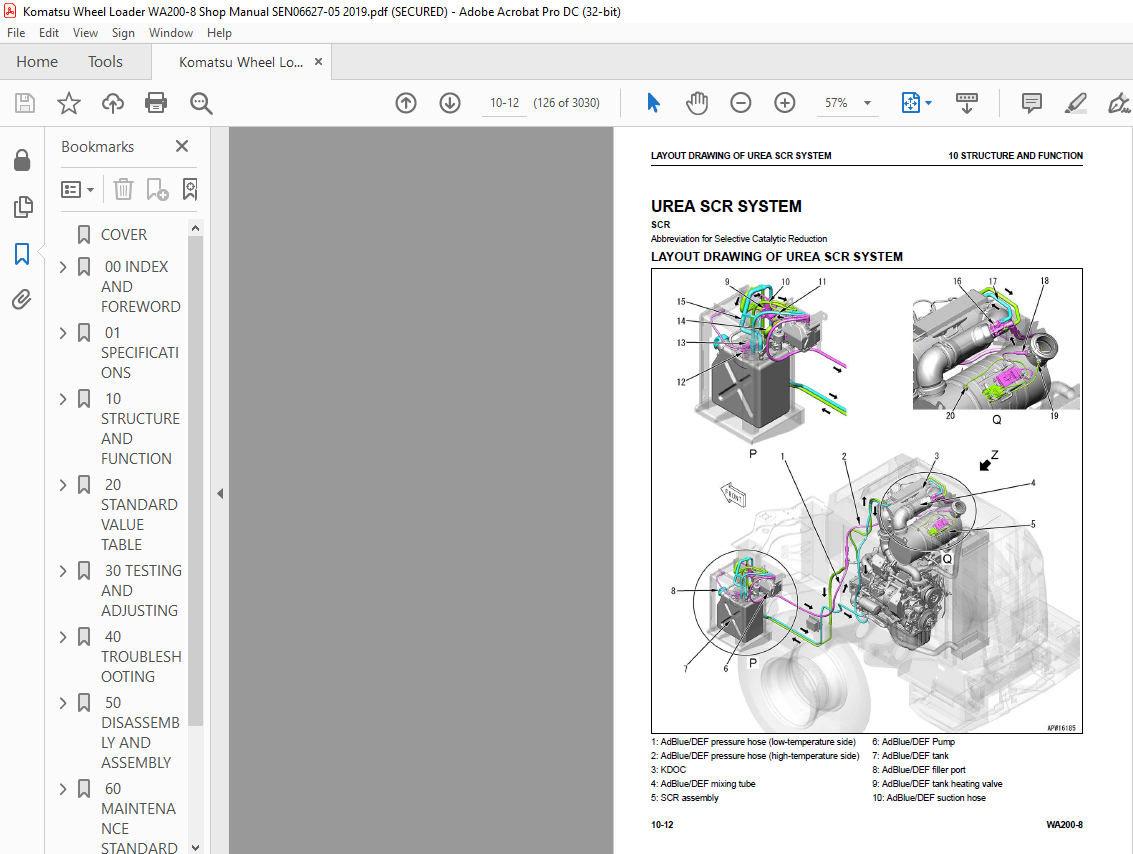 PLEASE NOTE:
This is the same manual used by the dealers to diagnose and troubleshoot your vehicle
You will be directed to the download page as soon as the purchase is completed. The whole payment and downloading process will take anywhere between 2-5 minutes
Need any other service / repair / parts manual, please feel free to contact [email protected] . We still have 50,000 manuals unlisted
S.V