Komatsu PC14R-3 PC14R-3HS PC16R-3 PC16R-3HS Hydraulic Excavator Shop Manual WEBM007801 – PDF DOWNLOAD
FILE DETAILS:
Komatsu PC14R-3 PC14R-3HS PC16R-3 PC16R-3HS Hydraulic Excavator Shop Manual WEBM007801 – PDF DOWNLOAD
Language : English
Pages : 294
Downloadable : Yes
File Type : PDF
Size: 32.6 MB
TABLE OF CONTENTS:
Komatsu PC14R-3 PC14R-3HS PC16R-3 PC16R-3HS Hydraulic Excavator Shop Manual WEBM007801 – PDF DOWNLOAD
CONTENTS 3
REVISED PAGES 5
k SAFETY 7
FOREWORD 9
HOW TO READ THE SHOP MANUAL 10
HOISTING INSTRUCTIONS 11
STANDARD TIGHTENING TORQUE 12
COATING MATERIALS 14
ELECTRIC 15
WEIGHT TABLE 16
TABLE OF OIL AND COOLANT QUANTITIES 17
CONVERSION TABLE 19
10 STRUCTURE AND FUNCTION 27
PTO 28
POWER TRAIN 29
SWING CIRCLE 30
TRACK FRAME AND RECOIL SPRING 31
TRACK SHOE IDLER 36
SPROCKET 37
CARRIER ROLLER 38
RUBBER SHOE 40
STEEL SHOE 42
SWIVEL JOINT 44
PC14R-3 44
PC14R-3 (travel increment version) 45
PC16R-3 45
PC14R-3 HS 46
PC16R-3 HS 46
HYDRAULIC CIRCUIT DIAGRAM 47
PC14R-3 47
PC14R-3 (travel increment version) 49
PC14R-3 HS (variable gauge version) 51
PC16R-3 53
PC16R-3 HS (variable gauge version) 55
PC16R-3 (proportional control version) 57
HYDRAULIC PUMP 59
PC14R-3 59
PC16R-3 60
CONTROL VALVE 64
SWING MOTOR 67
PPC VALVES 68
SOLENOID VALVE 73
FINAL DRIVE 76
CYLINDERS 85
20 CONTROLS AND ADJUSTMENTS 91
MACHINE SPECIFICATIONS AND COMPONENTS 93
PUMP FEATURES PC14R-3 100
PUMP FEATURES PC16R-3 101
CHECK POSITIONS 102
SPECIAL TOOLS 106
TESTING ENGINE SPEED 107
MEASUREMENT OF EXHAUST GAS COLOR 109
ADJUSTING VALVE CLEARANCE 111
CHECKING COMPRESSION PRESSURE 113
CHECKING ENGINE OIL PRESSURE 114
TESTING AND ADJUSTING FUEL INJECTION TIMING 115
ADJUSTING ENGINE STOP SOLENOID 117
BLEEDING AIR FROM FUEL CIRCUIT 118
TESTING AND ADJUSTING FAN BELT TENSION 119
ADJUSTING FUEL CONTROL LEVER LINKAGE 120
MEASUREMENT OF CLEARANCE IN SWING CIRCLE BEARINGS 121
TESTING AND ADJUSTING TRACK SHOE TENSION 122
CONTROL AND REGULATION OF PRESSURE IN THE HYDRAULIC CIRCUITS 123
CHECKING SERVO-CONTROL PRESSURE 127
CHECKING LS PRESSURE 129
ADJUSTING PPC VALVE CLEARANCE 131
CHECKING FOR LEAKAGE INSIDE THE CYLINDERS 132
METHODS FOR TESTING FOR LEAKAGES INSIDE THE SWIVEL JOINT 135
ELIMINATING RESIDUAL PRESSURE FROM THE HYDRAULIC CIRCUITS 139
AIR BLEED 140
CONTROL OF HYDRAULIC DRIFTS – ANALYSIS CAUSES OF A DRIFT 142
HOW TO OPEN AND CLOSE (TILT) FLOOR (FOR CABIN) 148
HOW TO OPEN AND CLOSE (TILT) FLOOR (FOR CANOPY) 150
ADJUSTING THE SERVO-CONTROL SAFETY MICROSWITCHES AND RUBBER PAD 152
KOMTRAX STATION OPENING CHECK (TC1310 station) 153
KOMTRAX SYSTEM CHECKS 158
30 REMOVAL AND INSTALLATION 161
HOW TO READ THE MANUAL 163
PRECAUTIONS TO BE TAKEN WHILE WORKING 164
SPECIAL TOOLS 165
CANOPY 167
Removal 167
Installation 168
CABIN 169
Removal 169
Installation 171
RADIATOR 172
Removal 172
Installation 174
HYDRAULIC OIL COOLER 175
Removal 175
Installation 176
COUNTERWEIGHT AND FUEL TANK 177
Removal 177
Installation 180
ENGINE-PUMP GROUP 181
Removal 181
Installation 187
HYDRAULIC PUMP 188
Removal 188
Installation 189
TRACKS 190
Removal 190
Installation 191
IDLER WHEEL 192
Assembling 192
PISTON – RECOIL SPRING – CYLINDER 193
PISTON ASSEMBLY 193
Removal 193
Assembling 193
RECOIL SPRING 194
Removal 194
Assembling 194
CYLINDER 195
Removal 195
Assembling 195
IDLER ROLLERS 196
Removal 196
Installation 196
Assembling 197
FLOOR 198
Removal 198
Installation 204
UPPER FRAME 207
Removal 207
Installation 211
SWING CIRCLE 212
Removal 212
Installation 212
SWIVEL JOINT 213
Removal 213
Installation 215
SWING MOTOR 216
Removal 216
Installation 217
HYDRAULIC OIL TANK 218
Removal 218
Installation 220
SERVO-CONTROLS SUPPLY SOLENOID VALVE 221
Removal 221
Installation 221
RH PPC VALVE (BOOM – BUCKET) 222
Removal 222
Installation 225
LH PPC VALVE (ARM – BUCKET) 226
Removal 226
Installation 228
UPPER FRAME SIDE SHIELD 229
Removal 229
RH SHIELD 229
LH SHIELD 230
Installation 230
BLADE PPC VALVE 231
Removal 231
Installation 232
OPTIONAL EQUIPMENT PPC VALVE 233
Removal 233
Installation 233
BOOM SWING PPC VALVE 235
Removal 235
Installation 235
TRAVEL PPC VALVE 237
Removal 237
Installation 238
FUNCTION SELECTION SOLENOID VALVE (HS version only) 239
Removal 239
Installation 239
TRAVEL MOTOR 240
Removal 240
Installation 240
TRAVEL MOTOR (with increment) 241
Assembling 241
SPROCKET WHEEL 252
Removal 252
Installation 252
COMPLETE FINAL DRIVE 253
Removal 253
Installation 253
IDLER WHEEL – RECOIL SPRING 254
Removal 254
Installation 254
BOOM CYLINDER 255
Removal 255
Installation 255
ARM CYLINDER 256
Removal 256
Installation 256
BUCKET CYLINDER 257
Removal 257
Installation 258
BOOM SWING CYLINDER 259
Removal 259
Installation 260
BLADE CYLINDER 261
Removal 261
Installation 261
TRACK-FRAME SPREADING CYLINDER (HS version only) 262
Removal 262
Installation 263
HYDRAULIC CYLINDERS 264
Assembling 264
CYLINDER 264
PISTON ROD 264
CYLINDER HEAD ASSEMBLY 265
PISTON ASSEMBLY 266
PISTON ROD 268
WORKING EQUIPMENT 269
Removal 269
Installation 271
BUCKET 272
Removal 272
Installation 272
ARM 273
Removal 273
Installation 274
BOOM 275
Removal 275
Installation 277
BOOM SWING SUPPORT 278
Removal 278
Installation 278
BLADE 279
Removal 279
Installation 279
MOVING FRAMES (HS version only) 280
Removal 280
Installation 281
KOMTRAX STATION (FOR CANOPY) 282
Removal 282
Installation 282
KOMTRAX STATION (FOR CAB) 283
Removal 283
Installation 283
90 OTHER 285
ELECTRICAL CIRCUIT DIAGRAM (CANOPY VERSION) 287
ELECTRICAL CIRCUIT DIAGRAM (CAB VERSION) 289
ELECTRICAL CIRCUIT DIAGRAM (PC16R-3 PROPORTIONAL VERSION) 291
DESCRIPTION:
Komatsu PC14R-3 PC14R-3HS PC16R-3 PC16R-3HS Hydraulic Excavator Shop Manual WEBM007801 – PDF DOWNLOAD
PB14R-3 F40003 and up
PB14R-3HS F50003 and up
PB16R3 F60003 and up
PB16R-3HS F70003 and up
GENERAL PRECAUTIONS:
Mistakes in operation extremely dangerous. Read all the Operation and Maintenance Manual carefully BEFORE operating the machine.
1. Before carrying out any greasing or repairs, read all the precautions written on the decals which are suck on the machine. 2. When carrying out any operation, always wear safety shoes and helmet. Do not wear loose work clothes, or clothes with buttons missing.
• Always wear safety glasses when hitting parts with a hammer.
• Always wear safety glasses when grinding parts with a grinder, etc.
3. If welding repairs are needed, always have a trained, experienced welder carry out the work. When carrying out welding work, always wear welding gloves, apron, glasses, cap and other clothes suited for welding work.
4. When carrying out any operation with two or more workers, always agree on the operating procedure before starting. Always inform your fellow workers before starting any step of the operation. Before starting work, hang UNDER REPAIR signs on the controls in the operator's compartment.
5. Keep all tools in good condition and learn the correct way to use them.
6. Decide a place in the repair workshop to keep tools and removed parts. Always keep the tools and parts in their correct places. Always keep the work area clean and make sure that there is no dirt or oil on the floor. Smoke only in the areas provided for smoking. Never smoke while working.
PREPARATIONS FOR WORK:
7. Before adding or making any repairs, park the machine on hard, level ground, and block the tracks to prevent the machine from moving.
8. Before starting work, lower outrigger, bucket or any other work equipment to the ground. If this is not possible, use blocks to prevent the work equipment from falling down. In addition, be sure to lock all the control levers and hang warning sign on them.
9. When disassembling or assembling, support the machine with blocks, jacks or stands before starting work.
10. Remove all mud and oil from the steps or other places used to get on and off the machine. Always use the handrails, ladders or steps when getting on or off the machine. Never jump on or off the machine. If it is impossible to use the handrails, ladders or steps, use a stand to provide safe footing.
PRECAUTIONS DURING WORK:
11. When removing the oil filler cap, drain plug or hydraulic pressure measuring plugs, loosen them slowly to prevent the oil from spurting out. Before disconnecting or removing components of the hydraulic circuit and engine cooling circuit, first remove the pressure completely from the circuit.
12. The water and oil in the circuits are not hot when the engine in stopped, so be careful not to get burned. Wait for the oil water to cool before carrying out any work on the cooling water circuits.
13. Before starting work, remove the leads from the battery. Always remove the lead from the negative ( – ) terminal first.
FOREWORD:
This shop manual has been prepared as an aid to improve the quality of repairs by giving the operator an accurate
understanding of the product and by showing him the correct way to perform repairs and make judgements. Make sure
you understand the contents of this manual and use it to full effect at every opportunity.
This shop manual mainly contains the necessary technical information for operations performed in a service workshop.
The manual is divided into chapters on each main group of components; these chapters are further divided into the
following sections.
STRUCTURE AND FUNCTION:
This section explains the structure and function of each component. It serves not only to give an understanding
of the structure, but also serves as reference material for troubleshooting.
TESTING AND ADJUSTMENTS:
This sections explains checks to be made before and after performing repairs, as well as adjustments to be
made at completion of the checks and repairs.
Troubleshooting charts correlating «Problems» to «Causes» are also included in this section.
REMOVAL AND INSTALLATION:
This section explains the order to be followed when removing, installing, disassembling or assembling each
component, as well as precautions to be taken for these operations.
IMAGES PREVIEW OF THE MANUAL: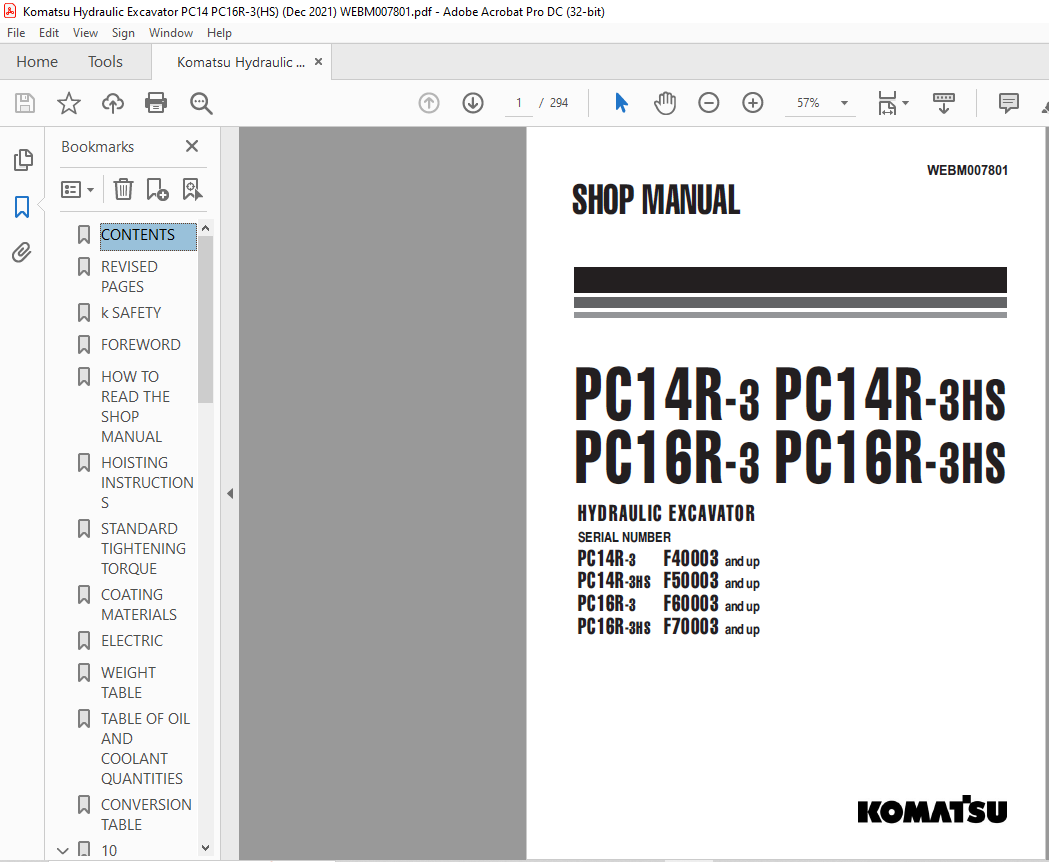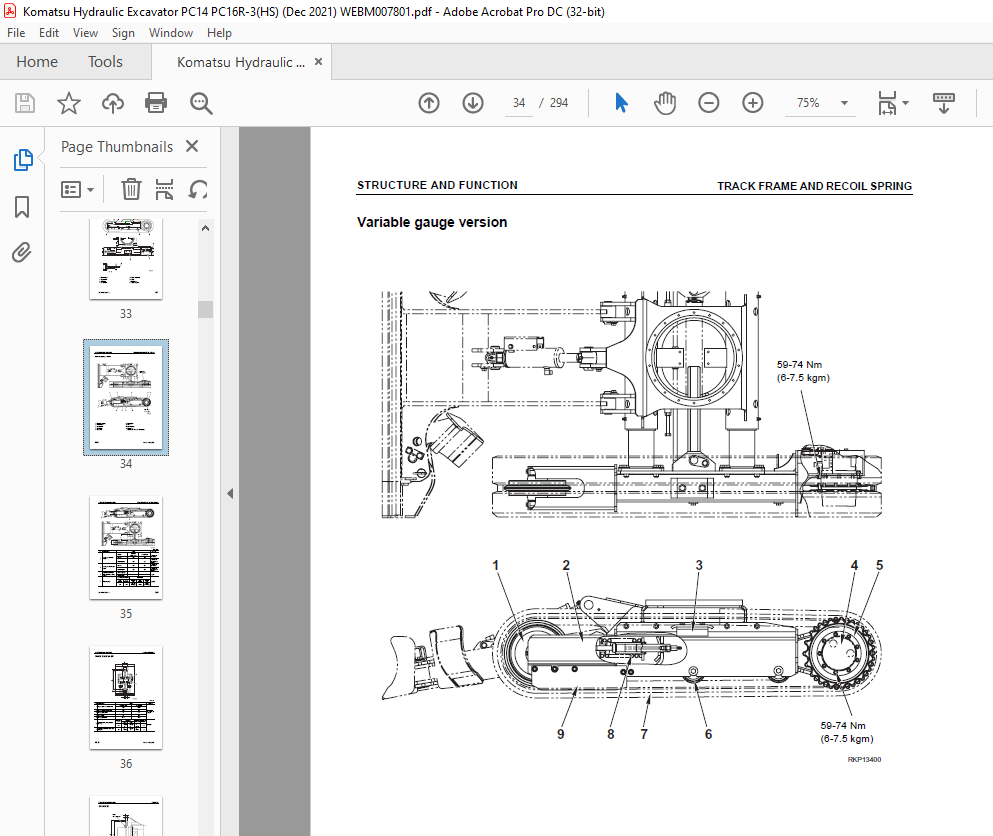 VIDEO PREVIEW OF THE MANUAL:
PLEASE NOTE:
This is the same manual used by the DEALERSHIPS to SERVICE your vehicle.
The manual can be all yours – Once payment is complete, you will be taken to the download page from where you can download the manual. All in 2-5 minutes time!!
Need any other service / repair / parts manual, please feel free to contact us at heydownloadss @gmail.com . We may surprise you with a nice offer
S.V