Komatsu Avance Loader WA700-3 Shop Manual SEBM013314 – PDF DOWNLOAD
FILE DETAILS:
Komatsu Avance Loader WA700-3 Shop Manual SEBM013314 – PDF DOWNLOAD
Language : English
Pages : 1378
Downloadable : Yes
File Type : PDF
Size: 53.5 MB
DESCRIPTION:
Komatsu Avance Loader WA700-3 Shop Manual SEBM013314 – PDF DOWNLOAD
Machine model Serial number
WA700-3 50001 and up
WA700-3D 50001 and up
GENERAL PRECAUTIONS:
Mistakes in operation are extremely dangerous. Read the Operation and Maintenance Manual carefully BEFORE operating the machine.
1. Before carrying out any greasing or repairs, read all the precautions given on the decals which are fixed to the machine.
2. When carrying out any operation, always wear safety shoes and helmet. Do not wear loose work clothes, or clothes with buttons missing.
• Always wear safety glasses when hitting parts with a hammer.
• Always wear safety glasses when grinding parts with a grinder, etc.
3. If welding repairs are needed, always have a trained, experienced welder carry out the work. When carrying out welding work, always wear welding gloves, apron, hand shield, cap and other clothes suited for welding work.
4. When carrying out any operation with two or more workers, always agree on the operating procedure before starting. Always inform your fellow workers before starting any step of the operation. Before starting work, hang UNDER REPAIR signs on the controls in the operator's compartment.
5. Keep all tools in good condition and learn the correct way to use them.
6. Decide a place in the repair workshop to keep tools and removed parts. Always keep the tools and parts in their correct places. Always keep the work area clean and make sure that there is no dirt or oil on the floor. Smoke only in the areas provided for smoking. Never smoke while working.
PREPARATIONS FOR WORK:
7. Before adding oil or making any repairs, park the machine on hard, level ground, and block the wheels or tracks to prevent the machine from moving.
8. Before starting work, lower blade, ripper, bucket or any other work equipment to the ground. If this is not possible, insert the safety pin or use blocks to prevent the work equipment from falling. In addition, be sure to lock all the control levers and hang warning signs on them.
9. When disassembling or assembling, support the machine with blocks, jacks or stands before starting work.
10.Remove all mud and oil from the steps or other places used to get on and off the machine. Always use the handrails, ladders or steps when getting on or off the machine. Never jump on or off the machine. If it is impossible to use the handrails, ladders or steps, use a stand to provide safe footing.
FOREWORD
GENERAL
This shop manual has been prepared as an aid to improve the quality of repairs by giving the serviceman an
accurate understanding of the product and by showing him the correct way to perform repairs and make judgements.
Make sure you understand the contents of this manual and use it to full effect at every opportunity.
This shop manual mainly contains the necessary technical information for operations performed in a service
workshop. For ease of understanding, the manual is divided into the following chapters; these chapters are further
divided into the each main group of components.
STRUCTURE AND FUNCTION
This section explains the structure and function of each component. It serves not only to give an understanding
of the structure, but also serves as reference material for troubleshooting.
In addition, this section may contain hydraulic circuit diagrams, electric circuit diagrams, and maintenance
standards.
TESTING AND ADJUSTING
This section explains checks to be made before and after performing repairs, as well as adjustments to
be made at completion of the checks and repairs.
Troubleshooting charts correlating "Problems" with "Causes" are also included in this section.
DISASSEMBLY AND ASSEMBLY
This section explains the procedures for removing, installing, disassembling and assembling each component,
as well as precautions for them.
MAINTENANCE STANDARD
This section gives the judgment standards for inspection of disassembled parts.
The contents of this section may be described in STRUCTURE AND FUNCTION.
OTHERS
This section mainly gives hydraulic circuit diagrams and electric circuit diagrams.
In addition, this section may give the specifications of attachments and options together.
VIDEO PREVIEW OF THE MANUAL:
TABLE OF CONTENTS:
Komatsu Avance Loader WA700-3 Shop Manual SEBM013314 – PDF DOWNLOAD
COVER 1
CONTENTS 2
01 GENERAL 31
GENERAL ASSEMBLY DRAWING 32
SPECIFICATIONS 35
WEIGHT TABLE 38
LIST OF LUBRICANT AND WATER 40
10 STRUCTURE AND FUNCTION 43
OUTLINE 44
POWER TRAIN SYSTEM 46
DAMPER 48
RADIATOR AND OIL COOLER 49
TRANSMISSION HYDRAULIC SYSTEM DIAGRAM 52
TRANSMISSION HYDRAULIC CIRCUIT DIAGRAM 56
TORQUE CONVERTER AND TRANSMISSION PIPING 58
TORQUE CONVERTER AND PTO 60
TORQUE CONVERTER REGULATOR VALVE 67
TRANSMISSION 68
TRANSMISSION CONTROL VALVE 78
TORQUE CONVERTER OIL COOLER 102
TRANSMISSION OIL FILTER 103
TRANSFER 105
AXLE 106
DIFFERENTIAL 108
FINAL DRIVE 110
STEERING PIPING DIAGRAM 113
STEERING AND SWITCH PUMP 114
STEERING UNIT (ORBIT-ROLL VALVE) 118
STEERING DEMAND VALVE 121
TWO-WAY RESTRICTOR VALVE 132
STOP VALVE 133
DIVERTER VALVE 134
BRAKE PIPING 138
BRAKE CIRCUIT DIAGRAM 139
BRAKE VALVE 140
CHARGE VALVE 146
ACCUMULATOR (FOR BRAKE) 150
SLACK ADJUSTER 151
BRAKE 154
PARKING BRAKE 157
SPRING CYLINDER 161
PARKING BRAKE SOLENOID VALVE 162
HYDRAULIC PIPING 164
HYDRAULIC CIRCUIT DIAGRAM 166
MAIN PISTON PUMP 169
ES VALVE (ENGINE SENSING VALVE) 181
SERVO VALVE 182
PRESSURE DIFFERENTIAL VALVE 183
PPC VALVE (PROPORTIONAL PRESSURE VALVE) 184
PPC RELIEF VALVE 188
ACCUMULATOR (FOR PPC VALVE) 189
MAIN CONTROL VALVE 190
LUBRICATION OF WORK EQUIPMENT 214
WORK EQUIPMENT LINKAGE 216
BUCKET POSITIONER AND BOOM KICK-OUT 218
OPERATION OF PROXIMITY SWITCH 220
AIR CONDITIONER 224
ELECTRIC CIRCUIT DIAGRAM 228
MACHINE MONITOR SYSTEM 228
MAIN MONITOR 229
MAINTENANCE MONITOR 233
AUTOMATIC TRANSMISSION SYSTEM (ATM) 235
JOYSTICK STEERING SYSTEM 248
AJSS (ADVANCED JOYSTICK STEERING SYSTEM) 250
TRANSMISSION AND JOYSTICK CONTROLLER 254
ENGINE STARTING CIRCUIT 257
ENGINE STOP CIRCUIT 260
AUTO PRIMING SYSTEM (APS) 262
PREHEATING CIRCUIT 266
FUEL SYSTEM 267
ELECTRICAL TRANSMISSION CONTROL 268
KICK-DOWN, HOLD SWITCH 271
KICK-DOWN ELECTRICAL CIRCUIT 272
ELECTRIC PARKING BRAKE CONTROL 278
ELECTRIC CIRCUIT DIAGRAM OF ACTIVE POWER MAXIMIZING SYSTEM 287
VHMS CONTROLLER 293
BLOW-BY PRESSURE SENSOR 293
ENGINE OIL TEMPERATURE SENSOR 294
EXHAUST TEMPERATURE SENSOR/AMP 295
AMBIENT TEMPERATURE SENSOR 295
TRANSMISSION PUMP OIL PRESSURE SENSOR 296
BRAKE OIL TEMPERATURE SENSOR 297
HYDRAULIC OIL TEMPERATURE SENSOR 297
BRAKE OIL PRESSURE SENSOR 298
STEERING OIL PRESSURE SENSOR 298
WORK EQUIPMENT PUMP OIL PRESSURE SENSOR 298
COMMUNICATIONS (ORB: ORBCOMM) CONTROLLER/ANTENNA 299
20 TESTING AND ADJUSTING 301
STANDARD VALUE TABLE FOR ENGINE 302
STANDARD VALUE TABLE FOR CHASSIS 304
STANDARD VALUE TABLE FOR ELECTRICAL PARTS 311
TESTING AND ADJUSTING 329
TABLE OF TOOLS FOR TESTING, ADJUSTING, AND TROUBLESHOOTING 330
ADJUSTING VALVE CLEARANCE 335
TESTING AND ADJUSTING INJECTOR LIFT 337
MEASURING COMPRESSION PRESSURE 339
MEASURING BLOW-BY PRESSURE 342
TESTING AND ADJUSTING FUEL INJECTION TIMING 343
MEASURING EXHAUST GAS COLOR 345
TESTING AND ADJUSTING ALTERNATOR BELT TENSION 346
TESTING AND ADJUSTING AIR CONDITIONER COMPRESSOR BELT TENSION 347
HANDLING EQUIPMENT IN FUEL CIRCUIT 348
MEASURING FUEL PUMP OUTLET PORT PRESSURE 348
BLEEDING AIR FROM FUEL CIRCUIT 349
MEASURING EXHAUST TEMPERATURE 351
MEASURING EXHAUST TEMPERATURE (OVERALL ENGINE) 352
MEASURING EXHAUST GAS TEMPERATURE (EACH CYLINDER) 353
MEASURING AIR SUPPLY PRESSURE (BOOST PRESSURE) 354
MEASURING ACCELERATOR PEDAL 355
ADJUSTING ACCELERATOR PEDAL TRAVEL, POTENTIOMETER 356
ADJUSTING ACCELERATOR PEDAL MICRO SWITCH 358
MEASURING TORQUE CONVERTER, TRANSMISSION OIL PRESSURE 359
METHOD FOR OPERATION OF EMERGENCY MANUAL SPOOL 361
TESTING AND ADJUSTING STEERING OIL PRESSURE 363
ADJUSTING STEERING STOPPER BOLT 364
ADJUSTING JOYSTICK STEERING 365
ADJUSTING JOYSTICK LEVER NEUTRAL DETECTION SWITCH 367
TESTING BRAKE OIL PRESSURE 368
MEASURING WEAR OF BRAKE DISC 369
MEASURING BRAKE PERFORMANCE 370
TESTING AND ADJUSTING PARKING BRAKE 371
TESTING AND ADJUSTING ACCUMULATOR CHARGE PRESSURE 373
TESTING OF ACCUMULATOR NITROGEN GAS PRESSURE AND PROCEDURE FOR CHARGING ACCUMULATOR WITH NITROGEN GAS 374
MEASURING PPC RELIEF VALVE HYDRAULIC PRESSURE 386
TESTING AND ADJUSTING WORK EQUIPMENT HYDRAULIC PRESSURE 388
BLEEDING AIR FROM PISTON PUMP 390
ADJUSTING WORK EQUIPMENT LEVER LINKAGE 391
TESTING AND ADJUSTING BUCKET POSITIONER 393
TESTING AND ADJUSTING BOOM KICK-OUT 394
TESTING PROXIMITY SWITCH ACTUATION PILOT LAMP 395
ADJUSTING MAIN MONITOR (SPEEDOMETER MODULE) 396
BLEEDING AIR 397
RELEASING REMAINING PRESSURE IN HYDRAULIC CIRCUIT 398
BASIC PRECAUTIONS 399
OUTLINE 402
SETTING UP VHMS CONTROLLER 408
COLLECTION, TRANSMISSION OF DATA 410
INSPECTION AND MAINTENANCE 415
REPLACING PARTS 415
TROUBLESHOOTING 417
POINTS TO REMEMBER WHEN TROUBLESHOOTING 418
SEQUENCE OF EVENTS IN TROUBLESHOOTING 419
POINTS TO REMEMBER WHEN CARRYING OUT MAINTENANCE 420
CHECKS BEFORE TROUBLESHOOTING 428
CONNECTOR TYPES AND MOUNTING LOCATIONS 430
CONNECTOR ARRANGEMENT DIAGRAM 436
CONNECTION TABLE FOR CONNECTOR PIN NUMBERS 447
ELECTRIC ENGINE THROTTLE CONTROLLER SYSTEM 470
METHOD OF DISPLAYING ACTION CODE AND FAILURE CODE 473
CHART OF ACTION CODES AND FAILURE CODES, AND RE-ENACTION 475
TRANSMISSION CONTROLLER LED DISPLAY 477
METHOD OF USING TROUBLESHOOTING CHARTS 478
TROUBLESHOOTING OF ENGINE BODY (S MODE) 481
METHOD OF USING TROUBLESHOOTING CHARTS 482
S-1 STARTING PERFORMANCE IS POOR (STARTING ALWAYS TAKES TIME) 486
S-2 ENGINE DOES NOT START 488
a) ENGINE TURNS BUT NO EXHAUST SMOKE COMES OUT 488
b) EXHAUST SMOKE COMES OUT BUT ENGINE DOES NOT START 489
S-3 ENGINE DOES NOT PICK UP SMOOTHLY (FOLLOW-UP IS POOR) 490
S-4 ENGINE STOPS DURING OPERATIONS 492
S-5 ENGINE DOES NOT ROTATE SMOOTHLY (HUNTING) 494
S-6 ENGINE LACKS OUTPUT (OR LACKS POWER) 495
S-7 EXHAUST SMOKE IS BLACK (INCOMPLETE COMBUSTION) 496
S-8 OIL CONSUMPTION IS EXCESSIVE (OR EXHAUST SMOKE IS BLUE) 497
S-9 OIL BECOMES CONTAMINATED QUICKLY 498
S-10 FUEL CONSUMPTION IS EXCESSIVE 499
S-11 OIL IS IN COOLING WATER, OR WATER SPURTS BACK, OR WATER LEVEL GOES DOWN 500
S-12 OIL PRESSURE CAUTION LAMP LIGHTS UP (DROP IN OIL PRESSURE) 501
S-13 OIL LEVEL RISES 502
S-14 WATER TEMPERATURE BECOMES TOO HIGH (OVERHEATING) 503
S-15 ABNORMAL NOISE IS MADE 504
S-16 VIBRATION IS EXCESSIVE 506
TROUBLESHOOTING OF MAIN MONITOR SYSTEM (M MODE) 507
ELECTRICAL CIRCUIT DIAGRAM FOR M MODE SYSTEM 510
M-1 MAIN MONITOR DOES NOT WORK 514
M-2 WHEN STARTING SWITCH IS TURNED ON AND ENGINE IS STARTED IMMEDIATELY, ALL LAMPS STAY LIGHTED UP 515
M-3 SPEEDOMETER DISPLAY DOES NOT WORK PROPERLY 516
M-4 ABNORMALITY IN SHIFT INDICATOR 517
a) DISPLAYS N EVEN WHEN DIRECTIONAL LEVER IS AT F 517
b) DISPLAYS N EVEN WHEN DIRECTIONAL LEVER IS AT R 517
c) DOES NOT DISPLAY N EVEN WHEN DIRECTIONAL LEVER IS AT N, AND DISPLAYS E WHEN DIRECTIONAL LEVER IS AT F 517
d) DOES NOT DISPLAY N EVEN WHEN DIRECTIONAL LEVER IS AT N, AND DISPLAYS E WHEN DIRECTIONAL LEVER IS AT R 518
e) DOES NOT DISPLAY 1ST EVEN WHEN SPEED LEVER IS AT 1 (DIRECTIONAL LEVER AT F OR R) 518
f) DOES NOT DISPLAY 2ND EVEN WHEN SPEED LEVER IS AT 2 (DIRECTIONAL LEVER AT F OR R) 518
g) DOES NOT DISPLAY 3RD EVEN WHEN SPEED LEVER IS AT 3 (DIRECTIONAL LEVER AT F OR R) 519
h) DOES NOT DISPLAY 4TH EVEN WHEN SPEED LEVER IS AT 4 (DIRECTIONAL LEVER AT F OR R) 519
M-5 TURN SIGNAL DISPLAY DOES NOT LIGHT UP 521
a) L H TURN SIGNAL DISPLAY DOES NOT LIGHT UP 521
b) R H TURN SIGNAL DISPLAY DOES NOT LIGHT UP 521
M-6 ABNORMALITY IN PARKING DISPLAY 522
a) PARKING LAMP DISPLAY DOES NOT LIGHT UP 522
b) PARKING LAMP DISPLAY STAYS LIGHTED UP 522
M-7 NIGHT LIGHTING DOES NOT LIGHT UP 523
M-8 ABNORMALITY IN FRONT WORKING LAMP 524
a) NEITHER MONITOR DISPLAY NOR FRONT WORKING LAMP LIGHT UP 524
b) WORKING LAMP LIGHTS UP BUT MONITOR DISPLAY DOES NOT LIGHT UP 524
c) MONITOR DISPLAY LIGHTS UP BUT WORKING LAMP DOES NOT LIGHT UP 524
M-9 ABNORMALITY IN REAR WORKING LAMP 526
a) NEITHER MONITOR DISPLAY NOR REAR WORKING LAMP LIGHT UP 526
b) WORKING LAMP LIGHTS UP BUT MONITOR DISPLAY DOES NOT LIGHT UP 526
c) MONITOR DISPLAY LIGHTS UP BUT WORKING LAMP DOES NOT LIGHT UP 526
M-10 ABNORMALITY IN TRANSMISSION CUT-OFF 528
STANDARD SPECIFICATION 528
a) WHEN TRANSMISSION CUT-OFF SWITCH IS PRESSED, CUT-OFF FUNCTION IS NOT SWITCHED AND DISPLAY DOES NOT CHANGE 528
b) WHEN TRANSMISSION CUT-OFF SWITCH IS TURNED OFF, CUT-OFF FUNCTION IS ALWAYS ACTUATED 528
c) TRANSMISSION CUT-OFF SWITCH TURNED ON, BUT CUT-OFF FUNCTION IS NOT ACTUATED 529
AUTO-SHIFT SPECIFICATION 530
a) WHEN MONITOR SWITCH (TRANSMISSION CUT-OFF SWITCH) IS PRESSED, CUT-OFF FUNCTION IS NOT SWITCHED AND DISPLAY DOES NOT CHANGE 5 530
b) WHEN MONITOR SWITCH (TRANSMISSION CUT-OFF SWITCH) IS OFF, MONITOR DISPLAY GOES OUT BUT CUT-OFF FUNCTION IS ACTUATED WHEN PEDAL IS DEPRESSED 530
c) WHEN MONITOR DISPLAY IS TURNED OFF (TRANSMISSION CUT-OFF SWITCH TURNED OFF), CUT-OFF FUNCTION IS ALWAYS ACTUATED 530
d) CUT-OFF FUNCTION IS ALWAYS ACTUATED REGARDLESS OF MONITOR DISPLAY (TRANSMISSION CUT-OFF SWITCH ON OR OFF) 530
e) MONITOR DISPLAY LIGHTS UP (TRANSMISSION CUT-OFF SWITCH TURNED ON), BUT CUT-OFF FUNCTION IS NOT ACTUATED 531
M-11 ABNORMALITY IN PARKING BRAKE DRAGGING WARNING 532
a) WHEN PARKING BRAKE IS APPLIED, BUZZER SOUNDS (INTERMITTENTLY) AND CAUTION LAMP FLASHES EVEN WHEN DIRECTIONAL LEVER IS AT N 532
b) WHEN PARKING BRAKE IS APPLIED, BUZZER DOES NOT SOUND AND CAUTION LAMP DOES NOT LIGHT UP EVEN WHEN DIRECTIONAL LEVER IS AT POSITION OTHER THAN N 532
M-12 WHEN PARKING BRAKE DRAGGING WARNING IS GIVEN, BUZZER AND CAUTION LAMP ARE ACTUATED CONTINUOUSLY, OR THEY ARE NOT ACTUATED 534
a) ACTUATED CONTINUOUSLY 534
b) NOT ACTUATED 534
M-13 ABNORMALITY IN BUZZER 535
a) BUZZER DOES NOT SOUND WHEN STARTING SWITCH IS AT ON (FOR 3 SECONDS) (DURING SELF-CHECK) 535
b) BUZZER ALWAYS SOUNDS 535
M-14 CONDITION OF MONITOR SWITCHES IS NOT STORED IN MEMORY 536
M-15 ABNORMALITY IN FAILURE DISPLAY MODE 537
a) DOES NOT ENTER FAILURE DISPLAY MODE 537
b) COUNT FOR TIME ELAPSED SINCE FAILURE IN FAILURE DISPLAY MODE DOES NOT ADVANCE 537
M-16 ABNORMALITY IN ELECTRIC ENGINE THROTTLE CONTROLLER ERROR DISPLAY 538
a) THERE IS NO ABNORMALITY ON MACHINE BUT ERROR CODE [91] IS DISPLAYED 538
b) THERE IS NO ABNORMALITY ON MACHINE BUT ERROR CODE [92] IS DISPLAYED 538
c) PROBLEM IS ERROR CODE [90(94)] BUT ERROR CODE [91(93)] IS DISPLAYED 538
d) PROBLEM IS ERROR CODE [90(96)] BUT ERROR CODE [92(95)] IS DISPLAYED 539
M-17 ABNORMALITY IN EMERGENCY STEERING ACTUATION DISPLAY 540
a) EMERGENCY STEERING ACTUATION DISPLAY DOES NOT LIGHT UP 540
b) EMERGENCY STEERING ACTUATION DISPLAY STAYS LIGHTED UP 540
M-18 ABNORMALITY IN AUTO-GREASING SYSTEM 541
a) CHECK POWER SUPPLY SYSTEM 1 (RELAY G1) 541
b) CHECK POWER SUPPLY SYSTEM 2 (RELAY G2) 541
c) FORCED GREASING DOES NOT START 542
d) MONITOR DOES NOT FLASH WHILE GREASE IS BEING SUPPLIED 542
e) MONITOR IS STILL FLASHING AFTER GREASING IS FINISHED, OR IT FLASHES FOR PERIOD SET WITH TIMER WHEN STARTING SWITCH IS TURNED TO ON POSITION 543
M-19 ABNORMALITY IN LOW IDLING SELECT SYSTEM 545
a) DISPLAY DOES NOT CHANGE WHEN SWITCH IS PRESSED (SERIAL NO : 50001 – 51000) 545
b) MONITOR DISPLAY LIGHTS UP BUT LOW IDLING SELECT FUNCTION DOES NOT WORK (SERIAL NO : 50001 – 51000) 545
a) DISPLAY DOES NOT CHANGE WHEN SWITCH IS PRESSED (SERIAL NO : 51001 AND UP) 546
b) MONITOR DISPLAY LIGHTS UP BUT LOW IDLING SELECT FUNCTION DOES NOT WORK (SERIAL NO : 51001 AND UP) 546
TROUBLESHOOTING OF MAINTENANCE MONITOR SYSTEM (K MODE) 547
ELECTRICAL CIRCUIT DIAGRAM FOR K MODE SYSTEM 548
K-1 WHEN STARTING SWITCH IS TURNED ON, ALL LAMPS ON MAINTENANCE MONITOR DO NOT LIGHT UP FOR 3 SECONDS, MAINTENANCE MONITOR DOES NOT WORK 550
a) NO LAMPS ON MAINTENANCE MONITOR LIGHT UP 550
b) SOME LAMPS DO NOT LIGHT UP 550
K-2 WHEN STARTING SWITCH IS TURNED ON, ALL LAMPS ON MAINTENANCE MONITOR LIGHT UP BUT DO NOT GO OUT (EVEN AFTER 3 SECONDS) 551
K-3 WHEN ENGINE IS STARTED IMMEDIATELY AFTER STARTING SWITCH IS TURNED ON (WITHIN 3 SECONDS), NO LAMPS ON MAINTENANCE MONITOR GO OUT 552
K-4 WHEN STARTING SWITCH IS TURNED ON (ENGINE STOPPED), CHECK ITEMS FLASH 553
a) ENGINE OIL LEVEL DISPLAY FLASHES 553
b) ENGINE WATER LEVEL DISPLAY FLASHES (SERIAL NO : 50001 – 51000) 554
b) ENGINE WATER LEVEL DISPLAY FLASHES (SERIAL NO : 51001 AND UP) 555
K-5 WHEN STARTING SWITCH IS TURNED ON (ENGINE STARTED), CAUTION ITEMS FLASH 556
a) ENGINE OIL PRESSURE DISPLAY FLASHES (CHECK THAT THE ENGINE OIL PRESSURE IS CORRECT ) (SERIAL NO : 50001 – 51000) 556
a) ENGINE OIL PRESSURE DISPLAY FLASHES (CHECK THAT THE ENGINE OIL PRESSURE IS CORRECT ) (SERIAL NO : 51001 AND UP) 557
b) BATTERY CHARGE LEVEL DISPLAY FLASHES 558
c) BRAKE OIL PRESSURE DISPLAY FLASHES (CHECK THAT THE BRAKE OIL PRESSURE IS CORRECT ) 559
d) AIR CLEANER (L H ) DISPLAY FLASHES 560
e) AIR CLEANER (R H ) DISPLAY FLASHES 561
f) AIR CLEANER DISPLAY FLASHES 562
K-6 CAUTION ITEMS ARE FLASHING BUT CAUTION BUZZER DOES NOT SOUND 563
K-7 THERE IS NO ABNORMALITY IN MONITOR DISPLAY BUT CAUTION BUZZER SOUNDS 564
K-8 CAUTION ITEMS ARE FLASHING BUT WARNING LAMP (CHECK LAMP, CAUTION LAMP) DOES NOT FLASH 565
a) CHECK LAMP 565
b) CAUTION LAMP 565
K-9 THERE IS NO ABNORMALITY IN MAINTENANCE MONITOR DISPLAY BUT WARNING LAMP (CHECK LAMP, CAUTION LAMP) LIGHTS UP 566
a) CHECK LAMP 566
b) CAUTION LAMP 566
K-10 NIGHT LIGHTING DOES NOT LIGHT UP WHEN LAMP SWITCH IS TURNED ON (ONLY LIGHTING OF MAINTENANCE MONITOR DOES NOT LIGHT UP) 567
K-11 NIGHT LIGHTING LIGHTS UP EVEN WHEN LAMP SWITCH IS OFF, NIGHT LIGHTING STAYS LIGHTED UP 568
K-12 SERVICE METER DOES NOT WORK 569
K-13 SERVICE METER IS RUNNING EVEN WHEN ENGINE IS STOPPED 569
K-14 ABNORMALITY IN GAUGE ITEMS 571
a) ABNORMALITY IN FUEL GAUGE 571
b) ABNORMALITY IN ENGINE WATER TEMPERATURE GAUGE 572
c) ABNORMALITY IN TORQUE CONVERTER OIL TEMPERATURE GAUGE 573
TROUBLESHOOTING OF ELECTRICAL SYSTEM (E MODE) 575
ELECTRICAL CIRCUIT DIAGRAM FOR E MODE SYSTEM 578
E-1 ENGINE DOES NOT START 582
a) STARTING MOTOR DOES NOT TURN 582
b) STARTING MOTOR TURNS 588
E-2 ABNORMALITY IN APS SYSTEM 598
a) WHEN PREHEATING SWITCH IS TURNED AUTO, PREHEATING LAMP DOES NOT LIGHT UP, BUT NO PILOT LED ON APS CONTROLLER LIGHTS UP 600
b) WHEN PREHEATING SWITCH IS TURNED AUTO AND ENGINE WATER TEMPERATURE IS BELOW 20ºC, PREHEATING LAMP FLASHES, BUT PILOT LED ON APS CONTROLLER SHOWS NORMAL 601
c) AFTER PREHEATING, FUEL IS NOT INJECTED FROM APS NOZZLE WHEN STARTING SWITCH IS TURNED START, BUT PILOT LED ON APS CONTROLLER SHOWS NORMAL 602
d) LED 1 OF PILOT LED ON APS CONTROLLER SHOWS ABNORMAL 603
e) LED 2 OF PILOT LED ON APS CONTROLLER SHOWS ABNORMAL 603
f) LED 3 OF PILOT LED ON APS CONTROLLER SHOWS ABNORMAL 604
g) LED 4 OF PILOT LED ON APS CONTROLLER SHOWS ABNORMAL 604
h) LED 5 OF PILOT LED ON APS CONTROLLER SHOWS ABNORMAL 605
i) LED 6 OF PILOT LED ON APS CONTROLLER SHOWS ABNORMAL 605
j) WHEN PREHEATING SWITCH IS OFF, PREHEATING LAMP LIGHTS UP 606
E-3 PARKING BRAKE DOES NOT HAVE EFFECT 607
a) PARKING BRAKE HAS NO EFFECT WHEN PARKING BRAKE SWITCH IS TURNED ON 607
b) PARKING BRAKE HAS NO EFFECT AND DOES NOT WORK AS EMERGENCY BRAKE WHEN PARKING BRAKE PRESSURE DROPS 607
E-4 PARKING BRAKE IS APPLIED WHEN MACHINE IS TRAVELING 608
E-5 PARKING BRAKE IS RELEASED WHEN STARTING SWITCH IS TURNED ON 610
E-6 TRANSMISSION DOES NOT CHANGE TO NEUTRAL WHEN PARKING BRAKE IS APPLIED, BUT PARKING BRAKE WORKS NORMALLY 610
E-7 TRANSMISSION DOES NOT WORK PROPERLY 613
a) ABNORMALITY IN PARKING BRAKE CIRCUIT, TRANSMISSION CUT-OFF SWITCH CIRCUIT OR NEUTRALIZER RELAY CIRCUIT 614
b) NO CONTINUITY IN TRAVEL FORWARD SOLENOID CIRCUIT 618
c) NO CONTINUITY IN TRAVEL REVERSE SOLENOID CIRCUIT 620
d) SHORT CIRCUIT TO CHASSIS GROUND IN DIRECTIONAL SOLENOID CIRCUIT 622
e) ABNORMALITY IN SHIFT SOLENOID CIRCUIT 628
f) SHORT CIRCUIT TO CHASSIS GROUND IN SHIFT SOLENOID CIRCUIT 631
E-8 KICK-DOWN SWITCH DOES NOT WORK 636
E-9 KICK-DOWN WORKS ONLY WHEN KICK-DOWN SWITCH IS BEING TURNED ON 639
E-10 KICK-DOWN ALWAYS WORKS 640
E-11 KICK-DOWN SWICH WORKS EVEN WHEN TRAVELING FORWARD IN 2ND 642
E-12 BOOM KICK-OUT DOES NOT WORK 644
E-13 DEFECTIVE BUCKET POSITIONER 646
E-14 POWER WINDOW DOES NOT WORK 648
a) WINDOW DOES NOT GO UP 648
b) WINDOW DOES NOT GO DOWN 649
E-15 ABNORMALITY IN FRONT WORKING LAMP 651
E-16 ABNORMALITY IN REAR WORKING LAMP 651
E-17 ABNORMALITY IN TRANSMISSION CUT-OFF 651
E-18 ABNORMALITY IN PARKING BRAKE DRAGGING WARNING 651
E-19 ABNORMALITY IN BUZZER 651
TROUBLESHOOTING OF ELECTRIC ENGINE THROTTLE CONTROLLER & APS CONTROLLER SYSTEM SYSTEM (G MODE) 653
JUDGEMENT TABLE FOR ENGINE CONTROLLER AND ENGINE RELATED PARTS 654
ACTION TAKEN BY CONTROLLER AND CONDITION OF MACHINE WHEN ABNORMALITY OCCURS 656
ACTION TAKEN BY CONTROLLER AND CONDITIONS FOR RESETTING WHEN ABNORMALITY OCCURS 662
POINTS TO REMEMBER WHEN CARRYING OUT TROUBLESHOOTING OF ENGINE CONTROLLER SYSTEM 663
JUDGEMENT TABLE FOR ENGINE CONTROLLER 665
G-1 [90] [OFF OR 10] ABNORMALITY IN POWER SOURCE SYSTEM 666
G-2 [90] [11] ABNORMALITY IN CONTROLLER SYSTEM 666
G-3 [90] [21] MISTAKEN CONNECTION OF CONNECTOR 667
G-4 [90] [56] ABNORMALITY IN CONTROLLER SOLENOID POWER SOURCE SYSTEM 667
G-5 [90] [58] ABNORMALITY IN BACK-UP POWER SOURCE SYSTEM 668
G-6 [90] [59] ABNORMALITY IN SWITCH POWER SOURCE SYSTEM 669
G-7 [91] [14] ABNORMALITY IN GOVERNOR SOLENOID SYSTEM 670
G-8 [91] [16] ABNORMALITY IN GOVERNOR CUT RELAY SYSTEM 671
G-9 [91] [19] ABNORMALITY IN GOVERNOR SERVO SYSTEM 672
G-10 [91] [1D] ABNORMALITY IN PRE-STROKE SOLENOID SYSTEM 673
G-11 [92] [12] ABNORMALITY IN RACK SENSOR SYSTEM 674
G-12 [92] [18] ABNORMALITY IN RACK SENSOR POWER SOURCE SYSTEM 675
G-13 [93] [1B] ABNORMALITY IN ENGINE SPEED SENSOR A SYSTEM 676
G-14 [94] [1C] ABNORMALITY IN ENGINE SPEED SENSOR B SYSTEM 677
G-15 [93,94] [1B, 1C] ABNORMALITY IN ENGINE SPEED SENSOR A, B SYSTEM 678
G-16 [95] [40] ABNORMALITY IN WATER TEMPERATURE SENSOR SYSTEM 678
G-17 [97] [31] ABNORMALITY IN ACCELERATOR SENSOR SYSTEM 679
G-18 [99] [22] ENGINE OVERRUN 681
G-19 ENGINE DOES NOT START (CONTROLLER RELATED ONLY) 681
G-20 ENGINE DOES NOT START 682
G-21 ENGINE DOES NOT STOP 685
G-22 DEFECTIVE ACTUATION OF APS 686
a) PREHEATING LAMP SWITCH DOES NOT LIGHT UP WHEN APS SWITCH IS ON (ALL APS CONTROLLER LEDS ARE ALSO OFF) 686
b) PREHEATING PILOT LAMP FLASHES WHEN WATER TEMPERATURE IS BELOW 20ºC WHEN APS SWITCH IS ON (CONTROLLER LEDS ALL GIVE NORMAL DISPLAY)
PREHEATING PILOT LAMP LIGHTS UP WHEN WATER TEMPERATURE IS ABOVE 20ºC WHEN APS SWITCH IS ON (CONTROLLER LEDS ALL GIVE NORMAL DISPLAY) 688
c) NOZZLE DOES NOT INJECT FUEL WHEN STARTING SWITCH IS TURNED TO START AFTER COMPLETION OF PREHEATING WHEN APS SWITCH IS ON (CONTROLLER LEDS ALL GIVE NORMAL DISPLAY) 688
d) APS CONTROLLER LED 1 (SHORT CIRCUIT IN GLOW PLUG 1 SYSTEM) GIVES ABNORMAL DISPLAY 689
e) APS CONTROLLER LED 2 (DISCONNECTION IN GLOW PLUG 1 SYSTEM) GIVES ABNORMAL DISPLAY 689
f) APS CONTROLLER LED 3 (SHORT CIRCUIT IN GLOW PLUG 2 SYSTEM) GIVES ABNORMAL DISPLAY 690
g) APS CONTROLLER LED 4 (DISCONNECTION IN GLOW PLUG 2 SYSTEM) GIVES ABNORMAL DISPLAY 690
h) APS CONTROLLER LED 5 (SHORT CIRCUIT WITH GROUND IN NOZZLE) GIVES ABNORMAL DISPLAY 691
i) APS CONTROLLER LED 6 (DISCONNECTION IN NOZZLE) GIVES ABNORMAL DISPLAY 691
TROUBLESHOOTING OF HYDRAULIC AND MECHANICAL SYSTEM (H MODE) 693
METHOD OF USING MATRIX TROUBLESHOOTING TABLES 696
H-1 MACHINE DOES NOT START 698
H-2 MACHINE LACKS POWER OR SPEED WHEN TRAVELING (ALL SPEED RANGES) 699
H-3 TIME LAG IS EXCESSIVE WHEN STARTING OR SHIFTING GEAR 700
H-4 TORQUE CONVERTER OIL TEMPERATURE IS HIGH 701
H-5 STEERING DOES NOT TURN (STEERING WHEEL SPECIFICATION) 702
H-6 STEERING DOES NOT TURN (STEERING WHEEL AND JOYSTICK STEERING SPECIFICATION) 703
H-7 STEERING DOES NOT TURN (AJSS (ADVANCED JOYSTICK STEERING SYSTEM) SPECIFICATION) 704
H-8 TURNING, RESPONSE OF STEERING IS POOR (STEERING WHEEL SPECIFICATION) 705
H-9 TURNING, RESPONSE OF STEERING IS POOR (STEERING WHEEL AND JOYSTICK STEERING SPECIFICATION) 706
H-10 TURNING, RESPONSE OF STEERING IS POOR (AJSS (ADVANCED JOYSTICK STEERING SYSTEM) SPECIFICATION) 708
H-11 STEERING IS HEAVY (STEERING WHEEL SPECIFICATION) 709
H-12 JOYSTICK LEVER IS HEAVY (STEERING WHEEL AND JOYSTICK STEERING SPECIFICATION) 709
H-13 JOYSTICK LEVER IS HEAVY (AJSS (ADVANCED JOYSTICK STEERING SYSTEM) SPECIFICATION) 710
H-14 STEERING WHEEL SHAKES OR JERKS (STEERING WHEEL SPECIFICATION) 711
H-15 STEERING SHAKES OR THERE IS EXCESSIVE SHOCK (STEERING WHEEL AND JOYSTICK STEERING SPECIFICATION) 712
H-16 STEERING WHEEL SHAKES OR JERKS (AJSS (ADVANCED JOYSTICK STEERING SYSTEM) SPECIFICATION) 713
H-17 MINIMUM TURNING RADII TO RIGHT AND LEFT ARE DIFFERENT (STEERING WHEEL SPECIFICATION, STEERIG WHEEL AND JOYSTICK STEERING SPECIFICATION) 714
H-18 MINIMUM TURNING RADII TO RIGHT AND LEFT ARE DIFFERENT (AJSS (ADVANCED JOYSTICK STEERING SYSTEM) SPECIFICATION) 714
H-19 WHEEL BRAKES DO NOT WORK OR BRAKING EFFECT IS POOR 716
H-20 WHEEL BRAKES ARE NOT RELEASED OR BRAKES DRAG 718
H-21 PARKING BRAKE DOES NOT WORK OR BRAKING EFFECT IS POOR 719
H-22 PARKING BRAKE IS NOT RELEASED OR BRAKE DRAGS 720
H-23 NEITHER BOOM NOR BUCKET MOVE 721
H-24 BOTH BOOM AND BUCKET ARE SLOW OR LACK POWER 722
H-25 BOOM DOES NOT MOVE 723
H-26 BOOM IS SLOW OR BOOM LACKS POWER 724
H-27 BOOM CANNOT BE SET TO FLOAT OR CANNOT BE RELEASED FROM FLOAT 725
H-28 BOOM DROPS MOMENTARILY WHEN CONTROL LEVER IS OPERATED FROM HOLD TO RAISE 725
H-29 EXCESSIVE HYDRAULIC DRIFT OF BOOM 726
H-30 BUCKET DOES NOT MOVE 727
H-31 BUCKET IS SLOW OR LACKS POWER 728
H-32 EXCESSIVE HYDRAULIC DRIFT OF BUCKET 729
TROUBLESHOOTING OF TRANSMISSION CONTROL SYSTEM (T MODE) 731
JUDGEMENT TABLE FOR TRANSMISSION CONTROLLER SYSTEM RELATED PARTS 734
ACTION TAKEN BY CONTROLLER WHEN ABNORMALITY OCCURS AND PROBLEMS ON MACHINE 738
ELECTRICAL CIRCUIT DIAGRAM FOR TRANSMISSION CONTROL SYSTEM 748
T-1 FAILURE CODE [10] (SHORT CIRCUIT, DISCONNECTION, SHORT CIRCUIT WITH POWER SOURCE IN BACKUP LAMP RELAY) IS DISPLAYED 752
T-2 FAILURE CODE [12] (SHORT CIRCUIT, DISCONNECTION, SHORT CIRCUIT WITH POWER SOURCE IN F SOLENOID) IS DISPLAYED 753
T-3 FAILURE CODE [13] (SHORT CIRCUIT, DISCONNECTION, SHORT CIRCUIT WITH POWER SOURCE IN R SOLENOID) IS DISPLAYED 754
T-4 FAILURE CODE [14] (SHORT CIRCUIT, DISCONNECTION, SHORT CIRCUIT WITH POWER SOURCE IN 1ST SOLENOID) IS DISPLAYED 755
T-5 FAILURE CODE [15] (SHORT CIRCUIT, DISCONNECTION, SHORT CIRCUIT WITH POWER SOURCE IN 2ND SOLENOID) IS DISPLAYED 756
T-6 FAILURE CODE [16] (SHORT CIRCUIT, DISCONNECTION, SHORT CIRCUIT WITH POWER SOURCE IN 3RD SOLENOID) IS DISPLAYED 757
T-7 FAILURE CODE [17] (SHORT CIRCUIT, DISCONNECTION, SHORT CIRCUIT WITH POWER SOURCE IN 4TH SOLENOID) IS DISPLAYED 758
T-8 FAILURE CODE [19] (SHORT CIRCUIT, DISCONNECTION IN JOYSTICK DIRECTIONAL SWITCH SYSTEM) IS DISPLAYED (STEERING WHEEL AND JOYSTICK STEERING SPECIFICATION) 759
T-9 FAILURE CODE [20] (SHORT CIRCUIT, DISCONNECTION IN DIRECTIONAL SWITCH SYSTEM) IS DISPLAYED (STEERING WHEEL SPECIFICATION, STEERING WHEEL AND JOYSTICK STEERING SPECIFICATION) 760
T-10 FAILURE CODE [20] (SHORT CIRCUIT OR DISCONNECTION IN JOYSTICK DIRECTIONAL SWITCH SYSTEM) IS DISPLAYED (AJSS (ADVANCED JOYSTICK STEERING SYSTEM) SPECIFICATION) 763
T-11 FAILURE CODE [21] (SHORT CIRCUIT, DISCONNECTION IN RANGE SWITCH SYSTEM) IS DISPLAYED (STEERING WHEEL SPECIFICATION, STEERING WHEEL AND JOYSTICK STEERING SPECIFICATION) 764
T-12 FAILURE CODE [21] (SHORT CIRCUIT OR DISCONNECTION IN JOYSTICK SHIFT-UP/SHIFT-DOWN SWITCH SYSTEM) IS DISPLAYED (AJSS (ADVANCED JOYSTICK STEERING SYSTEM) SPECIFICATION) 768
T-13 FAILURE CODE [22] (DISCONNECTION IN TRAVEL SPEED SENSOR SYSTEM) IS DISPLAYED (STEERING WHEEL SPECIFICATION, STEERING WHEEL AND JOYSTICK STEERING SPECIFICATION) 770
T-14 FAILURE CODE [22] (DISCONNECTION IN TRAVEL SPEED SENSOR SYSTEM) IS DISPLAYED (AJSS (ADVANCED JOYSTICK STEERING SYSTEM) SPECIFICATION) 771
T-15 FAILURE CODE [23] (SHORT CIRCUIT, DISCONNECTION IN ENGINE SPEED SENSOR SYSTEM) IS DISPLAYED 772
a) TRANSMISSION CONTROLLER SYSTEM 772
b) ELECTRIC ENGINE THROTTLE CONTROLLER SYSTEM 772
T-16 KICKDOWN SWITCH SIGNAL SYSTEM AND HOLD SWITCH SIGNAL SYSTEM (STEERING WHEEL SPECIFICATION, AJSS (ADVANCED JOYSTICK STEERING SYSTEM) SPECIFICATION) 776
T-17 SHIFT-DOWN SWITCH SIGNAL SYSTEM AND SHIFT-UP SWITCH SIGNAL SYSTEM (STEERING WHEEL AND JOYSTICK STEERING SPECIFICATION) 777
T-18 TRANSMISSION CUT-OFF SIGNAL SYSTEM 778
T-19 NEUTRALIZER RELAY SIGNAL SYSTEM (STEERING WHEEL SPECIFICATION, STEERING WHEEL AND JOYSTICK STEERING SPECIFICATION) 779
T-20 NEUTRALIZER RELAY SIGNAL SYSTEM (AJSS (ADVANCED JOYSTICK STEERING SYSTEM) SPECIFICATION) 780
T-21 BUZZER SIGNAL SYSTEM 782
T-22 NETWORK SYSTEM 783
T-23 TRANSMISSION CONTROLLER POWER SOURCE SYSTEM (STEERING WHEEL SPECIFICATION, STEERING WHEEL AND JOYSTICK STEERING SPECIFICATION) 784
T-24 TRANSMISSION CONTROLLER POWER SOURCE SYSTEM (AJSS (ADVANCED JOYSTICK STEERING SYSTEM) SPECIFICATION) 785
T-25 SHORT CIRCUIT IN TRAVEL SPEED SENSOR SYSTEM (STEERING WHEEL SPECIFICATION, STEERING WHEEL AND JOYSTICK STEERING SPECIFICATION) 786
T-26 SHORT CIRCUIT IN TRAVEL SPEED SENSOR SYSTEM (AJSS (ADVANCED JOYSTICK STEERING SYSTEM) SPECIFICATION) 787
TROUBLESHOOTING OF JOYSTICK STEERING CONTROLLER SYSTEM (J MODE) 789
JUDGEMENT TABLE FOR JOYSTICK CONTROLLER SYSTEM RELATED PARTS 790
ACTION TAKEN BY CONTROLLER WHEN ABNORMALITY OCCURS AND PROBLEMS ON MACHINE 792
ELECTRICAL CIRCUIT DIAGRAM FOR JOYSTICK STEERING SYSTEM 796
J-1 FAILURE CODE [56] (SHORT CIRCUIT, DISCONNECTION IN CAUTION RELAY OUTPUT) IS DISPLAYED 797
J-2 FAILURE CODE [57] (SHORT CIRCUIT IN STEERING RIGHT SOLENOID (DETECTED WHEN OUTPUT)) IS DISPLAYED 798
J-3 FAILURE CODE [58] (SHORT CIRCUIT IN STEERING LEFT SOLENOID (DETECTED WHEN OUTPUT)) IS DISPLAYED 799
J-4 FAILURE CODE [59] (SHORT CIRCUIT IN STEERING RIGHT SOLENOID (HOT END)) IS DISPLAYED 800
J-5 FAILURE CODE [60] (SHORT CIRCUIT IN STEERING LEFT SOLENOID (HOT END)) IS DISPLAYED 801
J-6 FAILURE CODE [61] (SHORT CIRCUIT, DISCONNECTION IN STEERING SOLENOID CUT RELAY OUTPUT) IS DISPLAYED 802
J-7 FAILURE CODE [62] (SHORT CIRCUIT, DISCONNECTION IN JOYSTICK STEERING NEUTRAL SIGNAL) IS DISPLAYED 803
J-8 FAILURE CODE [63] (SHORT CIRCUIT, DISCONNECTION IN JOYSTICK STEERING LEVER POTENTIOMETER SYSTEM) IS DISPLAYED 804
J-9 ABNORMALITY IN POWER SOURCE, VOLTAGE 805
J-10 ABNORMALITY IN JOYSTICK STEERING ON-OFF SIGNAL SYSTEM 806
J-11 DISCONNECTION IN STEERING RIGHT SOLENOID 807
J-12 DISCONNECTION IN STEERING LEFT SOLENOID 808
TROUBLESHOOTING OF AJSS (ADVANCED JOYSTICK STEERING SYSTEM) CONTROL SYSTEM (A MODE) 809
JUDGEMENT TABLE FOR AJSS (ADVANCED JOYSTICK STEERING SYSTEM) CONTROL SYSTEM 810
OPERATIONS OF CONTROLLER AGAINST ABNORMALITY AND CONDITIONS OF MACHINE CAUSED BY ABNORMALITY 812
ELECTRIC CIRCUIT DIAGRAM RELATED TO AJSS (ADVANCED JOYSTICK STEERING SYSTEM) CONTROL 816
A-1 ERROR CODE [56] (DISCONNECTION OR SHORT CIRCUIT WITH CHASSIS GROUND IN CAUTION BUZZER RELAY SYSTEM) IS DISPLAYED 818
A-2 ERROR CODE [57] (DISCONNECTION OR SHORT CIRCUIT WITH CHASSIS GROUND IN STEERING LEVER ANGLE SENSOR SYSTEM) IS DISPLAYED 819
A-3 ERROR CODE [58] (DEVIATION OF STEERING LEVER ANGLE SENSOR AND FRAME ANGLE SENSOR SIGNALS) IS DISPLAYED 820
A-4 ERROR CODE [59] (DISCONNECTION OR SHORT CIRCUIT WITH CHASSIS GROUND IN FRAME ANGLE SENSOR SYSTEM) IS DISPLAYED 821
A-5 ERROR CODE [60] (DISCONNECTION OR SHORT CIRCUIT WITH CHASSIS GROUND IN STEERING LEVER LOCK PRESSURE SWITCH SYSTEM) IS DISPLAYED 822
A-6 ERROR CODE [62] (DISCONNECTION OR SHORT CIRCUIT WITH CHASSIS GROUND IN STEERING NEUTRAL INTERLOCK RELAY SYSTEM) IS DISPLAYED 823
A-7 ERROR CODE [63] (DISCONNECTION, SHORT CIRCUIT WITH CHASSIS GROUND, OR SHORT CIRCUIT WITH POWER SOURCE IN STEERING MAIN PRESSURE CONTROL EPC SOLENOID SYSTEM) IS DISPLAYED 824
A-8 STEERING SPEEDS IN BOTH DIRECTIONS ARE DIFFERENT 825
A-9 ABNORMALITY IN CONSOLE SWITCH (ADJUSTMENT OF STEERING LEVER ANGLE SENSOR AND FRAME ANGLE SENSOR IS IMPOSSIBLE) 826
A-10 ABNORMALITY IN POWER SOURCE AND VOLTAGE 827
TROUBLESHOOTING OF ENGINE CONTROL SYSTEM (EA MODE) 829
METHOD OF ERROR CODE DISPLAY 831
ACTION TAKEN BY CONTROLLER AND CONDITION OF MACHINE WHEN ERROR CODE IS DISPLAYED 834
ELECTRICAL CIRCUIT DIAGRAM FOR ENGINE CONTROL SYSTEM 842
EA-1 ERROR CODE [111] (ABNORMALITY IN CONTROLLER MEMORY) 844
EA-2 ERROR CODE [112] (ABNORMALITY IN TIMING RAIL ACTUATOR) 844
EA-3 ERROR CODE [113] (ABNORMALITY WITH ELECTRIC CURRENT IN TIMING RAIL ACTUATOR SYSTEM) 845
EA-4 ERROR CODE [115] (ABNORMALITY IN ENGINE SPEED SENSOR 2 SYSTEM) 846
EA-5 ERROR CODE [116] (ABNORMALITY [HIGH LEVEL] IN TIMING RAIL PRESSURE SENSOR SYSTEM) 848
EA-6 ERROR CODE [117] (ABNORMALITY [LOW LEVEL] IN TIMING RAIL PRESSURE SENSOR SYSTEM) 849
EA-7 ERROR CODE [118] (ABNORMALITY [HIGH LEVEL] IN FUEL PUMP PRESSURE SENSOR SYSTEM) 850
EA-8 ERROR CODE [119] (ABNORMALITY [LOW LEVEL] IN FUEL PUMP PRESSURE SENSOR SYSTEM) 851
EA-9 ERROR CODE [121] (ABNORMALITY IN ENGINE SPEED SENSOR 1 SYSTEM) 852
EA-10 ERROR CODE [122] (ABNORMALITY [HIGH LEVEL] IN BOOST PRESSURE SENSOR SYSTEM) 853
EA-11 ERROR CODE [123] (ABNORMALITY [LOW LEVEL] IN BOOST PRESSURE SENSOR SYSTEM) 854
EA-12 ERROR CODE [131] (ABNORMALITY [HIGH LEVEL] IN ACCELERATOR SENSOR SYSTEM) 855
EA-13 ERROR CODE [132] (ABNORMALITY [LOW LEVEL] IN ACCELERATOR SENSOR SYSTEM) 856
EA-14 ERROR CODE [135] (ABNORMALITY [HIGH LEVEL] IN OIL PRESSURE SENSOR SYSTEM) 857
EA-15 ERROR CODE [141] (ABNORMALITY [LOW LEVEL] IN OIL PRESSURE SENSOR SYSTEM) 858
EA-16 ERROR CODE [143] (ABNORMAL DROP IN OIL PRESSURE (LEVEL 1)) 859
EA-17 ERROR CODE [144] (ABNORMALITY [HIGH LEVEL] IN WATER TEMPERATURE SENSOR SYSTEM) 860
EA-18 ERROR CODE [145] (ABNORMALITY [LOW LEVEL] IN WATER TEMPERATURE SENSOR SYSTEM) 861
EA-19 ERROR CODE [151] (ABNORMAL RISE IN WATER TEMPERATURE) 861
EA-20 ERROR CODE [153] (ABNORMALITY [HIGH LEVEL] IN INTAKE AIR TEMPERATURE SENSOR SYSTEM) 862
EA-21 ERROR CODE [154] (ABNORMALITY [LOW LEVEL] IN INTAKE AIR TEMPERATURE SENSOR SYSTEM) 862
EA-22 ERROR CODE [221] (ABNORMALITY [HIGH LEVEL] IN ATMOSPHERIC PRESSURE SENSOR SYSTEM) 863
EA-23 ERROR CODE [222] (ABNORMALITY [LOW LEVEL] IN ATMOSPHERIC PRESSURE SENSOR SYSTEM) 864
EA-24 ERROR CODE [234] (OVERSPEED) 866
EA-25 ERROR CODE [254] (ABNORMALITY IN FUEL SHUT-OFF VALVE SYSTEM VOLTAGE) 867
EA-26 ERROR CODE [259] (ABNORMALITY IN FUEL SHUT-OFF VALVE) 868
EA-27 ERROR CODE [261] (ABNORMAL RISE IN FUEL TEMPERATURE) 868
EA-28 ERROR CODE [263] (ABNORMALITY [HIGH LEVEL] IN FUEL TEMPERATURE SENSOR SYSTEM) 869
EA-29 ERROR CODE [265] (ABNORMALITY [LOW LEVEL] IN FUEL TEMPERATURE SENSOR SYSTEM) 869
EA-30 ERROR CODE [316] (ABNORMALITY IN FUEL PUMP ACTUATOR SYSTEM CURRENT) 870
EA-31 ERROR CODE [318] (ABNORMALITY IN FUEL PUMP ACTUATOR) 871
EA-32 ERROR CODE [343] (ABNORMALITY IN CONTROLLER INTERNAL COMMUNICATION) 871
EA-33 ERROR CODE [346] (ABNORMALITY IN CONTROLLER POWER DOWN) 872
EA-34 ERROR CODE [384] (ABNORMALITY IN PREHEATING HEATER CONTROL SYSTEM) 873
EA-35 ERROR CODE [415] (ABNORMAL DROP IN OIL PRESSURE (LEVEL 2)) 874
EA-36 ERROR CODE [423] (ABNORMALITY [IN RANGE] IN TIMING RAIL PRESSURE SENSOR SYSTEM) 874
EA-37 ERROR CODE [431] (ABNORMALITY [1] IN IDLING VALIDATION SWITCH SYSTEM) 876
EA-38 ERROR CODE [432] (IDLING VALIDATION PROCESS ERROR) 878
EA-39 ERROR CODE [441] (ABNORMALITY [LOW LEVEL] IN BATTERY VOLTAGE) 880
EA-40 ERROR CODE [442] (ABNORMALITY [HIGH LEVEL] IN BATTERY VOLTAGE) 880
EA-41 ERROR CODE [451] (ABNORMALITY [HIGH LEVEL] IN FUEL RAIL PRESSURE SENSOR SYSTEM) 881
EA-42 ERROR CODE [452] (ABNORMALITY [LOW LEVEL] IN FUEL RAIL PRESSURE SENSOR SYSTEM) 882
EA-43 ERROR CODE [455] (ABNORMALITY IN FUEL RAIL ACTUATOR SYSTEM CURRENT) 883
EA-44 ERROR CODE [467] (ABNORMALITY IN TIMING RAIL ACTUATOR CONTROL) 884
EA-45 ERROR CODE [468] (ABNORMALITY IN FUEL RAIL ACTUATOR CONTROL) 884
EA-46 ERROR CODE [514] (ABNORMALITY IN FUEL RAIL ACTUATOR) 884
EA-47 ERROR CODE [527] (ABNORMALITY IN DUAL OUTPUT SOLENOID A SYSTEM) 885
EA-48 ERROR CODE [551] (ABNORMALITY [2] IN IDLING VALIDATION SWITCH SYSTEM) 885
EA-49 ERROR CODE [554] (ABNORMALITY [IN RANGE] IN FUEL RAIL PRESSURE SENSOR) 886
TROUBLESHOOTING OF VHMS CONTROLLER SYSTEM (VHMS MODE) 889
ELECTRICAL SYSTEM DIAGRAM RELATED VHMS CONTROLLER 892
INFORMATION GIVEN IN TROUBLESHOOTING CHART 894
PHENOMENON TYPE CODE LIST 895
[DBB0KK] (OR VHMS_LED INDICATES [N901]) ABNORMALITY IN SOURCE VOLTAGE 896
[DBB5KP] (OR VHMS_LED INDICATES [N904]) ABNORMALITY IN SENSOR POWER SOURCE (5 V) SYSTEM 898
[DBB6KP] (OR VHMS_LED INDICATES [N902]) ABNORMALITY IN SENSOR POWER SOURCE (24 V) SYSTEM 900
[DBBRKR] (OR VHMS_LED DISPLAYS [N801]) DEFECTIVE CAN COMMUNICATIONS: DEFECTIVE COMMUNICATIONS (KR) (BETWEEN ENGINE CONTROLLER AND VHMS CONTROLLER) 902
[DGE1KB] (OR VHMS_LED DISPLAYS [N242]) DISCONNECTION, SHORT CIRCUIT WITH CHASSIS GROUND IN ENGINE OIL TEMPERATURE SENSOR SYSTEM (KB) {30 MIN (AT 500 RPM OR ABOVE) AFTER STARTING ENGINE} 904
[DGE1KY] (OR VHMS_LED DISPLAYS [N242]) SHORT CIRCUIT WITH POWER SOURCE (HOT SHORT) IN ENGINE OIL TEMPERATURE SENSOR SYSTEM (KY) 905
[DGE5KX] (OR VHMS_LED DISPLAYS [N401]) FAILURE IN AMBIENT TEMPERATURE SENSOR SYSTEM: INPUT SIGNAL OUTSIDE RANGE (KX) 906
[DGT4KA] (OR VHMS_LED DISPLAYS [N312]) DISCONNECTION, SHORT CIRCUIT WITH CHASSIS GROUND IN NO 1, 2, 3 (FRONT) EXHAUST TEMPERATURE SENSOR SYSTEM (KA) 908
[DGT4KB] (OR VHMS_LED DISPLAYS [N311]) SHORT CIRCUIT WITH POWER SOURCE (HOT SHORT) IN NO 1, 2, 3 (REAR) EXHAUST TEMPERATURE SENSOR SYSTEM (KB) 910
[DGT5KA] (OR VHMS_LED DISPLAYS [N322]) DISCONNECTION, SHORT CIRCUIT WITH CHASSIS GROUND IN NO 4, 5, 6 (FRONT) EXHAUST TEMPERATURE SENSOR SYSTEM (KA) 912
[DGT5KB] (OR VHMS_LED DISPLAYS [N321]) SHORT CIRCUIT WITH POWER SOURCE (HOT SHORT) IN NO 4, 5, 6 (FRONT) EXHAUST TEMPERATURE SENSOR SYSTEM (KB) 914
[DHE5KB] (OR VHMS_LED DISPLAYS [N332]) DISCONNECTION, SHORT CIRCUIT WITH CHASSIS GROUND IN ENGINE BLOW-BY PRESSURE SENSOR SYSTEM (KA) 916
[DHE5KY] (OR VHMS_LED DISPLAYS [N331]) SHORT CIRCUIT WITH POWER SOURCE (HOT SHORT) IN ENGINE BLOW-BY PRESSURE SENSOR SYSTEM (KY) 918
[DHT3KX] (OR VHMS_LED DISPLAYS [N614]) TROUBLE IN TRANSMISSION OIL PRESSURE SENSOR SYSTEM: OUT OF INPUT SIGNAL RANGE (KX) 920
[DHP2KX] (OR VHMS_LED DISPLAYS [N531]) TROUBLE IN MAIN PUMP OIL PRESSURE SENSOR SYSTEM: OUT OF INPUT SIGNAL RANGE (KX) 922
[DHT8KX] (OR VHMS_LED DISPLAYS [N533]) TROUBLE IN STEERING OIL PRESSURE SENSOR SYSTEM: OUT OF INPUT SIGNAL RANGE (KX) 924
[DGH2KX] (OR VHMS_LED DISPLAYS [N537]) TROUBLE IN HYDRAULIC OIL TEMPERATURE SENSOR SYSTEM: OUT OF INPUT SIGNAL RANGE (KX) 926
[DHU2KX] (OR VHMS_LED DISPLAYS [N711]) TROUBLE IN FRONT BRAKE OIL PRESSURE SENSOR SYSTEM: OUT OF INPUT SIGNAL RANGE (KX) 928
[DHU3KX] (OR VHMS_LED DISPLAYS [N712]) TROUBLE IN REAR BRAKE OIL PRESSURE SENSOR SYSTEM: OUT OF INPUT SIGNAL RANGE (KX) 930
[DGR4KX] (OR VHMS_LED DISPLAYS [N717]) TROUBLE IN FRONT BRAKE OIL TEMPERATURE SENSOR SYSTEM: OUT OF INPUT SIGNAL RANGE (KX) 932
[[email protected]] (OR VHMS_LED DISPLAYS [N338]) ENGINE BLOW-BY PRESSURE IS HIGH: (ZL) 933
[[email protected]] (OR VHMS_LED DISPLAYS [N362]) NO 1, 2, 3 (REAR) EXHAUST TEMPERATURE IS HIGH (2): (NR) 934
[[email protected]] (OR VHMS_LED DISPLAYS [N361]) NO 1, 2, 3 (REAR) EXHAUST TEMPERATURE IS HIGH (1): (NS) 935
[[email protected]] (OR VHMS_LED DISPLAYS [N372]) NO 4, 5, 6 (FRONT) EXHAUST TEMPERATURE IS HIGH (2): (NR) 936
[[email protected]] (OR VHMS_LED DISPLAYS [N371]) NO 4, 5, 6 (FRONT) EXHAUST TEMPERATURE IS HIGH (1): (NS) 937
VHMS-1 ABNORMALITY IN SATELLITE DATA COMMUNICATION 938
a) SATELLITE COMMUNICATION DATA ARE NOT TRANSMITTED 938
b) ABNORMALITY IN DOWNLOADING INTO PC OR SETTING OF PC 942
VHMS-2 ABNORMALITY IN SAVING DATA IN VHMS CONTROLLER (DATA ARE NOT SAVED) 944
VHMS-3 ENGINE BLOW-BY PRESSURE INDICATED BY MONITOR IS LOW (WHEN BLOW-BY PRESSURE MEASURED WITH MEASURING INSTRUMENT IS NORMAL) 946
30 DISASSEMBLY AND ASSEMBLY 947
METHOD OF USING MANUAL 951
PRECAUTIONS WHEN CARRYING OUT OPERATION 953
SPECIAL TOOLS LIST 956
SKETCHES OF SPECIAL TOOLS 962
REMOVAL OF STARTING MOTOR ASSEMBLY 966
INSTALLATION OF STARTING MOTOR 966
REMOVAL OF ALTERNATOR ASSEMBLY (SERIAL NO : 50001 – 51000) 967
INSTALLATION OF ALTERNATOR ASSEMBLY (SERIAL NO : 50001 – 51000) 967
REMOVAL OF ALTERNATOR ASSEMBLY (SERIAL NO : 51001 AND UP) 968
INSTALLATION OF ALTERNATOR ASSEMBLY (SERIAL NO : 51001 AND UP) 968
REMOVAL OF ENGINE OIL COOLER ASSEMBLY (SERIAL NO : 50001 – 51000) 970
INSTALLATION OF ENGINE OIL COOLER ASSEMBLY (SERIAL NO : 50001 – 51000) 970
REMOVAL OF ENGINE OIL COOLER ASSEMBLY (SERIAL NO : 51001 AND UP) 971
INSTALLATION OF ENGINE OIL COOLER ASSEMBLY (SERIAL NO : 51001 AND UP) 971
REMOVAL OF FUEL INJECTION PUMP ASSEMBLY 973
INSTALLATION OF FUEL INJECTION PUMP ASSEMBLY 974
REMOVAL OF WATER PUMP ASSEMBLY 975
INSTALLATION OF WATER PUMP ASSEMBLY 975
REMOVAL OF NOZZLE HOLDER ASSEMBLY 976
INSTALLATION OF NOZZLE HOLDER ASSEMBLY 976
REMOVAL OF TURBOCHARGER ASSEMBLIES 977
INSTALLATION OF TURBOCHARGER ASSEMBLY 978
REMOVAL OF ENGINE FRONT SEAL 979
REPLACEMENT OF ENGINE REAR SEAL 981
REMOVAL OF CYLINDER HEAD 983
INSTALLATION OF CYLINDER HEAD ASSEMBLY 986
REMOVAL OF THERMOSTAT ASSEMBLY 988
INSTALLATION OF THERMOSTAT ASSEMBLY 988
REMOVAL OF HYDRAULIC OIL COOLER, RADIATOR, AFTERCOOLER ASSEMBLY 989
INSTALLATION OF HYDRAULIC OIL COOLER, RADIATOR, AFTERCOOLER ASSEMBLY 990
REMOVAL OF HYDRAULIC OIL COOLER, RADIATOR, AFTERCOOLER, FUEL COOLER ASSEMBLY 991
INSTALLATION OF HYDRAULIC OIL COOLER, RADIATOR, AFTERCOOLER, FUEL COOLER ASSEMBLY 993
REMOVAL OF ENGINE, DAMPER ASSEMBLY (SERIAL NO : 50001 – 51000) 995
INSTALLATION OF ENGINE, DAMPER ASSEMBLY (SERIAL NO : 50001 – 51000) 997
REMOVAL OF ENGINE, DAMPER ASSEMBLY (SERIAL NO : 51001 AND UP) 998
INSTALLATION OF ENGINE, DAMPER ASSEMBLY (SERIAL NO : 51001 AND UP) 1000
REMOVAL OF DAMPER 1002
INSTALLATION OF DAMPER ASSEMBLY 1002
DISASSEMBLY OF DAMPER 1003
ASSEMBLY OF DAMPER 1005
DISASSEMBLY OF PTO ASSEMBLY 1009
ASSEMBLY OF PTO ASSEMBLY 1011
REMOVAL OF TORQUE CONVERTER, TRANSMISSION ASSEMBLY 1014
INSTALLATION OF TORQUE CONVERTER, TRANSMISSION ASSEMBLY 1018
DISASSEMBLY OF TORQUE CONVERTER ASSEMBLY 1019
ASSEMBLY OF TORQUE CONVERTER ASSEMBLY 1023
DISASSEMBLY OF TRANSMISSION ASSEMBLY 1028
ASSEMBLY OF TRANSMISSION 1042
REMOVAL OF TRANSMISSION VALVE ASSEMBLY 1057
INSTALLATION OF TRANSMISSION VALVE ASSEMBLY 1057
DISASSEMBLY AND ASSEMBLY OF TRANSMISSION CONTROL VALVE 1058
DISASSEMBLY OF TRANSFER ASSEMBLY 1063
ASSEMBLY OF TRANSFER ASSEMBLY 1070
REMOVAL OF CENTER SUPPORT ASSEMBLY 1079
INSTALLATION OF CENTER SUPPORT 1080
DISASSEMBLY OF CENTER SUPPORT 1081
ASSEMBLY OF CENTER SUPPORT 1083
DISASSEMBLY OF DRIVE SHAFT 1086
ASSEMBLY OF DRIVE SHAFT 1088
REMOVAL OF FRONT AXLE 1090
INSTALLATION OF FRONT AXLE ASSEMBLY 1091
REMOVAL OF FRONT DIFFERENTIAL ASSEMBLY (SERIAL NO : 50001 – 50044) 1092
INSTALLATION OF FRONT DIFFERENTIAL ASSEMBLY (SERIAL NO : 50001 – 50044) 1093
REMOVAL OF FRONT DIFFERENTIAL ASSEMBLY (SERIAL NO : 50045 AND UP) 1094
INSTALLATION OF FRONT DIFFERENTIAL ASSEMBLY (SERIAL NO : 50045 AND UP) 1095
REMOVAL OF REAR AXLE ASSEMBLY 1096
INSTALLATION OF REAR AXLE ASSEMBLY 1100
REMOVAL OF REAR DIFFERENTIAL ASSEMBLY 1101
INSTALLATION OF REAR DIFFERENTIAL ASSEMBLY 1102
DISASSEMBLY OF DIFFERENTIAL ASSEMBLY 1103
ASSEMBLY OF DIFFERENTIAL ASSEMBLY 1107
DISASSEMBLY OF FINAL DRIVE 1116
ASSEMBLY OF FINAL DRIVE 1120
REMOVAL OF ORBIT ROLL ASSEMBLY 1126
INSTALLATION OF ORBIT ROLL ASSEMBLY 1126
REMOVAL OF STEERING CYLINDER ASSEMBLY 1127
INSTALLATION OF STEERING CYLINDER ASSEMBLY 1129
REMOVAL OF STEERING DEMAND VALVE ASSEMBLY 1130
INSTALLATION OF STEERING DEMAND VALVE ASSEMBLY 1131
REMOVAL OF BRAKE VALVE ASSEMBIES 1132
INSTALLATION OF BRAKE VALVE ASSEMBLY 1132
DISASSEMBLY OF BRAKE VALVE (RIGHT) 1133
ASSEMBLY OF BRAKE VALVE (RIGHT) 1135
DISASSEMBLY OF BRAKE VALVE (LEFT) 1137
ASSEMBLY OF BRAKE VALVE (LEFT) 1139
REMOVAL OF SLACK ADJUSTER ASSEMBLY 1141
INSTALLATION OF SLACK ADJUSTER ASSEMBLY 1141
DISASSEMBLY OF SLACK ADJUSTER 1142
ASSEMBLY OF SLACK ADJUSTER 1143
REMOVAL OF BRAKE ASSEMBLY 1144
INSTALLATION OF BRAKE ASSEMBLY 1145
DISASSEMBLY OF BRAKE ASSEMBLY 1146
ASSEMBLY OF BRAKE ASSEMBLY 1150
REMOVAL OF HYDRAULIC PUMP 1156
INSTALLATION OF HYDRAULIC PUMP ASSEMBLY 1157
DISASSEMBLY OF PISTON PUMP ASSEMBLY 1158
ASSEMBLY OF PISTON PUMP ASSEMBLY 1164
REMOVAL OF HYDRAULIC TANK ASSEMBLY 1180
INSTALLATION OF HYDRAULIC TANK 1181
REMOVAL OF PPC VALVE 1182
INSTALLATION OF PPC VALVE 1183
DISASSEMBLY OF PPC VALVE 1184
ASSEMBLY OF PPC VALVE 1184
REMOVAL OF WORK EQUIPMENT VALVE ASSEMBLY 1185
INSTALLATION OF WORK EQUIPMENT VALVE ASSEMBLY 1186
DISASSEMBLY OF WORK EQUIPMENT CONTROL VALVE 1187
ASSEMBLY OF WORK EQUIPMENT CONTROL VALVE 1189
REMOVAL OF DUMP CYLINDER 1191
INSTALLATION OF DUMP CYLINDER 1191
REMOVAL OF LIFT CYLINDER 1192
INSTALLATION OF LIFT CYLINDER 1193
DISASSEMBLY OF STEERING, LIFT, DUMP CYLINDER 1194
ASSEMBLY STEERING, LIFT, DUMP CYLINDER 1196
REMOVAL OF CENTER HINGE PIN 1198
INSTALLATION OF CENTER HINGE PIN 1204
REMOVAL OF WORK EQUIPMENT ASSEMBLY 1208
INSTALLATION OF WORK EQUIPMENT ASSEMBLY 1211
REMOVAL OF BULKHEAD ASSEMBLY (SERIAL NO : 50001 – 51000) 1213
INSTALLATION OF BULKHEAD ASSEMBLY (SERIAL NO : 50001 – 51000) 1214
REMOVAL OF BULKHEAD ASSEMBLY (SERIAL NO : 51001 AND UP) 1215
INSTALLATION OF BULKHEAD ASSEMBLY (SERIAL NO : 51001 AND UP) 1217
REMOVAL OF FLOOR FRAME ASSEMBLY 1219
INSTALLATION OF FLOOR FRAME ASSEMBLY 1222
REMOVAL OF COUNTERWEIGHT 1224
INSTALLATION OF COUNTERWEIGHT 1224
REMOVAL OF FUEL TANK ASSEMBLY (SERIAL NO : 50001 – 51000) 1225
INSTALLATION OF FUEL TANK ASSEMBLY (SERIAL NO : 50001 – 51000) 1226
REMOVAL OF FUEL TANK ASSEMBLY (SERIAL NO : 51001 AND UP) 1227
INSTALLATION OF FUEL TANK ASSEMBLY (SERIAL NO : 51001 AND UP) 1228
REMOVAL OF CAB 1229
INSTALLATION OF CAB 1231
REMOVAL OF STOP VALVE ASSEMBLY 1232
INSTALLATION OF STOP VALVE ASSEMBLY 1232
REMOVAL OF ACCUMULATOR CHARGE VALVE ASSEMBLY 1233
INSTALLATION OF ACCUMULATOR CHARGE VALVE ASSEMBLY 1233
DISASSEMBLY OF ACCUMULATOR CHARGE VALVE 1234
ASSEMBLY OF ACCUMULATOR CHARGE VALVE 1235
REMOVAL OF PARKING BRAKE SOLENOID VALVE AND PRESSURE SWITCH ASSEMBLY 1237
INSTALLATION OF PARKING BRAKE SOLENOID VALVE AND PRESSURE SWITCH ASSEMBLY 1237
REMOVAL OF DIVERTER VALVE ASSEMBLY 1238
INSTALLATION OF DIVERTER VALVE ASSEMBLY 1238
DISASSEMBLY OF DIVERTER VALVE 1239
ASSEMBLY OF DIVERTER VALVE 1240
REMOVAL OF EMERGENCY STEERING PUMP ASSEMBLY 1242
INSTALLATION OF EMERGENCY STEERING PUMP ASSEMBLY 1242
REMOVAL OF PARKING BRAKE ASSEMBLY 1243
INSTALLATION OF PARKING BRAKE ASSEMBLY 1244
DISASSEMBLY OF PARKING BRAKE CALIPERS 1246
ASSEMBLY OF PARKING BRAKE CALIPERS 1248
REMOVAL OF PARKING BRAKE PAD (SERIAL NO : 50001 – 50044) 1250
INSTALLATION PARKING BRAKE PAD (SERIAL NO : 50001 – 50044) 1250
REMOVAL OF PARKING BRAKE PAD (SERIAL NO : 50045 AND UP) 1251
INSTALLATION PARKING BRAKE PAD (SERIAL NO : 50045 AND UP) 1252
REMOVAL OF REAR TIRE ASSEMBLY 1253
INSTALLATION OF REAR TIRE ASSEMBLY 1253
REMOVAL OF AIR CONDITIONER COMPRESSOR ASSEMBLY (SERIAL NO : 50001 – 51000) 1254
INSTALLATION OF AIR CONDITIONER COMPRESSOR ASSEMBLY (SERIAL NO : 50001 – 51000) 1255
REMOVAL OF AIR CONDITIONER COMPRESSOR ASSEMBLY (SERIAL NO : 51001 AND UP) 1256
INSTALLATION OF AIR CONDITIONER COMPRESSOR ASSEMBLY (SERIAL NO : 51001 AND UP) 1256
REMOVAL OF AIR CONDITIONER CONDENSER ASSEMBLIES 1257
INSTALLATION OF AIR CONDITIONER CONDENSER ASSEMBLY 1258
REMOVAL OF RECEIVER TANK ASSEMBLY 1260
INSTALLATION OF RECEIVER TANK ASSEMBLY 1260
REMOVAL OF AIR CONDITIONER UNIT ASSEMBLY 1261
INSTALLATION OF AIR CONDITIONER UNIT ASSEMBLY 1262
REMOVAL OF MAIN MONITOR 1263
INSTALLATION OF MAIN MONITOR 1264
REMOVAL OF MAINTENANCE MONITOR ASSEMBLY 1265
INSTALLATION OF MAINTENANCE MONITOR ASSEMBLY 1265
REMOVAL OF ENGINE, APS CONTROLLER ASSEMBLY 1266
INSTALLATION OF ENGINE, APS CONTROLLER ASSEMBLY 1266
REMOVAL OF AJSS LEVER SWITCH ASSEMBLY 1267
INSTALLATION OF AJSS LEVER SWITCH ASSEMBLY 1270
40 MAINTENANCE STANDARD 1275
ENGINE AND TANSMISSION MOUNT 1277
DAMPER 1278
TORQUE CONVERTER AND PTO 1280
TORQUE CONVERTER REGULATOR VALVE 1281
TRANSMISSION 1282
TRANSMISSION CONTROL VALVE 1286
TRANSFER 1292
DRIVE SHAFT 1294
CENTER SUPPORT 1295
DIFFERENTIAL 1296
FINAL DRIVE 1298
AXLE MOUNT 1300
CENTER HINGE PIN 1302
STEERING COLUMN 1304
STEERING DEMAND VALVE 1306
DIVERTER VALVE 1308
STEERING CYLINDER MOUNT 1309
EMERGENCY STEERING PUMP 1310
BRAKE VALVE 1312
SLACK ADJUSTER 1319
BRAKE 1320
PARKING BRAKE 1324
CONTROL PUMP 1325
STEERING AND SWITCH PUMP 1326
MAIN PISTON PUMP 1327
MAIN CONTROL VALVE 1328
PPC VALVE 1332
PPC RELIEF VALVE 1334
HYDRAULIC CYLINDER 1335
WORK EQUIPMENT LINKAGE 1336
BUCKET 1338
BUCKET POSITIONER AND BOOM KICK-OUT 1339
90 OTHERS 1341
ELECTRIC CIRCUIT DIAGRAM (1/5) (SERIAL NO : 50001 – 51000) 1343
ELECTRIC CIRCUIT DIAGRAM (2/5) (SERIAL NO : 50001 – 51000) 1345
ELECTRIC CIRCUIT DIAGRAM (3/5) (SERIAL NO : 50001 – 51000) 1347
ELECTRIC CIRCUIT DIAGRAM (4/5) (SERIAL NO : 50001 – 51000) 1349
ELECTRIC CIRCUIT DIAGRAM (5/5) (SERIAL NO : 50001 – 51000) 1351
ELECTRIC CIRCUIT DIAGRAM (1/6) (SERIAL NO : 51001 AND UP) 1353
ELECTRIC CIRCUIT DIAGRAM (2/6) (SERIAL NO : 51001 AND UP) 1355
ELECTRIC CIRCUIT DIAGRAM (3/6) (SERIAL NO : 51001 AND UP) 1357
ELECTRIC CIRCUIT DIAGRAM (4/6) (SERIAL NO : 51001 AND UP) 1359
ELECTRIC CIRCUIT DIAGRAM (5/6) (SERIAL NO : 51001 AND UP) 1361
ELECTRIC CIRCUIT DIAGRAM (6/6) (SERIAL NO : 51001 AND UP) 1363
ELECTRIC CIRCUIT DIAGRAM (1/3) (WITH AUTO SHIFT AND JOYSTICK STEERING) (SERIAL NO : 50001 – 51000) 1365
ELECTRIC CIRCUIT DIAGRAM (2/3) (WITH AUTO SHIFT AND JOYSTICK STEERING) (SERIAL NO : 50001 – 51000) 1367
ELECTRIC CIRCUIT DIAGRAM (3/3) (WITH AUTO SHIFT AND JOYSTICK STEERING) (SERIAL NO : 50001 – 51000) 1369
ELECTRIC CIRCUIT DIAGRAM (AJSS (ADVANCED JOYSTICK STEERING SYSTEM) SPECIFICATION) (1/3) (SERIAL NO : 51001 AND UP) 1371
ELECTRIC CIRCUIT DIAGRAM (AJSS (ADVANCED JOYSTICK STEERING SYSTEM) SPECIFICATION) (2/3) (SERIAL NO : 51001 AND UP) 1373
ELECTRIC CIRCUIT DIAGRAM (AJSS (ADVANCED JOYSTICK STEERING SYSTEM) SPECIFICATION) (3/3) (SERIAL NO : 51001 AND UP) 1375
ELECTRIC CIRCUIT DIAGRAM (AUTO-GREASING SPECIFICATION) 1377
IMAGES PREVIEW OF THE MANUAL: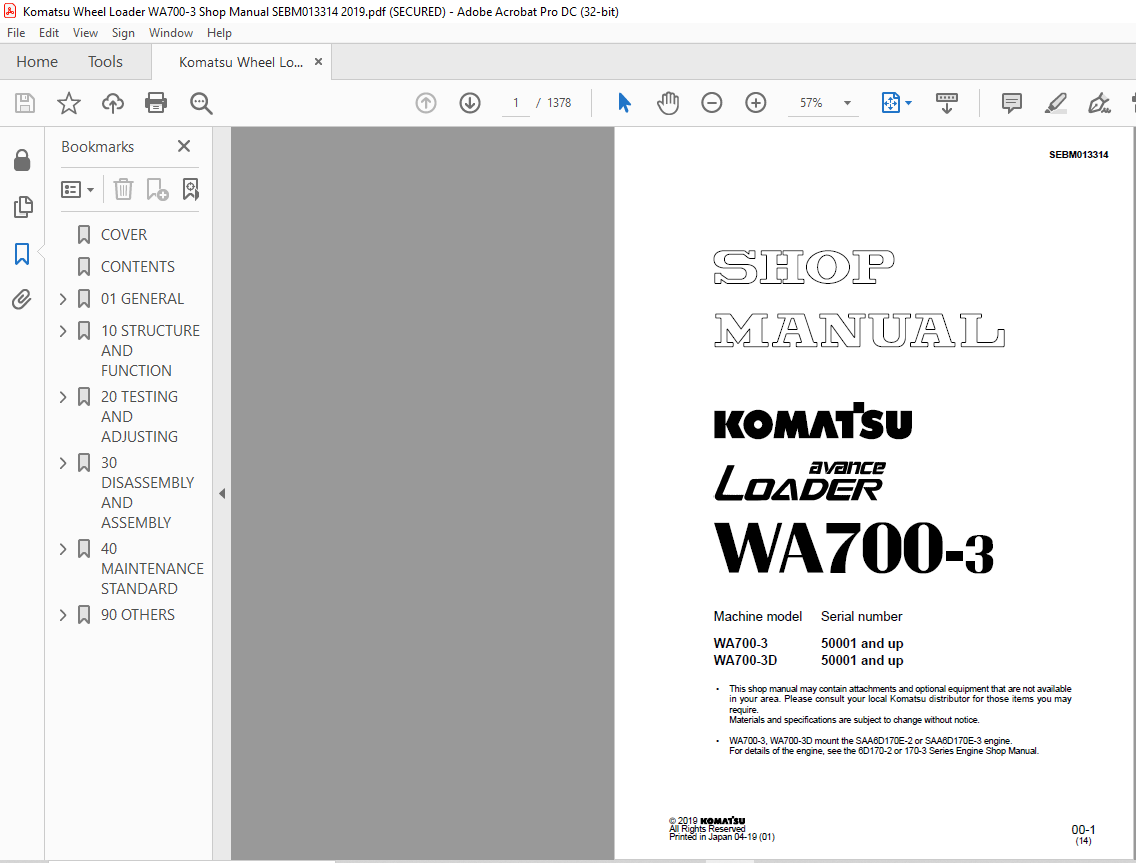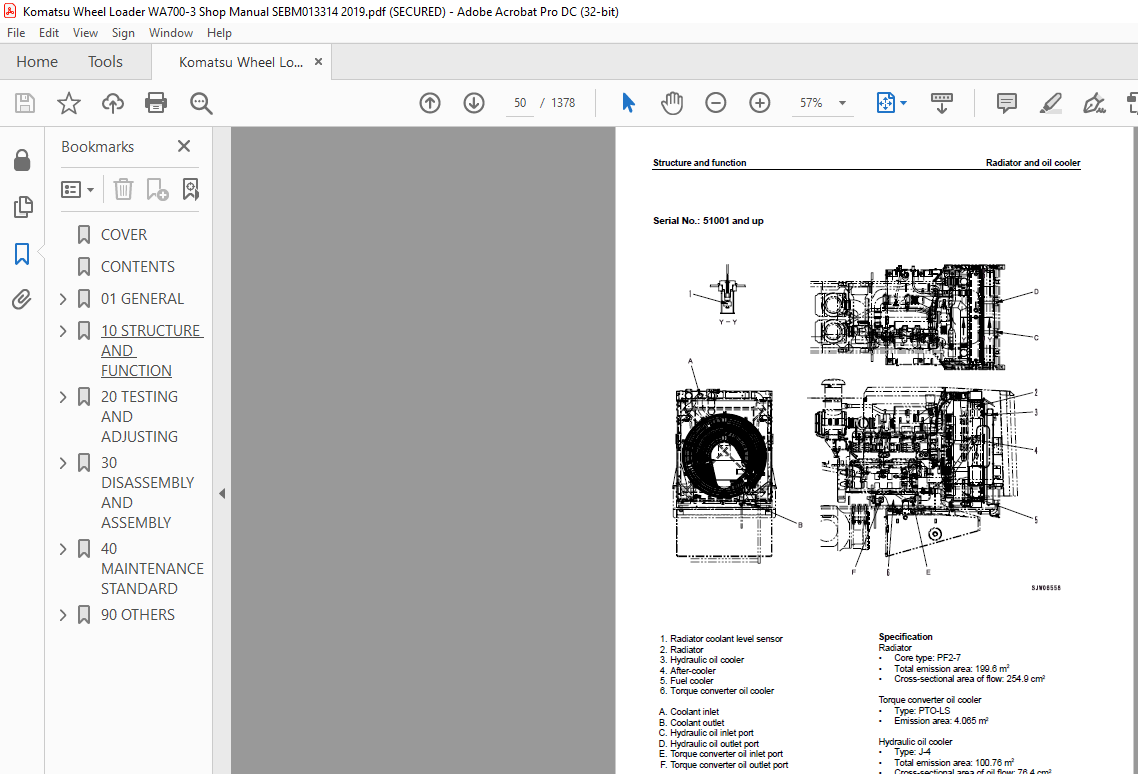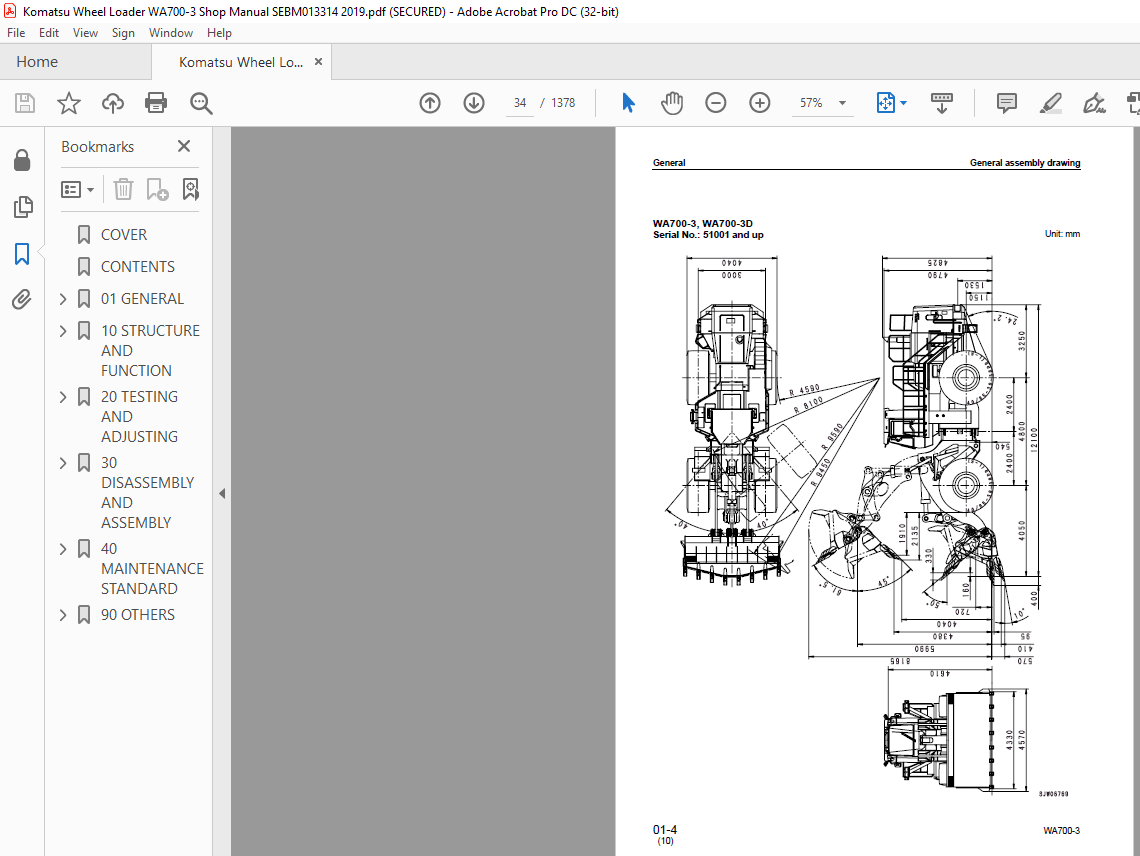 PLEASE NOTE:
This is the SAME exact manual used by your dealers to fix your vehicle.
The same can be yours in the next 2-3 mins as you will be directed to the download page immediately after paying for the manual.
Any queries / doubts regarding your purchase, please feel free to contact [email protected]
S.V