Gehl Scale Indicator TR3038 Operators Manual 904864A – PDF DOWNLOAD
FILE DETAILS:
Gehl Two Row Crop Attachment TR3038 Operators Manual 904864A – PDF DOWNLOAD
Language : English
Pages : 32
Downloadable : Yes
File Type : PDF
Size: 7.27 MB
IMAGES PREVIEW OF THE MANUAL: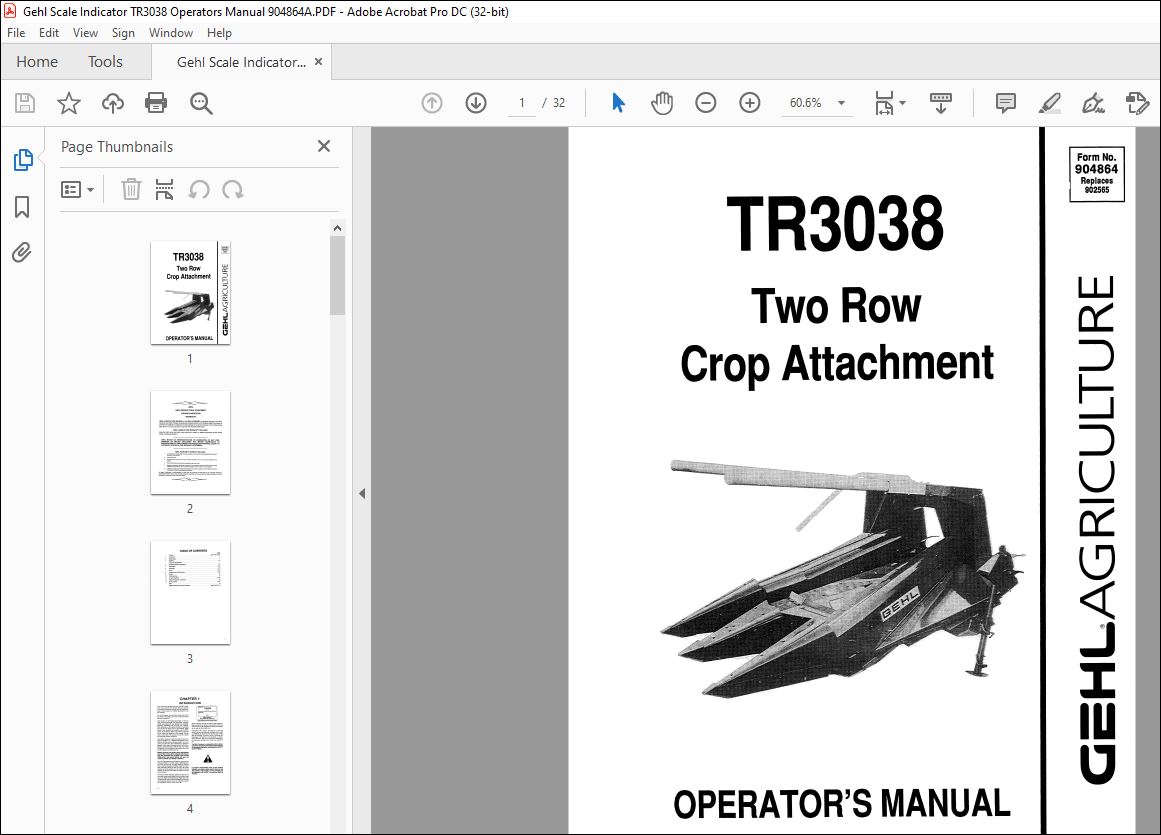 DESCRIPTION:
Gehl Two Row Crop Attachment TR3038 Operators Manual 904864A – PDF DOWNLOAD
INTRODUCTION:
Your decision to purchase this piece of GEHL• equipment was a good one. We are sure that your decision was strongly considered and that you are looking forward to many seasons of reliable perfonnance from this machine. We, as a Company, have invested a great deal of time and effort in developing our lines of agricultural and industrial equipment.
This manual was developed specifically for the machine you have purchased. The infonnation, contained within, was prepared for your assistance in preparing, adjusting, maintaining and servicing your machine. More importantly, this manual provides an operating plan for safe and proper use of your machine.
Major points of safe operation are detailed in the SAFETY chapter of this manual. Refer to the Table of Contents for an outline (by chapters) of this manual. Use the Index, in the back of the manual, for specific chapter and topic/page number references. This GEHL equipment is provided with its Operator's Manual attached to it. A Manual Compartment is provided on the Harvester, under the Toolbox Cover, for storing the Harvester and Attachment(s) Operator's Manuals.
After using this manual, return it to the Compartment and please keep it with the unit at all times! Furthermore, we recommend if this machine is re-sold that this Manual accompany the unit. Modern machinery has become more sophisticated and with that In mind, GEHL Company asks that you read and understand the contents of this manual COMPLETELY and become famlllar wfth your new machine, BEFORE you attempt to operate n.
Our wide Dealership network stands by to provide you with any assistance you may require, including genuine GEHL service parts. All parts should be obtained from or ordered through your GEHL Dealer. Give complete infonnation about the part as well as the model number and serial number of your machine. Record numbers, in the spaces provided, as a handy record for quick reference.
The model number and serial number for this unit are on a plate located on the Right Side of the Main Frame next to the Right Attachment Stand. "Right" and "Left" are detennined from a position standing behind the unit and facing the direction of travel. From this position, the Attachment Drive is on the "left" side.
TABLE OF CONTENTS:
Gehl Scale Indicator TR3038 Operators Manual 904864A – PDF DOWNLOAD
Warranty Inside Front Cover
1 Introduction 2
2 Specifications 3
3 SAFETY 4-6
Component Identification 7
4 Operation (Includes Unplugging) 8-9
5 Adjustnlents 10-13
6 Lubrication 14-15
7 Service 16-17
8 Preparation for Field Operation 18-20
9 Storage 20
10 Troubleshooting 21
11 Set-up & Assembly 22-23
12 Optional Features & Accessories 23
13 Decal Locations 24-25
Index 26
Standard Hardware Torque Specifications Inside Back Cover
1
PLEASE NOTE:
This is the SAME manual used by the dealers to troubleshoot any faults in your vehicle. This can be yours in 2 minutes after the payment is made.
Contact us at [email protected] should you have any queries before your purchase or that you need any other service / repair / parts operators manual.
S.V