Gehl Disc Mower DM1162, DM1165 Operators Manual 909793B – PDF DOWNLOAD
FILE DETAILS:
Gehl Disc Mower DM1162, DM1165 Operators Manual 909793B – PDF DOWNLOAD
Language : English
Pages : 52
Downloadable : Yes
File Type : PDF
Size: 2.56 MB
IMAGES PREVIEW OF THE MANUAL: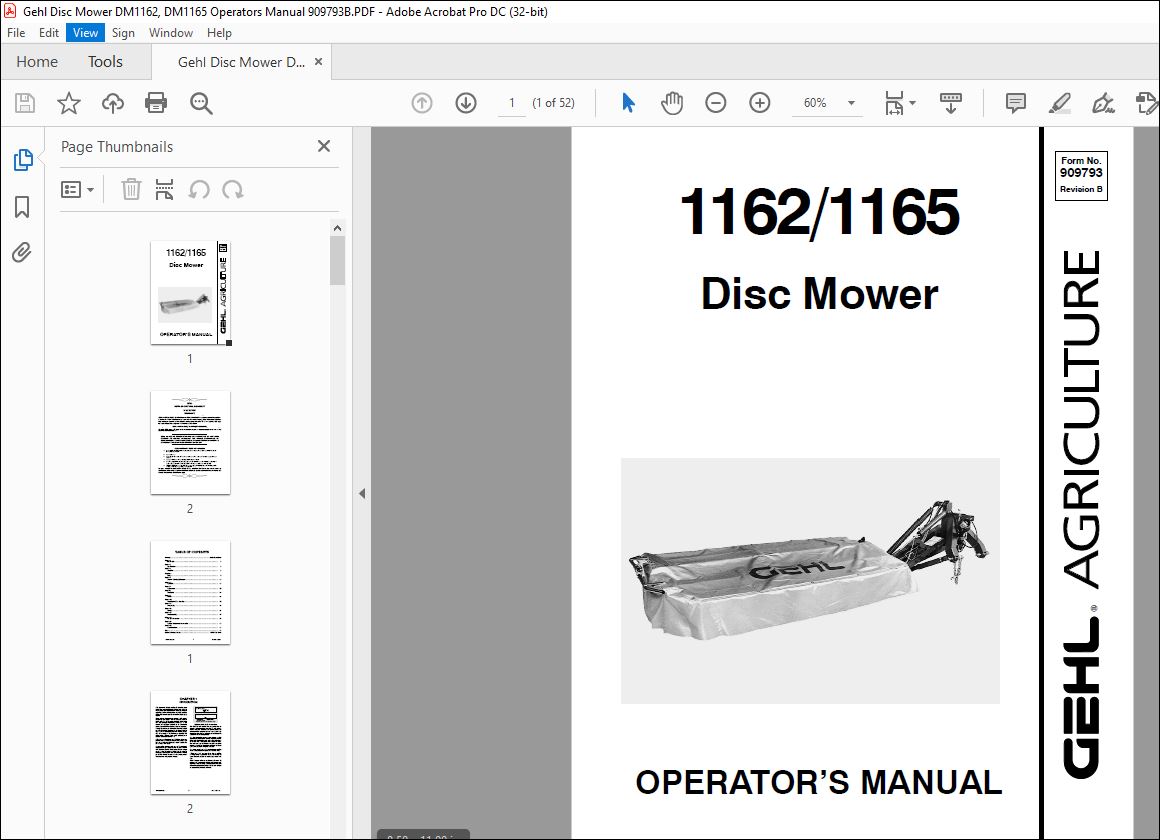 DESCRIPTION:
Gehl Disc Mower DM1162, DM1165 Operators Manual 909793B – PDF DOWNLOAD
INTRODUCTION :
This Operator's Manual provides information about maintaining and servicing the DM1162 and DM1165 disc mowers. More important, this manual provides an operating plan for safe and proper use of the machine. Major points of safe operation are detailed in the Safety chapter.
Please read and understand the contents of this manual completely and become familiar with the machine before operating it. See your authorized Gehl dealer with any questions concerning information in the manual, for additional manuals or for information concerning availability of manuals in other languages.
Throughout this manual, information is provided that is set in italic type and introduced by the word NOTE or IMPORTANT. BE SURE to read carefully and comply with the message — it will improve operating and maintenance efficiency, help avoid breakdowns or damage, and extend machine life. This Operator's Manual and an AEM Safety Manual are provided with the machine. These manuals should stay with the machine at all times, and should remain with the machine if it is resold.
If the machine was purchased used, or if the owner's address has changed, please provide the Gehl dealer or Gehl Company Service Department with the current owner's name and address, along with the machine model and serial number. This will allow the owner to be notified directly in case of an important product issue, such as a safety update program.
DO NOT use the machine for any applications or purposes other that those described in this manual. Before using the machine with special attachments other than those approved by Gehl, consult your Gehl dealer. Any person using non-approved attachments is responsible for the consequences.
The Gehl dealership network stands ready to provide any assistance that may be required, including providing genuine Gehl service parts. All service parts should be obtained from a Gehl dealer. Give complete information about the part and include the model and serial numbers of machine. Record the serial number in the space provided above, for quick reference. The model number and serial number for the machine are on a plate located on a gusset on the main frame.
"Right" and "left" are determined from a position standing behind the unit and facing the direction of travel. From this position, the support leg is on the "left" side. Gehl Company strives to continuously improve its products and reserves the right to make changes and improvements in the design and construction of any part without incurring the obligation to install such changes on any machine previously delivered.
TABLE OF CONTENTS:
Gehl Disc Mower DM1162, DM1165 Operators Manual 909793B – PDF DOWNLOAD
Warranty Inside Front Cover
Chapter 1
Introduction 2
Chapter 2
Specifications 3
Chapter 3
Checklists 5
Chapter 4
Safety 8
Chapter 5
Controls & Safety Equipment 14
Chapter 6
Operation 18
Chapter 7
Adjustments 20
Chapter 8
Lubrication 24
Chapter 9
Service 26
Chapter 10
Preparing for Field Operation 30
Chapter 11
Transporting 34
Chapter 12
Storage 36
Chapter 13
Troubleshooting 37
Chapter 14
Set-up & Assembly 38
Chapter 15
Optional Equipment & Accessories 45
Chapter 16
Decal Locations 46
Index 48
Standard Hardware Torque Inside Back Cover
PLEASE NOTE:
This is the SAME exact manual used by your dealers to fix your vehicle.
The same can be yours in the next 2-3 mins as you will be directed to the download page immediately after paying for the manual.
Any queries / doubts regarding your purchase, please feel free to contact [email protected]
S.V