Gehl 2245 2275 Mower Conditioner Parts Manual(907094) – PDF DOWNLOAD
TABLE OF CONTENTS:
Gehl 2245 2275 Mower Conditioner Parts Manual(907094) – PDF DOWNLOAD
Introduction Inside Front Cover
Table of Contents 1
Decal Locations 2-5
Tongue & Hitchjack 6
Gearbox Pump Assembly & Drawbar 8
Header Frame, Auger Pans & Shoes 10
Auger & Auger Drive 12
Reel Assembly 14
Sickle & Guards 16
Wobble Arm Assembly 18
Hydraulic Motor – Lines – Filter 20
Gearbox & Pulleys 22
Conditioner & Conditioner Drive 24
Trailer Frame Assembly 28
Axles & Wheel Assembly 29
Header Lift Assembly 30
Shields 32
Forming Chamber 34
Component Breakdowns 35–40
Tongue Swing Cylinder 35
Header Lift Cylinder 36
Gear Reduction Assembly 37
Piston Pump Assembly 38
High Torque Motor 39
Gearbox 40
Optional Equipment & Accessories 41
Center Skid Shoe Kit 41
Cutterbar Wearplate Kit 41
Tall Crop Divider Kit 41
Gauge Wheel Kit 41
Transport Lighting Kit 42
Safety Chain Kit 42
Service Kits 43
Hitch Extension Kit 43
Alphabetical Index 44
Numerical Index 45–48
Attaching Hardware Table 48
Standard Hardware Torque Specifications Inside Back Cover
DESCRIPTION:
Gehl 2245 2275 Mower Conditioner Parts Manual(907094) – PDF DOWNLOAD
Introduction
When ordering service parts, specify the correct part number, full description, quantity required, the unit model number and serial number. The Mower Conditioner model and serial number is on a plate located on the left side of the Swing Frame at the Steering Post Pivot.
"Right" and "Left" are determined from a position standing behind the Mower Conditioner. From this position the Conditioner Roll Timing Adjustment is on the "right".
GEHL Company reserves the right to make changes or improvements in the design or construction of any part of the unit without incurring the obligation to install such changes on any previously delivered units.
Refer to the abbreviations table located on this page for the various fastener descriptions. Standard attaching hardware torque values are also provided on the inside back cover. In the exploded view parts list, Reference Numbers may have additional information following the Reference Number.
A Tear Drop symbol will indicate an application of a "wet" product such as oil, and the number inside the Tear Drop will correspond to the description in the Parts List. Also, a number inside of a hexagon will be the torque value required, in foot pounds, on the associated Reference Number.
Items shown in the parts list that do not have Reference Numbers are shown for reference purposes only and are NOT available for purchase. Unless otherwise specified, all Cap Screws or Bolts are Grade 5, cadmium or zinc plated; Hexagon Nuts for Grade 5 Screws or Bolts are Grade B; Hexagon Nuts for other Screws or Bolts are Grade A.
IMAGES PREVIEW OF THE MANUAL: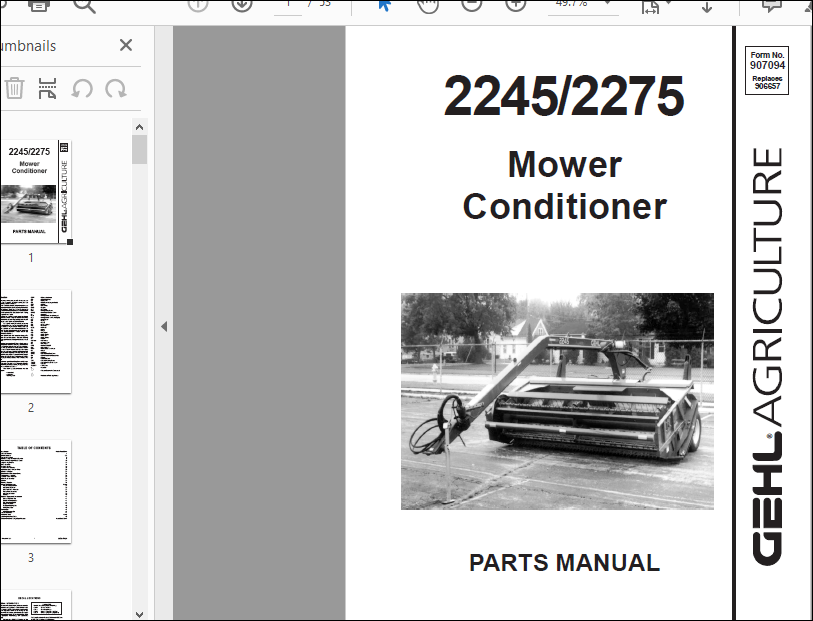 PLEASE NOTE:
This is the same manual used by the DEALERSHIPS to SERVICE your vehicle.
The manual can be all yours – Once payment is complete, you will be taken to the download page from where you can download the manual. All in 2-5 minutes time!!
Need any other service / repair / parts manual, please feel free to contact us at heydownloadss @gmail.com . We may surprise you with a nice offer
S.M