Gehl 1865 Variable Chamber Rounder Baler Service Parts Manual(904114) – PDF DOWNLOAD
TABLE OF CONTENTS:
Gehl 1865 Variable Chamber Rounder Baler Service Parts Manual(904114) – PDF DOWNLOAD
Introduction  Inside Front Cover
Table of Contents
Standard Hardware Torque Specifications Inside Back Cover
Attaching Hardware Table Inside Back Cover
Decal Locations
Frame & Fenders
Left Twine Box
Right Twine Box
Drawbar, Axles & Ramps
Implement Drive Line Shields & Covers
Pickup Lift & Overfill Clutch
Pickup
Bale Starter & Scraper
Sprocket& RollerPartNumber Guide
Crossframe, Twine Tubes & Cutoff
Shuttle & Bale Size Indicator
Roller Drives
Upper Belts, Rollers & Related Components
Lower Rollers
Gate Hydraulics
Rear Gate
Total Density Control
Universal Drives 30-31
Transmission (540 RPM)
Hitchjack
Options & Accessories
Electric Twine Wrapping Kit
Electric Twine Wrap Control Box
Electric Actuator
Auto-Electric Twine Wrapping Mechanism
Auto-Electric Actuato
Crowder Wheel Kit
1000 RPM Conversion Kit
6″ Upper Belt Dutchman Kit
Audible Bale Size Indicator
Re-LacingKit
Lacing Ki
Packing Roller Lagging Kit
Flow Control Valve Kit
Dual Hydraulics Kit
Hydraulic Twine Wrapping KiT
Numerical Index
DESCRIPTION
Gehl 1865 Variable Chamber Rounder Baler Service Parts Manual(904114) – PDF DOWNLOAD
Introduction:
The following abbreviations are used in When ordering service parts, specify the correct part number, full description, quantity required, the unit model number and serial number. Numbers for this unit are stamped on a plate located under the Top Channel, near the Center Column of the Left Frame Assembly.
"Right" and "Left" are determined from a position standing behind the unit and facing the direction of travel. From this position, the Universal Drive and Transmission are on the left side. GEHL® Company reserves the right to make changes or improvements in the design or construction of any part of this unit without incurring the obligation to install such changes on any unit previously delivered.
Grease fittings and common attaching ha~dware, such as Cotter Pins, Set Screws, Woodruff Keys, Screws, Nuts, etc., are included in the parts lists, indented below the part it is (they are) associated with, but NOT illustrated, except where a particular routing or special fastening arrangement MUST be maintained.
The hardware listed is for mounting purposes and is NOT included when the part is ordered for replacement. Refer the the abbreviations table for the various fastener descriptions. For the part number of related fasteners, refer to the Attaching Hardware Table, located on the Inside Back Cover.
Standard attaching hardware torque values are also provided on the same page. Unless otherwise specified, all Cap Screws are Grade 5, cadmium or zinc plated; Hexagon Nuts for Grade 5 Cap Screws or Bolts are Grade B; Hexagon Nuts for other Cap Screws or Bolts are Grade A.
IMAGES PREVIEW OF THE MANUAL: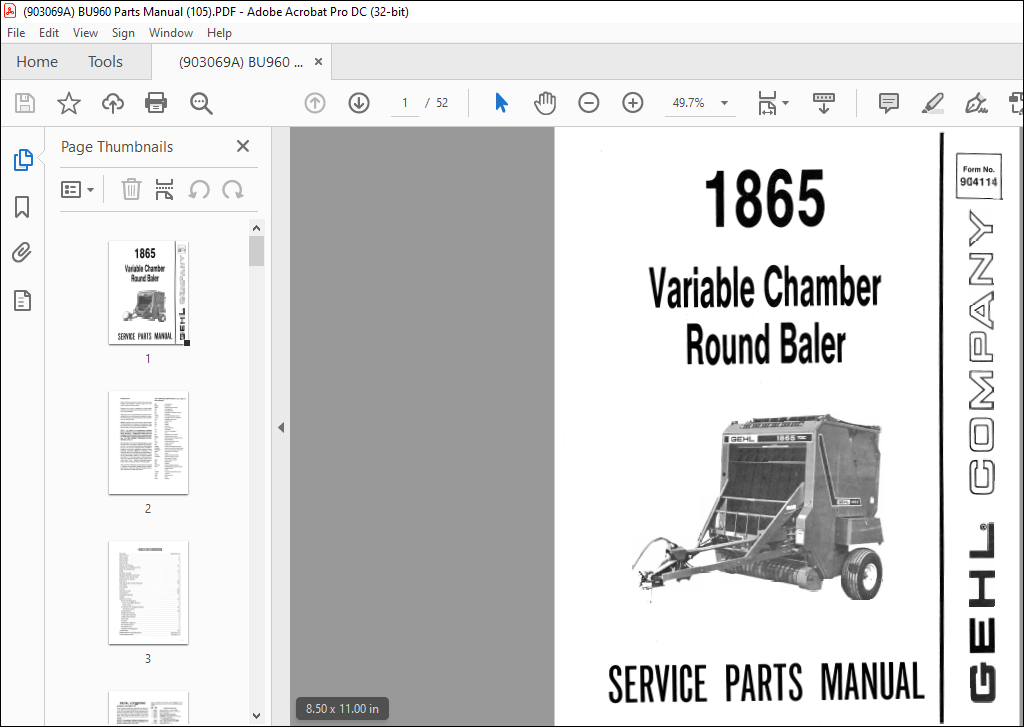 PLEASE NOTE:
This is the same manual used by the DEALERSHIPS to SERVICE your vehicle.
The manual can be all yours – Once payment is complete, you will be taken to the download page from where you can download the manual. All in 2-5 minutes time!!
Need any other service / repair / parts manual, please feel free to contact us at heydownloadss @gmail.com . We may surprise you with a nice offer
S.M