Gehl 170 Mix-all Parts Manual 907577 – PDF DOWNLOAD
FILE DETAILS:
Gehl 170 Mix-all Parts Manual 907577 – PDF DOWNLOAD
Language : English
Pages : 100
Downloadable : Yes
File Type : PDF
Size: 2.41 MB
TABLE OF CONTENTS:
Gehl 170 Mix-all Parts Manual 907577 – PDF DOWNLOAD
Introduction Inside Front Cover
Table of Contents 1
Decal Locations 2-11
Frame, Axles & Hitchjack 12-13
Tank & Discharge Conveyor 14-15
Concentrate Hopper & Collector 16-17
Unloading Conveyor 18-19
Conveyor Winch 20-21
Implement Drive Line 22-23
Concentrate Hopper Drive 24-25
Jackshaft Drive 26-27
Conveyor Drive 28
Mill Cylinder, Frame & Blower 29-33
Drive Guards 34-35
Hydraulics System 36-39
Hydraulics Components 40-41
Flow Control Valve 40
Flow Regulator Valve 40
Gresen Selector Valve 40
Cross Selector Valve 40
Charlynn & Ross Motors 41
Universal Drives 42-43
Transmission 44
Hitchjack Components 45
Optional Feeder Attachments 46-65
Swinging Auger Feeder (SAF) 46-49
Gravity Feeder (GF) 50-52
Swinging Auger Feeder w/Feed Roll (SAF/FR) 53-55
Feed Roll Feeder (FR) 56-57
Power Bale Feeder 58-65
Accessories 66-83
Electric Remote Unloading Conveyor Control 66-67
Molasses Attachment 68-69
Small Grain Auger 70-71
Auxiliary Remote Control 72
Winch Reduction Drive Kit 72
Control Box 73
Conveyor Worm Control 73
Folding Unloading Conveyor Extensions (4-Ft or 7-1/2-Ft) 74
Conveyor Extensions (1-Ft or 3-Ft) 75
Conveyor Extension Pivot 75
Model 1500, 2100 & 3200 Scales (Factory or Field Installed) 76-77
Model 5 or Model 10 Scales (Factory or Field Installed) 78
Scale Battery Mounting Kit 79
Remote Scale Indicator, Audible & Visual Alarms 80
Transport Lights 81
Double Bagger Attachment 82
Screens 82
Safety Chain 82
Fender Set 83
PBF Table Extension 83
Alphabetical Index 84
Numerical Index 85-95
Standard Hardware Torque Specifications Inside Back Cover
DESCRIPTION:
Gehl 170 Mix-all Parts Manual 907577 – PDF DOWNLOAD
Introduction :
When ordering service parts, specify the correct part number, full description, quantity required, the unit model number and serial number. The model number and serial number for this unit are located on the Frame member in the rear at the base of the Tank.
The Swinging Auger Feeder model and serial number (on units so equipped) are also on a decal attached to the unit. "Right" and "Left" are determined from a position standing behind the Mixer.
From this position, the Feeder Attachment is on the "right" side. GEHL Company reserves the right to make changes or improvements in the design or construction of any part of the unit without incurring the obligation to install such changes on any previously delivered units.
Refer to the abbreviations table located on this page for the various fastener descriptions. Standard attaching hardware torque values are also provided on the inside back cover. In the exploded view parts list, Reference Numbers may have additional information following the Reference Number.
A Tear Drop symbol will indicate an application of a "wet" product such as oil, and the number inside the Tear Drop will correspond to the description in the Parts List. Also, a number inside a hexagon will be the torque value required, in foot pounds, on the associated Reference Number.
Items shown in the parts list that do not have Reference Numbers are shown for reference purposes only and are NOT available for purchase. Unless otherwise specified, all Cap Screws or Bolts are Grade 5, cadmium or zinc plated; Hexagon Nuts for Grade 5 Screws or Bolts are Grade B; Hexagon Nuts for other Screws or Bolts are Grade A.
IMAGES PREVIEW OF THE MANUAL: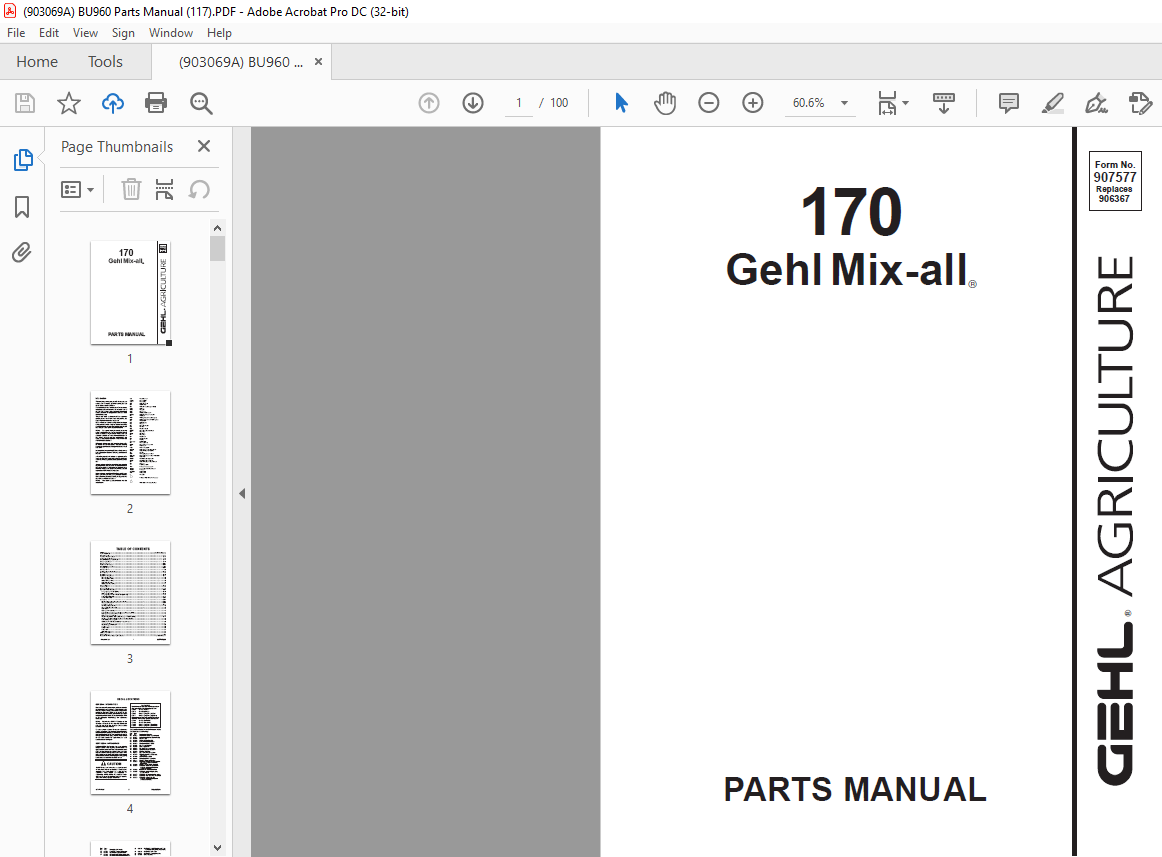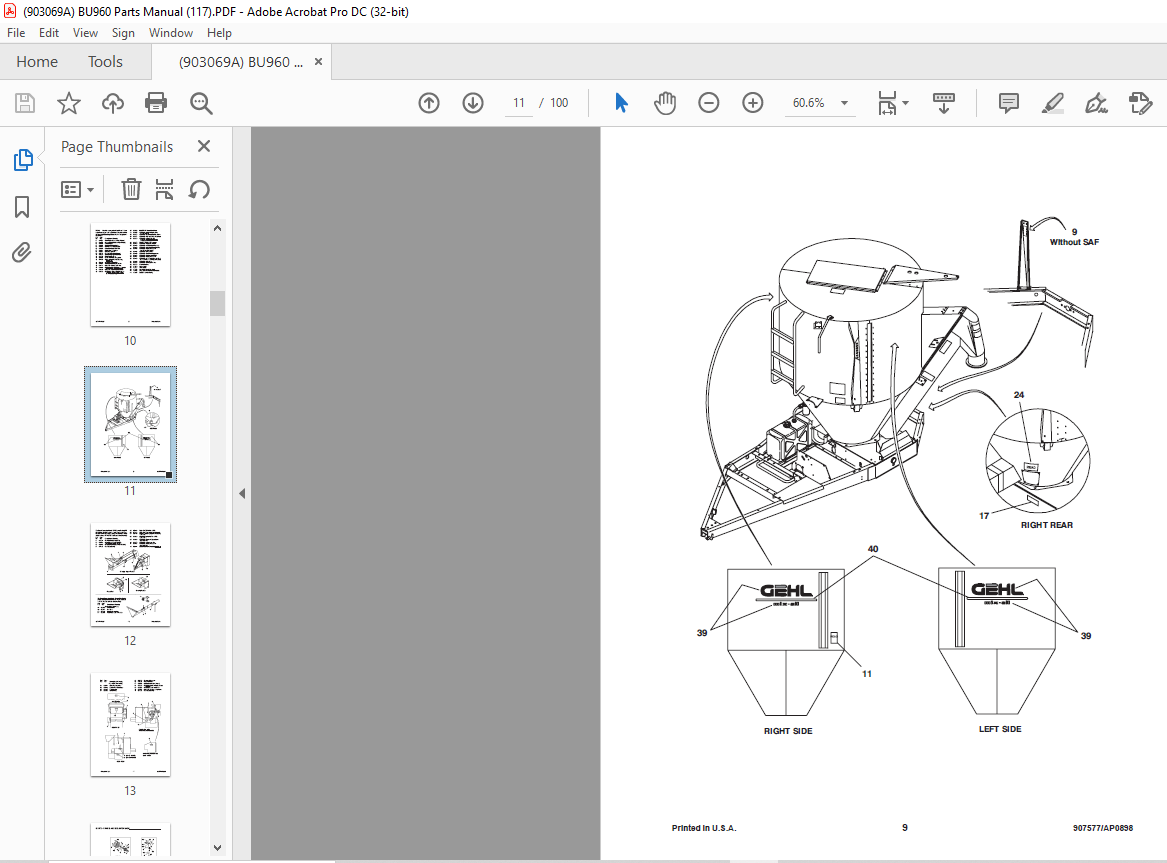 VIDEO PREVIEW OF THE MANUAL:
PLEASE NOTE:
This is the same manual used by the DEALERSHIPS to SERVICE your vehicle.
The manual can be all yours – Once payment is complete, you will be taken to the download page from where you can download the manual. All in 2-5 minutes time!!
Need any other service / repair / parts manual, please feel free to contact us at heydownloadss @gmail.com . We may surprise you with a nice offer
S.V