DOOSAN DLO6 EXCAVATOR OPERATION AND MAINTENANCE MANUAL 65.99897-8121 – PDF DOWNLOAD
DESCRIPTION:
DOOSAN DLO6 EXCAVATOR OPERATION AND MAINTENANCE MANUAL 65.99897-8121 – PDF DOWNLOAD
DOOSAN reserves the right to improve our products in a continuing process to provide the best possible product to the market place. These improvements can be implemented at any time with no obligation to change materials on previously sold products.
It is recommended that consumers periodically contact their distributors for recent documentation on purchased equipment. This documentation may include attachments and optional equipment that is not available in your machine's package.
Please call your distributor for additional items that you may require. Illustrations used throughout this manual are used only as a representation of the actual piece of equipment, and may vary from the actual item
FOREWORD
This maintenance manual is designed to serve as a reference for DOOSAN Infracore (here after DOOSAN's) customers and distributors who wish to gain basic product knowledge on DOOSAN 's DL06 Diesel engine.
This economical and high-performance diesel engine (6 cylinders, 4 strokes, in-line, direct injection type) has been so designed and manufactured to be used for the overland transport or industrial purpose.
That meets all the requirements such as low noise, fuel economy, high engine speed, and durability. To maintain the engine in optimum condition and retain maximum performance for a long time, CORRECT OPERATION and PROPER MAINTENANCE are essential. In this manual, the following symbols are used to indicate the type of service operations to be performed.
During engine maintenance, please observe following instructions to prevent environmental damage;
? Take old oil to an old oil disposal point only.
? Ensure without fail that oil and diesel fuel will not get into the sea or rivers and canals or the ground.
? Treat undiluted anti-corrosion agents, antifreeze agents, filter element and cartridges as special waste.
? The regulations of the relevant local authorities are to be observed for the disposal of spent coolants and special waste.
If you have any question or recommendation in connection with this manual, please do not hesitate to contact our head office, dealers or authorized service shops near by your location for any services. For the last, the content of this maintenance instruction may be changed without notice for some quality improvement. Thank you.
TABLE OF CONTENTS:
DOOSAN DLO6 EXCAVATOR OPERATION AND MAINTENANCE MANUAL 65.99897-8121 – PDF DOWNLOAD
1. Safety regulations & engine specifications
1.1. Safety regulations 1
1.2. Engine specifications 6
1.3. Engine power 8
1.4. Engine performance curve 9
1.5. Engine assembly 14
2. Technical information
2.1. Engine model and serial number 19
2.2. Diagnostic tool (SCAN-200) 20
2.3. Engine character 20
2.4. Diagnosis and remedy 44
2.5. Engine inspection 54
3. Maintenance
3.1. Engine disassembly 56
3.2. Measurement and inspection on major parts 72
3.3. Reassembly 96
3.4. Fuel injection system 122
3.5. Electrical system 136
3.6. Engine diagnostic 149
3.7. Engine control unit (ECU) 155
4. Commissioning and operation
4.1. Preparations 159
4.2. Operation of a new engine (Break-in) 159
4.3. Inspections after Starting 161
4.4. Operation in winter time 163
4.5. Tuning the engine 165
4.6. Maintenance and care 166
4.7. Cooling system 169
5. Maintenance of major components
5.1. Cooling system 171
5.2. Lubrication system 175
5.3. Turbo charger 178
5.4. Air cleaner 188
5.5. Belt 190
6. Special tool list 193
? Appendix
? Worldwide network?
VIDEO PREVIEW OF THE MANUAL:
IMAGES PREVIEW OF THE MANUAL: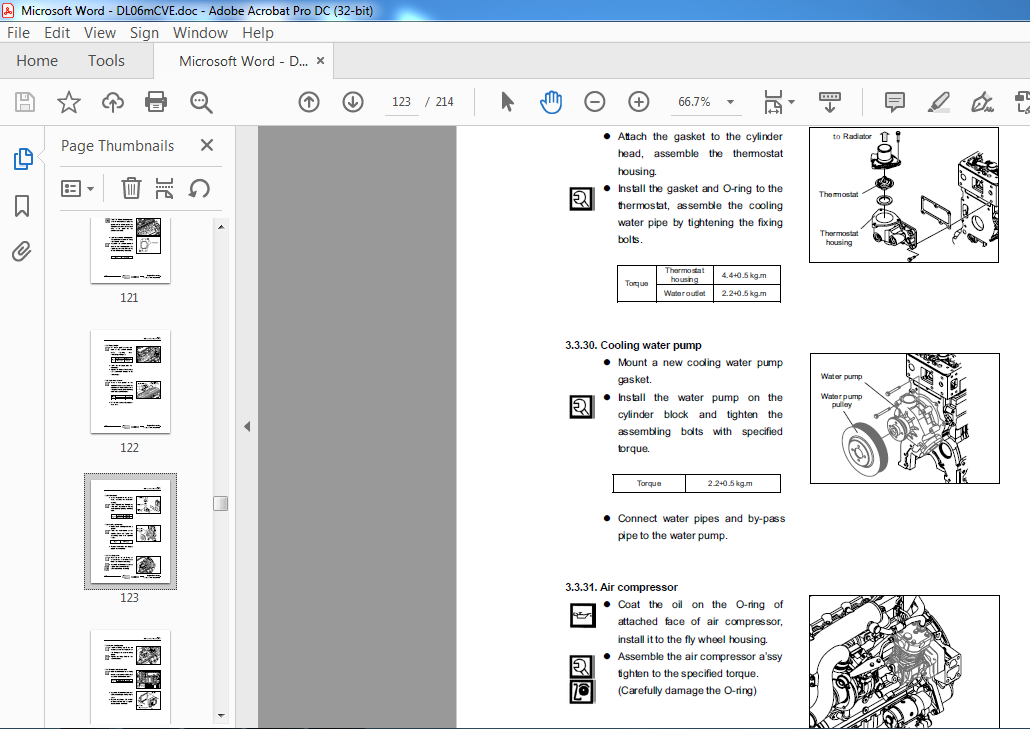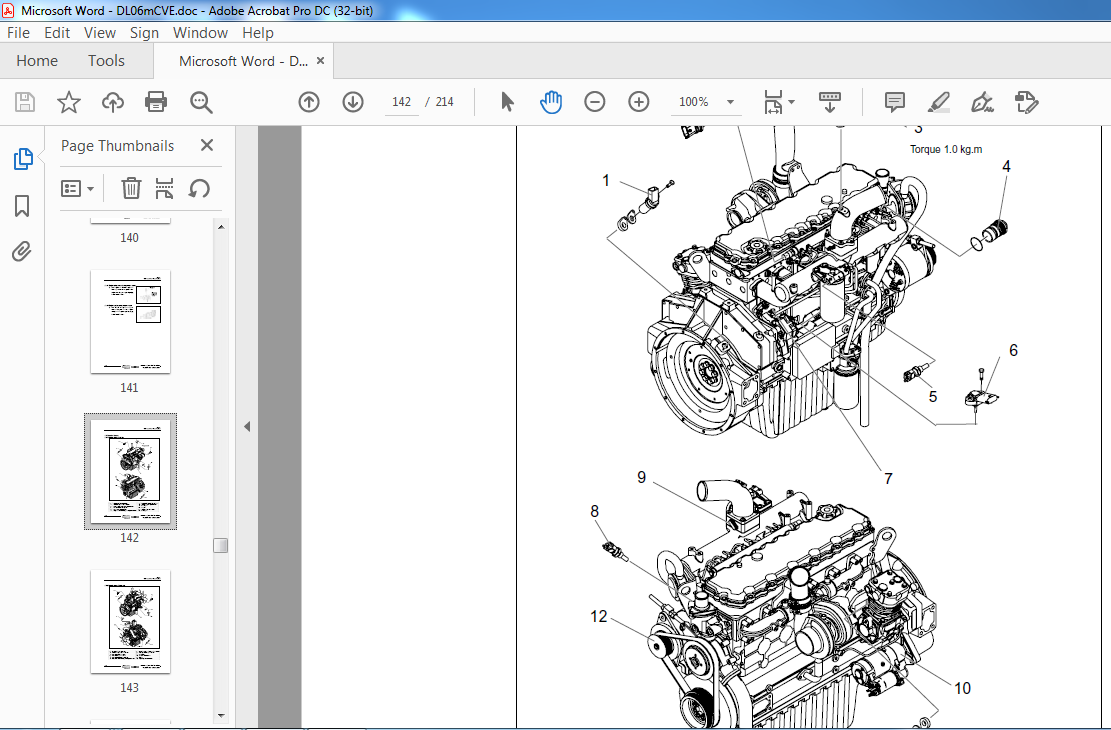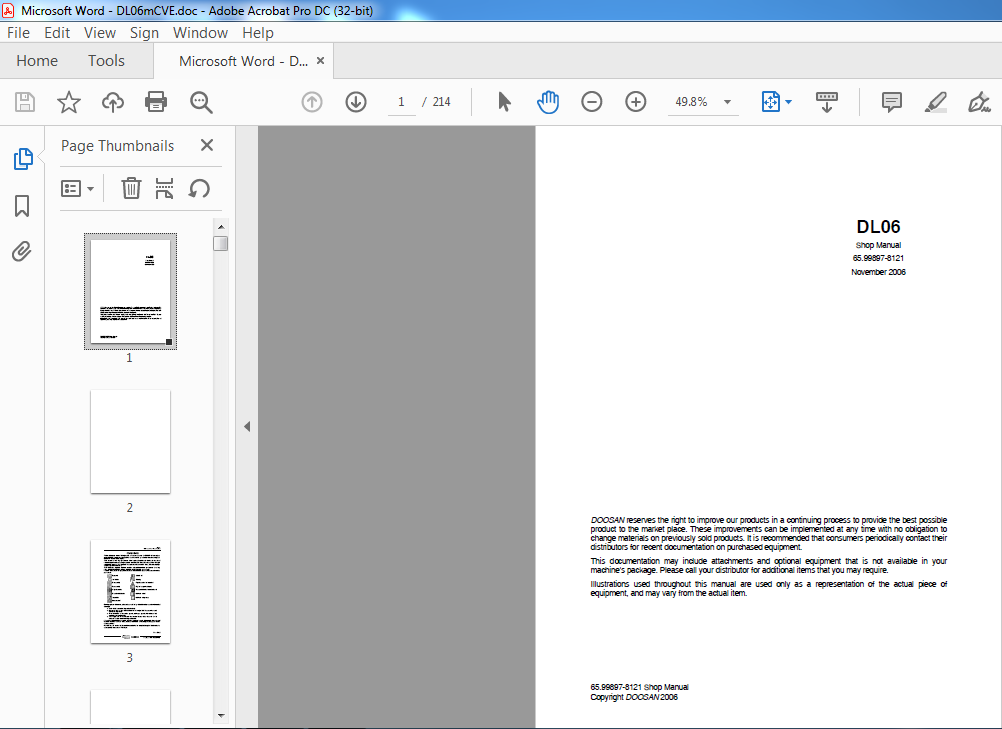 PLEASE NOTE:
This is the SAME exact manual used by your dealers to fix your vehicle.
The same can be yours in the next 2-3 mins as you will be directed to the download page immediately after paying for the manual.
Any queries / doubts regarding your purchase, please feel free to contact [email protected]
S.M