DOOSAN DH 50 EXCAVATOR OPERATION & MAINTENANCE MANUAL – PDF DOWNLOAD
DESCRIPTION:
DOOSAN DH 50 EXCAVATOR OPERATION & MAINTENANCE MANUAL – PDF DOWNLOAD
Daewoo reserves the right to improve our products in a continuing process to provide the best possible product to the market place. These improvements can be implemented at any time with no obligation to change materials on previously sold products.
It is recommended that consumers periodically contact their distributors for recent documentation on purchased equipment. This documentation may include attachments and optional equipment that is not available in your machine's package.
Please call your distributor for additional items that you may require. Illustrations used throughout this manual are used only as a representation of the actual piece of equipment, and may vary from the actual item.
FOREWARD
This maintenance manual is designed to serve as a reference for distributors of DHI. To maintain the excavator in optimum condition and retain maximum performance for a long time, CORRECT OPERATION and PROPER MAINTENANCE are essential.
This manual is in detail explained about Specifications, Operation Principle,  and Reassembly, Troubleshooting and Maintenance Standard. Therefore, when the machine goes wrong, repair the machine by correct procedure after reading this manual.
If you have any question air or recommendation in connection with this manual, please do not hesitate to contact our overseas service department or branch office in your territory. DAEWOO HEAVY INDUSTRIES LTD.
GENERAL INFORMATION
1. Before performing service operation, disconnect grounding cable from the battery to reduce the chance of cable damage and burning due to short-circuiting
2. Anti-freeze solution must be handled with reasonable care as they can cause paint damage.
3. The use of proper tools and special tools where specified, is important to efficient and reliable service operation.
4. Use genuine DAEWOO parts
5. Used cotter gaskets, O-ring, oil seals, lock washers and self lock nuts should be discarded and new ones should be prepared for installation as normal function of the parts can not be maintained if these parts are reused.
6. To facilitate proper and smooth reassembly operation, keep disassembled parts neatly in groups. Keeping fixing bolts and nuts depending on position of installation. is very important as they vary in hardness and design
7. Clean the parts before inspection or assembly. Also clean oil ports, etc. using compressed air to make certain are free from restrictions.
8. Lubricate rotating and sliding faces of the parts with oil or grease before installation.
9. When necessary, use a sealer on gaskets to leakage. 10. Carefully observe all specifications for bolt and nut torques. 11. When service operation is completed, make a final check to be sure service has been done properly.
TABLE OF CONTENTS:
DOOSAN DH 50 EXCAVATOR OPERATION & MAINTENANCE MANUAL – PDF DOWNLOAD
CONTENTS
SECTION 1
GENERAL INFORMATION
INDEX
PAGE
1 GENERAL REPAIR INSTRUCTIONS 2
2 MAIN DATA AND SPECIFICATION– 3
3 TORQUE SPECIFICATIONS 4
4:ENGINE REPAIR KIT 8
5 SERVICING 9
( ENGINE : DC24) PAGE
SECTION 1 GENERAL INFORMATION 1
2 ENGINE ASSE\1BLY 15
3 LUBRICATING SYSTEM
4 COOLING SYSTEM :i9
5 FUEL SYSTEM 1;3
(HYDRAULIC EXCAVATOR : DH50)
SECTION 1 SPECIFICATION 71
2 OPERATIOK PRINCIPLES 77
3 HYDRAULIC CO:VIPOJ\ENTS 101
4 ELECTRICAL SYSTEM 17\l
HYDRAULIC CIRCUIT DIAGRAM
ELECTRIC CIRCUIT DIAGRAM
VIDEO PREVIEW OF THE MANUAL:
IMAGES PREVIEW OF THE MANUAL: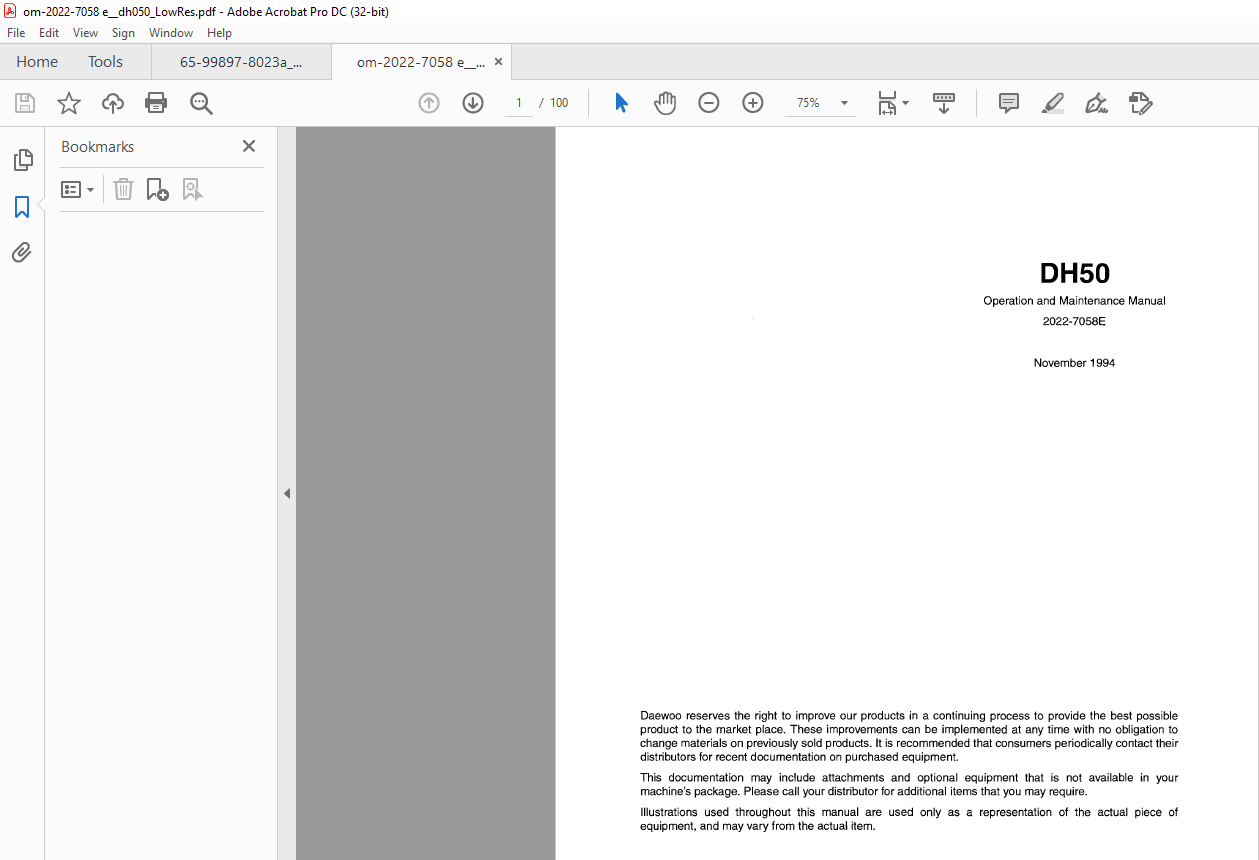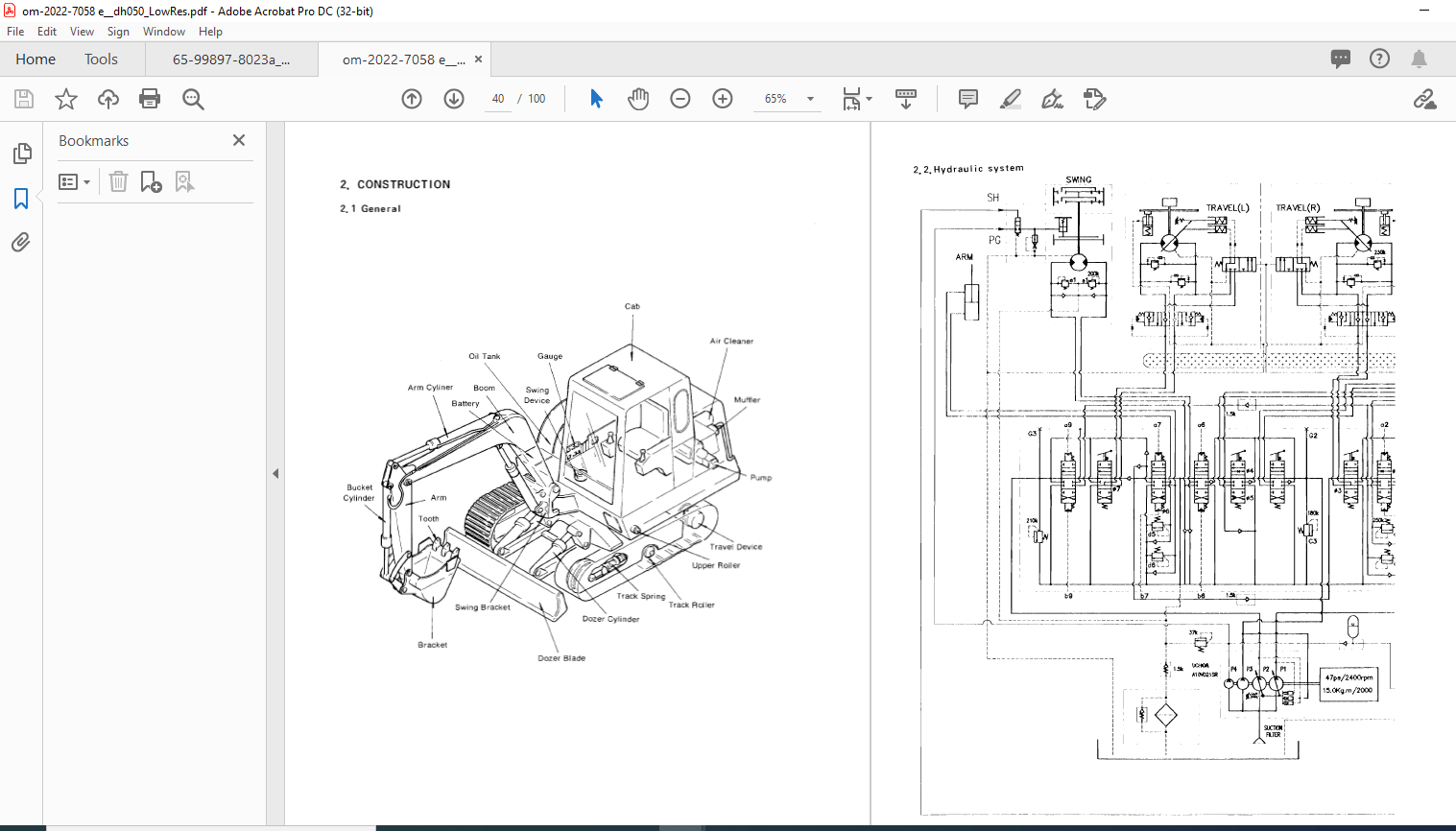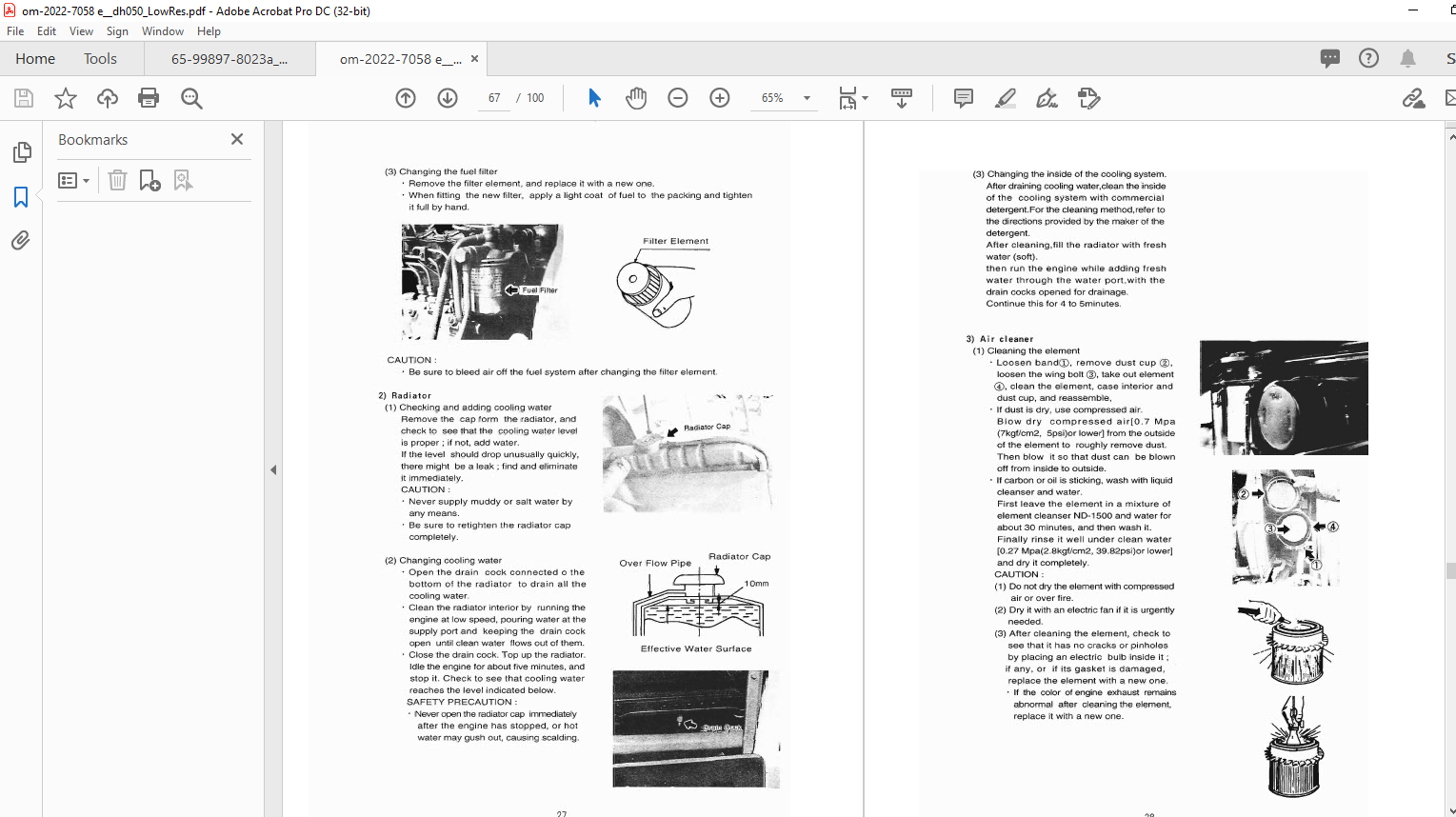 PLEASE NOTE:
This is the SAME exact manual used by your dealers to fix your vehicle.
The same can be yours in the next 2-3 mins as you will be directed to the download page immediately after paying for the manual.
Any queries / doubts regarding your purchase, please feel free to contact [email protected]
s.m