DEUTZ-FAHR AGROTRON 230 MK3 AGROTRON 260 MK3 Workshop Manual – PDF DOWNLOAD
FILE DETAILS:
DEUTZ-FAHR AGROTRON 230 MK3 AGROTRON 260 MK3 Workshop Manual – PDF DOWNLOAD
Language : English
Pages : 604
Downloadable : Yes
File Type : PDF
Size: 28.2 MB
IMAGES PREVIEW OF THE MANUAL: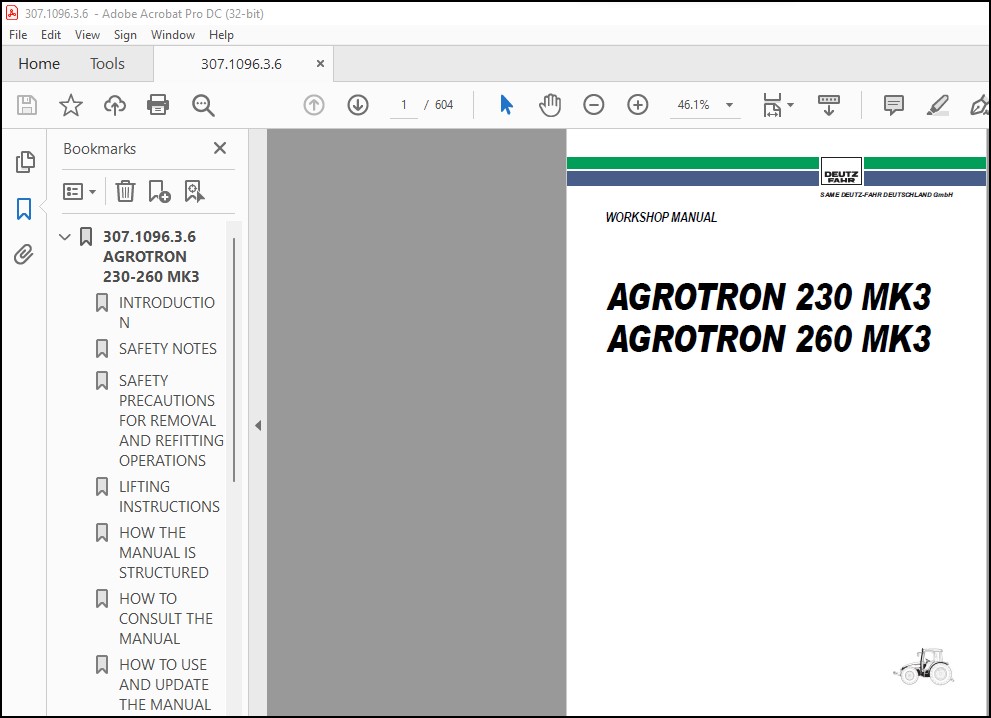 VIDEO PREVIEW OF THE MANUAL:
DESCRIPTION:
DEUTZ-FAHR AGROTRON 230 MK3 AGROTRON 260 MK3 Workshop Manual – PDF DOWNLOAD
INTRODUCTION:
The purpose of this workshop manual is to provide instruction for repair technicians and
a practical guide to improving the quality of repairs.
This manual enables repair technicians to acquire a thorough knowledge of the machine,
indicating the correct methods for fault diagnosis, for working in safety and for
accurate dimensional checks and visual inspections. The instructions also indicate the
products to use, the tightening torques and the adjustment data.
The technical material contained in this manual is reserved to Authorised Dealers and
Service Centres who will be duly informed of any technical changes to the machines in
question through the issue of documents regarding modifications, updates and supplements
for optional equipment.
All technicians and their colleagues are expressly forbidden from reproducing any part
of this manual in any form or from communicating the contents to third parties without
the express written permission of the Manufacturer, who remains the sole owner of this
document with all rights reserved in accordance with applicable laws.
GENERAL SAFETY RULES
1 – Even if you have a thorough knowledge of the machine as regards its components,
operation and controls, always take particular care when carrying
out the following operations. Remember that the machine you are working
on is in need of repair or overhaul and consequently may not always behave
as expected.
2 – Before starting work, clean the machine thoroughly to remove all mud,
dust and road dirt.
Also clean the cab to remove all traces of oil, snow and ice from the access
steps and grab rails.
3 – When climbing up to or down from the cab, always ensure you maintain
three points of contact at a time (foot or handholds) in order to keep your
balance and prevent accidental falls.
4 – Always take special care when carrying out fault diagnosis operations;
these operations often require two persons, who must never stand in front
of the wheels when the engine is running.
5 – When carrying out checks and repairs, wear close-fitting clothing, safety
goggles and protective gloves that are suitable for the task (cleaning,
draining fluids, repairs).
When working near moving parts, long hair should be gathered up and secured
safely under a cap to prevent the risk of entanglement and sever injury.
6 – Do not allow anyone who is not directly involved in the work to come near
the machine; ensure that they remain at a safe distance.
7 – Keep well clear of moving parts; when the engine is running, some moving
parts are not easily visible and therefore present a risk of entanglement,
even if protected by safety guards.
8 – Ensure that the area is well ventilated before starting the engine in order to
avoid the formation of dangerous concentrations of toxic gases; always
connect suitable fume extraction equipment to the exhaust pipe.
TABLE OF CONTENTS:
DEUTZ-FAHR AGROTRON 230 MK3 AGROTRON 260 MK3 Workshop Manual – PDF DOWNLOAD
307.1096.3.6 AGROTRON 230-260 MK3………………………………………………………………………………………. 1
INTRODUCTION……………………………………………………………………………………………………… 3
SAFETY NOTES……………………………………………………………………………………………………… 5
SAFETY PRECAUTIONS FOR REMOVAL AND REFITTING OPERATIONS……………………………………………………………….. 8
LIFTING INSTRUCTIONS………………………………………………………………………………………………. 10
HOW THE MANUAL IS STRUCTURED……………………………………………………………………………………….. 11
HOW TO CONSULT THE MANUAL………………………………………………………………………………………….. 12
HOW TO USE AND UPDATE THE MANUAL……………………………………………………………………………………. 13
STANDARD TIGHTENING TORQUES FOR NUTS AND BOLTS……………………………………………………………………….. 14
THREADLOCKERS, ADHESIVES, SEALANTS AND LUBRICANTS…………………………………………………………………….. 15
SPECIAL TOOLS…………………………………………………………………………………………………….. 17
CONVERSION FACTORS………………………………………………………………………………………………… 18
SECTION 10……………………………………………………………………………………………………….. 19
1. TRANSMISSION……………………………………………………………………………………………….. 21
INTRODUCTION………………………………………………………………………………………………. 21
1.1 FLUID COUPLING…………………………………………………………………………………………. 22
1.2 TRANSMISSION…………………………………………………………………………………………… 23
1.2.1 MAIN COMPONENTS…………………………………………………………………………………… 23
1.2.2 TRANSMISSION HYDRAULIC SYSTEM………………………………………………………………………. 26
1.2.3 GEARBOX………………………………………………………………………………………….. 27
GEARBOX COMPONENTS……………………………………………………………………………………… 28
1.2.4 MAIN CLUTCH………………………………………………………………………………………. 29
1.2.5 HYDRAULIC GEARBOX AND SHUTTLE DISTRIBUTION VALVE……………………………………………………… 30
1.2.6 CLUTCH ENGAGEMENT AND SOLENOID VALVE OPERATION SCHEMATIC………………………………………………. 34
1.2.7 TRANSMISSION ELECTRONIC SYSTEM SCHEMATIC…………………………………………………………….. 35
1.3 REAR AXLE……………………………………………………………………………………………… 36
1.4 REAR PTO………………………………………………………………………………………………. 38
2. BRAKING SYSTEM……………………………………………………………………………………………… 39
2.1 BRAKE MASTER CYLINDER…………………………………………………………………………………… 40
2.2 BRAKE…………………………………………………………………………………………………. 40
2.3 TRAILER BRAKING SYSTEM………………………………………………………………………………….. 42
2.3.1 HYDRAULIC TRAILER BRAKING (ITALY VERSION)……………………………………………………………. 42
2.3.2 HYDRAULIC TRAILER BRAKING (EXPORT VERSION)…………………………………………………………… 44
2.3.3 AIR TRAILER BRAKING (ITALY VERSION)…………………………………………………………………. 46
2.3.4 AIR TRAILER BRAKING (EXPORT VERSION)………………………………………………………………… 47
COMPRESSOR…………………………………………………………………………………………….. 48
PRESSURE LIMITING VALVE…………………………………………………………………………………. 49
CAB SUSPENSION FEED VALVE……………………………………………………………………………….. 50
BRAKE APPLY SOLENOID VALVE………………………………………………………………………………. 51
TRAILER BRAKING VALVE (2-WAY)……………………………………………………………………………. 52
TRAILER BRAKING VALVE (1-WAY)……………………………………………………………………………. 53
3. HYDRAULIC FRONT AXLE SUSPENSION………………………………………………………………………………. 54
3.1 FRONT SUSPENSION CONTROL VALVE…………………………………………………………………………… 55
4. FRONT AXLE…………………………………………………………………………………………………. 59
4.1 HUB CARRIER AND FINAL REDUCTION UNIT……………………………………………………………………… 60
4.2 DIFFERENTIAL…………………………………………………………………………………………… 61
4.3 STEERING ANGLE SENSOR…………………………………………………………………………………… 61
5. HYDRAULIC SYSTEM……………………………………………………………………………………………. 63
DESCRIPTION……………………………………………………………………………………………….. 63
HYDRAULIC SYSTEM…………………………………………………………………………………………… 64
5.1 VARIABLE DISPLACEMENT PUMP………………………………………………………………………………. 65
5.1.1 BOOST PUMP……………………………………………………………………………………….. 68
5.1.2 HYDRAULIC PUMP……………………………………………………………………………………. 69
5.1.3 LOAD SENSING VALVE, PRESSURE CUT-OFF VALVE…………………………………………………………… 71
5.2 POWER STEERING…………………………………………………………………………………………. 79
5.3 PRIORITY VALVE…………………………………………………………………………………………. 80
5.4 AUXILIARY SERVICES CONTROL VALVE…………………………………………………………………………. 81
5.4.1 MAIN COMPONENTS…………………………………………………………………………………… 82
5.4.2 SERVICES CONTROL SECTION…………………………………………………………………………… 83
5.4.3 DESCRIPTIONS OF COMPONENTS…………………………………………………………………………. 84
5.4.4 LIFT CONTROL VALVE SECTION…………………………………………………………………………. 86
SECTION 20……………………………………………………………………………………………………….. 91
OPERATOR'S MANUAL SERDIA (LEVEL III)…………………………………………………………………………….. 93
1. ENTRY AND COMMUNICATION………………………………………………………………………………….. 94
1.1 OVERVIEW…………………………………………………………………………………………… 94
1.2 ORDERING…………………………………………………………………………………………… 95
1.3 SWITCH ON NOTEBOOK AND INSTALL SOFTWARE……………………………………………………………….. 96
1.4 USER LEVEL, ACCESS AUTHORIZATION……………………………………………………………………… 97
1.5 MAKING A CONNECTION BETWEEN ECU (ENGINE) AND NOTEBOOK…………………………………………………… 98
1.6 PROGRAM START………………………………………………………………………………………. 98
1.7 OFFLINE MODE……………………………………………………………………………………….. 99
1.8 WORKING WITH THE PROGRAM……………………………………………………………………………..101
1.9 PRINT (OUTPUT)………………………………………………………………………………………103
1.10 PROTOCOL (PROTOKOLL)………………………………………………………………………………..104
1.11 END COMMUNICATION…………………………………………………………………………………..104
2. ECU SELECTION……………………………………………………………………………………………105
2.1 GENERAL…………………………………………………………………………………………….105
2.2 RECOGNITION OF ECUS………………………………………………………………………………….105
2.3 IDENTIFICATION DATA………………………………………………………………………………….105
3 MEASURED VALUES…………………………………………………………………………………………..106
3.1 ACTUAL MEASURED VALUES (GENERAL)………………………………………………………………………106
3.2 RAM VALUES………………………………………………………………………………………….110
3.3 DATA LOGGER (ONLY EMS)……………………………………………………………………………….110
3.4 INPUT/OUTPUT ASSIGNMENT………………………………………………………………………………110
3.5 CAN-Status………………………………………………………………………………………….110
3.6 EXAMPLE OF A DISPLAYED ERROR INFORMATION:………………………………………………………………112
4. PARAMETERS………………………………………………………………………………………………113
4.1 CONFIGURATION……………………………………………………………………………………….113
4.2 OVERALL PROGRAMMING………………………………………………………………………………….124
4.3 CALIBRATION…………………………………………………………………………………………124
5. ERROR MEMORY…………………………………………………………………………………………….126
5.1 GENERAL…………………………………………………………………………………………….126
6. FUNCTION TEST……………………………………………………………………………………………131
6.1 GENERAL…………………………………………………………………………………………….131
7. EXTRAS………………………………………………………………………………………………….132
7.1 MAXIMUM VEHICLE SPEED………………………………………………………………………………..132
7.2 LOGISTIC DATA……………………………………………………………………………………….132
7.3 LOAD SPECTRUM (ONLY EMS)……………………………………………………………………………..133
7.4 MAINTENANCE INTERVAL EXCEEDED (ONLY EMS)……………………………………………………………….133
7.5 OVERRIDE MEMORY (ONLY EMS)……………………………………………………………………………133
8 WHAT SHOULD YOU DO IF …?…………………………………………………………………………………134
8.1 SERDIA IN GENERAL……………………………………………………………………………………134
8.2 EMR………………………………………………………………………………………………..137
9. SERDIA UPGRADE FROM VERSION 2.5 TO VERSION 3.1………………………………………………………………149
9.1 IMPROVEMENTS AND HELP WITH PROBLEMS IN COMMUNICATING WITH NOTEBOOKS/WIN 98…………………………………149
9.2 NEW ENTRY MASK WITH MEASURED VALUES AND COLOURED-CODED INDICATION OF CONNECTION STATUS………………………150
9.3 NEW SWITCH "JOBS" FOR PERFORMING SELECTED SERVICING OPERATIONS, E.G. ADJUSTING CONTROLLER OR ADJUSTING OFFSET….151
9.4 IN- AND OUTPUT ASSIGNMENT IS NOW ADDITIONALLY CONFIGURABLE USING PLAIN TEXT (PREVIOUSLY ONLY CODE NUMBERS)…….152
9.5 UPGRADES IN "PARAMETER SETTING/CONFIGURATION"…………………………………………………………..152
OPERATOR'S MANUAL EDS (Electronic Diagnosis System)………………………………………………………………..153
1. GENERAL INTRODUCTION……………………………………………………………………………………..154
1.1 FUNCTIONAL SCOPE…………………………………………………………………………………….154
1.2 HARDWARE REQUIREMENTS………………………………………………………………………………..155
1.3 STARTING AND TERMINATING OF THE EDS PROGRAM…………………………………………………………….157
2. TRANSMISSION DIAGNOSIS……………………………………………………………………………………159
2.1 THE MAIN MENU……………………………………………………………………………………….159
2.2 ONLINE HELP…………………………………………………………………………………………161
3. POWER-SHUTTLE DIAGNOSISPROGRAMM DEST 45…………………………………………………………………….163
3.1 PREPARATIONS FOR TRANSMISSION DIAGNOSIS WITH DEST 45…………………………………………………….163
3.2 DEST 45 PROGRAM DESCRIPTION…………………………………………………………………………..164
3.3 ERROR CODES POWER-SHUTTLE /DEST 45…………………………………………………………………….179
3.4 DISPLAY POWERSHUTTLE…………………………………………………………………………………180
3.5 ERROR CODE LIST WITH DESCRIPTION………………………………………………………………………181
3.6 OTHER INFORMATIONS…………………………………………………………………………………..192
3.7 SENSORS AND SOLENOID VALVES AT THE TRANSMISSION T-7100…………………………………………………..193
3.8 ELECTRO-HYDRAULIC GEAR SHIFT T-7100……………………………………………………………………194
3.9 SENSORS AND SOLENOID VALVES AT THE TRANSMISSION T-7200…………………………………………………..195
3.10 ELECTRO-HYDRAULIC GEAR SHIFT T-7200 / T-7300…………………………………………………………..196
3.11 ERROR ANALYSIS……………………………………………………………………………………..197
4. PREPARATIONS FOR DIAGNOSIS OF THE INFOCENTER………………………………………………………………..199
4.1 PROGRAM DESCRIPTION………………………………………………………………………………….200
4.2 CONSTANT VALUES FOR INFOCENTER………………………………………………………………………..210
ALL ROUND TESTER MANUAL – MK3 230-260 SERIES………………………………………………………………………215
ELECTRONIC COMPONENTS CONTROL AND SETTING SYSTEM……………………………………………………………….215
PRESENTATION SCREEN……………………………………………………………………………………..216
MAIN MENU………………………………………………………………………………………………216
1. MONITOR……………………………………………………………………………………………..217
2. PARAMETERS…………………………………………………………………………………………..221
3. CALIBRATIONS…………………………………………………………………………………………223
4. ALARMS LIST………………………………………………………………………………………….228
SECTION 30………………………………………………………………………………………………………..231
METHOD FOR REMOVAL AND REFITTING OF RIGID PIPES AND WIRING………………………………………………………….235
TOP VIEW OF WIRING AND PIPES…………………………………………………………………………………….236
DETAIL OF UPPER WIRING AND PIPES…………………………………………………………………………………237
TOP VIEW OF PIPES………………………………………………………………………………………………238
DETAIL OF UPPER PIPES…………………………………………………………………………………………..239
PIPES ON LEFT-HAND SIDE…………………………………………………………………………………………240
DETAIL OF FRONT LEFT-HAND SIDE…………………………………………………………………………………..241
DETAIL OF PUMP END ON RIGHT-HAND SIDE…………………………………………………………………………….242
DETAIL OF REAR RIGHT-HAND SIDE…………………………………………………………………………………..243
DETAIL OF THE AIR TRAILER BRAKING SYSTEM………………………………………………………………………….244
ENGINE HOODS AND SIDE PANELS – ADJUSTMENTS………………………………………………………………………..245
1. Front hood………………………………………………………………………………………………245
2. Rear hood……………………………………………………………………………………………….246
3. Adjustment of the front hood catch…………………………………………………………………………247
4. Adjustment of the rear hood position……………………………………………………………………….247
BATTERY……………………………………………………………………………………………………….248
REMOVAL……………………………………………………………………………………………………248
REFITTING………………………………………………………………………………………………….248
CAB ACCESS STEPS……………………………………………………………………………………………….249
REMOVAL……………………………………………………………………………………………………249
REFITTING………………………………………………………………………………………………….249
BATTERY SUPPORT………………………………………………………………………………………………..250
REMOVAL……………………………………………………………………………………………………250
REFITTING………………………………………………………………………………………………….250
STARTER MOTOR………………………………………………………………………………………………….251
REMOVAL……………………………………………………………………………………………………251
REFITTING………………………………………………………………………………………………….251
ALTERNATOR…………………………………………………………………………………………………….252
REMOVAL……………………………………………………………………………………………………252
REFITTING………………………………………………………………………………………………….253
COMPRESSOR FAN – DRIVEBELTS……………………………………………………………………………………..254
1. Air conditioning fan-compressor drivebelt…………………………………………………………………..254
2. Alternator drivebelt……………………………………………………………………………………..255
3. Fuel pump drivebelt………………………………………………………………………………………255
REFITTING AND TENSIONING…………………………………………………………………………………….256
AIR COMPRESSOR (for air trailer braking)………………………………………………………………………….257
REMOVAL……………………………………………………………………………………………………257
REFITTING………………………………………………………………………………………………….258
TRAILER BRAKING VALVES AND AIR RESERVOIR (version with air braking)………………………………………………….259
REMOVAL……………………………………………………………………………………………………259
REFITTING………………………………………………………………………………………………….263
TRAILER AIR BRAKES COUPLING VALVES……………………………………………………………………………….264
1. Removal…………………………………………………………………………………………………264
2. Renewal…………………………………………………………………………………………………264
AIR CONDITIONING SYSTEM…………………………………………………………………………………………265
TECHNICAL SPECIFICATIONS…………………………………………………………………………………….265
OPERATION………………………………………………………………………………………………….266
MAINTENANCE………………………………………………………………………………………………..267
ADJUSTING THE TENSION OF THE COMPRESSOR DRIVEBELT………………………………………………………………267
DISCHARGING, FLUSHING AND RECHARGING THE AIR CONDITIONING SYSTEM…………………………………………………268
AIR CONDITIONING COMPRESSOR……………………………………………………………………………………..269
REMOVAL……………………………………………………………………………………………………269
REFITTING………………………………………………………………………………………………….270
RECEIVER-DRIER…………………………………………………………………………………………………271
REMOVAL……………………………………………………………………………………………………271
REFITTING………………………………………………………………………………………………….271
CONDENSER FAN………………………………………………………………………………………………….272
REMOVAL……………………………………………………………………………………………………272
REFITTING………………………………………………………………………………………………….272
COMPLETE CONDENSER ASSEMBLY……………………………………………………………………………………..273
REMOVAL……………………………………………………………………………………………………273
REFITTING………………………………………………………………………………………………….274
GEARBOX OIL AND FUEL COOLERS…………………………………………………………………………………….275
REMOVAL……………………………………………………………………………………………………275
REFITTING………………………………………………………………………………………………….275
RADIATOR………………………………………………………………………………………………………276
REMOVAL……………………………………………………………………………………………………276
REFITTING………………………………………………………………………………………………….278
EXPANSION TANK…………………………………………………………………………………………………279
REMOVAL……………………………………………………………………………………………………279
REFITTING………………………………………………………………………………………………….279
INTERCOOLER……………………………………………………………………………………………………280
REMOVAL……………………………………………………………………………………………………280
REFITTING………………………………………………………………………………………………….281
COMPLETE RADIATOR-COOLERS ASSEMBLY……………………………………………………………………………….282
REMOVAL……………………………………………………………………………………………………282
REFITTING………………………………………………………………………………………………….285
FLEXIBLE COUPLING OF THE FRONT PTO (Models with front PTO only)……………………………………………………..286
RENEWAL……………………………………………………………………………………………………286
REFITTING………………………………………………………………………………………………….286
TURBOCHARGER…………………………………………………………………………………………………..287
REMOVAL……………………………………………………………………………………………………287
REFITTING………………………………………………………………………………………………….287
AIR INTAKE PIPE………………………………………………………………………………………………..288
REMOVAL……………………………………………………………………………………………………288
REFITTING………………………………………………………………………………………………….288
COMPLETE AIR CLEANER ASSEMBLY……………………………………………………………………………………289
REMOVAL……………………………………………………………………………………………………289
REFITTING………………………………………………………………………………………………….289
EXHAUST PIPE…………………………………………………………………………………………………..290
REMOVAL……………………………………………………………………………………………………290
REFITTING………………………………………………………………………………………………….290
SILENCER………………………………………………………………………………………………………291
REMOVAL……………………………………………………………………………………………………291
REFITTING………………………………………………………………………………………………….292
4WD PROPELLER SHAFT…………………………………………………………………………………………….293
REMOVAL……………………………………………………………………………………………………293
REFITTING………………………………………………………………………………………………….294
BRAKE MASTER CYLINDERS………………………………………………………………………………………….297
REMOVAL……………………………………………………………………………………………………297
REFITTING………………………………………………………………………………………………….299
BLEEDING THE BRAKING SYSTEM……………………………………………………………………………………..300
ADJUSTMENT OF THE BRAKE LIGHT SWITCHES……………………………………………………………………………302
POWER STEERING UNIT…………………………………………………………………………………………….303
1. Testing…………………………………………………………………………………………………303
2. Adjustment………………………………………………………………………………………………303
3. Removal of the power steering unit…………………………………………………………………………303
REFITTING………………………………………………………………………………………………….304
DISASSEMBLY………………………………………………………………………………………………..305
ASSEMBLY…………………………………………………………………………………………………..311
FRONT WHEELS…………………………………………………………………………………………………..318
REMOVAL……………………………………………………………………………………………………318
REFITTING………………………………………………………………………………………………….318
FRONT FENDERS………………………………………………………………………………………………….319
REMOVAL……………………………………………………………………………………………………319
REFITTING………………………………………………………………………………………………….319
REAR WHEELS……………………………………………………………………………………………………320
REMOVAL……………………………………………………………………………………………………320
REFITTING………………………………………………………………………………………………….320
FRONT LIFT VALVE BLOCK………………………………………………………………………………………….321
REMOVAL……………………………………………………………………………………………………321
REFITTING………………………………………………………………………………………………….321
FRONT LIFT CYLINDERS……………………………………………………………………………………………322
REMOVAL……………………………………………………………………………………………………322
REFITTING………………………………………………………………………………………………….324
FRONT LIFT ASSEMBLY…………………………………………………………………………………………….325
REMOVAL……………………………………………………………………………………………………325
REFITTING………………………………………………………………………………………………….327
FRONT PTO ASSEMBLY……………………………………………………………………………………………..328
REMOVAL……………………………………………………………………………………………………328
REFITTING………………………………………………………………………………………………….329
FRONT SUSPENSION CYLINDERS………………………………………………………………………………………330
REMOVAL……………………………………………………………………………………………………330
REFITTING………………………………………………………………………………………………….332
DISASSEMBLY AND ASSEMBLY…………………………………………………………………………………….333
FRONT AXLE AND SWINGING SUPPORT………………………………………………………………………………….335
REMOVAL……………………………………………………………………………………………………335
REFITTING………………………………………………………………………………………………….338
FRONT CARRIER………………………………………………………………………………………………….339
REMOVAL……………………………………………………………………………………………………339
REFITTING………………………………………………………………………………………………….339
FRONT SUSPENSION SOLENOID VALVES…………………………………………………………………………………340
REMOVAL……………………………………………………………………………………………………340
REFITTING………………………………………………………………………………………………….341
FRONT SUSPENSION POSITION SENSOR…………………………………………………………………………………342
1. Removal…………………………………………………………………………………………………342
2. Positioning……………………………………………………………………………………………..342
3. Calibration……………………………………………………………………………………………..342
ACCELERATOR POTENTIOMETER……………………………………………………………………………………….343
1. Renewal…………………………………………………………………………………………………343
2. Potentiometer calibration…………………………………………………………………………………344
FUEL TANKS…………………………………………………………………………………………………….345
REMOVAL……………………………………………………………………………………………………345
REFITTING………………………………………………………………………………………………….346
TESTING THE AUXILIARY SERVICES PUMPS……………………………………………………………………………..347
PISTON PUMP……………………………………………………………………………………………………348
REMOVAL……………………………………………………………………………………………………348
REFITTING………………………………………………………………………………………………….350
PRIORITY VALVE…………………………………………………………………………………………………351
REMOVAL……………………………………………………………………………………………………351
REFITTING………………………………………………………………………………………………….351
AUXILIARY SERVICES CONTROL VALVES………………………………………………………………………………..352
REMOVAL……………………………………………………………………………………………………352
REFITTING………………………………………………………………………………………………….353
LIFT CYLINDERS…………………………………………………………………………………………………354
REMOVAL……………………………………………………………………………………………………354
REFITTING………………………………………………………………………………………………….355
DISASSEMBLY AND ASSEMBLY…………………………………………………………………………………….356
LIFT POSITION SENSOR……………………………………………………………………………………………357
TESTING……………………………………………………………………………………………………357
REMOVAL AND ADJUSTMENT………………………………………………………………………………………358
LIFT DRAFT SENSOR………………………………………………………………………………………………362
REMOVAL……………………………………………………………………………………………………362
REFITTING………………………………………………………………………………………………….362
DRIVER'S SEAT………………………………………………………………………………………………….363
REMOVAL……………………………………………………………………………………………………363
REFITTING………………………………………………………………………………………………….363
CONTROLS IN THE MULTIFUNCTION ARMREST CONSOLE……………………………………………………………………..364
REMOVAL……………………………………………………………………………………………………364
REFITTING………………………………………………………………………………………………….365
STEERING WHEEL, STEERING COLUMN SWITCH UNIT AND INSTRUMENT PANEL…………………………………………………….366
REMOVAL……………………………………………………………………………………………………366
REFITTING………………………………………………………………………………………………….367
STEERING COLUMN SWITCH UNIT AND THE SHUTTLE CONTROL LEVER…………………………………………………………..368
RENEWAL……………………………………………………………………………………………………368
ASSEMBLY…………………………………………………………………………………………………..369
CENTRE CONSOLE AND SHROUD……………………………………………………………………………………….370
REMOVAL……………………………………………………………………………………………………370
REFITTING………………………………………………………………………………………………….373
RIGHT-HAND CONSOLE……………………………………………………………………………………………..374
OPENING AND REMOVAL…………………………………………………………………………………………374
REFITTING………………………………………………………………………………………………….380
LEFT-HAND CONSOLE………………………………………………………………………………………………381
REMOVAL……………………………………………………………………………………………………381
REFITTING………………………………………………………………………………………………….382
TRANSMISSION LIFT AND FRONT SUSPENSION ELECTRONIC CONTROL UNITS……………………………………………………..383
REMOVAL……………………………………………………………………………………………………383
REFITTING………………………………………………………………………………………………….384
FUSE AND RELAY BOARD……………………………………………………………………………………………385
REMOVAL……………………………………………………………………………………………………385
REFITTING………………………………………………………………………………………………….386
ENGINE ECU…………………………………………………………………………………………………….387
REMOVAL……………………………………………………………………………………………………387
REFITTING………………………………………………………………………………………………….387
CLUTCH PEDAL AND RELATED DEVICES…………………………………………………………………………………388
1. Removal of the potentiometer………………………………………………………………………………388
1.1. Refitting the potentiometer……………………………………………………………………………..388
2. Adjustment of the clutch pedal position and travel…………………………………………………………..389
3. Renewal of the proximity sensor……………………………………………………………………………389
CONTROL PANELS AND LEVERS OF THE AUXILIARY SERVICE VALVES…………………………………………………………..390
REMOVAL……………………………………………………………………………………………………390
REFITTING………………………………………………………………………………………………….392
AUXILIARY SERVICE VALVE CONTROL CABLES……………………………………………………………………………393
RENEWAL……………………………………………………………………………………………………393
REFITTING………………………………………………………………………………………………….394
ADJUSTMENT OF THE PARKING BRAKE SWITCH……………………………………………………………………………395
ADJUSTMENT OF THE PARKING BRAKES…………………………………………………………………………………396
CLIMATE CONTROL PANEL…………………………………………………………………………………………..397
REMOVAL……………………………………………………………………………………………………397
REFITTING………………………………………………………………………………………………….397
HEATER VALVE…………………………………………………………………………………………………..398
1. Removal…………………………………………………………………………………………………398
2. Refitting and adjustment of the control cable……………………………………………………………….398
3. Final checks…………………………………………………………………………………………….399
HEATER MATRIX………………………………………………………………………………………………….400
REMOVAL……………………………………………………………………………………………………400
REFITTING………………………………………………………………………………………………….402
AIR CONDITIONING EVAPORATOR……………………………………………………………………………………..403
REMOVAL……………………………………………………………………………………………………403
REFITTING………………………………………………………………………………………………….404
RIGHT-HAND AIR CONDITIONING FAN………………………………………………………………………………….405
REMOVAL……………………………………………………………………………………………………405
REFITTING………………………………………………………………………………………………….405
LEFT-HAND AIR CONDITIONING FAN…………………………………………………………………………………..406
REMOVAL……………………………………………………………………………………………………406
REFITTING………………………………………………………………………………………………….406
CAB DOOR CABLE…………………………………………………………………………………………………407
RENEWAL……………………………………………………………………………………………………407
TRAILER BRAKING AIR PRESSURE GAUGE……………………………………………………………………………….409
REMOVAL……………………………………………………………………………………………………409
REFITTING………………………………………………………………………………………………….409
TRANSMISSION STATUS DISPLAY……………………………………………………………………………………..410
REMOVAL……………………………………………………………………………………………………410
REFITTING………………………………………………………………………………………………….410
CAB…………………………………………………………………………………………………………..411
REMOVAL……………………………………………………………………………………………………411
REFITTING………………………………………………………………………………………………….420
CAB AIR SPRINGS AND HYDRAULIC DAMPERS…………………………………………………………………………….421
RENEWAL……………………………………………………………………………………………………421
REFITTING………………………………………………………………………………………………….422
ENGINE………………………………………………………………………………………………………..423
REMOVAL……………………………………………………………………………………………………423
REFITTING………………………………………………………………………………………………….426
FLUID COUPLING AND THE FLYWHEEL………………………………………………………………………………….427
REMOVAL……………………………………………………………………………………………………427
REFITTING………………………………………………………………………………………………….433
LOWER LINKS OF THE HYDRAULIC LINKAGE……………………………………………………………………………..434
REMOVAL……………………………………………………………………………………………………434
REFITTING………………………………………………………………………………………………….435
TOWING HITCH…………………………………………………………………………………………………..436
REMOVAL……………………………………………………………………………………………………436
REFITTING………………………………………………………………………………………………….437
QUICK-ACTION HYDRAULIC COUPLERS FOR IMPLEMENTS AND LS………………………………………………………………438
REMOVAL……………………………………………………………………………………………………438
REFITTING………………………………………………………………………………………………….438
FRONT BEARING OF THE 4WD PROPELLER SHAFT………………………………………………………………………….295
RENEWAL……………………………………………………………………………………………………295
REFITTING………………………………………………………………………………………………….296
SECTION 40………………………………………………………………………………………………………..439
THE STRUCTURE OF THE UNIT……………………………………………………………………………………….441
HOW TO CONSULT THE UNIT…………………………………………………………………………………………442
1. INTRODUCTION………………………………………………………………………………………………..443
1.1 LIST OF WIRING HARNESSES…………………………………………………………………………………443
1.2 DEFINITION OF COMPONENTS AND SYMBOLS………………………………………………………………………444
1.3 GENERAL RULES…………………………………………………………………………………………..444
1.4 DIAGNOSTIC INSTRUMENTS…………………………………………………………………………………..446
1.5 WIRE COLOUR CODES……………………………………………………………………………………….446
2. INDICES…………………………………………………………………………………………………….447
2.1 COMPONENT DESCRIPTION INDEX………………………………………………………………………………447
2.2 COMPONENT CODE INDEX…………………………………………………………………………………….452
2.3 CONNECTOR INDEX…………………………………………………………………………………………456
3. COMPONENTS………………………………………………………………………………………………….463
3.1 CONNECTOR LAYOUTS……………………………………………………………………………………….463
3.2 COMPONENT TECHNICAL DATA…………………………………………………………………………………468
3.3 PINOUTS AND DESCRIPTIONS OF ELECTRONIC CONTROL UNITS………………………………………………………..476
4. SYSTEMS…………………………………………………………………………………………………….485
4.1 EARTHING POINTS…………………………………………………………………………………………485
4.2 STARTING……………………………………………………………………………………………….486
4.3 PREHEATING……………………………………………………………………………………………..487
4.4 ELECTRICAL ENGINE CONTROL………………………………………………………………………………..488
4.5 LIGHTS – STEERING COLUMN SWITCH UNIT………………………………………………………………………489
4.6 CAB ACCESSORIES…………………………………………………………………………………………490
4.7 WORKLIGHTS……………………………………………………………………………………………..491
4.8 WINDSCREEN WIPERS……………………………………………………………………………………….492
4.9 INFOCENTER……………………………………………………………………………………………..493
4.10 POWER OUTLET SOCKETS……………………………………………………………………………………494
4.11 RADIO – CB…………………………………………………………………………………………….495
4.12 AIR CONDITIONING – HEATER FANS…………………………………………………………………………..496
4.13 BRAKING SYSTEM…………………………………………………………………………………………497
4.14 TRAILER BRAKES…………………………………………………………………………………………498
4.15 FRONT AXLE SUSPENSION…………………………………………………………………………………..499
4.16 TRANSMISSION…………………………………………………………………………………………..500
4.17 ASM – 4WD – DIFFERENTIAL………………………………………………………………………………..501
4.18 ELECTRONIC LIFT………………………………………………………………………………………..502
4.19 FRONT AND REAR PTO……………………………………………………………………………………..503
5. LAYOUTS, ELECTRICAL WIRING DIAGRAMS, CONNECTOR POSITIONS…………………………………………………………505
ENGINE WIRING (KHD) (1/2)……………………………………………………………………………………507
ENGINE WIRING (KHD) (2/2)……………………………………………………………………………………508
ENGINE WIRING (1/2)…………………………………………………………………………………………513
ENGINE WIRING (2/2)…………………………………………………………………………………………514
FRONT LIGHTS WIRING…………………………………………………………………………………………515
FRONT PTO WIRING……………………………………………………………………………………………516
TRANSMISSION WIRING (1/2)……………………………………………………………………………………527
TRANSMISSION WIRING (2/2)……………………………………………………………………………………528
TRAILER BRAKING WIRING (ITALY)……………………………………………………………………………….539
TRAILER BRAKING WIRING (EXPORT)………………………………………………………………………………540
FRONT AXLE SUSPENSION WIRING (CAB LINE)……………………………………………………………………….543
CAB POWER SUPPLY WIRING……………………………………………………………………………………..547
FRONT AXLE SUSPENSION WIRING…………………………………………………………………………………553
FENDER WIRING………………………………………………………………………………………………557
NUMBER PLATE LIGHT WIRING……………………………………………………………………………………558
FRONT CONSOLE WIRING (1/2)…………………………………………………………………………………..563
FRONT CONSOLE WIRING (2/2)…………………………………………………………………………………..564
SIDE CONSOLE WIRING (1/3)……………………………………………………………………………………569
SIDE CONSOLE WIRING (2/3)……………………………………………………………………………………570
SIDE CONSOLE WIRING (3/3)……………………………………………………………………………………571
AIR CONDITIONING SYSTEM WIRING……………………………………………………………………………….581
DISPLAY WIRING……………………………………………………………………………………………..587
ROOF WIRING (1/2)…………………………………………………………………………………………..591
ROOF WIRING (2/2)…………………………………………………………………………………………..592
ARMREST WIRING……………………………………………………………………………………………..601
CONTROL UNIT – FUSES – RELAYS (1/2)…………………………………………………………………………..603
CONTROL UNIT – FUSES – RELAYS (2/2)…………………………………………………………………………..604
PLEASE NOTE:
This is the SAME exact manual used by your dealers to fix your vehicle.
The same can be yours in the next 2-3 mins as you will be directed to the download page immediately after paying for the manual.
Any queries / doubts regarding your purchase, please feel free to contact [email protected]
S.V