DEUTZ-FAHR 914 Diesel Engine Workshop Manual – PDF DOWNLOAD
FILE DETAILS:
DEUTZ-FAHR 914 Diesel Engine Workshop Manual – PDF DOWNLOAD
Language : English
Pages : 333
Downloadable : Yes
File Type : PDF
Size: 53.9 MB
IMAGES PREVIEW OF THE MANUAL: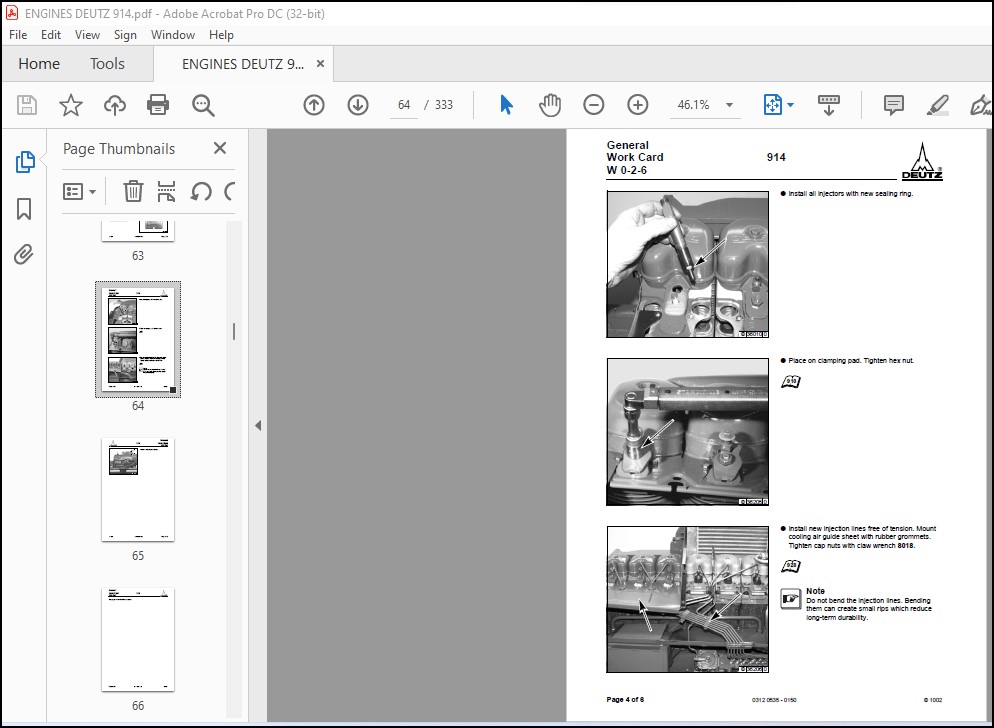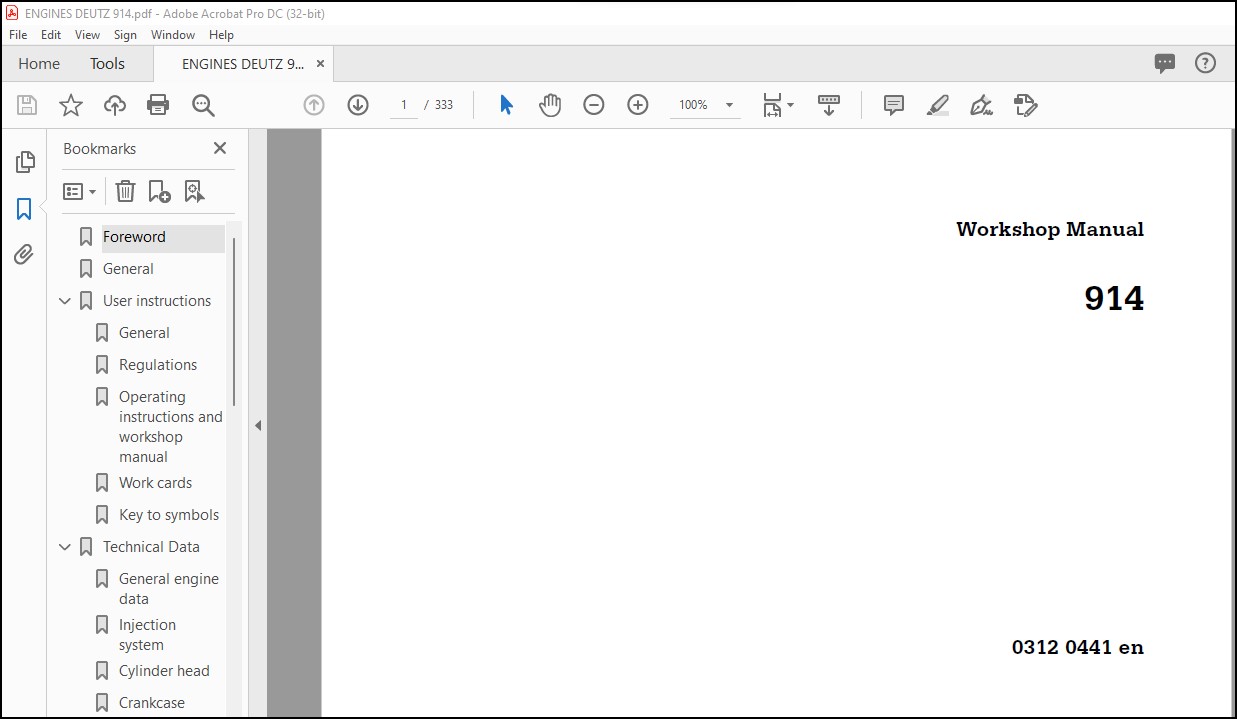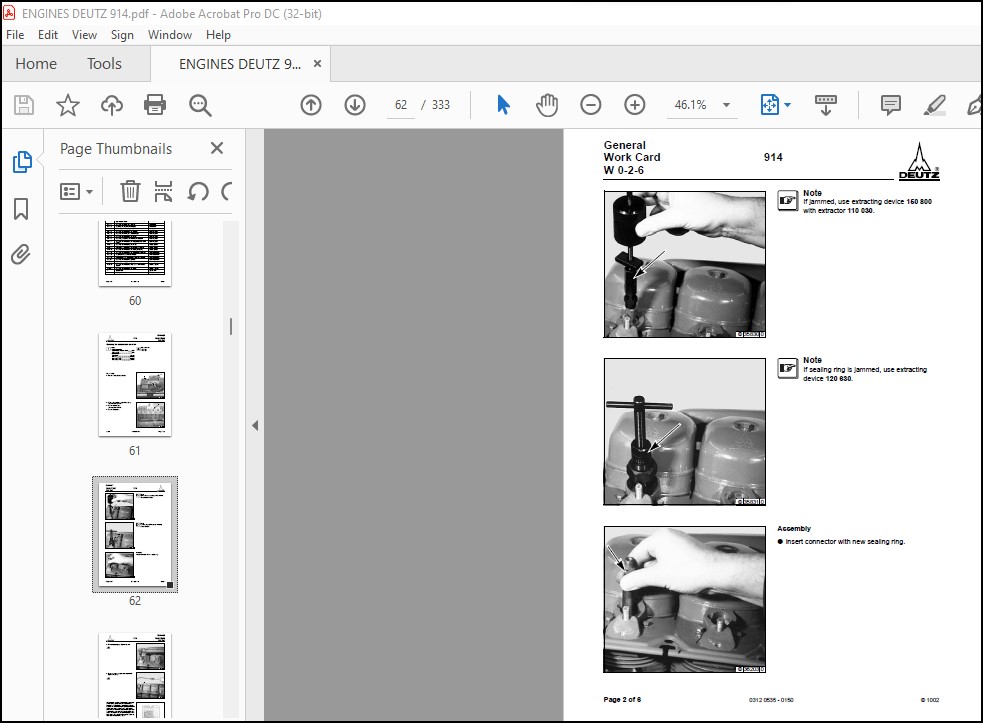 VIDEO PREVIEW OF THE MANUAL:
DESCRIPTION:
DEUTZ-FAHR 914 Diesel Engine Workshop Manual – PDF DOWNLOAD
Foreword:
1 ● Please read carefully and observe the instructions given in this documentation. Thus you avoid
accidents, preserve the manufacturer's warranty and ensure that your engine always functions properly
and reliably.
● This engine is constructed solely for the use – as defined by the equipment manufacturer (intended use) –
designated in the scope of supply. Any use beyond this is contrary to the intended purpose. The
manufacturer is not responsible for any damage incurred on this account. That risk is borne solely by the
user.
● Intended use also includes compliance with the operating, maintenance and repair instructions issued by
the manufacturer. The engine may only be used, maintained and repaired by those who are familiar with
it and have received instruction about the hazards.
● Make sure that this documentation is readily available for all those carrying out operating, maintenance
and repair work and that the contents are well understood.
● Non-compliance with this documentation may result in malfunction and engine damage as well as
personal injuries for which the manufacturer shall not accept any liability.
● A prerequisite for successful maintenance and repair work is that all required equipment, hand and
special tools are available and in perfect working order.
● Engine components such as springs, clamps, snap rings, etc. may cause injury if not handled with care.
● Accident prevention regulations and all other generally recognized regulations on safety and
occupational medicine are to be observed.
● Optimal operation economy, reliability and durability of the engine can only be ensured when
genuine parts of DEUTZ AG are used.
● Engine repairs must be carried out in accordance with intended use. For conversions, only parts
approved by DEUTZ AG for a specific purpose should be used. Unauthorised changes made to the
engine invalidate all liability on the part of the manufacturer for damage incurred as a result.
Non-compliance with this rule nullifies the warranty!
TABLE OF CONTENTS:
DEUTZ-FAHR 914 Diesel Engine Workshop Manual – PDF DOWNLOAD
Foreword 3
General 5
User instructions 9
General 10
Regulations 10
Operating instructions and workshop manual 11
Work cards 12
Key to symbols 14
Technical Data 15
General engine data 15
Injection system 18
Cylinder head 22
Crankcase 28
Drive system 29
Engine control 40
Lube oil system 43
Valve Clearance Adjustment 45
Bolt Tightening Torques 47
Work card overview 57
alphabetical 57
numerical 59
Work Cards 61
General 61
W 0-2-6 Checking the compression pressure 61
W 0-5-1 Mounting and dismounting engine on assembly stand 67
Cylinder Head 69
W 1-1-1 Check and adjust valve clearance 69
W 1-2-2 Remove and refit rocker arm and rocker arm bracket 73
W 1-2-5 Checking the top dead center 79
W 1-4-4 Removing and refitting the cylinder head 87
W 1-4-8 Reworking the cylinder head sealing surface 99
W 1-4-9 Measuring the piston crown clearance 101
W 1-5-1 Removing and refitting the valves 105
W 1-5-4 Checking the valves 109
W 1-6-2 Removing and refitting the valve guide 111
W 1-6-3 Checking the valve guide 115
W 1-7-3 Removing, refitting and checking valve seat inserts 117
W 1-7-8 Checking the valve recess 125
Drive System 127
W 2-1-7 Checking the crankshaft 127
W 2-2-2 Renewing the crankshaft seal (coupling side) on complete engine 133
W 2-2-4 Renewing the crankshaft seal (opposite end to coupling) of complete engine 137
W 2-3-1 Checking the connecting rod 139
W 2-4-1 Removing and refitting the crankshaft 145
W 2-9-7 Checking the piston 149
W 2-10-3 Checking the piston and grooves 151
Crankcase 155
W 3-2-4 Removing and refitting the piston and cylinder 155
W 3-3-1 Checking the cylinder 161
W 3-8-1 Removing and refitting the front cover (opposite end to coupling) 165
W 3-9-1 Removing and refitting the rear cover (coupling end) 169
W 3-9-4 Removing and refitting the adapter housing 173
W 3-10-1 Reworking the crankcase 175
Engine Control 185
W 4-4-7 Removing and refitting the injection pump intermediate gear 185
W 4-4-8 Checking the injection pump intermediate gear 187
W 4-5-5 Removing and refitting the camshaft 189
W 4-5-6 Checking the camshaft 193
Exhaust System / Charging 195
W 6-1-5 Removing and remounting the exhaust manifold 195
W 6-6-4 Removing and remounting the turbocharger 197
W 6-7-3 Removing and refitting the air suction pipe 203
Fuel System 207
W 7-3-1 Renewing the injection lines 207
W 7-4-1 Removing and refitting the injection pump 209
W 7-6-1 Checking and setting the commencement of delivery, with positioning bolt 219
W 7-6-2 Checking and setting the commencement of delivery, with high-pressure pump 225
W 7-7-1 Removing and refitting the injectors 233
W 7-7-5 Checking and adjusting the injectors 237
W 7-10-6 Removing and refitting the fuel lines 241
Lube Oil System 243
W 8-4-5 Removing and remounting the oil pump 243
W 8-4-6 Removing and refitting the oil suction pipe 247
W 8-4-7 Removing and remounting the oil pan 249
W 8-8-2 Removing, remounting and cleaning the oil cooler 251
W 8-11-7 Removing and remounting the change-over cock / filter carrier 255
Cooling System 259
W 9-11-1 Removing and remounting the blower 259
W 9-11-2 Dismantling, reassembling and checking the blower 263
W 9-11-3 Removing and remounting the cooling air ducting 281
Other Components 285
W 12-1-4 Removing and remounting the rotary vibration damper 285
W 12-2-3 Checking the rotary vibration damper 289
W 12-2-5 Disassembly and reassembly of V-belt idler pulley 291
W 12-6-1 Removing and remounting the flywheel 299
W 12-6-3 Renew starter ring gear on flywheel 301
Electrical System 303
W 13-2-3 Removing and remounting the three-phase alternator and support 303
W 13-3-2 Removing and remounting the starter 307
Commercial Tools 309
Special Tools 313
Label 333
PLEASE NOTE:
This is the same manual used by the DEALERSHIPS to SERVICE your vehicle.
The manual can be all yours – Once payment is complete, you will be taken to the download page from where you can download the manual. All in 2-5 minutes time!!
Need any other service / repair / parts manual, please feel free to contact us at heydownloadss @gmail.com . We may surprise you with a nice offer
S.V