DEUTZ-FAHR 912 913 Engine Workshop Manual 0297 9763 – PDF DOWNLOAD
FILE DETAILS:
DEUTZ-FAHR 912 913 Engine Workshop Manual 0297 9763 – PDF DOWNLOAD
Language : English
Pages : 433
Downloadable : Yes
File Type : PDF
Size: 16.9 MB
IMAGES PREVIEW OF THE MANUAL: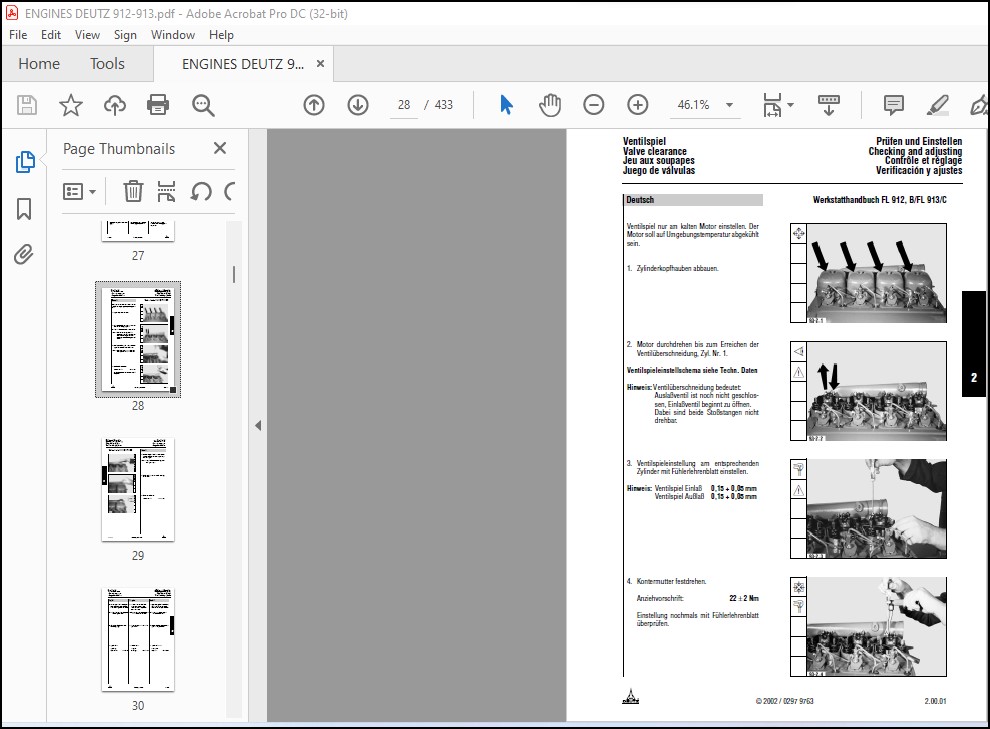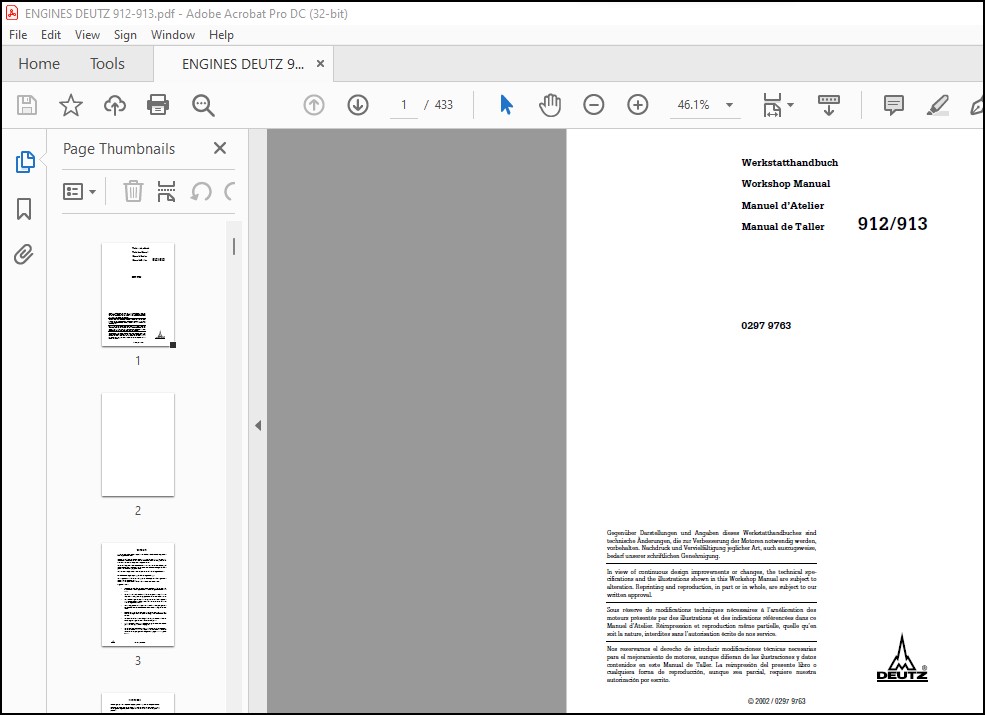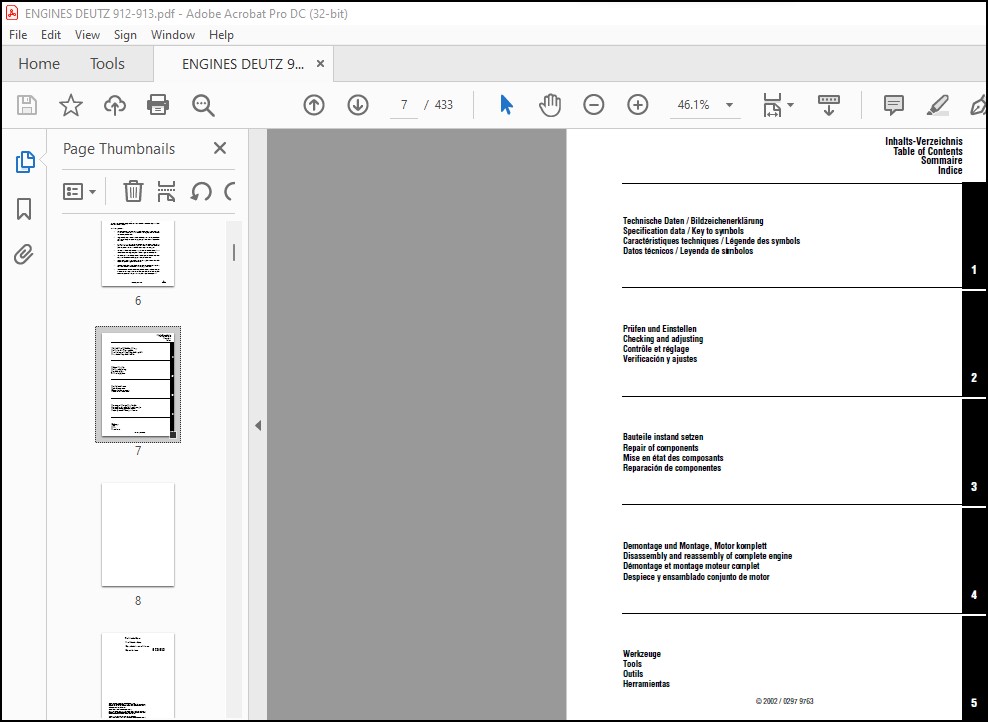 VIDEO PREVIEW OF THE MANUAL:
DESCRIPTION:
DEUTZ-FAHR 912 913 Engine Workshop Manual 0297 9763 – PDF DOWNLOAD
F O R E W O R D
Reliable engine operation is dependent on properly executed repairs as well as adjustment work.
This Workshop Manual describes the appropriate operations for any repair and adjustment work
on the engine and engine components. It is presumed that this work will be carried out by qualified
personnel.
The Manual has been laid out to ensure quick comprehension of the contents, i. e illustrations have
been placed adjacent to the brief text passages to clearly show the working operations.
Aspects of operation and maintenance are dealt with in the respective Operation Manual.
For spare parts orders the respective spare parts catalogue should be referred to.
This Workshop Manual is not subject to engineering change service and is valid until next
issue.
Therefore please refer to the information in our Technical Circulars when carrying out repairs.
General information:
– Please read carefully and observe the instructions given in this Workshop Manual
to avoid accidents and ensure that your engine always functions properly and
reliably.
– Make sure that this Workshop Manual is readily available for all those carrying out
repairs or adjustments and that the contents are well understood.
– Non-compliance with these repair instructions may result in malfunction and engine
damage as well as personal injuries for which the manufacturer shall not accept any
liability.
– The accident prevention regulations and all other generally recognized regulations
on safety and occupational medicine are to be observed.
– A prerequisite for successful repair is that all required equipment, hand and special
tools are available and in perfect working order.
– Optimal operation economy, reliability and durability of the engine can only be
ensured when genuine parts of DEUTZ AG are used.
– Engine components such as springs, clamps, snap rings, etc. may cause injury if not
handled with care.
– Engine repairs must be carried out in accordance with intended use as defined by
the equipment manufacturer. For conversions, only parts approved by DEUTZ AG
for a specific purpose should be used.
TABLE OF CONTENTS:
DEUTZ-FAHR 912 913 Engine Workshop Manual 0297 9763 – PDF DOWNLOAD
Technische Daten / Bildzeichenerklärung
Specification data / Key to symbols
Caractéristiques techniques / Légende des symbols
Datos técnicos / Leyenda de símbolos
Prüfen und Einstellen
Checking and adjusting
Contrôle et réglage
Verificación y ajustes
Bauteile instand setzen
Repair of components
Mise en état des composants
Reparación de componentes
Demontage und Montage, Motor komplett
Disassembly and reassembly of complete engine
Démontage et montage moteur complet
Despiece y ensamblado conjunto de motor
Werkzeuge
Tools
Outils
Herramientas
PLEASE NOTE:
This is the same manual used by the dealers to diagnose and troubleshoot your vehicle
You will be directed to the download page as soon as the purchase is completed. The whole payment and downloading process will take anywhere between 2-5 minutes
Need any other service / repair / parts manual, please feel free to contact [email protected] . We still have 50,000 manuals unlisted
S.V