CNH CX350C,CX370C, Crawler Excavators,Kit KG0SP789-00 Hose Burst Check Valves (HBCV) kit Installation Instructions Manual_EN_FR_IT_ES_DE(84487835) – PDF DOWNLOAD
DESCRIPTION
CNH CX350C,CX370C, Crawler Excavators,Kit KG0SP789-00 Hose Burst Check Valves (HBCV) kit Installation Instructions Manual_EN_FR_IT_ES_DE(84487835) – PDF DOWNLOAD
GENERAL INFORMATION
Advice
CX350C WE, CX370C
NOTE: An "*" in this document indicates that the part is mounted on the actual machine. (i.e. (*n)) .
Items to prepare
• Wrenches :
13 mm (0.5 in);
17 mm (0.67 in);
19 mm (0.75 in);
22 mm (0.86 in);
24 mm (0.95 in)
• Hexagon wrenches :
8 mm (0.3 in)
10 mm (0.4 in)
NOTE: For hose and electrical connexions, refer to the hydraulic and electrical posters included in the Service Manual.
NOTE: Special torque settings are shown in these instructions.
If a torque setting is not shown, use the standard torque settings in the Service Manual.
NOTE: Dimensions on figures are shown in mm
NOTE: This arrow (shown in the illustrations ) indicates the Front side of the machine.
TABLE OF CONTENTS:
CNH CX350C,CX370C, Crawler Excavators,Kit KG0SP789-00 Hose Burst Check Valves (HBCV) kit Installation Instructions Manual_EN_FR_IT_ES_DE(84487835) – PDF DOWNLOAD
1 KIT CONTENT
General specification . . . . . . . . . . . . . . . . . . . . . . . . . . . . . . . . . . . . . . . . . . . . . . . . . . . . . . . . . . . . . . . . . . . . . . . 1-4
2 GENERAL INFORMATION
Advice . . . . . . . . . . . . . . . . . . . . . . . . . . . . . . . . . . . . . . . . . . . . . . . . . . . . . . . . . . . . . . . . . . . . . . . . . . . . . . . . . . . . . . 2-6
3 ASSEMBLY
HOSE BURST CHECK VALVE (HBCV) KIT ASSEMBLY
Hydraulic line – Depressurising . . . . . . . . . . . . . . . . . . . . . . . . . . . . . . . . . . . . . . . . . . . . . . . . . . . . . 3-7
Reservoir – Apply vacuum (Installation) . . . . . . . . . . . . . . . . . . . . . . . . . . . . . . . . . . . . . . . . . . . . 3-9
Safety valve – Install (Boom cylinder) . . . . . . . . . . . . . . . . . . . . . . . . . . . . . . . . . . . . . . . . . . . . . 3-10
Hydraulic line – Install (Arm cylinder HBCV) . . . . . . . . . . . . . . . . . . . . . . . . . . . . . . . . . . . . . . 3-17
Hydraulic line – Install (Pilot line HBCV) . . . . . . . . . . . . . . . . . . . . . . . . . . . . . . . . . . . . . . . . . . 3-24
Sensing system Pressure sensor – Install (Electrical part) . . . . . . . . . . . . . . . . . . . . . . . . 3-30
Reservoir – Apply vacuum (Removal) . . . . . . . . . . . . . . . . . . . . . . . . . . . . . . . . . . . . . . . . . . . . . 3-34
Hydraulic line – Bleed (Attachment cylinders) . . . . . . . . . . . . . . . . . . . . . . . . . . . . . . . . . . . . . 3-35
EN
IMAGES PREVIEW OF THE MANUAL: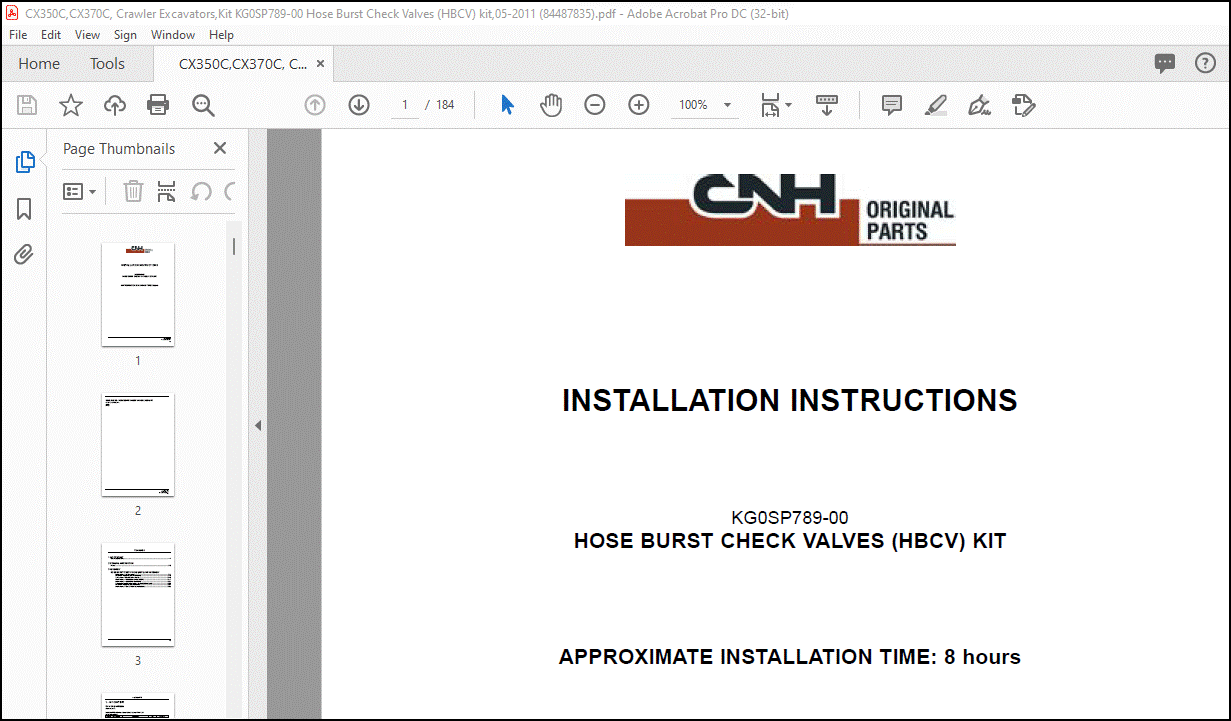 PLEASE NOTE:
This is the same manual used by dealerships to diagnose and troubleshoot your vehicle
You will be directed to the download page as soon as the purchase is complete. The whole payment and download process will take between 2 and 5 minutes
Need any other service/repair/parts manual, please feel free to contact [email protected] We still have 50,000 unlisted manuals
S.M