Case CX130 Gravemaskine med bælter Instruktionsbog Manual(6-24433)-PDF DOWNLOAD(Danish)
BESKRIVELSE:
Case CX130 Gravemaskine med bælter Instruktionsbog Manual(6-24433)-PDF DOWNLOAD(Danish)
TIL EJEREN
Deres maskine er konstrueret og bygget efter de højeste kvalitetsstandarder.
Den opfylder alle gældende sikkerhedsbestemmelser. Se "Officiel
dokumentation". Men risikoen for uheld kan dog aldrig helt
udelukkes. Det er derfor vigtigt, at man er forsigtig og overholder de
grundlæggende sikkerhedsregler.
Læs denne instruktionsbog omhyggeligt, og vær især opmærksom på
instruktionerne vedrørende sikkerhed, betjening og vedligeholdelse for
at undgå risikoen for tilskadekomst når maskinen betjenes eller serviceres.
Brug instruktionsbogen som en vejledning. Maskinen vil fortsætte med
at være et pålideligt arbejdsredskab så længe den holdes i god
arbejdsstand og bliver efterset korrekt.
Standardudstyret og redskaberne, som kan fås til denne maskine, er
beregnet til almindelige jordflytningsopgaver, håndtering af materialer,
boring, grøfterensning, etc. Hvis maskinen skal bruges til at løfte byrder,
(rørlægning, betonrørssektioner, afstivningsmaterialer, etc.), skal
man være sikker på at maskinen er korrekt udstyret til dette arbejde. Til
denne slags arbejde skal maskinen være forsynet med sikkerhedsventiler,
en overbelastningsindikator, et løfteskema, som svarer til maskintypen
og dens udstyr, samt et løfteøje. Alle lovmæssige krav skal også
følges nøje.
Brug ikke maskinen til andre formål end dem, som er beskrevet i denne
instruktionsbog. Hvis maskinen skal bruges til arbejde, som kræver
specialudstyr, tilbehør eller redskaber, bør man tale med CASE forhandleren
for at sikre at alle ændringer og tilpasninger, som foretages,
er i overensstemmelse med maskinens tekniske specifikationer, samt
gældende sikkerhedsbestemmelser.
Enhver ændring eller tilpasning, som ikke er godkendt af producenten,
kan ødelægge maskinens oprindelige overensstemmelse med sikkerhedskravene.
Maskinen skal gennemgå regelmæssige eftersyn, hyppigheden heraf
varierer i forhold til det arbejde, den bruges til. Kontakt CASE forhandleren.
INDHOLDSFORTEGNELSE:
Case CX130 Gravemaskine med bælter Instruktionsbog Manual(6-24433)-PDF DOWNLOAD(Danish)
TIL EJEREN 5 – 9
CX130 LC OG LR-TYPE HYDRAULISK GRAVEMASKINE MED BÆLTER 5
TIL EJEREN 6
HØJRE, VENSTRE, FOR OG BAG PÅ MASKINEN 9
IDENTIFIKATIONSNUMRE/MASKINENS KOMPONENTER 10 – 13
TYPE, SERIENUMMER OG FREMSTILLINGSÅR 10
MASKINENS KOMPONENTER 12
SIKKERHED/MÆRKATER/HÅNDSIGNALER 14 – 35
SIKKERHEDSINSTRUKTIONER 14
MÆRKATER 26
HÅNDSIGNALER 32
BETJENINGSHÅNDTAG/INSTRUMENTER/TILBEHØR 36 – 83
FØRERHUSETS DØR 36
TRIN OG GRIBEHÅNDTAG 37
FØRERKABINENS BETJENINGSHÅNDTAG 38
SYSTEMSKÆRM OG KONTROLPANEL 44
VARME- OG VENTILATIONSGREB 61
BETJENINGSGREB TIL VARME OG VENTILATION,
ELLER AIR CONDITION 64
FØRERSÆDE 68
FORRUDE 71
NEDERSTE FORRUDE 72
BAGRUDE OG NØDUDGANG 73
BRÆNDSTOFTANK 74
KABINESKJOLD (FOPS) 74
BAKSPEJLE 75
FORRESTE OPBEVARINGSBOKS 75
SIDEDØRE 76
MOTORHJELM 77
NEDRE PANELER 78
FORRUDENS SPRINKLERBEHOLDER 78
LØFTEØJER 79
SLÆBEØJER 80
ROTERENDE BLINKLYS-KABEL 80
SIKKERHEDSVENTILER 81
SKIFTEVENTIL TIL EKSTRAUDSTYR 81
TILFØRSELSVENTILER FOR EKSTRAUDSTYR 82
BRÆNDSTOFTANKENS PÅFYLDNINGSPUMPE 83
BETJENINGSINSTRUKTIONER 84 – 128
INDEN BETJENING AF MASKINEN 84
BETJENING AF MASKINEN 85
TILKØRINGSPERIODE 87
TYVERI SIKRING 88
START AF MOTOREN 91
MASKINEN BRINGES OP PÅ DRIFTSTEMPERATUR 93
BETJENING AF MOTOREN 94
BETJENING AF MASKINEN I KOLDT VEJR 95
BETJENING AF MASKINEN I VARMT VEJR 95
STANDSNING AF MOTOREN 96
BETJENING AF MASKINEN 97
KØRSEL MED MASKINEN 99
LØFT AF MASKINEN 102
LØFT AF EN BYRDE 102
BEGRÆNSNINGER FOR LØFT 104
BETJENING AF MASKINEN I VAND 105
BETJENING AF MASKINEN PÅ SKRÅNINGER 105
BETJENING AF GRAVESKOVLEN 106
MONTERING AF HURTIGKOBLINGEN (CX130LC) 107
HURTIG REDSKABSMONTERING OG -UDSKIFTNING 108
PARKERING AF MASKINEN 112
BUGSERING AF MASKINEN 113
SÆNKNING AF UDSTYRET I TILFÆLDE AF MASKINFEJL 114
HYDRAULISK DYBDEPLOV ELLER
HØJGENNEMSTRØMNINGSKREDSLØB (CX130LC) 115
FORSAT GRAVEBOM ELLER HYDRAULISKE
HØJGENNEMSTRØMNINGSKREDSLØB (CX130LC) 119
ANBRINGELSE AF 3,00 M GRAVEARMEN
I TRANSPORT POSITION (CX130LC) 121
LÅSNING AF UDSTYR MED LANG RÆKKEVIDDE
TIL TRANSPORTKØRSEL (CX130LR) 122
TRANSPORT AF MASKINEN 123
HYDRAULISKE DYBDEPLOV (CX130LC) 127
SERVICEINTERVALLER 129 – 136
SERVICEINSTRUKTIONER 129
TIMETÆLLER 130
DAGLIGT EFTERSYN 130
HURTIGKOBLINGEN (CX130LC) 132
INTERVALLER 133
SMØRING/FILTRE/VÆSKER 137 – 184
VÆSKER OG SMØREMIDLER 137
MILJØHENSYN 140
KAPACITETER OG SPECIFIKATIONER FOR VÆSKER
OG SMØREMIDLER 141
SMØRESTEDER 142
SMØRING AF KRØJEKRANSENS TÆNDER 152
SMØRING AF KRØJEREDUKTIONSGEARET 152
SMØRING AF DEN HYDRAULISKE DYBDEPLOV (CX130LC) 153
VÆSKESTANDE 154
MOTOR 156
KØLESYSTEM 159
BRÆNDSTOFSYSTEM 162
UDLIGNING AF TRYK I DET HYDRAULISKE SYSTEM 165
HYDRAULISK SYSTEM 166
LUFTFILTER 178
KRØJEREDUKTIONSGEAR 182
KØREREDUKTIONSGEAR 184
VEDLIGEHOLDELSE/INDSTILLINGER 185 – 211
BÆLTER 185
BÆLTERULLER OG FORHJUL 189
KØLER OG OLIEKØLER 189
VENTILATOR- OG GENERATORREM 190
JUSTERING AF MOTORENS VENTILVIPPEARMS MELLEMRUM 191
BRÆNDSTOFTANKENS FILTER 191
EFTERSYN OG RENGØRING AF MASKINEN 192
LÆKAGEKONTROL AF CYLINDRE 192
PLASTIC OG KUNSTSTOF-DELE 192
UDSKIFTNING AF EN TANDSPIDS PÅ EN GRAVESKOVL 193
TÆNDER OG TANDSPIDSERS SLITAGEGRÆNSER 194
UDSKIFTNING AF EN GRAVESKOVL 195
HYDRAULISKE DYBDEPLOV 197
KONTROL AF LÅSEKROGSÅBNINGEN
PÅ HURTIGKOBLINGEN (CX130LC) 202
SVEJSNING PÅ MASKINEN 204
ILDSLUKKER 204
AIR CONDITION 205
MOTOR FEJLFINDING 208
EFTERSYN AF BESLAGENES TILSPÆNDING 210
ELEKTRISK SYSTEM 212 – 219
SIKRINGER 212
BATTERIER 214
FORBINDELSE AF HJÆLPEBATTERIER 216
GENERATOR 217
STARTERMOTOR 217
UDSKIFTNING AF EN PÆRE 218
OPBEVARING 220 – 221
OPBEVARING AF MASKINEN 220
SPECIFIKATIONER 222 – 238
MOTOR 222
HYDRAULISK SYSTEM 222
UNDERVOGN 224
SIKKERHEDSANORDNINGER 224
FØRERKABINE 224
STØJNIVEAUER 224
VIBRATIONSNIVEAU I FØRERHUSET 225
FØRERHUS 225
VÆGTE 225
MONOBLOK BOM 225
GRAVEARM 225
SKOVLE 226
DOZERBLAD 226
MASKINENS TOTALE DIMENSIONER 227
ARBEJDSOMRÅDE 232
HYDRAULISK DYBDEPLOV (CX130LC) 236
HURTIGKOBLING (CX130LC) 238
ALFABETISK INDEKS 238 – 242
BILLEDER FORBINDELSE AF MANUALEN: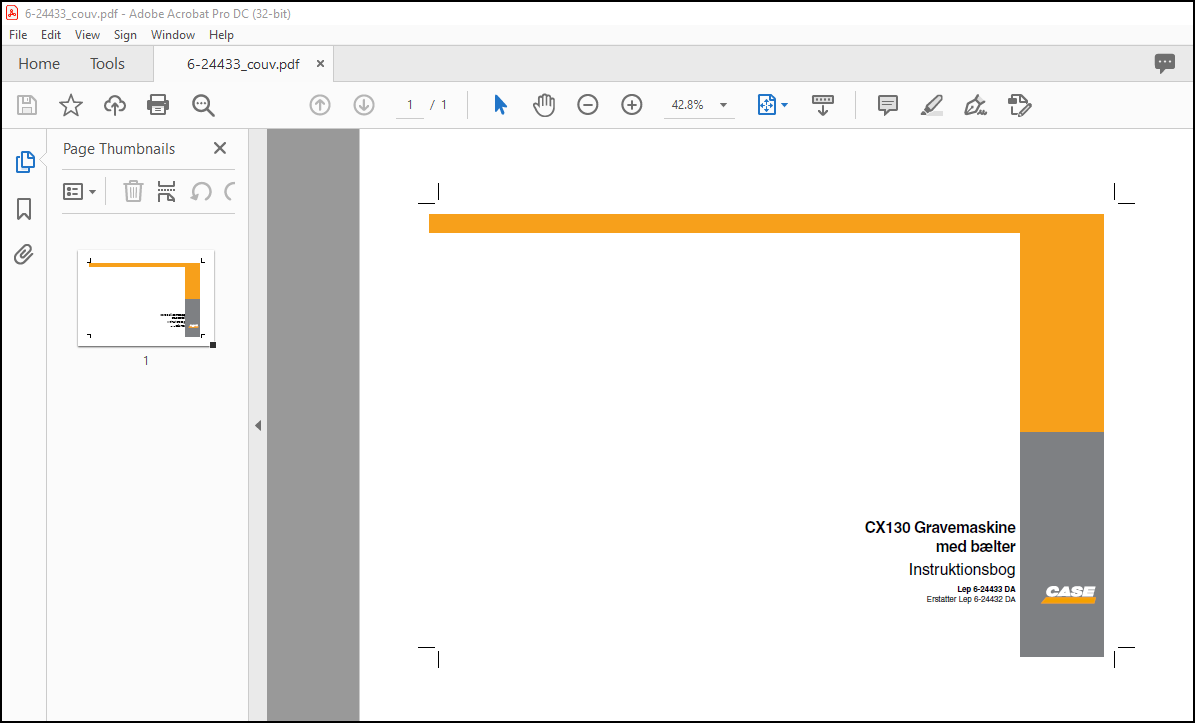 BEMÆRK VENLIGST:
This is the SAME manual used by the dealers to troubleshoot any faults in your vehicle. This can be yours in 2 minutes after the payment is made.
Contact us at [email protected] should you have any queries before your purchase or that you need any other service / repair / parts operators manual.

S.M