Case 521G Stage IV Wheel Loader Service Manual 48082189 – PDF DOWNLOAD
IMAGES PREVIEW OF THE MANUAL: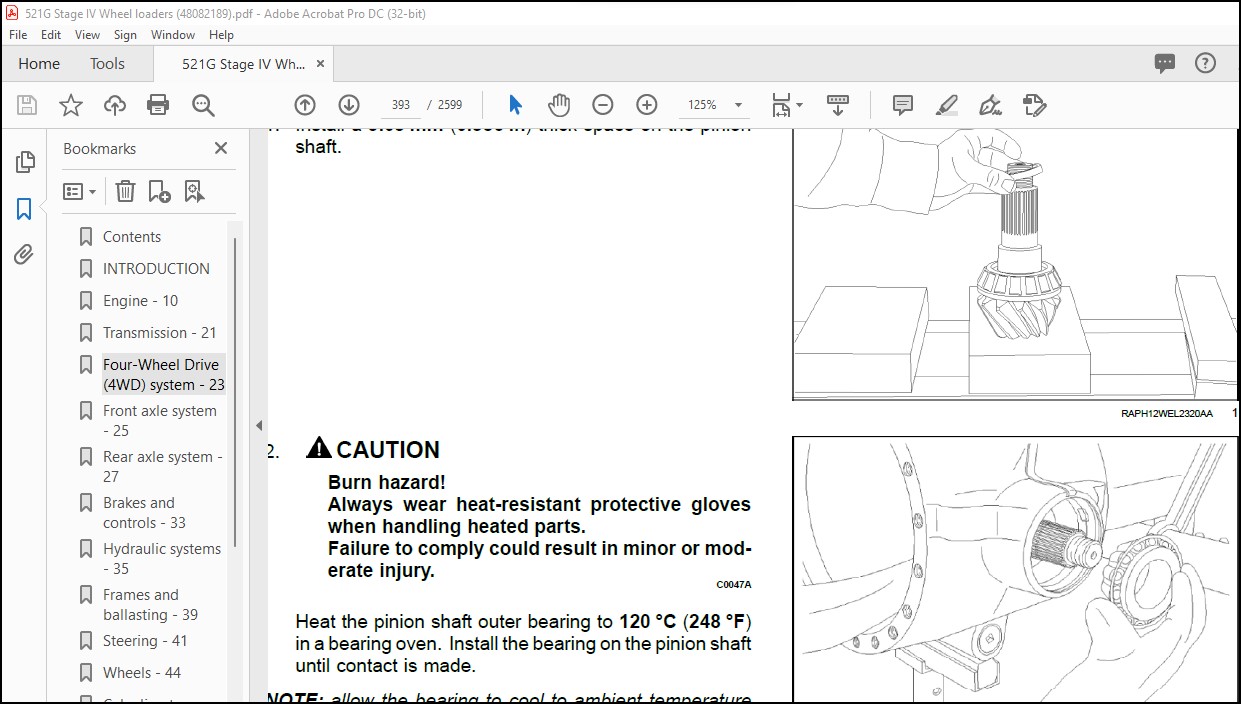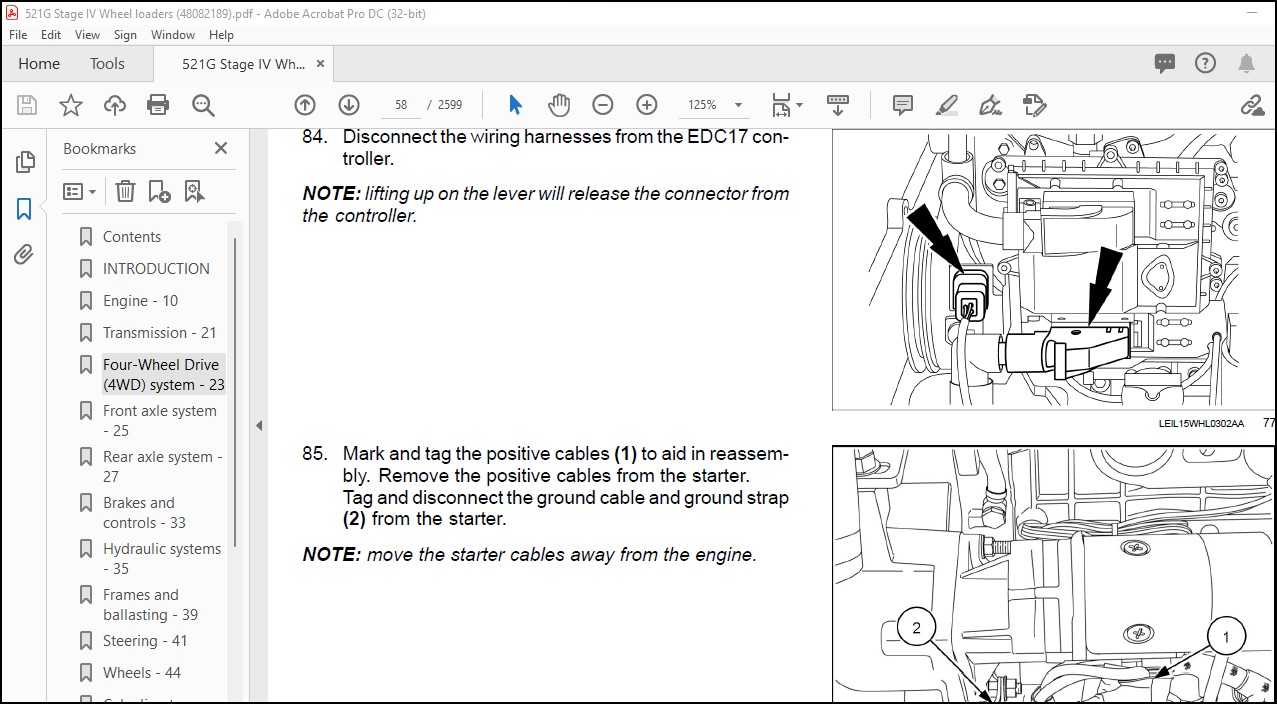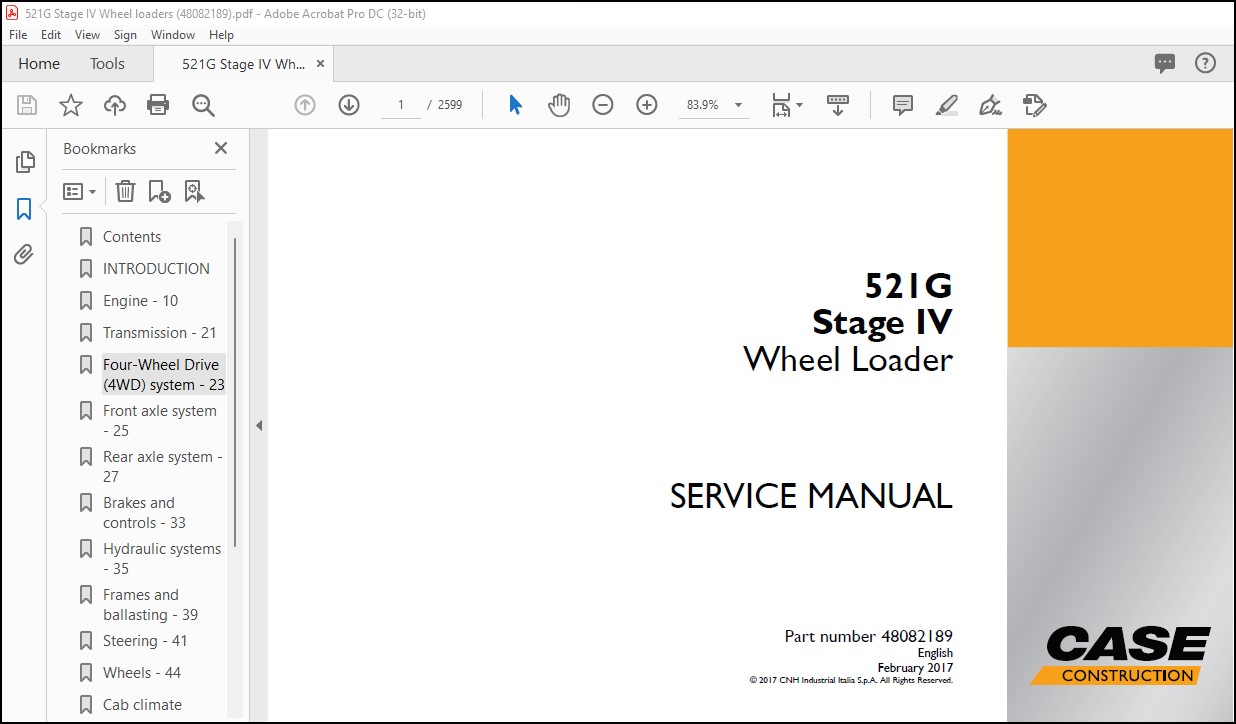 DESCRIPTION:
Case 521G Stage IV Wheel Loader Service Manual 48082189 – PDF DOWNLOAD
521G WHEEL LOADER XR-EH, NEW CAB TIER4B
521G WHEEL LOADER XT-EH, NEW CAB TIER4B
521G ZBAR-EH, NEW CAB TIER4B
INTRODUCTION :
Personal safety :
Carefully read this Manual before proceeding with maintenance, repairs, refuelling or other machine operations. Repairs have to be carried out only by authorized and instructed staff; specific precautions have to be taken when grinding, welding or when using mallets or heavy hammers.
Non-authorized persons are not allowed to repair or carry out maintenance on this machine. Do not carry out any work on the equipment without prior authorization. Ask your employer about the safety instructions in force and safety equipment.
Nobody should be allowed in the cab during machine maintenance unless he is a qualified operator helping with the maintenance work. If it is necessary to move the equipment to carry out repairs or maintenance, do not lift or lower the equipment from any other position than the operator's seat.
Never carry out any operation on the machine when the engine is running, except when specifically indicated. Stop the engine and ensure that all pressure is relieved from hydraulic circuits before removing caps, covers, valves, etc. All repair and maintenance operations should be carried out with the greatest care and attention.
Service stairs and platforms used in a workshop or in the field should be built in compliance with the safety rules in force. Any functional disorders, especially those affecting the safety of the machine, should therefore be rectified immediately.
TABLE OF CONTENTS:
Case 521G Stage IV Wheel Loader Service Manual 48082189 – PDF DOWNLOAD
INTRODUCTION
Engine 10
[10 001] Engine and crankcase 10 1
[10 216] Fuel tanks 10 2
[10 202] Air cleaners and lines 10 3
[10 500] Selective Catalytic Reduction (SCR) exhaust treatment 10 4
[10 400] Engine cooling system 10 5
[10 414] Fan and drive 10 6
[10 310] Aftercooler 10 7
[10 304] Engine lubrication system 10 8
Transmission 21
[21 113] Powershift transmission 21 1
[21 135] Powershift transmission external controls 21 2
[21 155] Powershift transmission internal components 21 3
Four-Wheel Drive (4WD) system 23
[23 314] Drive shaft 23 1
Front axle system 25
[25 100] Powered front axle 25 1
[25 102] Front bevel gear set and differential 25 2
[25 108] Final drive hub, steering knuckles, and shafts 25 3
[25 310] Final drives 25 4
Rear axle system 27
[27 100] Powered rear axle 27 1
[27 106] Rear bevel gear set and differential 27 2
[27 120] Planetary and final drives 27 3
[27 124] Final drive hub, steering knuckles, and shafts 27 4
48082189_EN 14/02/2017
Brakes and controls 33
[33 202] Hydraulic service brakes 33 1
[33 110] Parking brake or parking lock 33 2
Hydraulic systems 35
[35 000] Hydraulic systems 35 1
[35 300] Reservoir, cooler, and filters 35 2
[35 106] Variable displacement pump 35 3
[35 359] Main control valve 35 4
[35 357] Pilot system 35 5
[35 204] Remote control valves 35 6
[35 752] Hydraulic fan drive cooling system 35 7
[35 701] Front loader arm hydraulic system 35 8
[35 723] Front loader bucket hydraulic system 35 9
[35 734] Tool quick coupler hydraulic system 35 10
Frames and ballasting 39
[39 100] Frame 39 1
Steering 41
[41 200] Hydraulic control components 41 1
[41 216] Cylinders 41 2
[41 910] Auxiliary steering 41 3
Wheels 44
[44 511] Front wheels 44 1
[44 520] Rear wheels 44 2
Cab climate control 50
[50 200] Air conditioning 50 1
Electrical systems 55
[55 000] Electrical system 55 1
[55 100] Harnesses and connectors 55 2
48082189_EN 14/02/2017
[55 201] Engine starting system 55 3
[55 301] Alternator 55 4
[55 302] Battery 55 5
[55 988] Selective Catalytic Reduction (SCR) electrical system 55 6
[55 989] Exhaust Gas Recirculation (EGR) electrical system 55 7
[55 530] Camera 55 8
[55 DTC] FAULT CODES 55 9
Front loader and bucket 82
[82 100] Arm 82 1
[82 300] Bucket 82 2
Platform, cab, bodywork, and decals 90
[90 150] Cab 90 1
[90 105] Machine shields and guards 90 2
VIDEO PREVIEW OF THE MANUAL:
PLEASE NOTE:
This is the SAME exact manual used by your dealers to fix your vehicle.
The same can be yours in the next 2-3 mins as you will be directed to the download page immediately after paying for the manual.
Any queries / doubts regarding your purchase, please feel free to contact [email protected]
S.V