2009 – 2010 Husqvarna Tc Te 310 450 510 Workshop Manual

FILE DETAILS:
LANGUAGE:ENGLISH
PAGES:420
DOWNLOADABLE:YES
FILE TYPE:PDF
VIDEO PREVIEW OF THE MANUAL:
IMAGES PREVIEW OF THE MANUAL: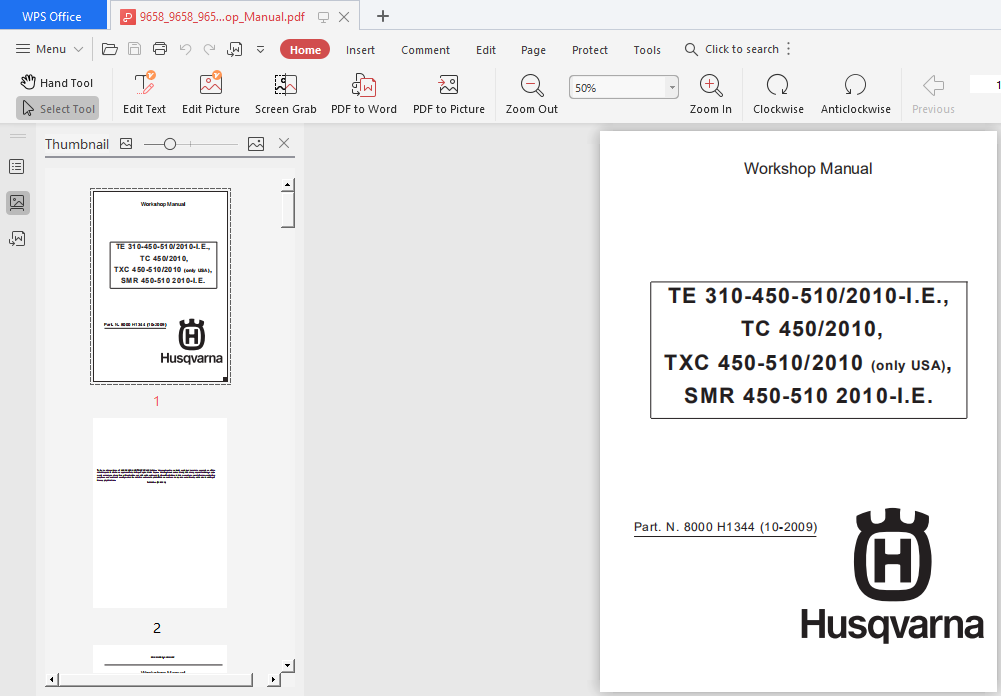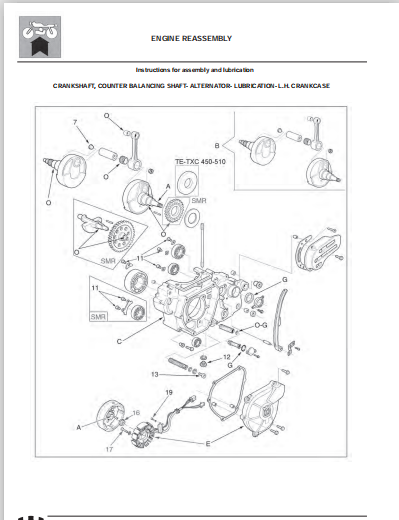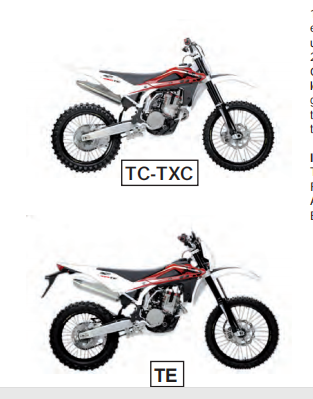 DESCRIPTION:
2009 – 2010 Husqvarna Tc Te 310 450 510 Workshop Manual
Foreword:
This publication intended for HUSQVARNA Workshops has been prepared for the purpose of helping the authorized personnel in the maintenance and repair work of the motorcycles herewith dealt with. The perfect knowledge of the technical data contained herein is essential for a more complete professional training of the operator. The paragraphs have been completed with schematic illustrations evidencing the subject concerned, in order to enable a more immediate understanding. This manual contains information with particular meanings: Accident prevention rules for the operator and for the personnel working near by. Possibility of damaging the vehicle and/or its components. Additional information concerning the operation under way.
Useful suggestions
HUSQVARNA suggests, in order to prevent troubles and in order to have an excellent final result, to generically comply with the following instructions:
– in case of repair work, weigh the impressions of the Customer who complains about the improper operation of the motorcycle, and formulate proper clearing questions
about the symptoms of the trouble.
– detect clearly the cause of the trouble. This manual gives the theoretical bases which however shall be integrated by the personal experience and by the attendance to training courses periodically organized by HUSQVARNA.
– rationally plan the repair work in order to prevent dead time as for instance procurement of spare parts, tool preparation, etc.
– reach the component to be repaired and perform only the required operations.
In this connection, it will be useful to consult the disassembly sequence contained in this manual.
General instructions for repair work
1 Always replace the seal rings and split pins with new components.
2 When loosening or tightening nuts or bolts, always start from the bigger ones or from the center. Lock at the prescribed torque wrench setting following a crossed run.
3 Always earmark the components or positions which could be mistaken one for another at the time of assembly.
4 Use original HUSQVARNAspare parts and the lubricants of the recommended brands.
5 Use special tools, where specified.
6 Consult the Service Bulletins as they may contain up-dated adjustment data and
repair methodologies.
TABLE OF CONTENTS:
2009 – 2010 Husqvarna Tc Te 310 450 510 Workshop Manual
Chapter Section
Foreword, summary a
Important notices b
General A
Maintenance B
Troubles and remedies C
Settings and adjustments D
General operations E
Engine disassembly F
Engine overhauling G
Engine re-assembly H
Front suspension I
Rear suspension J
Brakes L
Electric system M
Engine cooling system N
"KITS" assembling instructions O
Hydraulic control clutch P
Optional Parts List Q
Fuel injection system S
Lubrication system T
Specific tools W
Torque wrench settings X
Frame, wheels Y
Notes for USA/CDN-AUS models Z
PLEASE NOTE:
This is the same manual used by the DEALERSHIPS to SERVICE your vehicle.
The manual can be all yours – Once payment is complete, you will be taken to the download page from where you can download the manual. All in 2-5 minutes time!!
Need any other service / repair / parts manual, please feel free to contact us at heydownloadss @gmail.com . We may surprise you with a nice offer