1968-1975 Cessna 177 & Cardinal Series Service Manual – PDF DOWNLOAD
IMAGES PREVIEW OF THE MANUAL: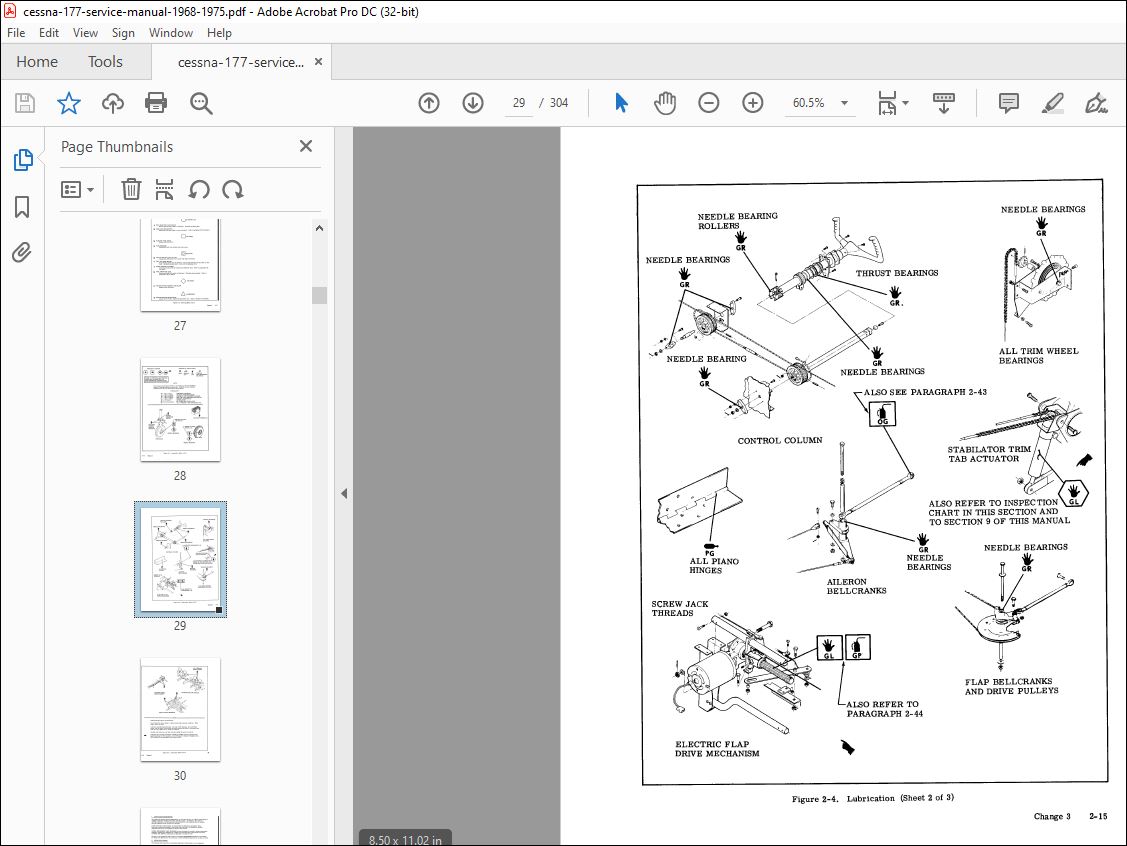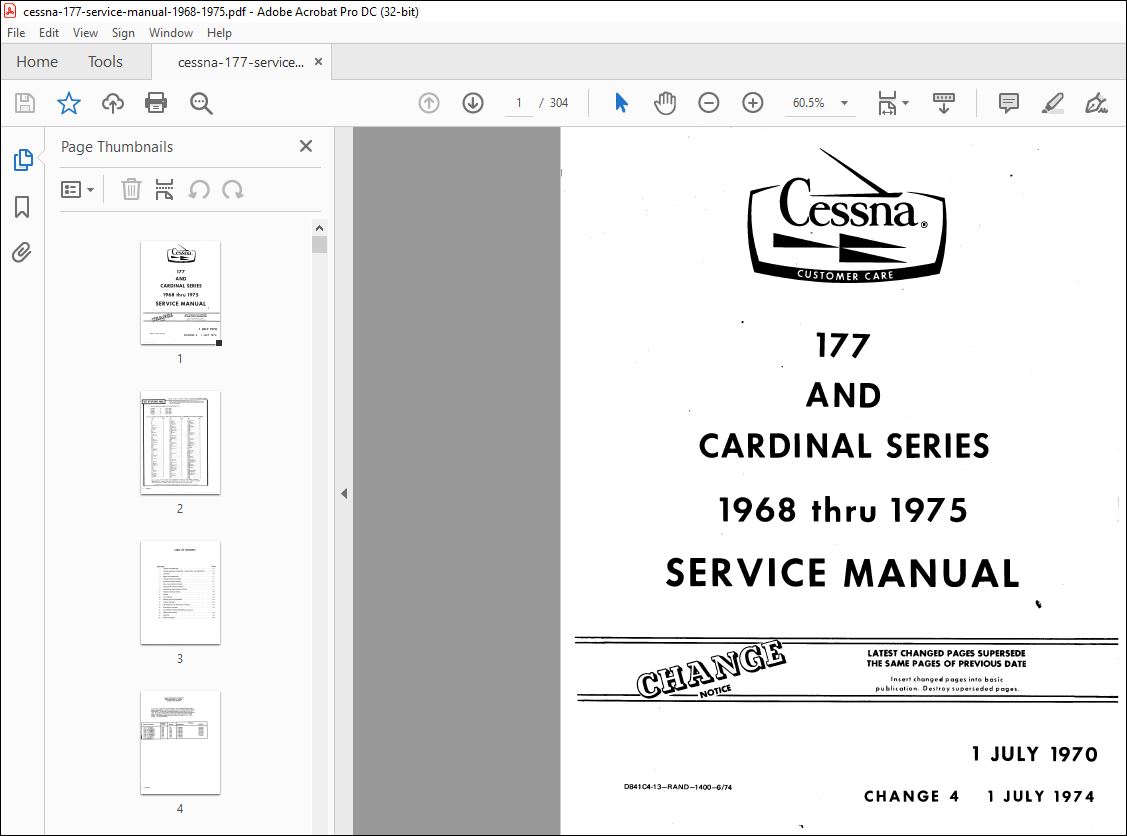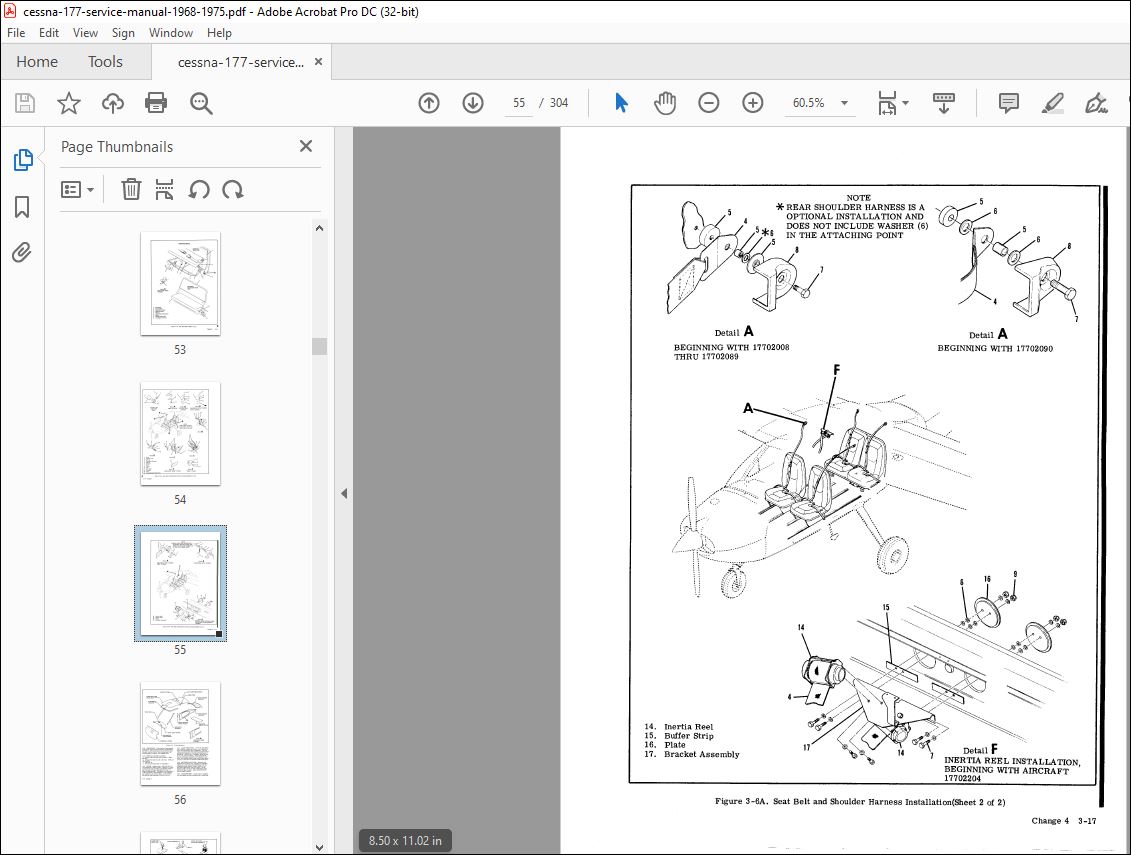 DESCRIPTION:
1968-1975 Cessna 177 & Cardinal Series Service Manual – PDF DOWNLOAD
GENERAL DESCRIPTION.
1-2. MODEL 177 AND "CARDINAL" SERIES.
1-3. DESCRIPTION. The Cessna Models 177 and
"Cardinal" Series aircraft, described in this manual,
are single-engine, high-wing monoplanes of all-metal,
semimonocoque construction. Wings are full cantilever,
with a sealed section which forms an integral
fuel bay area in each wing. The fixed tricycle landing
gear consists of tubular spring-steel main gear
struts anda steerable nose gear with an air /hydraulic
fluid shock strut. Standard four -place seating
consists of two individual front seats and one two/
place rear seat. A two-place child 's seat may be installed,
aft of the rear seat, as optional equipment.
These aircraft feature a horizontal stabilator, sweptback
fin and rudder, lar ge entry doors, and rear and
side windows. These aircraft are powered by fourcylinder,
horizontally opposed, air -cooled, "Blue
Streak" (Lycoming) engines, driving all-metal, fixed-
Aircraft Specifications
Stations …
Torque Values . . . .
pitch or constant-speed propellers.
1-4. AIRCRAFT SPECIFICATIONS. Leading particulars
of these aircraft, with dimensions based on
gross weight, are given in figure 1-1. If these dimensions
are used for constructing a hangar or computing
clearances, remember that such factors as
nose gear strut inflation, tire pressures, tire sizes,
and load distribution may result in sorne dimensions
that are considerably different from those Usted.
TABLE OF CONTENTS:
1968-1975 Cessna 177 & Cardinal Series Service Manual – PDF DOWNLOAD
GENERAL DESCRIPTION
GROUND HANDLING, SERVICING, LUBRICATION, AND INSPECTION
FUSELAGE
WINGS AND EMPENNAGE
LANDING GEAR AND BRAKES
AILERON CONTROL SYSTEM
WING FLAP CONTROL SYSTEM
STABILATOR CONTROL SYSTEM
STABILATOR TRIM CONTROL SYSTEM
RUDDER CONTROL SYSTEM
ENGINE
FUE L SYSTEM
PROPELLERS AND GOVERNOR
UTILITY SYSTEMS
INSTRUMENTS AND INSTRUMENT SYSTEMS
ELECTRICAL SYSTEMS
17 ELECTRONIC SYSTEMS {DELETED) {See Page iii)
STRUCTURAL REPAffi
PAINTING
PLEASE NOTE:
This is the SAME exact manual used by your dealers to fix your vehicle.
The same can be yours in the next 2-3 mins as you will be directed to the download page immediately after paying for the manual.
Any queries / doubts regarding your purchase, please feel free to contact [email protected]
S.V